Saturday Spotlight: New Book Releases March 2022
By Claire Buss, Deputy Editor, Write On! 
At Write On! and Pen to Print, we want to help connect authors and readers, playwrights and audiences, so we've created a Spotlight page every Saturday, showcasing some of the exciting new reads and plays available. The curated list is based on books and plays that you send us, so if you're an author or a playwright and you'd like your book or play in the spotlight, reach out to us at pentoprint@lbbd.gov.uk. Whether you're an indie author, with a small press or mainstream publisher, established or brand new playwright, we'd love to hear from you and shine a light on your new work.
Write On! offers other opportunities for writers as well. If you'd like us to feature an extract from your book or a short story, please send the extract, book cover and blurb to pentoprint@lbbd.gov.uk with the subject: Write On! Showcase (ensuring you have your publisher's permission, of course).
Pen to Print are also looking for short videos from people reading a passage from their favourite book, or authors reading extracts from their own books. These videos will be featured on the Pen to Print YouTube channel and across our social media. Please send in your videos or links to pentoprint@lbbd.gov.uk with the subject: Video Stories.
*****
Half Moon Theatre
This theatre company produces and presents professional theatre for children at their Limehouse venue, as well as touring work nationally.
They also have an extensive Creative Learning programme, giving children and young people from birth to 18 (or 25 for disabled young people) an opportunity to participate in a variety of drama and theatre activities in schools, community settings and Half Moon.
For a full list of events, visit their website: halfmoon.org.uk
*****
Eye Of The Beholder Exhibition
This exhibition at 508 Gallery aims to celebrate how ArtCan artists capture beauty–whether that be physical beauty, natural beauty, something in between or something else entirely–bringing together a diverse and inclusive spectrum of works and creating a conversation about how societal ideals of beauty are defined, challenged and redefined. Patricia Bidi, a regular contributor to Write On!, is one of the participating artists. Find out more about Patricia's artwork at www.patriciabidi.com.
Tickets are available here: eventbrite.co.uk/e/eye-of-the-beholder-private-view-tickets-272261951827 and the exhibition runs from 28 March to 4 April 2022.
*****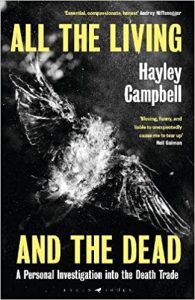 We are surrounded by death. It is in our news, our nursery rhymes, our true-crime podcasts. Yet from a young age, we are told that death is something to be feared. How are we supposed to know what we're so afraid of, when we are never given the chance to look?
Fuelled by a childhood fascination with death, journalist Hayley Campbell searches for answers in the people who make a living by working with the dead. Along the way, she encounters mass fatality investigators, embalmers, and a former executioner who is responsible for ending 62 lives. She meets gravediggers who have already dug their own graves, visits a cryonics facility in Michigan, goes for late-night Chinese with a detective and questions a man whose job it is to make crime scenes disappear.
Through Campbell's incisive and candid interviews with these people who see death every day, she asks: Why would someone choose this kind of life? Does it change you as a person? And are we missing something vital by letting death remain hidden?
A dazzling work of cultural criticism, All The Living And The Dead weaves together reportage with memoir, history and philosophy, to offer readers a fascinating look into the psychology of Western death.
Available to buy here
Connect with Hayley Campbell
Flora Reed discovers a lifeless body in her front yard the morning after the last day of her junior year of high school. Matters get worse when more people from her small town are found dead under mysterious circumstances and police take an interest in the boy next door, Carl.
Flora is convinced that Carl is innocent. Instead, she suspects that the deaths are somehow connected to her younger sister Fauna's tragic accident a year earlier. What she learns changes everything, and she has to race against time to prevent the killings from spreading. Flora and a small group of friends soon find themselves at the onset of an apocalyptic battle between man and nature, with no one believing their story.
The Lightning Tree is the first instalment of The Natural Intelligence Revolution Trilogy.
Available to buy here
Connect with Lene Fogelberg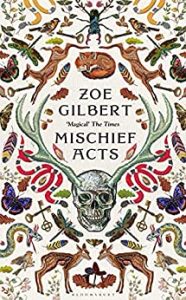 Herne the hunter, mischief-maker, spirit of the forest, leader of the Wild Hunt, hurtles through the centuries pursued by his creator.
A shapeshifter, Herne dons many guises as he slips and ripples through time: at candlelit Twelfth Night revels, at the spectacular burning of the Crystal Palace, at an acid-laced Sixties party. Wherever he goes, transgression, debauchery and enchantment always follow in his wake.
But as the forest is increasingly encroached upon by urban sprawl and gentrification, and the world slides into crisis, Herne must find a way to survive – or exact his revenge.
With its intoxicating, chameleonic voice and boundless imagination, Mischief Acts is British folklore as you've never read it before: dangerous, sexy, troubling, daring, savage, an exhilarating race through time and space, weaving together the ancient and the contemporary.
Available to buy here
Connect with Zoe Gilbert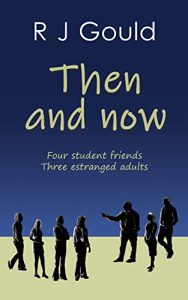 Sandy is about to retire following an illustrious career as editor of an upmarket fashion magazine.
Michael can't retire; he thinks his work explaining the dangers of climate change is far too important.
Jonathan would like to retire from running his fundraising consultancy, but a family crisis is getting in the way.
These three were the best of friends at university before a tragedy wrecked their friendship. That was 50 years ago and they haven't spoken since.
Sandy urges the other two to join her at a weekend reunion. Together they reminisce about their student days, such a wild era with its heady mix of free love, drugs and ground-breaking music. They share their life journeys since the Swinging Sixties: the successes and failures, the happiness and despair, and their optimism and fears for the future.
The reunion is drawing to a close. Dare they tackle the incident that tore them apart, an event that has brought guilt for so many years? If they are to have any chance of reconciliation they have to, but the clock is ticking.
Available to buy here
Connect with RJ Gould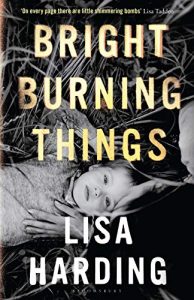 Being Tommy's mother is too much for Sonya.
Too much love, too much fear, too much longing for the cool wine she gulps from the bottle each night. Because Sonya is burning the fish fingers, and driving too fast, and swimming too far from the shore, and Tommy's life is in her hands.
Once, there was the thrill of a London stage, a glowing acting career, fast cars, handsome men. But now there are blackouts and bare cupboards, and her estranged father showing up uninvited. There is Mrs O'Malley spying from across the road. There is the risk of losing Tommy – forever.
Available to buy here
Connect with Lisa Harding
It's four in the morning, and our narrator is walking home from the club when they realise that it's February 29th, the birthday of the man who was akin to their first love. Piecing together art, letters and memory, they set about trying to write the story of a doomed affair that first sparked and burned a decade ago.
Ten years earlier, and our young narrator and a boy named Thomas James fall into bed with one another over the summer of their graduation. Their ensuing affair, with its violent, animal intensity and its intoxicating and toxic power play will initiate a dance of repulsion and attraction that will cross years, span continents, drag in countless victims – and culminate in terrible betrayal.
At Certain Points We Touch is a story of first love and last rites, conjured against a vivid backdrop of London, San Francisco and New York: a riotous, razor-sharp coming-of-age story that marks the arrival of an extraordinary new talent.
Available to buy here
Connect with Lauren John Joseph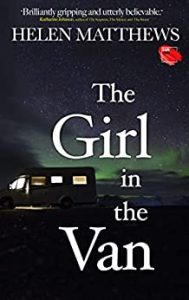 A tormented mother. An abandoned girl. A deadly game of survival.
What happened to Ellie?
Traumatised by events, Ellie's mother, Laura, can't bear to stay in the Welsh seaside town where she lives with her partner, Gareth. She escapes to London, breaking all ties with him, and refusing to tell anyone her new address.
After two years of living alone and working in a mundane job, Laura buys an old campervan and joins a singles holiday. Here, she meets Miriana, a teenage girl who bears a chilling resemblance to Ellie. As Laura uncovers Miriana's story, she's shocked by the parallels to her own life.
But stories can be dangerous, and someone out there will stop at nothing to prevent the truth about Ellie from coming out…
Available to buy here
Connect with Helen Matthews
In Ancient Greece, a skilled marble sculptor has been blessed by a goddess who has given his masterpiece – the most beautiful woman the town has ever seen – the gift of life. Now his wife, he expects Galatea to please him, to be obedience and humility personified. But she has desires of her own, and yearns for independence.
In a desperate bid by her obsessive husband to keep her under control, she is locked away under the constant supervision of doctors and nurses. But with a daughter to rescue, she is determined to break free, whatever the cost…
Available to buy here
Connect with Madeline Miller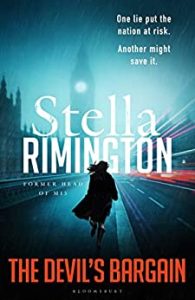 One lie put the nation at risk. Another might save it.
Harry Bristow: policeman, father, chauffeur, fraud.

In 1988, Harry made one mistake: he took a bribe, letting a man he knew as Igor into Britain – and he's regretted it ever since. So when he recognises Igor many years later as his newly-elected MP, he knows he has to come clean. But the MP recognises him too – and Harry fears what he might do next.

Peter Robinson, MP: salesman, politician, bachelor, spy.
It was easy to get into Britain in 1988 as an illegal, working deep undercover, but the break-up of the Soviet Union cut Robinson off from his homeland. He's inching closer to Britain's levers of power – but now the one man who knows his secret has reappeared. With no way to contact Moscow, he must act fast to preserve his position and reap its rewards – at any cost.

Manon Tyler, CIA analyst, has just boarded a plane to London – with a report on Russian illegals to read.
Love and Death.
Grief and Joy.
Music that lasts forever.
Leipzig, 1726. Eleven-year-old Stefan Silbermann, a humble organ-maker's son, has just lost his mother. Sent to Leipzig to train as a singer in the St Thomas Church choir, he struggles to stay afloat in a school where the teachers are as casually cruel as the students.
Stefan's talent draws the attention of the Cantor, Johann Sebastian Bach. Eccentric, obsessive and kind, he rescues Stefan from the miseries of school by bringing him into his home as an apprentice. Soon Stefan feels that this ferociously clever, chaotic family is his own. But when tragedy strikes, Stefan's period of sanctuary in their household comes to a close.
Something is happening, though. In the depths of his loss, the Cantor is writing a new work: the Saint Matthew Passion, to be performed for the first time on Good Friday. As Stefan watches the work rehearsed, he realises he is witness to the creation of one of the most extraordinary pieces of music that has ever been written.
Available to buy here
Connect with James Runcie
Paige Mahoney has eluded death again. Snatched from the jaws of captivity and consigned to a safe house in the Scion Citadel of Paris, she finds herself caught between those factions that seek Scion's downfall and those who would kill to protect the Rephaim's puppet empire.
The mysterious Domino Programme has plans for Paige, but she has ambitions of her own in this new citadel. With Arcturus Mesarthim – her former enemy – at her side, she embarks on an adventure that will lead her from the catacombs of Paris to the glittering hallways of Versailles. Her risks promise high reward: the Parisian underworld could yield the means to escalate her rebellion to outright war.
As Scion widens its bounds and the free world trembles in its shadow, Paige must fight her own memories after her ordeal at the hands of Scion. Meanwhile, she strives to understand her bond with Arcturus, which grows stronger by the day. But there are those who know the revolution began with them – and could end with them…
Available to buy here
Connect with Samantha Shannon
With Mother's Day around the corner, what better way than to celebrate all the amazing facets of 'being a mother'.
Motherhood has many layers and can be rewarding as well as challenging.
Read stories from the authors of the debut book entitled 'The Triumph of Motherhood' this Mother's Day as they share their stories and experiences of motherhood.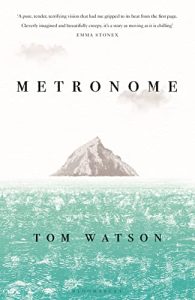 Not all that is hidden is lost.
For 12 years, Aina and Whitney have been in exile on an island for a crime they committed together, tethered to a croft by pills they must take for survival every eight hours. They've kept busy: Aina with her garden, her jigsaw, her music and Whitney with his sculptures and maps. But something isn't right.
Shipwrecks have begun washing up, and their supply drops have stopped. And on the day they're meant to be collected for parole, the Warden does not come. Instead, there's a sheep. But sheep can't swim…
As days pass, Aina begins to suspect that their prison is part of a peninsula, and that Whitney has been keeping secrets. And, if he's been keeping secrets, maybe she should, too. Convinced they've been abandoned, she starts investigating ways she might escape. As she comes to grips with the decisions that haunt her past, she realises her biggest choice is yet to come.
Available to buy here
Connect with Tom Watson
Remember, if you're an author and you'd like to see your book in our Saturday Spotlight, email: pentoprint@lbbd.gov.uk and send us the details of your new novel.

Further Links
For details of Penguin RandomHouse new releases, visit their website here.
For details of Hachette new releases, visit their website here.
For details of HarperCollins new releases, visit their website here.
For details of PanMacmillan new releases, visit their website here.
For details of Simon & Schuster new releases, visit their website here.
Disclaimer: Amazon links are given for ease but please remember there are a number of other online retailers operating, including hive (which helps to support independent book shops), Kobo, Apple Books, Google Play and Nook as well as online stores for bookstores such as Waterstones, Barnes & Noble and WHSmiths. 
We want to help connect authors and readers, so our Saturday Spotlight page showcases some of the exciting new reads available each month.