Saturday Spotlight: New Book Releases May 2023
By Claire Buss, Deputy Editor, Write On! 
At Write On! and Pen to Print, we want to help connect authors and readers, playwrights and audiences, so we've created a Spotlight page on the last Saturday of the month, showcasing some of the exciting new reads and plays available. The curated list is based on books and plays that you send us, so if you're an author or a playwright and you'd like your book or play in the spotlight, reach out to us at pentoprint@lbbd.gov.uk. Whether you're an indie author, with a small press or mainstream publisher, established or brand new playwright, we'd love to hear from you and shine a light on your new work.
Write On! offers other opportunities for writers as well. If you'd like us to feature an extract from your book or a short story, please send the extract, book cover and blurb to pentoprint@lbbd.gov.uk with the subject: Write On! Showcase (ensuring you have your publisher's permission, of course).
Pen to Print are also looking for short videos from people reading a passage from their favourite book, or authors reading extracts from their own books. These videos will be featured on the Pen to Print YouTube channel and across our social media. Please send in your videos or links to pentoprint@lbbd.gov.uk with the subject: Video Stories.
*****
The Invisible Man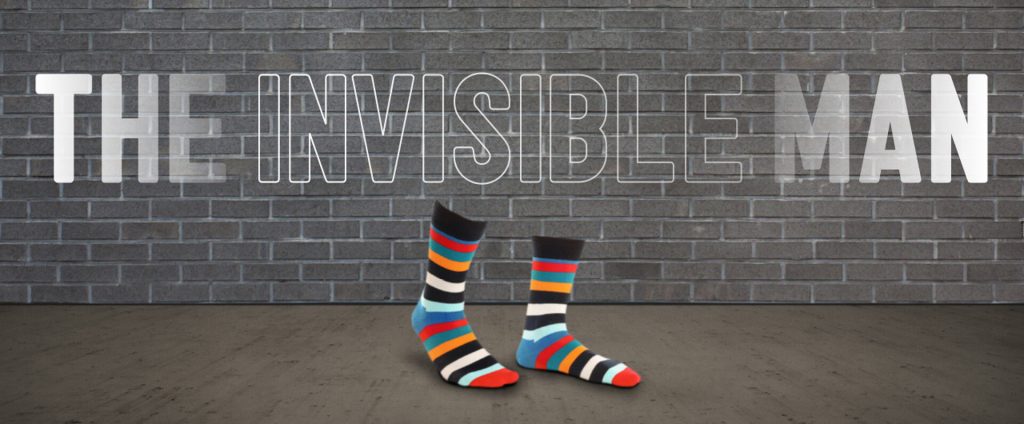 Now You See Me…
A stage technician and a musician are waiting to start their show. Everything is in place, and the audience is waiting, but where is the performer?
Imagine how much fun you can have when no one can see you. The Invisible Man invites you to take a seat and watch… well… no one, really.
Created in the Netherlands by highly acclaimed, mischievous theatre-makers Theater Artemis (The Show In Which Hopefully Nothing Happens) this surreal and hilarious show is all about everything  you don't see.
Supported by Performing Arts Fund NL
Ticket Information
Sun 28 May to Sun 18 Jun
Under 18s £9 – £17 / Adults £15 – £25.5
Click to buy
*****
Dream School
17 MAY – 3 JUN
This is the in-person event at the Space. To book for the livestream, visit HERE.
"You're always talking about how you just need that one story. That one break. So let me do this. Let me give this to you."
Inspired by a true story, Dream School is a thriller about a group of students who accidentally find themselves in a cult. 
When a student's father, Bobby, moves into the student halls, his charisma, care and knowledge are enticing. But as he drives the students towards self-improvement, boundaries become blurred and their safety is uncertain.
A decade later, ex-student Betty assumes it's safe to tell their story. But are they just one memory away from reliving it all? Dream School is an exploration of the relationship between storytelling and trauma, asking the question: "When is a story ready to tell and how do we tell it?"
This project forms part of A Call For Safe Practice, a long-term ambition to provide accredited guidance and training on how to make trauma-informed art safely; made possible thanks to the University of Greenwich, Arts Council England and all those who have donated and supported us.
The Power And The People
Green Curtain Theatre is proud to announce a production of The Power And The People. The play is a history of the Battersea Power Station site in London with a particular focus on the Irish diaspora's involvement from living in its shadow to working on its construction. The first performance on June 17th 2023 is part of the Wandsworth Arts Fringe Festival 2023.
Find out more here: youtube.com/watch?v=71CFjxH3TgY
*****
Wife. Husband. Best friend. What if your two favourite people hated each other with a passion?
A nice house, a carefree life, a doting husband, a best friend who never leaves your side. What more could you ask for? There's just one problem: your husband and best friend love you, but they hate each other.
Set over a single day, husband, wife and best friend Temi toe the lines of compromise and betrayal. Told in three parts, three people's lives, and their visions of themselves and one another begin to slowly unravel, until a startling discovery throws everyone's integrity into question.
Full of intrigue, idiosyncratic wit and a healthy dose of wealth and snobbery, The Three of Us is part-suburban millennial comedy of manners and part-domestic noir that will leave you wondering: whose side are you on?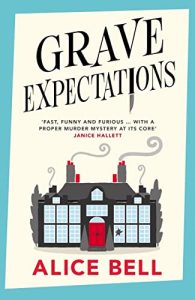 Claire and Sophie aren't your typical murder investigators.
When 30-something freelance Medium Claire Hendricks is invited to an old university friend's country pile to provide entertainment for a family party, her best friend Sophie tags along. In fact, Sophie rarely leaves Claire's side, because she's been haunting her ever since she was murdered at the age of 17
On arrival at The Cloisters it quickly becomes clear this family is hiding more than just the good china, as Claire learns someone has recently met an untimely end at the house.
Teaming up with the least unbearable members of the Wellington-Forge family: depressive ex-cop Basher and teenage radical Alex, Claire and Sophie determine to figure out not just whodunnit, but who they killed, why and when.
Together, they must race against incompetence to find the murderer before the murderer finds them.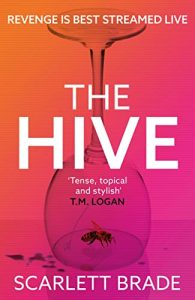 Charlotte Goodwin looks directly at the camera and reveals a chilling truth to the thousands watching her Instagram Live broadcast.
She has killed her ex-boyfriend's new partner in cold blood. And she's not finished yet.
The public display sends shockwaves rippling through the online community and the numbers of viewers skyrockets. But as her ex's past is revealed, how will he be judged?
The Hive explores our darkest fears of the relationship between social media and mental health but, most importantly, the strength of sisterhood against all the odds.
Available to buy here
Connect with Scarlett Brade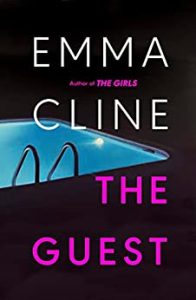 Summer is coming to a close on Long Island, and Alex is no longer welcome.
One mis-step at a dinner party and the older man she's been staying with dismisses her with a ride to the train station and a ticket back to the city. With few resources, but a gift for navigating the desires of others, Alex stays on the island. She drifts like a ghost through the gated driveways and sun-blasted dunes of a rarefied world, trailing destruction in her wake.
Taut, sensual and impossible to put down, The Guest captures the latent heat and potential danger of a summer that could go either way for a young woman teetering on the edge.
Available to buy here
Connect with Emma Cline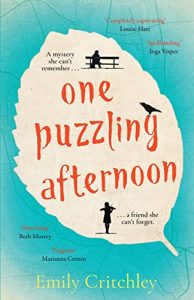 On a suburban street filled with secrets, 84-year-old Edie Green must look back into the past to discover what happened to her friend Lucy, who went missing years before.
"I kept your secret, Lucy. I've kept it for more than 60 years."
1951. At number six Sycamore Street 15-year-old Edie Green is lonely. Living alone with her eccentric mother, who conducts seances for the local Ludthorpe community, she's desperate for something to shake her from her dull, isolated life.
When the popular, pretty Lucy Theddle befriends Edie, she thinks all her troubles are over. But Lucy has a secret, one Edie is not certain she should keep.
Then Lucy goes missing.
2018. Edie is 82 and still living in Ludthorpe. When one day she glimpses Lucy Theddle, still looking the same as she did at 15, her family write it off as one of her many mix-ups. There's a lot Edie gets confused about these days. A lot she finds difficult to remember. But what she does know is this: she must find out what happened to Lucy, all those years ago.
Available to buy here
Connect with Emily Critchley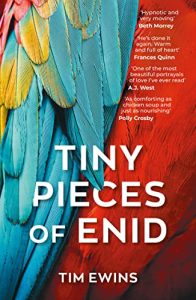 Enid isn't clear about much these days.
But she does feel a strong affinity with Olivia, a regular visitor to her dementia home in a small coastal town. If only she could put her finger on why.
Their silent partnership intensifies when Enid, hoping to reconnect with her husband Roy, escapes from the home. With help from an imaginary macaw, she uncovers some uncomfortable truths about Olivia's marriage and delves into her own forgotten past.
A deeply touching story of love, age and companionship, evoking the unnoticed everyday moments that can mean the world to the people living them, Tim Ewins' second novel will delight fans of his acclaimed debut, We Are Animals.
Available to buy here
Connect with Tim Ewins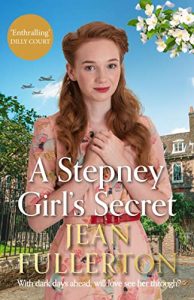 East London, 1940. Prue Carmichael never dreamed she'd end up working at a railway yard.
When her reverend father is called up to Stepney, she and her family are uprooted from their country home for a new life in the turbulent city.
Determined to help with the war effort, Prue signs up for work and soon becomes intrigued by handsome train engineer, Jack Quinn. But as the spark between them grows apparent, so does his troubled past; a past Prue's mother would certainly not approve of.
In between cleaning train carriages and helping to shelter Jewish refugees, Prue manages to stay busy. But she has more than one admirer, and when Jack is recruited into Churchill's secret army, a very different suitor begins to pursue her.
As air raid sirens sound overhead, Prue Carmichael is facing her own battle: the fight between her heart and her head.
Amidst the ruins of war, will Prue and Jack's love find a way?
Available to buy here
Connect with Jean Fullerton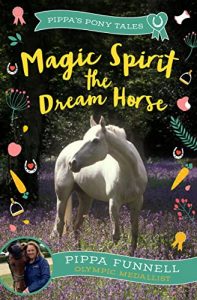 The first in a series of heart-warming pony tales packed with expert advice from three-times Olympic Medallist and Grand Slam winner, Pippa Funnell, on everything you ever wanted to know about horses.
Tilly Redbrow lives, breathes and dreams horses. The only thing missing from life with her adoptive family is a pony of her own. But on the day Tilly helps rescue a terrified horse from the roadside, her dreams begin to come true. She quickly forms a special bond with Magic Spirit, the beautiful grey horse that's now being cared for at Silver Shoe Farm. It's the start of a partnership with a horse that only she can ride to stardom, but they both have a lot to learn along the way.
Available to buy here
Connect with Pippa Funnell
One unremarkable afternoon, Rosie watched her daughter Saoirse cycle into town, expecting to hear the slam of the door when she returned a few hours later. But the slam never came.
Eight years on, after an extensive investigation into her disappearance, Rosie is the only person who stubbornly believes her child might still be alive. When she receives a call from her father, asking her to return home for the summer, she's forced out of limbo. Life on the island of Roaring Bay revives old rivalries, but it also brings new friendships and unexpected solace.
Yet, when a sudden glimmer of hope appears, Rosie is forced to face an impossible question: is she right to think that Saoirse is still alive? Or will her belief that her daughter will one day return to her come at the cost of everything she has left?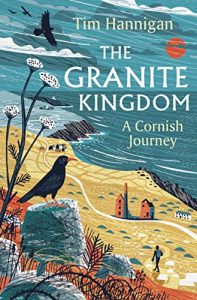 A fascinating, lyrical account of an east-west walk across Britain's westernmost and most mysterious region.
A distant and exotic Celtic land, domain of tin-miners, pirates, smugglers and evocatively named saints and somehow separate from the rest of our island.
Few regions of Britain are as holidayed in or as well-loved and mythologised as Cornwall. From the woodlands of the Tamar Valley to the remote peninsula of Penwith, via the wilderness of Bodmin Moor and coastal villages where tourism and fishing find an uneasy coexistence, Tim Hannigan undertakes a zigzagging journey on foot across Britain's westernmost region to discover the real Cornwall: its landscapes, histories, communities and sense of identity, intersecting with the many projections and tropes writers, artists and others have placed upon it.
Combining landscape and nature writing with deep cultural inquiry, The Granite Kingdom is a probing but highly accessible tour of one of Britain's most popular regions; juxtaposing history, myth, folklore and literary representation with the geographical and social reality of contemporary Cornwall.
Available to buy here
Connect with Tim Hannigan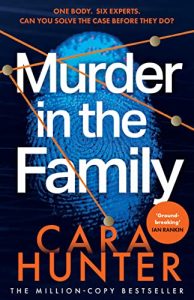 It was a case that gripped the nation. Luke Ryder's murder has never been solved.
In December 2003, Luke Ryder was found dead in the garden of his family home in London, leaving behind a wealthy older widow and three stepchildren. No one saw anything.
Now, secrets will be revealed – live on camera.
Years later, a group of experts re-examine the evidence on Infamous, a true-crime show, with shocking results.
Does the team know more than they've been letting on? Or does the truth lie closer to home? Can you solve the case before they do?
The truth will blow your mind.
Can you catch a killer? Or are you already in the web? 
Three years ago, Detective Saga Bauer received an ominous postcard describing a gun and nine white bullets, one of which was intended for her partner, Detective Joona Linna. The sender alleged that Saga was the only person who could save him. But as time passed, the threat faded.
Until now.
A sack with a decomposing body has been found hanging from a tree in the forest. A milky white bullet casing turns up at the scene. When the body count begins to rise, the police realise the killer is sending riddles, offering them the chance to stop the murders before they happen.
But the police always seem to arrive a moment too late. As they begin to close in, the case becomes more and more tangled. Someone is spinning a fiendishly intricate web, pulling Joona ever closer to a trap he may not be able to escape.
Available to buy here
Connect with Lars Kepler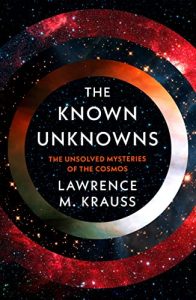 Internationally-known theoretical physicist and bestselling popular science writer, Lawrence Krauss, explores cosmology's greatest unanswered questions.
Three of the most important words in science are "I don't know". Not knowing implies a universe of opportunities, the possibility of discovery and surprise. Our understanding of cosmology has advanced immeasurably over the last five hundred years of modern science, yet many fundamental mysteries of existence persist. How did our universe begin, if it even had a beginning? How big is it? What's at the bottom of a black hole? How did life on earth arise? Are we alone? Is time travel possible?
These mysteries define the scientific forefront, the threshold of the unknown. To explore that threshold is to gain a deeper understanding of just how far science has progressed. In The Known Unknowns, internationally-known theoretical physicist and bestselling popular science writer, Lawrence Krauss, covers time, space, physical law, life and consciousness, introducing readers to the topics shaping the state of science of the next few decades, inviting us to ponder and appreciate the universe in which we live.
Available to buy here
Connect with Lawrence M. Krauss
Not every Regency lady is looking for a husband…
As the daughter of an English earl and his Indian mistress, impulsive Lila Marleigh has already broken the rules of society into tiny pieces.
When a face she never thought she would see again appears and begs for help, Lila must court notoriety once more and pit her wits against the annoyingly handsome aristocrat, Ivor Tristram. But does she risk opening her heart to the one person who can break it?
Available to buy here
Connect with Amita Murray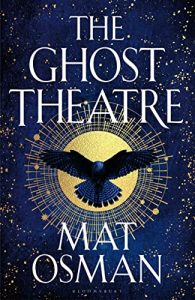 To love is to fall…

On a rooftop in Elizabethan London two worlds collide. Shay is a messenger-girl and trainer of hawks who sees the future in the patterns of birds. Nonesuch is the dark star of the city's fabled child theatre scene, as famous as royalty, yet lowly as a beggar.
Together, they create The Ghost Theatre: a troupe staging magical plays in London's hidden corners. As their hallucinatory performances incite rebellion among the city's outcasts, the pair's relationship sparks and burns against a backdrop of the plague and a London in flames. Their growing fame sweeps them up into the black web of the Elizabethan court, where Shay and Nonesuch discover that, if they fly too high, a fall is sure to come.
Fantastical and captivating, The Ghost Theatre charts the rise and dramatic destruction of a dream born from love and torn apart by betrayal.
Available to buy here
Connect with Mat Osman
1966: Sook-Yin is exiled from Kowloon to London, with orders to restore honour to her family. As she strives to fit into a world that doesn't understand her, she realises  survival will mean carving out a destiny of her own.
1997: Sook-Yin's daughter Lily can barely remember the mother she lost as a small child. But when she's unexpectedly named in the will of a powerful Chinese stranger, she embarks on a secret pilgrimage to Hong Kong to discover the lost side of her identity and claim the reward.
She soon learns the secrecy surrounding her heritage has deep roots, and that good fortune comes at a price.
Available to buy here
Connect with Wiz Wharton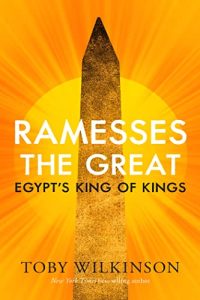 The life, dramatic reign and enduring legacy of the pharaoh Ramesses the Great, with lessons for the present, from internationally acclaimed Egyptologist Toby Wilkinson.
Ramesses II ruled the Nile Valley and the wider Egyptian empire from 1279 to 1213 BC, one of the longest reigns in pharaonic history. He was a cultural innovator, a relentless self-promoter and an astute diplomat — the peace treaty signed after the Battle of Kadesh was the first in recorded history. He outbuilt every other Egyptian pharaoh, leaving behind the temples of Abu Simbel, the great hypostyle hall of Karnak, the tomb for his wife Nefertari and his own memorial, the Ramesseum.
His reputation eclipsed that of all other pharaohs: he was decried in the Bible as a despot, famed in literature as Ozymandias, and lauded by early antiquarians as the Younger Memnon. His rule coincided with the peak of ancient Egypt's power and prosperity: the New Kingdom (1539–1069 BC).
In this authoritative biography, Toby Wilkinson considers Ramesses' preoccupations and preferences, uncovering the methods and motivations of a megalomaniac ruler, with lessons for our own time.
Remember, if you're an author and you'd like to see your book in our Saturday Spotlight, email: pentoprint@lbbd.gov.uk and send us the details of your new novel.

For details of Penguin RandomHouse new releases, visit their website here.
For details of Hachette new releases, visit their website here.
For details of HarperCollins new releases, visit their website here.
For details of PanMacmillan new releases, visit their website here.
For details of Simon & Schuster new releases, visit their website here.
Disclaimer: Amazon links are given for ease but please remember there are a number of other online retailers operating, including hive (which helps to support independent book shops), Kobo, Apple Books, Google Play and Nook as well as online stores for bookstores such as Waterstones, Barnes & Noble and WHSmiths. 
Issue 16 of Write On! is out now. Find it in libraries and other outlets.See it online here.
We want to help connect authors and readers, so our Saturday Spotlight page showcases some of the exciting new reads available each month.