Write On! Interviews: Author Emma Rosen
Write On! interviews Author Emma Rosen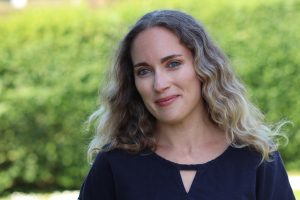 Emma is a non-fiction and children's author based in south east Kent. Her books focus on marine ecology (Lily The Limpet Gets Lost, Secret Seagrass Meadows), breastfeeding (Milk, Milk And Cookies) and supporting creative small businesses (Self-Publishing). She has independently published all her books and shares tips on her popular YouTube channel (Emma Rosen Books). She works part-time as a biology teacher and her love of science, education and support merge across both careers. She recently launched a podcast, Indieness, where she interviews fellow creative small business owners.
WO: How would you describe your writing to someone new to it?
ER: I've often found it difficult to answer this question, as I write about different topics and in different genres (children's picture books, memoir and non-fiction to date). But, when I think about it, there's a thread that draws my work together: I have a passion for making a difference with what I do, whether that's sharing my experience and knowledge, or emphasising an important message.
WO: Can you tell us a bit about your latest book?
ER: Last year, I had the privilege of working with Natural England on a book to highlight the importance of seagrass and the project by EU Life Remedies to restore the habitat. I worked with the talented artist Rhiannon Thomas to produce a rhyming picture book with beautiful watercolour illustrations. Secret Seagrass Meadows was launched in Plymouth with a series of school visits and an event at Plymouth Central Library. Books were donated to local primary schools and libraries. It was such an amazing project to be involved with and we estimated that during the launch we engaged with 400 children across the city, which is an wonderful opportunity for environmental literacy!
WO: What inspired you to write in the first place, and what inspires you now?
ER: I started writing my first book, Milk, when my son was just a few weeks old. I'd struggled to breastfeed, failing to access good support and had been confronted with many societal misconceptions and misunderstandings. The book started as a cathartic exercise, but ended up as a memoir of my feeding experiences with my three babies alongside a commentary on how breastfeeding is perceived and understood. I wanted to give a window into the experiences of a 'normal' person breastfeeding and hopefully share my knowledge to help others feel less alone. I was so passionate about the book that I ultimately independently published it. It turned out I then had more stories to tell!
I'm still inspired by topics I think are important to explore and share and will always be inspired to write about subjects close to my heart.
WO: The last issue of Write On! explored the theme of 'Contradictions'. With that in mind, do you ever actively look for or specifically avoid contradictions in your writing? Is there a part of your writing process that contradicts itself, yet somehow works for you?
ER: For me, the greatest contradiction is between the creative work and the publishing work. As an indie, I manage all aspects of the publishing process, which can take up a lot of my time. This limits the time I have to actually write new material. That said, I've recently started a new daily routine, where I schedule writing time into every day. It's easy to be carried away with admin that doesn't actually add much to your business, whether your bottom line or your body of work. Making time for creative work is really helping my productivity.
WO: What one piece of advice would you give an aspiring writer?
ER: Have faith in yourself! Everyone experiences setbacks and failures, but success comes to those who are persistent. Have faith in your own instincts as well; if something doesn't feel right it probably isn't, and if something's exciting, then chase it.
WO: Question from Twitter user: @lisalovesbooksx What comes first, character or plot?
ER: For me, it's plot. I know the overarching idea I want to get across first. From there, I develop the stages of the story and then I decide which characters will navigate it. From that loose plan, I then start to type and see whether the characters actually want to do what I'd intended them to do.
WO: Can you tell us anything about future projects?
ER: I'm currently working on the next book with Natural England and Rhiannon Thomas is busily sketching and painting! This story is about kelp forests, which I love. We're hoping this series will continue, with each book highlighting a different marine habitat.
I'm also reworking a story I wrote during NaNoWriMo in 2018. I'd parked it because I thought it needed such significant work, but editing it is proving to be quite enjoyable and there isn't as much to do as I thought. It's my first non-fiction book and I'm not putting any deadline on myself for publication. When I feel it's ready, I'll put plans in motion. Right now, I'm just enjoying the process and learning a lot about writing non-fiction.
WO: Lastly, if you could choose one fictional animal/creature to be a pet or companion, who would it be and why?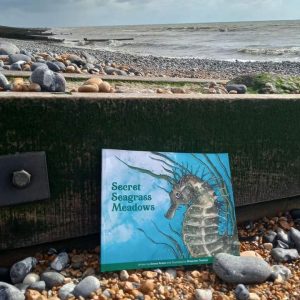 ER: The Librarian from Discworld. I appreciate his defence of books and libraries, although he is a little aggressive!
Find out more about Emma Rosen here: emmarosenbooks.co.uk and connect with her on social media: @emmarosenbooks. Secret Seagrass Meadows is available to buy from her website or major retailers.
***** 
Issue 16 of Write On! is out now. Find it in libraries and other outlets. You can also find the digital issue here.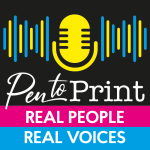 Each edition of our Write On! Audio podcast features an exclusive interview. Find us on all major podcast platforms, including Apple and Google Podcasts and Spotify. Type Pen to Print into your browser and look for our logo, or find us on Anchor FM.
*****
If you or someone you know has been affected by issues covered in our pages, please see the relevant link below for ​information, advice and support​: https://pentoprint.org/about/advice-support/
We estimated that during the launch we engaged with 400 children across the city. A wonderful opportunity to promote environmental literacy!