Showcase: Neurodivergent Writers + Artists
October's Showcases are introduced by Pen to Print and Write On! regular Michelle Sutton.
Last week's showcase mostly focussed on how October is Mental Health Awareness Month, but it's also Dyslexia, ADHD and Down Syndrome Awareness Month as well. So, for this showcase, I wanted to shine the spotlight on neurodiverse/neurodivergent writers and artists.
Neurodiversity is the concept whereby everyone varies in terms of neurocognitive ability. We all have talents and things we struggle with. For those with neurodivergent features, the variation between strengths and weaknesses is more pronounced, which can bring talent but can also be disabling.
As the daughter of a dyslexic father, I've grown up hearing and witnessing his struggles and the stigma attached to his 'condition' first-hand.
Some are ridiculous – like a person questioning how he could be a postman for so many years if he reads the addresses on letters wrong. How can he then find the right place? News to them, he doesn't read the words on the envelope any different to the words on street signs or building names; it might not be 'correct' but at least no mail goes astray.
Some are frustrating – struggling to write or say close relatives' names.
Others are humorous – I will never forget my very dyslexic dad being given directions, while driving to a football match, by my also very dyslexic team-mate, with me not knowing where the hell we'd end up when she'd say "turn left" and he'd turn right!
My dad didn't learn to read properly until after he married my mum. She actually taught him, and he only started to enjoy reading books when I lent him Timeline by Michael Crichton. He still struggles with words and gets a lot wrong while reading, but the most important thing is that the story makes sense to him, he knows who the characters are, and he enjoys it. Who cares if he is forever reading 'Jon Snow' as 'Joe Snow'?
That's why I wanted to do this showcase: proving that, just because you might have dyslexia, dyspraxia, ADHD, autism or another form of neurodiversity, doesn't mean you can't be a writer, a poet, an artist or a performer. So, enough from me. Please read and enjoy these submissions.
*****
First up, we have Marta Pacini with her flash piece, Post-Pandemic, which was written in response to a storytelling prompt given during a workshop on 'The Great Turning'.
Marta has dyspraxia and mild ADHD and is the founder of the independent publisher, Disturbance Press.
Post-Pandemic
We loved each other deeply. Not just my partner and I, but a whole load of people.
We loved each other and the Earth, and we didn't let the haters stand in our way any more.
So many of us had been silent and defeated for far too long.
We had taken the systemic abuse of the institutions, of the authorities, and of those they had successfully brainwashed.
We had taken their abuse, complained, talked about how things should be instead, then put our heads down and carried on with our work. Because otherwise, how would we eat?
For my part, I had become too ill and too disillusioned to put my actions where my mouth was.
Then, suddenly, a whole lot of people around the world had time.
And some of those who didn't, did their best to make time.
At a time when so many of us found our lives in danger, we also found that this was the opportunity we had been waiting for.
Change could beget more change, when for a short few months the government was subsidising a lot of people's livelihoods.
We used this time to organise ourselves into community groups, and to educate ourselves on all that needed to be done, and on how best we might achieve it.
Those who had some money to spare gave it to those who did not, so they wouldn't be forced to risk their lives because the government had decided to stop paying their wages and send them to die instead.
When we were told to go back to work, we said, "No." When the police threatened to arrest us, we said, "Fine, go ahead." And they did. But there came a point when they couldn't continue arresting everybody. They were running out of space, choked by the taxes we were now refusing to pay.
It took a long time, but with patience and kindness we managed to get through to those who thought we were lawless freaks ruining society. We managed to convince them that we weren't ruining it, we were changing it for the good of all beings and of the universe.
I did my part by writing.
© Marta Pacini, 2020
You can connect with Marta on Twitter: @MartaPacini13 and find out more about Disturbance Press on Twitter: @DisturbPr or at disturbancepress.co.uk
*****
Next, we have two poems from Sam Rapp, The Dyslexic Poet. Sam is a poet, playwright, short story writer, inspirational speaker, editor/ producer, part-time lawyer, Chair Dyslexia House Association, Co-Chair of the Disability Staff Network, Ambassador for Medway Disability Action and South East Representative for the British Dyslexia Association.
I asked my dad to pick from a selection of poems Sam sent in on the theme of dyslexia . These were the two he chose.
Difficuilty With Words
I have Difficulty with words,
I pronounce them wrong, sometimes,
I hear birds singing but not in order,
I have difficulty with maths,
As I cannot see the numbers, but they are in order to me,,
I think it's society, trying to make things awkward
Maths, numbers, do make perfect sense to me, just not in the dictated order,
Always a  rebellious kind, like my grandmother, fighting off the fascists in the streets,
but she stood her ground, she fought with the armies of Irish London,
And they would not pass, her door, or they would be sore,
I have word blindness, but I can still see,
I struggle to spell, I can spell,,Sometimes round the wrong way, but I know their meaning as the words are my very soul  and being, I have no difficulty in what they want to say, or are saying,
I have difficulty with words, so I am told, but I don't think so,
I have difficulty with words but still pass exams,
I have difficulty  with words, but who told me that,
Grammar is this way and spelt like that, but who said that,
Shakespeare, folios  don't  use grammar,  and he wrote lots of plays,  poems, sonnets, that make you quiver in your seat if it's Lady Macbeth, or Titus, with their bloody ways, to greet
Spelling and grammar has different ways, but not your ways,
My letters re arrange themselves on the page, and jump out at me,
Screaming sometimes, which is somewhat rude when they tell me, its this way not like that,
We have a little splat, but I don't care, as long as I can read, a tad slower, than them,  I am not in their dispeare, I am not in dispeare.
I can spell, why invent spell check if you can't use it, and I know their meanings so no need to yell,
I think having diffuilty with words was invented by a witches spell
So being dyslexic I think is swell.
© Sam Rapp, The Dyslexic Poet, 2019
 *****
We Are The Amazing Dyslexics
We are the amazing dyslexics,
We are funny,
We are witty,
We have no apology or pity.
We focus at a slower speed
We are not greedy it takes us time to read,
We are amazing,
Our minds work in many different ways,
They scramble about until we decide to spurt things out,
When we are ready, For the words or the numbers,
We spell in our own unique ways,
Or grammatical creativity,
Makes us different when we write or speak,
We are just incredibly unique,
We are not scared of Zeus  as he unleashes his thunder,
We sit back  and hang loose
We have so many gifts  we can use  dragons to help them with their words,
Some have a miss mash bosh, and it arrives on the page
upside down,
People have known to stand on their heads just to engage,
We are less stressed, with less haste,
We read and write at our own pace,
We are the amazing dyslexics,
We are doctors, judges, inventors,
Film directors, and so much more,
We can Paint  pictures that have magical harmony,
We can dance with Bacchus and  love  like Aphrodite,
We can sniff like porcupines in a forest,
We can achieve greatness, walking on the moon, and kissing the sun,
We are endearingly late and chaotic,
Being dyslexic
We are our own person,
We don't follow like sheep,
We have our own bleep,
We are your best friends and soul mates,
We are the amazing dyslexics,
Like Einstein,
Branson, Woopi Goldberg will I am
Even De Vinci,
All now written into history,
We are the amazing dyslexics
I told you so
© Sam Rapp, The Dyslexic Poet, 2018
You can connect with Sam on Facebook: facebook.com/Sam-rapp-the-dyslexic-poet-1607623482810400/ and Instagram: @s_rapp_the_dyslexic_poet_
You can also find out more about her company Fun With Word Productions and its creative writing workshops here: facebook.com/groups/354784238704167/
Her book, Rant, Dyslexic Me, a collection of poems about being dyslexic, is available to buy: amazon.co.uk/Rant-Dyslexic-Me-Sam-Rapp/dp/1726167941
*****
Another poem now, but this time from eight-year-old Leo Buss and all about sound. Leo has autism and perceives sounds differently to a lot of people, and I'm very happy to include it in this showcase.
The Soundcollector
(Inspired by the poem The Soundcollector by Roger McGough)
A stranger called this morning
Dressed all in black and grey
Put every sound into a bag
And carried them away
The squeaking of the ladder
As I climb down from bed
The flushing of the toilet
The noisy noise it makes
The pouring of my frosties
The tinkling of the bowl
The shlushing of the water
The loud noisy noise it makes
The chatting of my mummy
The talking of my dad
The laughing of Anabelle
When my dad does a dance
The turning of the pages
The rushing of the mummy
The quicker we can go
The faster we can walk
The zipping of my bag
My dad gets up late
My mummy is quick
When you spread the raspberry jam noisy Onomatopeia IT MAKES
The striping of the velcro
The ticking of the clock
The gurgling of the tap and drain
© Leo Buss, 2021
Finally, I leave you with some beautiful lino-cut art pieces from Patricia Bidi. The first two pieces, Woman With Hand and Ever Since, are about Patricia's experience of living with ADHD. The Juggler was also inspired by her neurodiverse brain and, in her own words, "Only that I didn't add the other eight or ten balls!"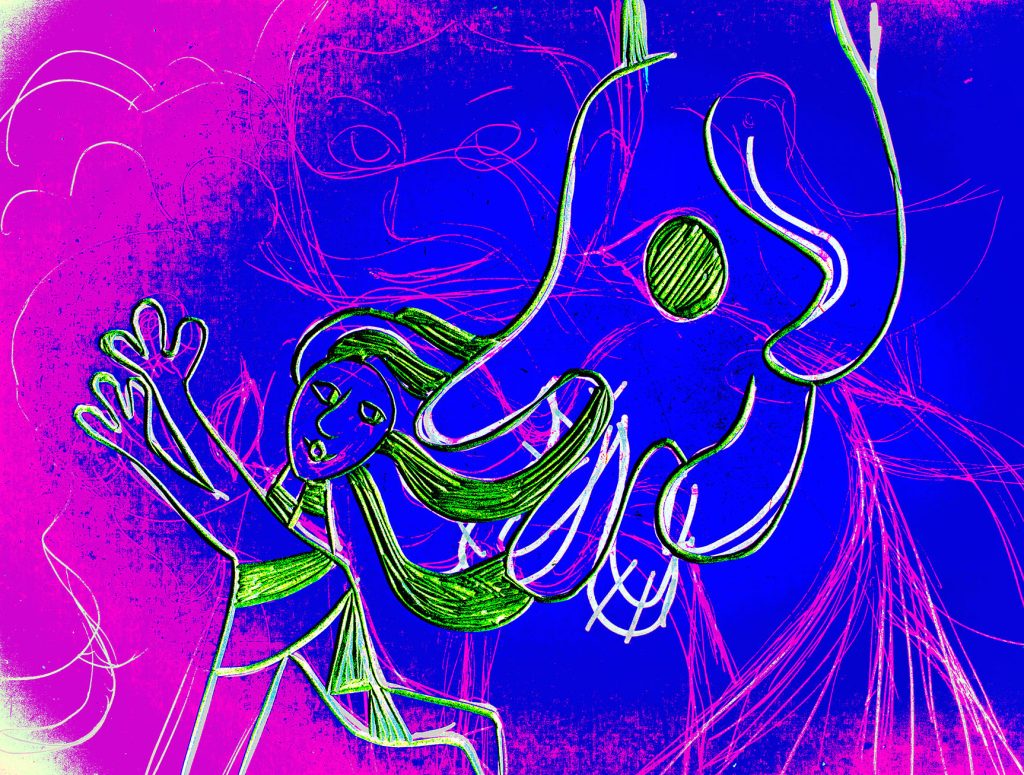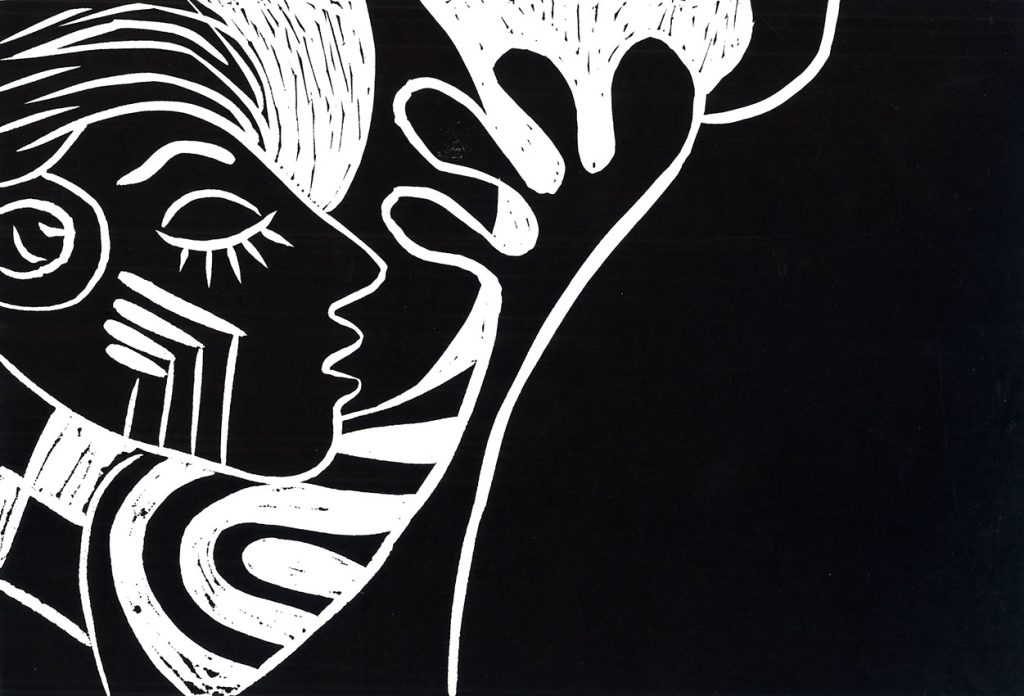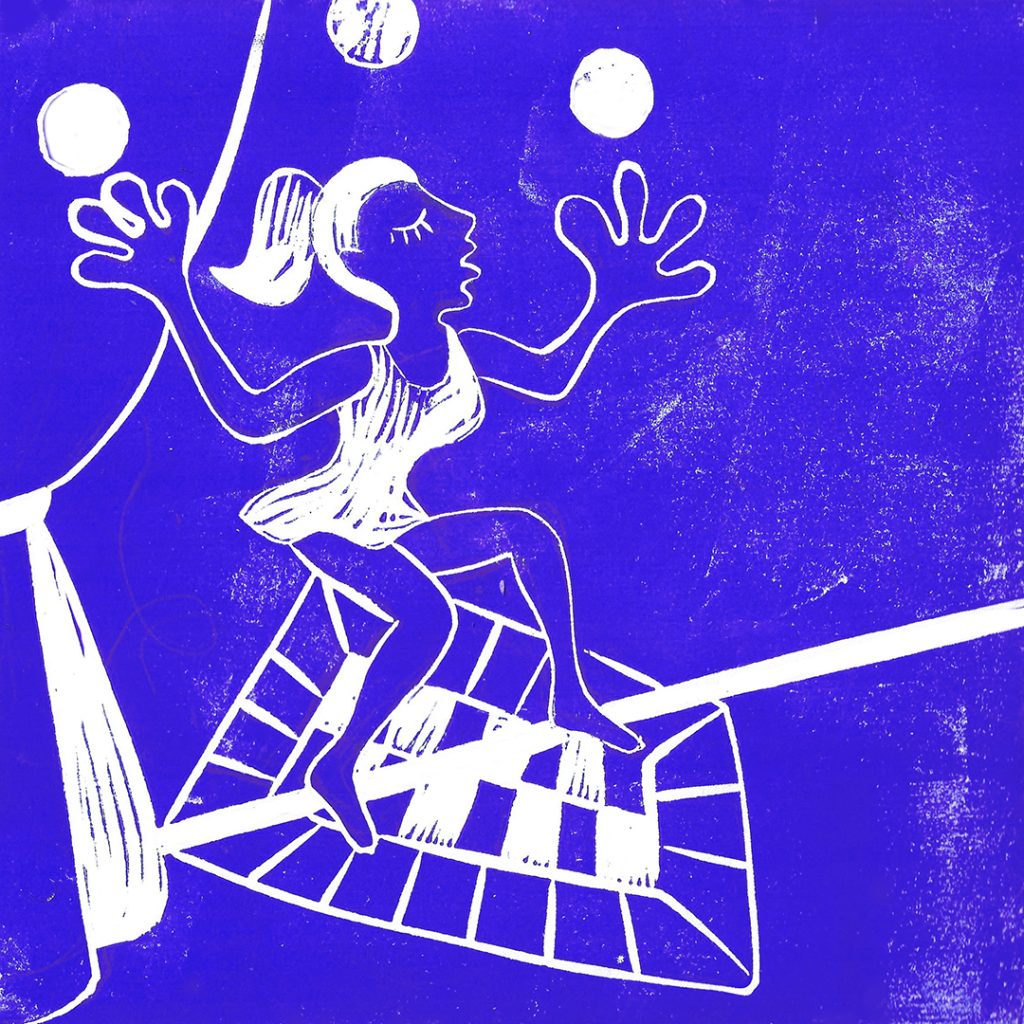 You can connect with Patricia on Twitter: @patriciabidi
*****
If you'd like to see your writing appear in the Write On! Showcase, please send your short stories, poetry or novel extracts to pentoprint@lbbd.gov.uk.
You can read more fiction, poetry, interviews and author advice in the latest issue of Write On!  Issue 10 of Write On! is available now. You can see it here.