Showcase: The Poem + The Bookshop + After The Fall + Conflict Of The World
By Palak Tewary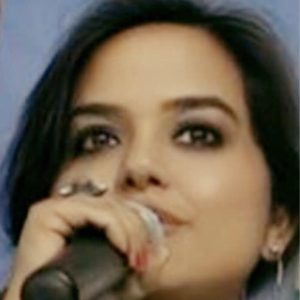 Dear Readers,
This month, as I pick up the reins as your Showcase editor, I have some wonderful submissions for our theme 'Contradictions.'
As a writer, I find this theme extremely exciting; to have two opposing ideas, yet finding a common theme between them is a fascinating space to be in, as this month's writing showcases.
I hope you enjoy reading these as much as I did.
Keep exploring!
*****
The first poem comes from Ray Miles. Titled The Poem, it strikingly touches upon the said and the unsaid and how it relates to what we feel.
The Poem
I wrote a poem recently,
I knew just what to say.
The poem was just meant to be,
There was no other way.
I wrote a poem recently,
The words fell from my head.
They came unbidden out of me,
On paper, nothing said.
I wrote a poem recently,
And now I feel complete.
The words are there for all to see;
That feeling's hard to beat.
© Ray Miles, 2023
*****
Often, the very same thing can engender both immense joy and great sorrow. In The Bookshop, Hongwei Bao brings a sense of happiness and sadness together in a poignant way, leaving you at the door of the bookshop, feeling ambivalent and wondering how time changes things.
The Bookshop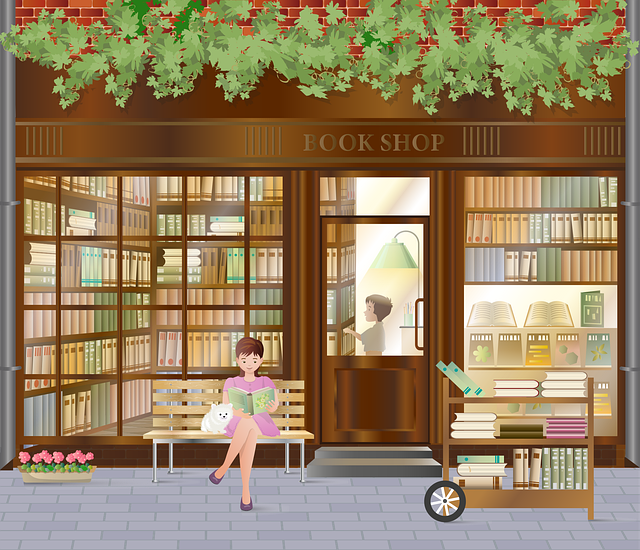 My heart was pumping fast when I visited the bookshop for the first time. It was a small bookshop located on a busy street. The sign was hanging high above the entrance. In the shop window, a range of beautifully designed books stood against a colourful rainbow flag. I could hear a bell ringing as I pushed the door open. Inside the shop, I was immediately greeted by shelves of books. Near the door was a counter. A young man looked up from the counter and smiled at me. He then looked down and carried on with his work. It was quiet for a Saturday morning. I spent a couple of hours wandering around and browsing, getting lost in a magical world. The sun was casting colourful shadows into the shop. It was warm and a jasmine fragrance lingered in the air.
Three years later, I walked past the bookshop. The once busy street had become much quieter during the economic recession that had sprung from the pandemic. The rainbow flag was still in the window, but it looked dusty and faded now. I hesitated for a moment before I pushed the door open. I was anticipating a bell ring, but nothing happened. It was the same bookshop, but its past glamour had gone. The bookshelves were almost empty. Some cardboard boxes filled with books stood randomly on the floor. The counter was unattended, as if the shop had been deserted.
Deep inside the shop, a man was busily taking books off the shelves. Hearing me come in, he turned around. It was the same guy, but he looked much older, with salt and pepper hair and a beard. "We're closed," he said, "permanently." He turned around and carried on with his work. "Sorry," I mumbled, as I moved towards the door. I pushed it back open. My hand was trembling, and my mind was blank, a sense of sadness dawning. I felt as though I'd lost a home. I walked quickly out of the shop into the cold air.
© Hongwei Bao, 2023
*****
Patsy Middleton's poem is steeped with the feeling of being trapped and then becoming free, taking our imagination to new heights.
After The Fall
White-hot shine, sears rasps rapes
Iron pain-spears pierce skulle
Reel, weak body, spin, turn, fall
into night-dark lackmoon.
Wild wrath-filled, hopelessness seeks
halls of heaven where sits Thor.
Bones splinter, carriers crack
Knees cease scrawny unwalking
Winged honey-makers prick ribs.
Death brings a wealth of head skills.
Sleep-helper, pain bringer, deal smoke-light
Thoughts unfound, fear moves, air-carried
Parched mouth-dust rages in river-cure need.
Mind in night-story skied. Wet winds soak tongue.
Rising morn orb rides skies. Eyes free, wake.
Veils hued in beauty pour tears from sky riders
Still-fixed eyes see soil soaked. Lap lick swallow.
Parch flees from throat, to cry thanks to Oden
© Patsy Middleton, 2023
*****
I end with a poem I wrote on the conflicts of the world: how nature brings a sense of peace and delight and beauty, while we create friction and struggle and feud.
Conflict Of The World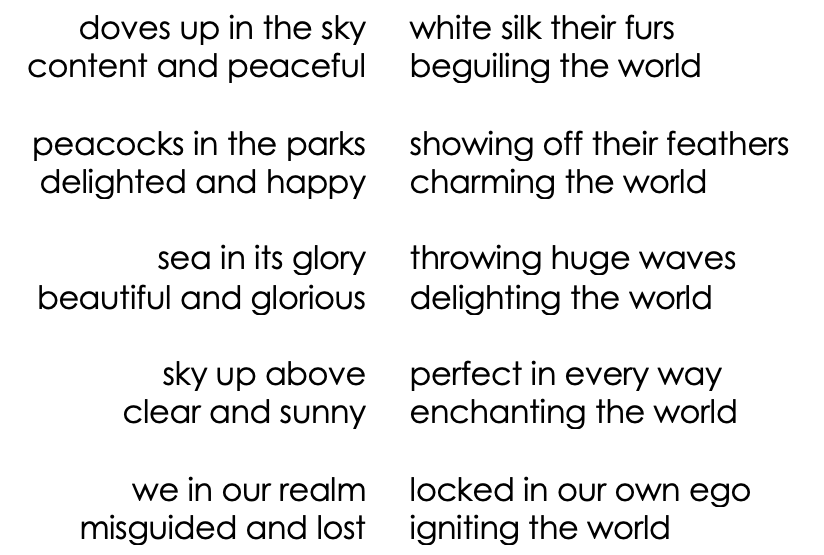 © Palak Tewary, 2023
Connect with Palak on www.palaktewary.com or Twitter/Instagram: @palaktewary
*****
If you'd like to see your writing appear in the Write On! Showcase, please submit your short stories, poetry or novel extracts to: pentoprint.org/get-involved/submit-to-write-on/
You can read the latest issue (15) of Write On! here.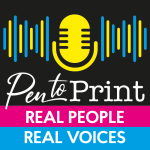 Hear extracts from Showcase in our podcast. Write On! Audio. Find us on all major podcast platforms, including Apple and Google Podcasts and Spotify. Type Pen to Print into your browser and look for our logo, or find us on Anchor FM.
*****
If you or someone you know has been affected by issues covered in our pages, please see the relevant link below for ​information, advice and support​: