Showcase: Snorp's Adventure + Worlds Apart + Don't Be Scared + A Place To Call Home + High Tide + Country Church + Autumn + Kawlata Soup
By Mirabel Lavelle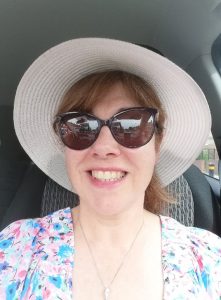 Welcome to my final November Showcase. I hope you've enjoyed all the wonderful writing! My search for writers took me to the Edinburgh Book Festival for the first time and then to The Word Library hub in South Shields, where they have a new project: Meet The Author. That's where I met Doreen and Helen. I met Kylie, Thomas Rogers, Thomas Nixon and June Gowland at writing workshops and gatherings around the North East. I'm proud to say the North has an abundance of talent. At Pen to Print we receive submissions from all over the UK, as well as many countries worldwide. Nicole and Janice from Malta, Eithne, Allan, Donna from the South of England, and Jimena from South America. My thanks to all.
Today's first pick comes from Thomas Rogers, a local children's book author based in Newcastle Upon Tyne. He created the 'Snorpverse' six years ago and had his first book, Snorps Adventure, published in 2020, followed by the sequel Snorp And The Great Food Fight. The themes in his books are kindness and friendship.
Thomas says: "I grew up reading The Hobbit with my mum and this gave me a taste for adventure and fantasy. I started writing children's books because reading is the gateway to the imagination and I wanted to inspire others to write and be a storyteller too."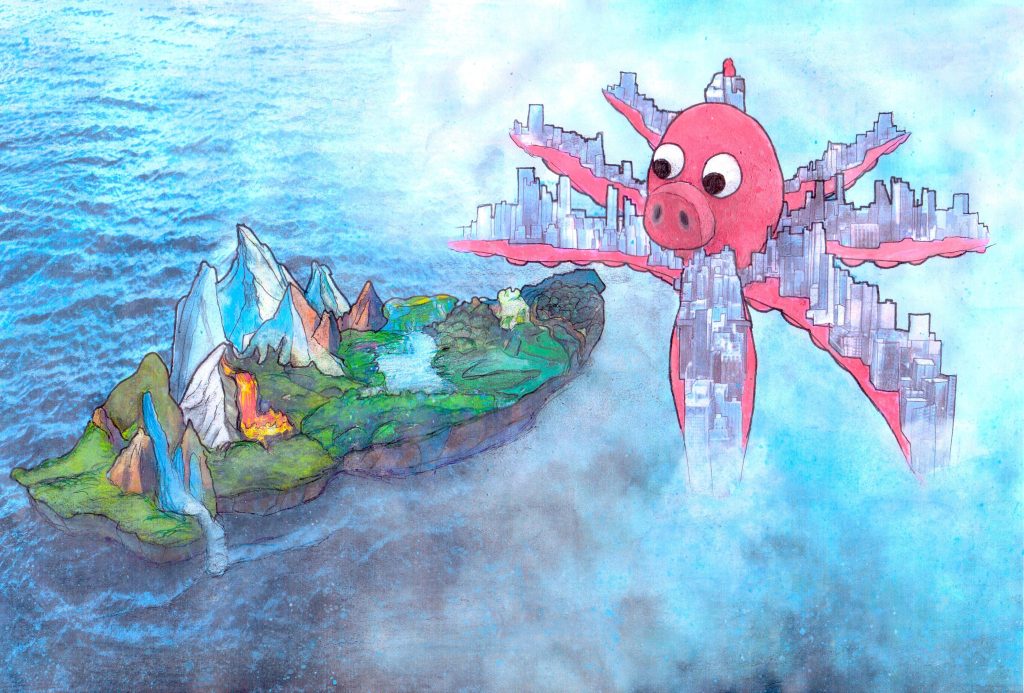 Snorps Adventure excerpt 
After escaping the swamp, they came to a cliff overlooking a vast sea of clouds. A trumpet sat on the edge of the cliff. Snorp blew into it. Bursting from the clouds a city appeared, on the back of a giant octopus. It placed each tentacle on the cliff like it was a road. Waiting for them was a tall Grasshopper with a top hat and a red jacket. "Quickly to the palace!" he shouted.
(c) Thomas Rogers, 2020
Snorp And The Great Food Fight excerpt
As they entered a band of tuning Forks played harps to announce their arrival. It was here they met the Queen of Forks,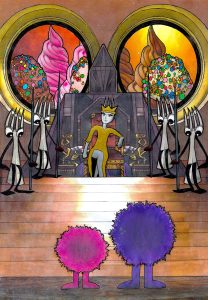 who sat on a throne made entirely of forks.
"Explain yourselves at once intruders, my soldiers tell me they shot down your flying machine. Are you spying for the Knives? We know it is them who are behind the food going rotten".
Pinky stepped forward "Look, we are not working for any Knives and we are certainly not spies!"
Purple could see the Queen was getting more frustrated and stepped forward. He explained that they were there to find the Food Wizard to save the universe from the threat of the Nickety Nacks.
All the Forks started to laugh, including the Queen.
"Arrest them at once; I have had enough of their lies."
Purple was worried this would happen and already had a plan. He turned around and looked at Gloom winking. Gloom held his breath and started to shine as bright as he could, blinding all the Forks, helping the group to make their escape.
(c) Thomas Rogers, 2021
You can connect with 'The World Of Snorp' on Facebook and Twitter.
*****
Donna McCabe is an established poet with over 20 years of experience. Her work has gained her multiple accolades within her field. She's been published in journals, magazines and anthologies, as well as on social media platforms.
Worlds Apart
Sweet heart breaking music plays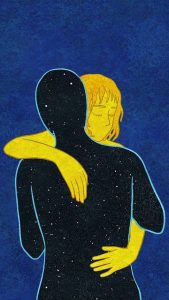 As our worlds crumble and break apart
We have been drifting away
From each other for a while now
Yet it's still a blow to one's heart
A painful reminder
Of those sweet dreamy days
When love was beautiful and new
Before everything got ripped apart
By bad decisions made by me and you…
© Donna McCabe, 2022   
You can connect with Donna on Instagram: @donnamccabe_
*****
Don't Be Scared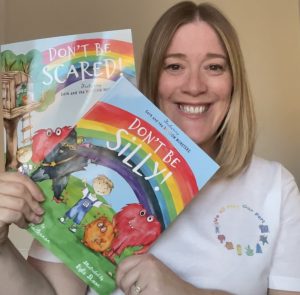 Laura is a teacher and children's writer of the series, Seth And The Rainbow Monsters, #Bemoreseth. Here, Laura explains how she conveys important messages to her children and those who read her books:
"It takes a lot of bravery to #BeMoreSeth but how do we teach our children to be brave when we'd rather protect them from circumstances that require bravery? In Don't Be Scared! we revisit Seth and the Rainbow Monsters as Seth supports the colourful crew to navigate through scary life transitions such as moving away, death, new babies and new schools. The hope is that from the story, discussions can be had about who to talk to when you're feeling scared and how it's OK to have that scary feelings and OK to ask for help to get past them. With every act of everyday bravery, children will learn to find the courage to be themselves and go after their dreams and passions, authentically and unapologetically.
This book was inspired by watching all the children I work with dust themselves off every day and try again. It's not easy when you're small to accept that failing is OK and that it takes more courage to try and try again, than it does to give up. Being 'More Seth' and standing up for injustices and wearing what you want, as well as liking what you like, also takes bravery. So, in this second book, I wanted to teach children how to be brave – by asking for help and growing through their fears – so that they can ultimately #BeMoreSeth, as in Don't Be Silly! and spread kindness, hope and love, while recognising their individuality, self-worth and what they bring to the table; so that they can stand up to anyone who tells them differently."
Excerpts
'What scares us helps us to grow strong, like a tree.
We can face fear together, grow new branches- you'll see.'
'Fear's normal, but can change the way we behave, and if we're too scared, we won't learn to be brave.
So let's share our fears – ask for help day to day.
Then we'll all learn to deal with what comes out way.'
'So don't fear in hiding disguising your struggles.
Go look for your friends and the rainbows in puddles.'
© Laura MacLennan, 2022
The Be More Seth Colouring Book is now available and features 20 images for children and adults to get creative with. Available here: sethandtherainbowmonsters.com
Laura is working on two upcoming picture books, one fiction and one non-fiction; both compilations. She continues to support local authors, writers and illustrators at The Writer's Salon in collaboration with Seven Stories.
You can connect with Laura on Facebook: Bemoreseth and Instagram: @bemoreseth
*****
Earlier this month, we met Flash Fiction writer Thomas Nixon. I've chosen two more stories to enjoy.
A Place To Call Home
Arthur arrived at sundown, his tyres crunching against the foliage and roots that occupied the driveway. But he knew this was a symptom, not the cause. The cause had fled, leaving behind a $500 deed and a set of keys, which Arthur procured from his jacket pocket.
Trudging through the grass, the house overshadowed him. Large, but not imposing, Arthur felt it shrink at his presence, and laid his palm on its scarred, splintered skin.
"Ssh," he whispered. "I won't hurt you." At his touch, he felt the creature shiver and curl.
"It's OK," Arthur said. "I'm gonna fix you up."
(c) Thomas Nixon, 2022
High Tide
Gareth was doomed before he woke. In those first moments of frantic consciousness, he stumbled from his sleeping bag, swimming against the tide that had already engulfed him, his matted hair soaked in strands as his arms shot towards the shoreline, unaware that the sea now occupied all possible exits.
His dog was gone, either fled or drowned as Gareth stormed through on his own. Eventually he would accept his fate, that the force of the ocean's currents were impossible to fight against.
But for now, he continued to power his way forward, desperate to live a life he'd always detested.
(c) Thomas Nixon, 2022
*****
The next poem has a spiritual theme that transcends time. A church is seen as the house of God. It's also a place where people gather, especially for special events. But that's not all. A church can house books written hundreds of years ago, old musical instruments, handmade ornaments and paintings, as well as modern technology. Birds can nest in the steeple and daffodils and plants thrive in its grounds, which can include a graveyard. So, a church building is really a community. This is true for many faith temples, not just Christian churches. These imposing buildings leave me pondering the spiritual element in us humans.
Country Church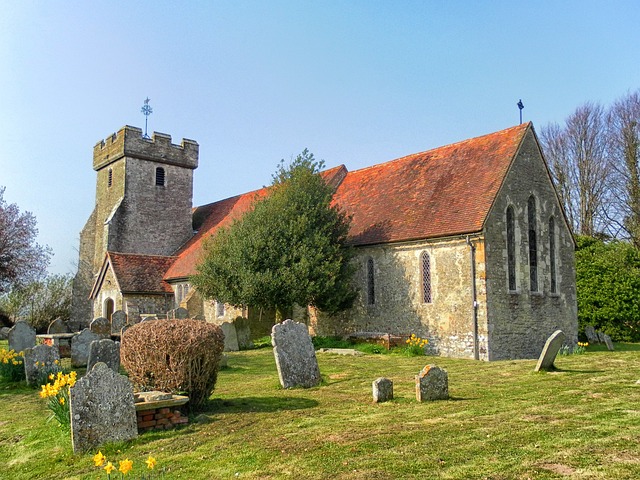 I feel the roots and timelessness of this place.
This church that has stood here for a thousand years.
The sun and ripple of the wind in the flag whisper a spirituality, a oneness, a focal point.
A crossroad of soil and flesh, transmitting a rhythm of Mother Earth.
The huge oak door with the dried flower spray above.
The tidy trusting piles of prayer books in the pews.
The carefully arranged daffodils.
The polished brass of the memorials.
Attention and love have kept this church alive.
Its tranquil vapours exude from the stone and sedate me with the feeling of sanctuary and home.
Risen from the earth, an organic living entity.
Neither animal nor plant, but grown from the cycle of life and love.
That life force that has soaked into the stone.
The inextinguishable force that never dies.
Spreading out like ripples on a pond.
We are all stones in the pond, lapped by the ripples.
© Allan G Lochhead, 2022
*****
Autumn leaves are everywhere at the moment, and temperatures are dropping. I came across a poem by June Gowland I simply couldn't put down, because it evokes the sentiment of this season perfectly.
Autumn
The lowering cloud hugs the hill,
A fluffy white scarf
Clinging to the reddening moor,
Its dampness stroking the grassy rocks.
Down here, the lawn is wreathed in leaves
Which glue themselves to my boots
As fast as the rake can amass them
Into sticky, windy heaps.
A chilly breeze plays with my hair
And mocks my efforts,
Dancing through the thinning trees,
Clearing the garden for a winter rest.
As daylight fades
And teatime lights appear in windows,
The darkening scene
Recalls a fargone summer.
But now it's time
To clear the relics of those days –
The table where we sat, forlorn and empty now
And our summer feast a memory.
Autumn steals towards us
A time for reflection,
In waves of tawny red and yellow,
And we forget the lush green of spring,
The heated fields of summer.
But when icicles frame the eaves of the shed
And the bird bath is rimed with frost,
The lingering leaves crumble underfoot
As the earth settles softly,
Quietly, around us.
© June Gowland, 2022
You can connect with June through Pen to Print.
*****
I couldn't finish five showcases without a warming Maltese Recipe!
As we near the end of November and the weather cools, autumn offers a bounty of marrows, pumpkins and vegetables. My family makes a hearty soup, Kawlata, when we gather together. I've reduced the amounts considerably, so it can fit in a large slow cooker.
Kawlata
Traditional pork soup serving six people

Ingredients:
One unsmoked pork shin/hock. 1.20kg
Three thick slices belly pork. 300g
Chunky unsmoked bacon diced. 100g
Six thick pork sausages, halved (Coarsely minced high meat content, Italian style preferred)
One large onion rough chopped
Two cloves garlic rough chopped
Two large potatoes diced
One kohl rabi or half a medium turnip, diced
Two medium carrots, thickly sliced
Two thick pumpkin slices diced
Half a small cauliflower in florets
One small courgette thickly sliced
Half a small savoy cabbage roughly chopped
Three fresh plum tomatoes quartered
Two spoons passata
Three spoons long grain rice
One tin giant butter beans
Two spoons olive oil
One heaped spoon coriander seed crushed
A litre vegetable stock
Salt and pepper
Method:
In a large slow cooker or pot, place the oil, onions and garlic. Turn on the slow cooker and add the meats. Then add the crushed coriander, root vegetables and rice. Add the passata to the stock and pour over. Add the remaining vegetables, excluding the beans. Season and slow cook on high for six hours. Add the beans and a little more pepper, simmer and leave to rest for ten minutes.
To serve:
Tear up rustic, crusty soda bread and place it on the table. (Some people serve with parmesan or sheep's cheese shavings.) Take the meat out, portion it into bowls and add the soup. If you're vegan, use pre-soaked barley and lentils instead of meat.
Enjoy!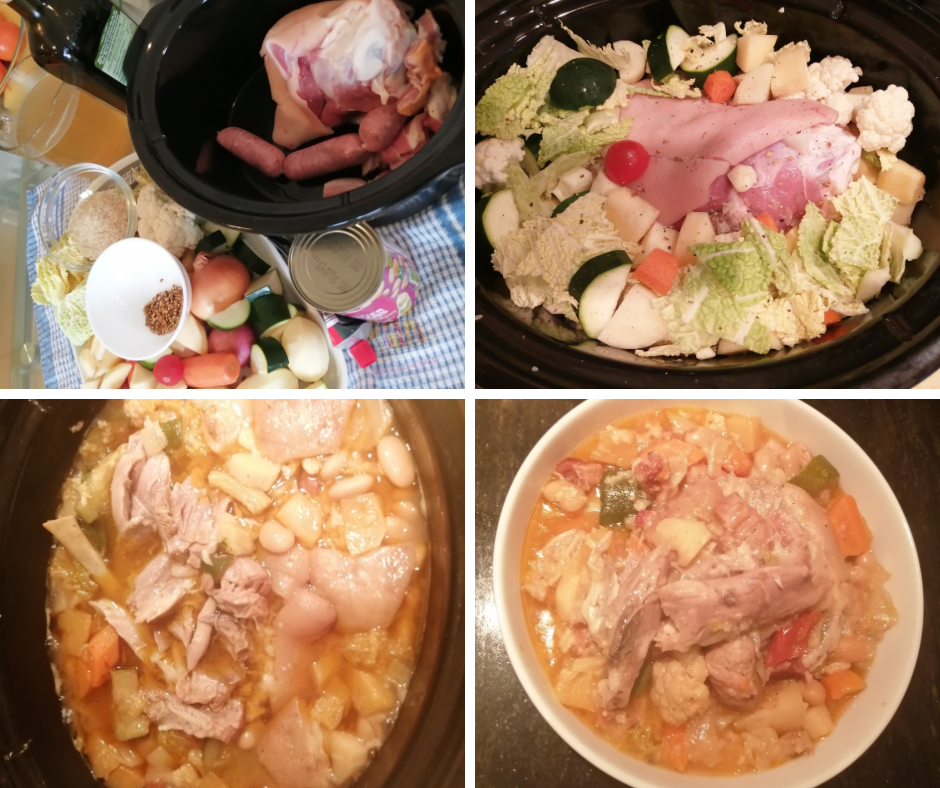 *****
If you'd like to see your writing appear in the Write On! Showcase, please submit your short stories, poetry or novel extracts to: pentoprint.org/get-involved/submit-to-write-on/
You can read the latest issue (14) of Write On! here.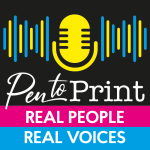 Hear extracts from Showcase in our podcast. Write On! Audio. Find us on all major podcast platforms, including Apple and Google Podcasts and Spotify. Type Pen to Print into your browser and look for our logo or find us on Anchor FM.
*****
If you or someone you know has been affected by issues covered in our pages, please see the relevant link below for ​information, advice and support​: