Showcase: Worlds Apart, The Moon, You Watch + Trees
Edited by Amber Hall
Hello, Write On! readers. My name is Amber Hall, and I'm delighted to be your showcase editor for August. I'm a London-based writer with a background in brand communications. I write a lot of essays and prose pieces, though I'm always trying to challenge myself and write things that are outside of my comfort zone. You can follow me on Instagram (@amber.marie.123) or Twitter (@amber_marie_123). It's been a pleasure to read the submissions we've received lately – you're a talented bunch!
Our theme this month continues to be 'Worlds Apart,' which I love because it encompasses so many ideas. We can consider physical distance, which feels like a poignant response as we begin to process what's been happening over the past couple of years.
Tavinder New explores the theme of physical distance against a backdrop of war. Conflict and catastrophe contrive to separate us, but there's an invisible thread that unites, even in the direst circumstances. There's hope in this, and I think the piece captures that hope – an unshakable, unbreakable thing – beautifully.
Worlds Apart
Even though you are worlds apart from me, you are in my heart. The war has taken you away from me, but all I do is pray that you will return. I read your letters daily, I think of you daily, I miss you daily.
Even though you are worlds apart from me, you are in my heart. The war has taken you away from me – stalled our dreams together – but all I do to cope are my regimes to bide time as it grimes every day.
Even though you are worlds apart, you are in my heart. The war has taken you away, yet there is still love that is above and ties us together. I send you food parcels, while you are glued with my picture in your jacket.
Even though you are worlds apart, I know you will come back to me. Perhaps there will be a crack in you, but our love will fix that and build the bricks of us together. You are not that far away as I think of you and you think of me; we are together.
(c) Tavinder Kaur New, 2022
*****
I'm writing this during a heatwave; it's currently five pm and 37°C outside. This week, UK temperatures are forecast to reach a scorching 40°C – the hottest on record. And, although I'm a sun-worshipper who barely functions between October and March, these record-breaking temperatures are a sobering reminder that we need to take better care of our planet.
The poems below stood out to me today, because they're good examples of how we can look to nature for inspiration; we should be living in harmony with our world – not apart. From the vastness of the night sky to the view outside your window, Akshitha Ramalingam, Jack Tattersall and Laila Fatnassi prove there is endless inspiration to be found out there. I think each piece really reflects how personal our interaction with the natural world can be.
The Moon

On the shimmering coaly pool,
Calm and majestic she stood;
The denying envy minds kept denigrating,
And, she cheerfully disregarded the happening,
The ridleys adored her sparking glaze,
As the bleaking chasm yearned her highness,
The eagles rebelled to nest on her,
As the desperate oysters longed to have her in,
The rain wished to imprint on her,
As the fireflies craved to gulp her in,
But, she the moon;
Unconditionally and irrevocably in love,
That she melted, drowned and indulged,
Into the heavenly ocean of lasting ecstasy!
(c) Akshitha Ramalingam, 2022
*****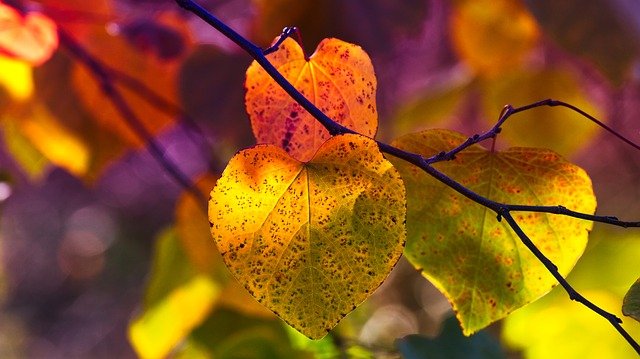 (c) Jack Tattersall, 2021
*****
Trees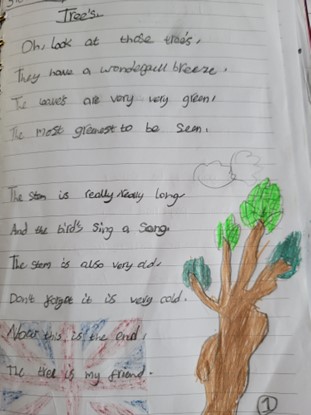 (c) Laila Fatnassi, 2022
*****
If you'd like to see your writing appear in the Write On! Showcase, please submit your short stories, poetry or novel extracts to: pentoprint.org/get-involved/submit-to-write-on/
You can read the latest issue (13) of Write On! here.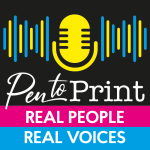 Hear extracts from Showcase in our podcast. Write On! Audio. Find us on all major podcast platforms, including Apple and Google Podcasts and Spotify. Type Pen to Print into your browser and look for our logo or find us on Anchor FM.
*****
If you or someone you know has been affected by issues covered in our pages, please see the relevant link below for ​information, advice and support​: