Write On! Features: Redbridge Children's Book Awards
By Eithne Cullen
When I entered the Kenneth Moore Theatre on a Thursday afternoon at the end of May, I was completely astonished by what I saw. The seats were full of uniformed school children; their ages ranging from nine to 15. They were buzzing noisily, excitedly responding to the quiz questions coming from the stage. There on the stage, alone, mic in hand, was Nina Simon of the Redbridge Schools' Library Service. She had them eating out of the palm of her hand (metaphorically; there was much evidence of bagged packed lunches around too!).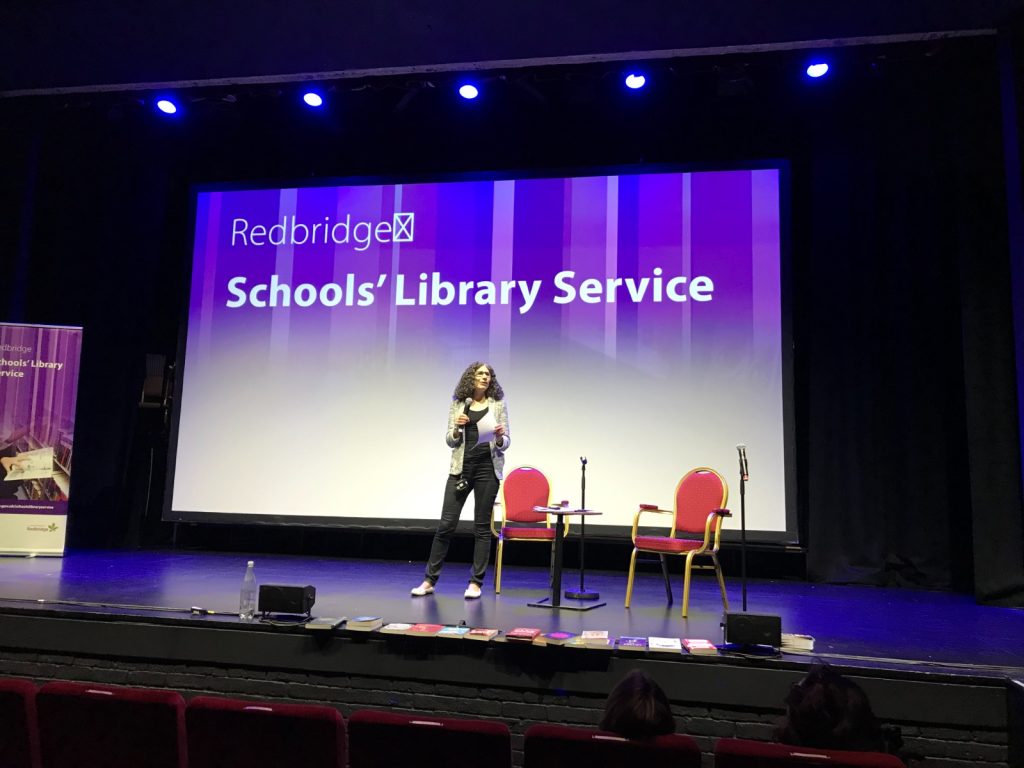 If I'd ever been in any doubt that children love books and reading, I was able to put those fears away at once.
I'd come as a guest, as I'd been a judge for Nina for the writing competition she always runs to coincide with the event. I must admit, I was blown away by the quality of writing in the submissions and also the clear, confident voices of writers while reading them.
I've known Nina for a number of years. As well as her job at the SLS, she's the person who organises the 'Write Next Door' writing group which meets at the Central Library. I've been attending this group for a long time now. Even when we had to take to Zoom (during Covid) and run the meetings from our dining room tables, she's successfully kept the group going. We used to meet in the inner sanctum of the Schools' Service, among the stacks of children's and YA books Nina distributes to Redbridge schools for pupils to enjoy.
Nina is also associated with Pen to Print through our partnership with Redbridge Libraries.
I knew about the awards, but have only really understood the scale and scope of the event, and it all comes down to one woman. She tells us:
"Back in 2003, some school librarians asked the Schools' Library Service if we could run our own book award, as they were frustrated by the high level of books selected for The Yoto Carnegie Medal, which is awarded by children's librarians for an outstanding book written in English for children and young people.
The librarians wanted an award for a favourite book chosen, not by adults, but the students themselves. They wanted children's voices to be heard.
We started with three schools taking part. Now, 19 years later, we have around 20 participating schools. Ten years ago, we introduced a short story and poetry competition, giving the students the opportunity to be creative and see their stories and poems in print in an anthology.
We also wanted to encourage children to move out of their comfort zone and read different books, especially from new and diverse writers.  For this reason, we exclude very popular authors such as David Walliams, Jeff Kinney and Jacqueline Wilson, who need no promotion.
We only accept books that have been first published in the UK in the previous year and sequels are not eligible."
Nina has thought this process through very carefully, to suit the needs of the schools she works with and their students.
She goes on:
"Because we wanted to involve primary schools (year six) as well as secondary schools, we split the award into two categories: Children and Teen.
I invite schools to sign up in September. Participation is free to schools who subscribe to Redbridge SLS. I then send out a curated list of titles published that year, which the school librarians/teachers discuss with the students.
In November, school librarians, teachers and students are invited to come to the SLS and a long list of 15 children's books and 15 teen books is decided. Students then read the books and vote (Eurovision Song Contest style) on their top eight titles in each category and from that, a shortlist is created.
At the beginning of June, students vote individually for their favourite title and judges choose the poetry and short story winners."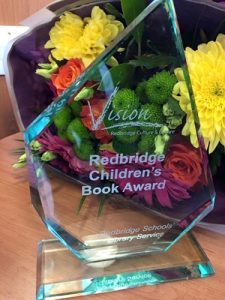 This is a lot of work and what Nina isn't saying is that she does it all (largely) on her own. She invites guests and arranges the venue, the programme, the quiz, the prizes, a book stall (which ran out of copies of some books and certainly ran out of change on the day!) and more besides. I was struck by a film show during the interval. In this, writers talked about their books, with the footage woven together from YouTube and their own websites. You can guess who made the film show: yes, Nina herself! She also created the anthology of shortlisted writing from the competition. It's a lovely keepsake, as it's so important for the youngsters to see their work in print.
She enjoys the Awards ceremony, despite the work it creates for her, saying:
"My favourite part of the process is the Awards Ceremony. We invite the shortlisted authors and sell their books. There's a quiz on the shortlisted titles and at the end of the afternoon, the winners of both categories are announced. We also reveal the winners of the short story and poetry competitions. There is such a buzz and excitement in the room. It's a joy to watch the children and see them queuing up to get their books signed and hearing the authors read the students' stories and poems."
It was a delight to hear how hushed the students were when their speakers, performance poet Bella Cox and author Angharad Walker, along with the Mayor, were speaking to them. It was also great to hear the cheers and gasps as Nina announced the winners of the Awards. It was clear these young people had invested a lot of their reading, their tastes and their commitment to books in the run-up to the announcements.
When I looked around the theatre, I was in awe of Nina Simon's ability to bring books to children and bring books to life. It's no wonder she was awarded the British Empire Medal, last year, for her service to the Schools' Library Service.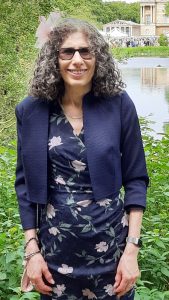 She was rewarded herself, in the comment that came from one parent:
"A comment by a parent really touched me and brought into focus the deeper reason I run the book award and writing competition every year.
'I just wanted to tell you my daughter is dyslexic and thinks she is dumb, despite what we all tell her. She has been self-harming and feels she will never get a job or achieve anything.
She was overjoyed to be a runner-up in the children's writing competition. She now says she can do it. It is external acknowledgement that she is able.
I wanted you to know that this award is a game-changer for my daughter; a real changing point.' "
What a fitting tribute to Nina's hard work, which is obviously appreciated by the many participants in the event. And how lovely for her to be able to say:
"Knowing that participation in our book award can give children and young adults more self-confidence and self-belief, I will do my best to keep it going each year."
 *****
Read the latest issue of Write On! (13) magazine online here.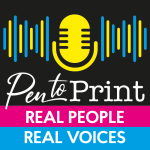 You can hear great new ideas, creative work and writing tips on Write On! Audio. Find us on all major podcast platforms, including Apple and Google Podcasts and Spotify. Type Pen to Print into your browser and look for our logo or find us on Anchor FM.
*****
If you or someone you know has been affected by issues covered in our pages, please see the relevant link below for ​information, advice and support​: https://pentoprint.org/about/advice-support/
The librarians wanted an award for a favourite book chosen, not by adults, but the students themselves. They wanted children's voices to be heard.