How to get permission to use song lyrics in your books
by Maria R Riegger
If you have ever wondered how to request permission to use song lyrics in your fiction and nonfiction books, then this blog post is for you.
First, nothing in this post constitutes legal advice.
Generally speaking, an author does not need to request permission to use the title of a song in his/her work. However, authors generally need to request permission to use song lyrics in their works. You do not need to seek permission to quote/use work that is in the public domain, and you do not need to seek permission if your use of the work falls under the fair use doctrine. Whether or not a work falls under fair use is a question of legal interpretation.
Picture it: you quote a song lyric in a fiction novel and do not request permission. The music company who holds the rights to the song (and who has a basically limitless budget) sues you and now you are stuck defending yourself in a lawsuit. You can hire an attorney and argue fair use, but how much will that cost? The only winners in that scenario are the attorneys, at your expense.
If you are risk-averse, like me, you will likely want to go ahead and request permission to use the song lyrics, without having to fall back to litigating the issue of fair use.
From whom does the author request permission? Here is where the process becomes a bit cumbersome.
How to find the copyright holder of the song
To use/quote song lyrics, authors need to request permission from the music company that holds the rights to the song.
When you have a particular song in mind, you need to figure out what company holds the copyright to the song. As noted in this post, all music producers and songwriters must belong to one of these companies: www.ascap.com, www.bmi.com, or www.sesac.com.
Start by going to these websites and searching for the song in which you are interested. When you find the right listing, the listing will include the copyright holder.
To use my search as an example, I searched for the song We Belong (performed by Pat Benatar) on www.bmi.com. I found the repertoire search here. Here is the entry I got: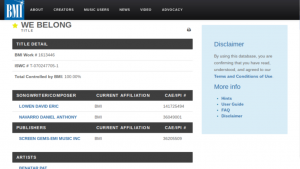 "Publisher" here denotes the copyright holder. Click on it and you get this info: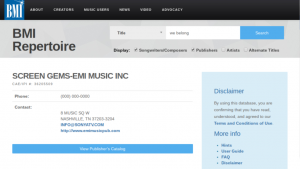 Next, you draft a letter and email it to the email address listed (here, info@sonyatv.com). Note that Screen Gems/EMI Publishing was acquired by Sony in 2012; therefore, the copyright holder is now SonyATV. Also note the songwriter/composer names, which you will need to include in your permission letter.
Draft the permission letter
Email a letter requesting permission to the email address listed for the copyright holder. The letter should note the following:
Explain that you are an author of a book (name the book's title).
Indicate the expected date of publication of the book.
Indicate where you expect to publish the book (e.g., North America, worldwide, etc.).
State that you seek permission to reproduce the following lyrics from the song. Indicate the lyrics and indicate the songwriters and performer.
Indicate how you expect to use the lyrics in the book (e.g. as an epigraph at the beginning of the book, at the beginning of the chapter, within the text, etc.). Here, give as much context as possible. You will likely want to include the pages of your book where you quote the lyrics, so that the copyright holder can see the relevant context.
You can find a sample permission letter at the bottom of this post.
What happens after you send your letter
Like in any big company, you kind of get the runaround.
After emailing my permission letter, I received an automatic reply indicating several email addresses for specific areas of inquiry: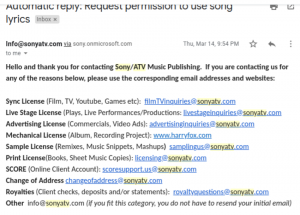 I resent my permission letter to the Print License email address.
Next, I received an email from an actual person, indicating that I had to make the request using their online form: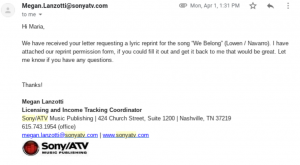 I completed the record company's form, emailed it, and received yet another email about filling in another form.
I completed and submitted the online form. In response, I received an automatic message indicating that I could expect a response in four to eight weeks' time. At the time of this writing, I have not heard anything.
What if you don't hear back at all?
As this post notes, as long as you have evidence that you reasonably attempted to obtain permission, then you may want to go ahead and use the lyrics, and state on the imprint page of your book language akin to, "all reasonable efforts were made to contact the copyright holders." And remember to keep all relevant paperwork so that you can prove that you tried to request permission from the copyright holder!
If it were me, and I did not receive express permission, I would not use the lyrics because I would not want the hassle of a possible lawsuit. In my mind, it is easier to just not use the lyrics at all, or perhaps mention the title of the song (for which you do NOT need permission) instead of using the lyrics.
This area of law is pretty murky, and I see a lot of bad information on online groups given by people who are not copyright attorneys. In researching for this post, I came across this blog by a publishing/entertainment attorney. See particularly this post on Twelve Common Copyright Permission Myths.
I hope that this information is helpful to you!
Maria Riegger is based in the Washington, DC area. She is a banking /corporate attorney by day, and a fiction author by night. Visit her website at https://lawschoolheretic.com/
Authors generally need to request permission to use song lyrics in their works.