Thoughtful Tuesdays: Building Bridges
By Eithne Cullen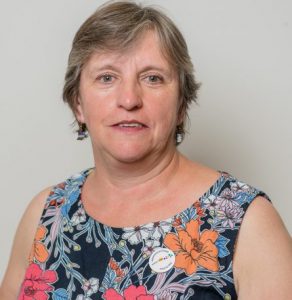 When we discussed the theme of 'Building Bridges' at our weekly meeting, it was obvious it opened up many different ideas for all of us: we thought about relationships, peace and reconciliation.
One definition tells us it means to establish a relationship (as to foster understanding and appreciation of cultural differences). They hope to build a bridge between the two cultures.
So it's a great theme for our Extra edition, where we present diverse ideas and writing in a variety of shapes and forms. Annoyingly, since that meeting I've been dealing with the ear-worm: Love Can Build A Bridge, with Cher, Neneh Cherry and Chrissie Hinde belting it out in my imagination. I'll get over it.
The writing I'm sharing today covers a number of Bridge references, some obvious, some more metaphorical in their meaning.
I'm am starting with the famous Wordsworth poem. The poet pauses to reflect on the beauty of the city of London as he declares that he has found the most beautiful scene on earth. As a poet who wrote about the natural world in such detail, it's a little snapshot of the beauty he sees in our city as he stops to marvel at the sights.
Composed Upon Westminster Bridge, September 3, 1802.
Earth has not any thing to show more fair:
Dull would he be of soul who could pass by
A sight so touching in its majesty:
This City now doth, like a garment, wear
The beauty of the morning; silent, bare,
Ships, towers, domes, theatres, and temples lie
Open unto the fields, and to the sky;
All bright and glittering in the smokeless air.
Never did sun more beautifully steep
In his first splendour, valley, rock, or hill;
Ne'er saw I, never felt, a calm so deep!
The river glideth at his own sweet will:
Dear God! the very houses seem asleep;
And all that mighty heart is lying still!
(C) William Wordsworth, 1802
*****
Nuala Clarke paused at a bridge, too. She took this photo: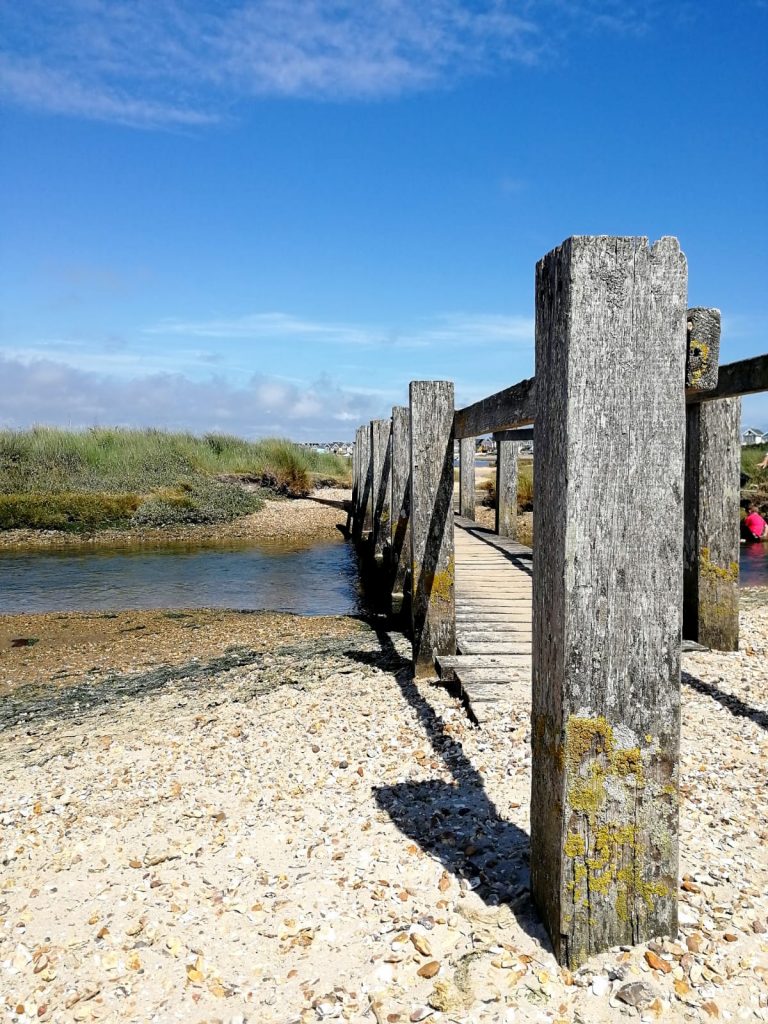 on a peaceful, June afternoon in Sandbanks,
Poole, just beside the bay.
Right beside there was a child
and his mother reaching for a bucket
that had been swept up by the water.
(C) Nuala Clarke, 2020
*****
Write Next Door writer, Nina Simon, has written this poem, saying it's not so much building bridges, as the lack of one. A powerful snapshot of a rift which needs the healing solution of a bridge between the people in the relationship.
Alone Together 
When one sentence answers
become the habit
unsaid words
slip through cracks of interaction,
filling in blanks with sliced perception.
Distance becomes a chasm,
you are alone in the same room,
lost in the barren, wasteland
of a storm-battered relationship.
Silence spreads like a virus,
sealing you in isolation
where the cold atmosphere
freezes your tongue
and you no longer have the tools
to build a bridge across the void.
You sit with misted vision,
revisiting memories
of warmer days.
(C) Nina Simon, 2020
*****
Our own editor, Madeleine White, has shared these two poems which explore different aspects of bridge-building and what can happen when the bridges collapse, or were never there in the first place.
Madeleine tells us: "These were written after I visited Auschwitz… an example of not building bridges and what can happen."
Auschwitz 1
I can write, I can talk, I can walk, I can feel
I can witness the smell, the squeal and the sense of death.
As I stand soaked through by the Auschwitz rain I vow to remember
This Holocaust was real and it must never happen again.
Auschwitz Birkenau
Not a trace remained
Not a face remained
And the human ashes blown into the pool below the birches
Stopped the song of the birds in the branches
And then it stopped altogether.
In this place of silence all that is left is our remembering
And the photographs of those that have been.
We must be their eyes
We must be their voices
So the sepia people will be forever heard and seen.
(C) Madeleine White, Autumn 2009
And, in this poem, she explores bridges between life and death, when memories can help us come to terms with the loss we experience. The poet has drawn on the things which can evoke the powerful memories associated with loss.
White Shadows
In Memory of Shiloh, RIP July 12th, 2020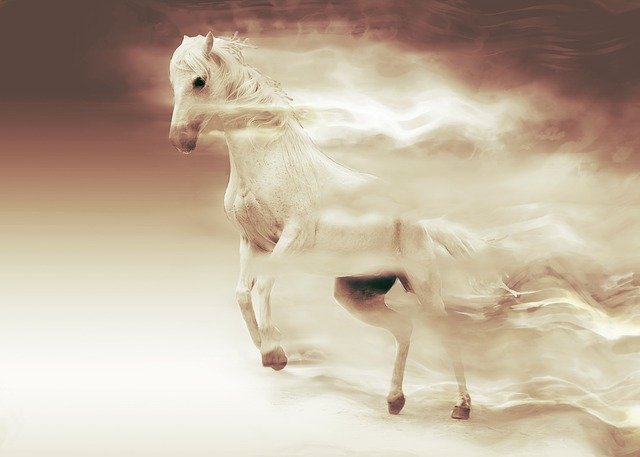 Go find a white hebe
Hold it close
Stroke it with fingertips
It will feel like my nose.
Next Spring find a catkin
Hold it near
Touch your lips to the furry down
You'll be nuzzling my ears.
Go catch a white feather
Then let it fly
And as white shadows the green, green grass
You'll hear my hooves thunder by
Go watch a raindrop
It will reflect your blue eyes
In them you'll see mine.
Dark rings, azure skies.
I am the cloud that passes
I am the breath that lingers
I am the white shadow
That flits through your mind.
I didn't leave you behind.
Where I have gone you will come
Where I am now you will be
We'll rest together, you and I
Under an apple tree
(C) Madeleine White, 2020
*****
I'd like to finish with the first poem that came to mind when I was thinking about bridges. Of course, they need to be designed and built with great precision and built with care and attention to detail. If all these elements are not in place, there may well be a tragic accident or disaster. The poet, William McGonagall, recorded the terrible events of such a disaster at the Tay Bridge in 1879. A train crossing the bridge plunged into the River Tay, below the bridge. The seventy-five passengers all perished; the engine, however, was recovered from the river bed and put back into service. It was nicknamed 'The Diver' by railway staff.
The bridge was meant to be an engineering masterpiece but was severely flawed. The official enquiry discovered that the iron superstructure was of inferior quality and had been badly maintained, and that the effect of wind pressure was never taken into account when the bridge was designed. The designer, Sir Thomas Bouch, denied any fault, but his career was in ruins. He died just ten months after the fall of the great bridge.
The disaster should never be forgotten, but many remember it more for the quirky poem of this eccentric Scottish poet. I think it's harsh that Wikipedia says he's recognised as the worst poet in history. I think you should judge for yourselves!
The Tay Bridge Disaster
by William McGonagall
Beautiful Railway Bridge of the Silv'ry Tay!
Alas! I am very sorry to say
That ninety (sic) lives have been taken away
On the last Sabbath day of 1879,
Which will be remember'd for a very long time.
'Twas about seven o'clock at night,
And the wind it blew with all its might,
And the rain came pouring down,
And the dark clouds seem'd to frown,
And the Demon of the air seem'd to say-
"I'll blow down the Bridge of Tay."
When the train left Edinburgh
The passengers' hearts were light and felt no sorrow,
But Boreas blew a terrific gale,
Which made their hearts for to quail,
And many of the passengers with fear did say-
"I hope God will send us safe across the Bridge of Tay."
But when the train came near to Wormit Bay,
Boreas he did loud and angry bray,
And shook the central girders of the Bridge of Tay
On the last Sabbath day of 1879,
Which will be remember'd for a very long time.
So the train sped on with all its might,
And Bonnie Dundee soon hove in sight,
And the passengers' hearts felt light,
Thinking they would enjoy themselves on the New Year,
With their friends at home they lov'd most dear,
And wish them all a happy New Year.
So the train mov'd slowly along the Bridge of Tay,
Until it was about midway,
Then the central girders with a crash gave way,
And down went the train and passengers into the Tay!
The Storm Fiend did loudly bray,
Because ninety lives had been taken away,
On the last Sabbath day of 1879,
Which will be remember'd for a very long time.
As soon as the catastrophe came to be known
The alarm from mouth to mouth was blown,
And the cry rang out all o'er the town,
Good Heavens! the Tay Bridge is blown down,
And a passenger train from Edinburgh,
Which fill'd all the peoples hearts with sorrow,
And made them for to turn pale,
Because none of the passengers were sav'd to tell the tale
How the disaster happen'd on the last Sabbath day of 1879,
Which will be remember'd for a very long time.
It must have been an awful sight,
To witness in the dusky moonlight,
While the Storm Fiend did laugh, and angry did bray,
Along the Railway Bridge of the Silv'ry Tay,
Oh! ill-fated Bridge of the Silv'ry Tay,
I must now conclude my lay
By telling the world fearlessly without the least dismay,
That your central girders would not have given way,
At least many sensible men do say,
Had they been supported on each side with buttresses,
At least many sensible men confesses,
For the stronger we our houses do build,
The less chance we have of being killed.
And finally, we're approaching the Pen to Print competition deadlines and we're looking for contributions around forthcoming themes of Write On! Extra. Next week is about food – a subject we all have opinions about, that's for sure!
(C) William McGonagall, 1880
I do hope you continue building and fortifying the bridges and structures that make your life full and happy.
Today's page has poems which explore different aspects of bridge-building and what can happen when the bridges collapse, or were never there in the first place.