Thoughtful Tuesdays: Writing With Wonder – A Child's Magical View
By Eithne Cullen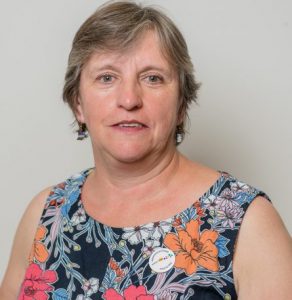 Welcome to December's Thoughtful Tuesday page.
December always brings a lot of different emotions and elements. It's really winter now and it's beginning to look a lot like Christmas, in many, many ways!
For my page toda,y I'm continuing to look at the world through a child's eyes and Christmas is always a great time to think about children's magical view of the world. In our family, we often started our Christmas treats with a trip to see whatever was on at the cinema: it was often Disney's latest offering though I remember going to see Miracle on 34th Street one year, in particular.
Vic Howard has shared some of his memories of growing up in Barking and Dagenham. In this piece, he shares fond memories of going to the cinema. He's also included some pictures to help us see what it was like back then, before multi-plexes and modern décor.
 Remembering Barking Cinemas
Hands up all those who remember The Bug'ole.  Good heavens, you must be old!  The second question is:  Do you admit to ever going there?  I thought not.
My mother wouldn't allow me to go to The Electric Theatre, though nobody ever called it anything other than the Bug'ole . For those of you of tender years who don't know what I'm talking about, The Electric Theatre was an independent cinema located opposite the police station in Barking. After closing, back in the early sixties, it became a supermarket and may still be one, for all I know. It's been some time since I left Barking, though I was born there 18 months before WWII started, and lived there, on and off, until 1970.
The biggest of the three cinemas was the Odeon, though it wasn't always called that. It was first called the RIO and it was those three,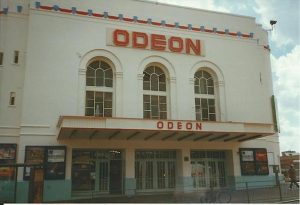 red neon letters that we marvelled at when the lights went on for the first time at the end of the war.
Cinemas were important entertainment in the forties and fifties. The programme usually changed midweek, which gave you the chance of going twice in one week, if you could afford it. The Capital Cinema in East Street was an ABC group cinema and part of a different circuit to the RIO, so the choice was even greater. A bus ride to East Ham would bring you to the Gaumont, plus another independent cinema called the Granada that even gave live variety acts between the two feature films and newsreels that were the normal programme.  When I was a child, Mother took me to all the latest Bing Crosby and Bob Hope Road-to films at the Gaumont and also to every new Walt Disney film as it appeared: Wizard of Oz, Bambi, Pinocchio, etc. but we were well provided for in Barking and mother enjoyed the cinema as much as I did.
A visit to the cinema was quite an event in those days. Oddly, it was common to just go to the cinema at any time of day without queuing up or waiting for the programme to start. You bought your ticket and went in, perhaps halfway through the second feature. Then there would be a break for the ice-cream girl to sell her wares; a newsreel would follow, plus advertisements and trailers for next week's films, all before the start of the main feature. When that was finished, you either left satisfied, or perhaps stayed on to see the first part of the second feature, which you missed before you came in. It was quite exhausting! Four hours or more was good value for money at 1/6d or 2/9d if you were well off. There was even a balcony in most cinemas, but at 3/9d per seat that was out of our reach. The only time I ever sat in the balcony of the RIO was in 1948 when all the school children in Barking were taken to see a performance of Scott of the Antarctic. No doubt as an encouragement to make us all heroes when we grew up.
Entering an auditorium in the dark whilst a film is being shown is a tricky business. How do you find a seat? Tickets and seats were not numbered so you had to find an empty seat or couple of seats if you were with a friend; and don't forget, you had just come from the outside where it was fully daylight, so your eyes were not accustomed to the gloom. That is why there were ushers employed to guide you to a seat with the aid of a torch. Cinemas were large, often beautifully decorated Art Deco palaces, like the Odeon, that employed a small army of staff. Unlike the pokey, automated viewing booths that now pass for cinemas. How could we be satisfied with watching a small, black and white screen? Easy – we had not been spoilt by wide-screen colour TV; and the Internet and computers were the stuff of science fiction dreams at the time.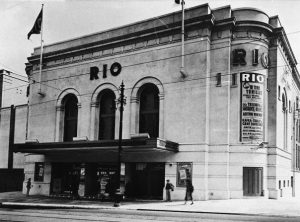 Saturday morning was the big day for us youngsters who were members of the RIO film club. The queue wandered out and down Salisbury Road beside the cinema and at 10 a.m. the doors would open and we would stream in to our favourite seats. Mine was always the third row from the front, left side, isle seat. I remember there being a chipped, plastic letter C on the seat in front. In the early fifties, I sat there with my friend Denis every week. The reason I sat close to the screen was because the noise from the kids behind was so great that, most of the time, you couldn't hear what was said on the screen otherwise .
Each performance was preceded by a sing-along conducted by the cinema manager in dinner jacket and bow tie. Hundreds of voices yelling out the words of "We come alooooong on a Sa'urday moooornin', la-la-la-la-la lal-la lal-laaaaa." Several other old favourites followed, plus the obligatory lecture, about keeping quiet and to stop shooting staples at the screen, before the films started. Hopalong Cassidy or the Loan Ranger would gallop around the screen first for twenty minutes, usually to the noise of hundreds of screaming voices, before the main film started. It was a great way to spend a Saturday morning – and all for 6d!
Cinema screens were not all that big. Cinemascope had yet to make an appearance in Britain, but auditoriums were large and a cinema could house hundreds of people and packed houses were not uncommon for a good film. Smoking was allowed and the smoke was often visible in the beam of light that carried the picture to the screen. Not very hygienic, perhaps, but the floors were not strewn with empty popcorn cartons or beer cans. And adult audiences were remarkably well behaved; unlike us kids on a Saturday morning.
One other cinema I should perhaps mention is the Broadway Bioscope Theatre. I never saw this when it was open because it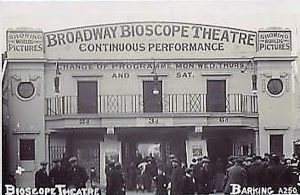 was gutted by fire in the early forties; not as the result of an enemy air raid, but because of a fire in the projection room. I seem to remember our neighbour working there and being hailed as the local hero of the day. No doubt there is a reference to the fire in the newspaper archives. His surname was Lewis, if there is an archivist with time and curiosity to spare.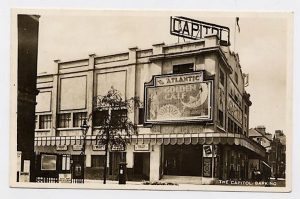 There are historical events that make people say "I know exactly what I was doing when …" For my age group that usually meant the Kennedy assassination, and for later generations perhaps 9/11 comes to mind first, but I can add another, even earlier event in my own life. The place was the Capital Cinema Barking 1955. At the end of the film Blackboard Jungle the screen suddenly went black, there was a moment's silence and then Bill Haley's voice rang out with "ONE TWO THREE O'CLOCK, FOUR O'CLOCK ROCK!!!!!"  That was dramatic and the first time I heard that voice and tune.
Rock-n-Roll was born.
© Vic Howard, 2021
*****
Thanks to Vic for sharing his stories with us. His memories have also been shared with the Barking Historical Society. You can find these under 'Vic's Memories' on their website. Though, he tells us, you have to dig deep to find them.
*****
From someone writing about the past from an adult perspective, I'm going to introduce Leo who, at eight years old, is Pen to Print's's youngest writer ( though I do know we have some young artists, too!).
The first one is doesn't need a title, it's about onion rings (and reading it has made me fancy some!)
Onion rings is yummy in your tummy.
Onion rings is best crispy food made in restaurants.
Onion rings is amazing.
Onion rings is the best in the whole world and the galaxy and space.
Onion rings crisps are not great they are yucky.
© Leo Buss, 2021
Nonsense Poem
I have a bunch of bossy zaps
All ziny and crowned and zacey
There in my tum tum on Thursday
My mum thinks I'm silly
My shape is just like a crownd zroon
My colour is bright yappa
I'm mooshed when I age
I'm a selly zelly radida
© Leo Buss, 2021
*****
Here's a little Christmas bonus for us all. We've been invited to share details of a writing competition with our readers. I'm sure many of us will be inspired to write something and send it in.
Remembering Rosemary – An Exciting New Short Story Competition
In 2020, a group of writer friends should have been celebrating the launch of Rosemary Goodacre's trio of paperback books, The Derwent Chronicles (Hera Books). Instead, they were mourning her sudden death.
Rosemary gathered many friends throughout her life, so a short story competition based on the theme 'Friendship' is the perfect way to pay tribute to her. Entries should be no longer than 1500 words and entries close at midnight on 31st March 2022. Our main judge is Vivien Brown.
All profits go to Rosemary's favourite charity,  Spadework.Based  in Kent, this charity supports adults with learning, and other disabilities, enabling them to be more independent, less isolated and leading happier, healthier, and more fulfilling lives. You can find out more about Spadework at spadework.org.uk or by following them on Facebook.
Rosemary was a talented and widely published short story writer. An accomplished poet, she also won various competitions and was an enthusiastic member of the Romantic Novelists' Association and The Write Place, where she honed her craft and made many friends along the way. The high spot of her writing career was the publication of The Derwent Chronicles, her wonderful WW1 novels.
Vivien has enjoyed an accomplished career ranging from over 150 short stories in women's magazines, to more than 250 non-fiction articles and a book about 'cracking' cryptic crosswords. Now established as a successful novelist, Vivien has had six women's contemporary novels published, all with domestic drama and family relationship themes. Vivien is a fellow of the Society of Women Writers and Journalists and the Romantic Novelists' Association. She is also a doting grandmother, a fan of TV quiz shows, a crossword buff, avid reader and reviewer of women's fiction!
About The Competition:
Full entry details can be found here: Rosemary Goodacre Competition organised by 'The Friends of Rosemary Goodacre' consisting of Elaine Everest, Catherine Burrows, Natalie Kleinman, Francesca Capaldi, Elaine Roberts, Ann West.
*****
And finally, a word about Christmas crackers. I love everything about Christmas, but I am also feeling very guilty about the waste it can create. I am using up all my stored (I have loads!) Christmas wrapping paper, I'm told it's hard to recycle. So, when it's all gone, "brown paper packages tied up with string" for the future.
I found this lovely quotation from Tove Jansson, a writer I love. She obviously liked all the things I like about Christmas when she said:
"Christmas always rustled. It rustled every time, mysteriously, with silver and gold paper, tissue paper and a rich abundance of shiny paper, decorating and hiding everything and giving a feeling reckless extravagance."
I also love Christmas crackers. I love the coloured crepe paper and the glittery foil. I love it that some don't go bang and you have to pull the little cap with your bare hands. And I love the way everyone wears the silly hat right through till bedtime. But, I think they are wasteful. I know no one really wants a one-inch comb or a plastic moustache; they'll end up in landfill. So this year, I'm not buying any.
However, the part of the cracker that's always worth recycling is the joke! Some of them must be older than me and they're all corny and bring groans, not laughs.
So, in case you need a few up your sleeve for the 25th some of our team have shared some of their favourites with us.
Here are some of the worst cracker jokes from the King family:
What do you call a boomerang that doesn't come back?
A stick
Who hides in a bakery at Christmas?
A mince spy
Why did Santa's helper get taller?
He used elf-raising flour
From Michelle:
Why don't you see penguins in Britain?
Because they're afraid of Wales
And from me…
What kind of motorbike does Santa ride?
A Holly Davidson!
What happens to elves when they are naughty?
Santa gives them the sack!
How does Good King Wenceslas like his pizzas?
One that's deep pan, crisp and even!
Who hides in the bakery at Christmas?
A mince spy!
What did Adam say on the day before Christmas?
It's Christmas, Eve!
What do you get if you cross Santa with a duck?
A Christmas Quacker!
What says Oh Oh Oh?
Santa walking backwards!
What do you call a dog who works for Santa?
Santa Paws!
What's a child's favourite king at Christmas?
A stocking!
Who is Santa's favourite singer?
Elf-is Presley
Why couldn't the skeleton go to the Christmas Party?
Because he had no body to go with!
And here is Leo with a couple of classics for you:
Happy Christmas to all our readers and all the team at Pen to Print. You can send your writing (Christmas themed or otherwise) to Pentoprint.org.
Eithne
December always brings a lot of different emotions and elements. It's really winter now and it's beginning to look a lot like Christmas, in many, many ways!