Thoughtful Tuesdays: Contradictions In Poetry
By Eithne Cullen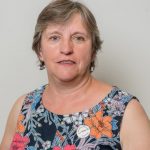 Welcome to my Thoughtful Tuesday page for April. It's National Poetry Month and I'm sure you'll know, by now, that poetry is one of my loves. So, I'll be sharing some lovely poems (along with prose) on my page today.
We're still looking at the world of contradictions here at Write On! So I'll start with one of the most common contradictions we come across in our lives – the urban fox. It's amazing how this wild creature has left the fields and hedgerows to find its home in city streets. Here's one of them, observed by Pen to Print regular, Patsy Middleton.
The Sleeping Fox
I stood to look out through the kitchen window
And saw a ball of red fur by the door.
It was a fox, curled up and breathing deeply.
I couldn't see its legs or head or tail
but knew it was a young fox sound asleep.
I wondered why it chose that certain spot.
It wasn't sheltered though the sun shone there.
Either a young pup or a vixen resting
Female, or pup – it wasn't very big.
I watched it breathe in deep and silent sleep.
And walked away, afraid I would disturb it
And then, from time to time, I crept across
and looked to see if foxy was still there.
And then, last time I looked, the path was bare.
I wonder why it chose to visit us.
I hope the sweet young thing will come again.
© Patsy Middleton, 2023
*****
When I was at school, I was once asked to write an essay based on the expression, "If you want peace, prepare for war," which I subsequently found out is from the Roman General Vegetius. It's a contradiction that stayed with me for a long time; the way these two opposites can live together. I recognised its relevance when I read this poem by Thomas Nixon.
Tomorrow's War
He's ready for war…
But it ended yesterday.
Tonight, a peaceful demonstration gathers in a circle of barbed wire and rubber bullets…
To celebrate the dawn of peace.
His baton is clean, never tasted blood, much like himself.
Those biceps, his tattoos, they don't give the game away…
This is his first rodeo.
You're probably thinking… 'Isn't he part of the riot police?'
Who says that? The badge on his vest?
Give me a break…
They sell that shit in bulk down at the cop shop.
Along with batons, handcuffs, tear gas…
They're ready for peace…
But this war's just begun.
© Thomas Nixon, 2022
*****
The next poem is from another regular contributor, and looks at moods and feelings – especially how we can switch from one feeling to another and one thought to another.
Expectations
Sometimes I want to curl up small,
Lie on the floor all in a ball,
But I know that won't do at all,
I must be firm, I must stand tall,
Because that's what's expected.
Sometimes I envy those who're dead,
Then chase the thought right from my head.
A mental Riot Act is read,
I think of jolly things instead,
Because that's what's expected.
I cannot help the way I feel,
I'm made of flesh and not of steel
But these emotions, they are real.
Just give it time and they will heal,
Because that's what's expected.
© Ray Miles, 2022
*****
Hongwei Bao's Morning Tea gives us a little insight into two cultural facets of his identity, which could be at odds or could connect.
Morning Tea
Every morning I wake up to
the whistling of a boiling kettle
like an old Victorian steam engine,
the creaks of floorboards
which foreshadow something mysterious,
a dark shadow hovering over my bed
as if a re-enactment of a Midsomer Murders scene,
the strong smell and thick taste of Yorkshire tea,
filled with your love, almost overflowing,
poured down my throat, almost gagging.
This isn't a murder mystery.
It's my morning tea ritual.
It isn't 龙井大红袍 or 铁观音 I was used to.
(And my mum would frown upon having milk in tea.)
But it tastes really good.
And it makes me feel home.
© Hongwei Bao, 2023
You can connect with Hongwei on Twitter: @PatrickBao1
*****
We usually think of pills and medicine as something life enhancing, but this story from Thomas Nixon challenges the notion.
Body Quotas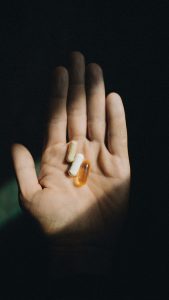 The orange pill would put her to sleep, then ensure she wouldn't wake up. If she changed her mind within 30 minutes, she was to take the white and grainy tablets together, which, along with reversing effects of the first, would induce headaches, vomiting, and, ironically, a high chance of death.
Beneath her mattress was a body bag, printed with her initials. Looking up, she made eye contact with a staffer through the panel of her cell door.
"You taken it yet?" he asked.
"I haven't made up my mind."
"Then hurry up. We've got 20 people to clear out today."
© Thomas Nixon, 2023
Connect with Thomas on Twitter: @Tnixon98
*****
The last two poems connect nature and the seasons. In February, I had a lot of fun running workshops based around the seasons. This poem, from Jack Tattersall, captures the changes the seasons have on growing things.
Still
He sits so
Still
He is
the juniper
clear, the first snowfall
lifted, taken
green matted spikey
tips topped with
pins
amber seeds
redefine how we think
October and November
draws
the tree the shrub
takes back its fuel
to seeds to veins
lined inside
I see the ovary
travel
along branches, limbs
is it birthed in stems
at ends
or when it parts the
trunk
notches fuel points
the final fertile kiss
at stem ends
cup of stems to leaves
give up the green
calibrate the birth
in colours nesting
buds under pedestals
feet holding
the seed unravel
coats and cloaks
to be loosed
until the foot can
open let go
hand the ends to
new buds
the coloured leaf falls
gold and red
alight
to giving thanks
fly to the ground
coat your lawns
grass, shrubs
melt sink
under the soil
networks wind
taking
spurning nutrients
through veins
to branches to limbs
to stem ends
and ends
now red and gold
lining in folds
© Jack Tattersall, 2023
*****
The last poem, from Julie Dexter, has all the elements of a winter's poem (with a little nod to Valentine's Day) and a story to hear; a mystery, perhaps, to unravel.
Love In The Snow
February, again.
This year,
snow piled high on the garden fence.
St Valentine's day.
Children's faces silhouetted in the moonlight.
Birds flying to their nests,
hoping for berries, nuts, or worms – no chance.
Beneath the frozen earth, insects and creatures aren't
yet beginning to stir.
I draw back the lounge curtain,
warm in my slippers and dressing gown.
Close it quick – it's too dark, too cold.
Then I hear a crunch
I look through the letterbox
there is an old man,
hunched, wearing a deerstalker hat.
I wonder what he wants.
I peer through the keyhole,
see his feet in his shoes.
Must be frozen to the bone
and with holes in his suedette shoes,
or, are they slippers?
Why isn't he in bed?
He must have come out in slippers,
perhaps he is befuddled.
Slippers or suedette shoes,
what does it matter?
He looked cold just the same.
What are the neighbours
doing
peering from their windows,
preparing for
fisticuffs?
I decide to open the door.
I lean in nearer,
feel his breath in my ear.
"Please help," he says
then he grabs me; I gasp.
He is steadying himself
but taking me down,
down together we go,
me on top of him.
I hear a crack, well more of a thwack,
then his head
seeping wetness.
Blood, I imagine.
I place my hand beneath his head
a pillow between him
and the cold floor.
I must get him inside,
though I mustn't move him.
The neighbours come,
Jimmie and Darren lift him
inside, out from the cold
The ambulance arrives after a long time
but not before he has turned blue
So I go with him
in the ambulance
They won't let me into the hospital
ward –
I'm not next of kin.
So I sit outside the door
and wonder, does he have
a family? A son or a wife?
But before too long, I'm hungry and tired,
Yet, still, I sit on
waiting
and waiting
whilst the birds
awaken, take to the sky,
And before long, sparrows return;
camellias bloom
their fervent colour and brilliance,
all around.
Eventually, he came out:
I'd see him go by.
I never did find out his name or where he was from.
Slowly, by spring,
he walked up the road,
when people called, he continued
on, into the distance with a
walking stick
this time
© Julie Dexter, 2023
***** 
Finally, I wish you a happy Poetry Month. Thanks to all who have shared their work today. If you feel inspired to write a poem (or anything else), send it to pentoprint.org/submissions. Enjoy the changes of the season and the beauty of words and nature all around us.
Eithne.
*****
Read Issue 15 of Write On! Magazine here.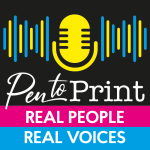 You can hear great new ideas, creative work and writing tips on Write On! Audio. Find us on all major podcast platforms, including Apple and Google Podcasts and Spotify. Type Pen to Print into your browser and look for our logo or find us on Anchor FM.

*****
If you or someone you know has been affected by issues covered in our pages, please see the relevant link below for ​information, advice and support​:
It's April - National Poetry Month!