Thoughtful Tuesdays: Literary Passions, Guilty Pleasures
By Eithne Cullen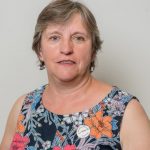 Our theme of Literary Passions, Guilty Pleasures opens up myriad ideas about passion and guilt. When Dr Afsana Elanko sent me this amazing image, I straightaway thought of how food fits this theme so well. Like me, you might enjoy sitting and reading a cookery book or magazine, poring over the words with gleeful delight. Where else would you hear the words drizzle, smear and sprinkle so evocatively used? How many of us understand when Jamie Oliver mentions a lug of olive oil?
I realised I could use food as the theme for today's page, too.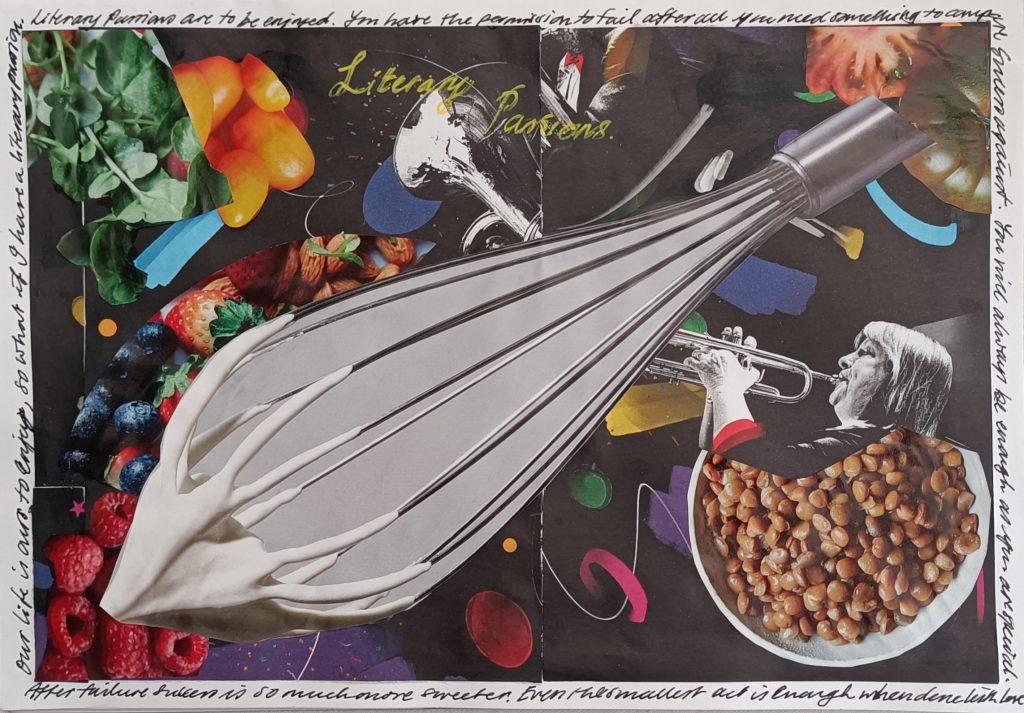 Be The Chef In Your Life © Afasana Elanko, 2023
I imagine a chef curating a meal in the same way we curate our lives. So we can enjoy literary passions, just like we enjoy our favourite foods. We can give ourselves permission to fail in the same way we sometimes just get a takeaway and we know we are enough when we make a simple meal and it tastes gorgeous. The reference to music in the background is a nod to being content in what we do.
© Afasana Elanko, 2023
*****
So many of my writing friends take themselves off to cafes to sit down and get on with their writing. They often find themselves drinking lattes and eating pastries and cakes they wouldn't otherwise be having. Or, in the words of one friend, a guilty admission about herself as being: "A writer fuelled by coffee, Skittles and skipping meals; cake for breakfast."
Pen to Print writer Mirabel Lavelle came to writing when she was writing about food allergies, particularly in relation to her grandson. Here's a little piece about her relationship with some foods.
Au Revoir, Bye And Ciao To A Cheese Addiction
I'm in our Maltese kitchen, just a four-year-old girl with red bows in her hair and turquoise flipflops on her feet. Mum is busy stirring rennet into sheep's milk.
Nanna Maria walks along the limestone floor and encourages me to observe and learn how to strain the fresh cheese through pieces of muslin, which Mum then ties with string, forming small, balloon-like shapes and hanging each one over a tin bath for the whey to drain.
We can eat these Gbejniet Cheeselets when soft, traditionally on crusty sourdough bread with fresh or salted sun-dried tomatoes and a tiny drizzle of olive oil. Alternatively, placed on top of a steaming bowl of Nanna's Minestra and pieces of Ftira unleavened bread, for dunking in the Minestra.
Sometimes, Mum would roast garlic bulbs to add to the tomato marinara. On special occasions, we would have it with veal and pork mince, sprinkled with torn basil and flat-leaf parsley. We'd fight over the grater to sprinkle greedy amounts of Pecorino and Parmigiano Reggiano. We enjoyed fat Bucatini or two-by-two-inch ricotta Ravioli, which my grandma made.
The cheeses of my childhood had been Maltese and Italian, with the odd bit of British Cheddar every now and then, enjoyed with crackers or in ham and cheese rolls.
The king of cheesy goodness was a dozen bag of the savoury cheesecakes, Pastizzi: crispy flaky pastry and ricotta parcels, calorie-laden and indulgent, a wholesome combo of Maltese magic in just two mouthfuls.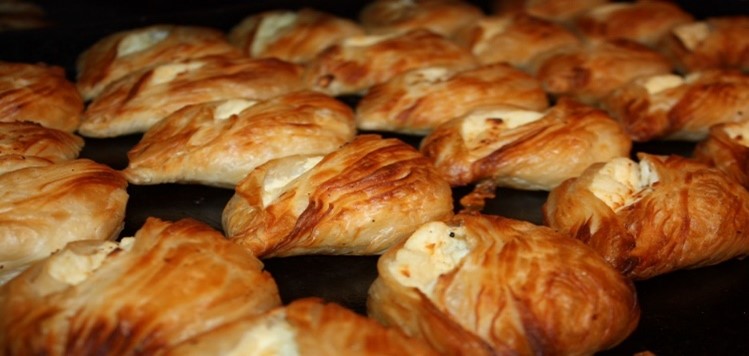 Then came the teen years and I fancied Feta, salty, creamy and decadent, chunkily crumbled on crispy Romaine lettuce, chunks of cucumber, tiny slithers of mint, halved red plum tomatoes and a few flakes of Maltese sea salt.
My brothers weren't too fussed about salad and preferred the Margarita pizzas that Mum slathered in salty anchovies and buried under layers of sweet and creamy Italian buffalo mozzarella. This pizza was framed by a wonderful dough crust covered in large blisters. We competed on who could stretch the mozzarella the longest!
A trip to France produced crispy baguettes, indulgent brie and champagne in the middle of a park. The cheese board, a cardboard box of delights from a local Fromagerie, now sits in my memory.
When I turned 20, I came to live in Great Britain and discovered new nuggets of indulgent cheesy glory to please my palette. My mother-in-law taught me how to make three cheese and mustard scones, which I would pull in half, cheese-scented steam rising, and I would slather them in salted butter. In winter, I'd leave them to cool, later smearing them with festive date chutney, accompanied by an English Breakfast tea.
A nice summer lunch on wooden pub benches outside would include quiche and salad or a thick-skinned, fluffy-centred jacket potato with heaps of thickly-grated cheese on top, no matter the filling. Sweet baked cheesecakes and currant and soft cheese tarts.
But…
Then…
Eight years ago…
I turned my back on all the cheese and haven't touched it since. It's prohibited from entering my home, my life, my body.
Why?
My family was struck by Milk Protein Anaphylaxis.
The new normal was coined then for us. That's when we cleaned our hands more regularly and protected ourselves from any contact with the substance. Today, we cook differently and enjoy new dishes with new ingredients, as well as re-invented or adjusted old favourites. Tofu, smoked or soft, soya cream and other delights have become part of our re-education in gastronomy.
And I have been clean for eight years from my previous cheese addiction.
© Mirabel Lavelle, 2023
Connect with Mirabel on Twitter: @Mirabel20287342
*****
Thanks for sharing that, Mirabel. Any cheese lover will fully understand the delights you describe!
The next piece is from our deputy editor Claire Buss. It's a clever look into the future and the consequences we may face for indulging our guilty pleasures when we should be using our practical reasoning.
Calorie Deficit
"You can't eat that! You're too fat," my friend whispered urgently at me, tugging my sleeve as I picked up a particularly delicious-looking chocolate bar from the shelf in the local supermarket.
"No, it's fine, don't worry." I smiled at her and continued browsing the aisle, looking at the various alluring packages tempting me.
"I don't think you can get away with it, Ally. We didn't burn that many calories this morning – look!" She shoved her wrist in my face, the K-Burn interface seamlessly blending with her skin showing a very small deficit in her calorie store.
We all had an interface. Government required upgrades for everyone to keep track of the number of calories consumed versus the number of calories burnt. It had been some think tank's brilliant brainwave for a smart tech generation. Make everyone track their own calories and enforce the burn with restrictions in supermarkets, so you really couldn't eat more than you deserved. No more fat people, no more weight-related health issues. Ingenious, really.
I wasn't worried. While Jen had been asleep, I'd done an hour on the internal treadmill we had embedded in our living room floor. And I'd been clenching my buttocks all day long. I had worked really hard for this chocolate bar. Nothing was going to stop me today.
That was the biggest fear when going food shopping: being declined at the till. The most embarrassing thing that could possibly happen. Most people just let their automatons do their shopping for them. After all, they carried out daily scans of their owners and knew what macro and micronutrients we needed. There was no need to actually visit the supermarket ourselves.
To be honest, I was surprised that real food and supermarkets still existed. I think if the supermarket conglomerate hadn't been the funding behind the K-Burn the Government would have tried to get rid of them and we'd all be eating various coloured sludge, like the astronauts. I mean, there aren't as many supermarkets as there used to be. With 90 per cent of the junk food removed from our food chain, there isn't much opportunity to get fat any more, even without the purchase restrictions. It was just unfortunate that certain members of society clung on to their body mass more vehemently than others.
Take me and Jen. We're the same sex, the same age and more or less the same height, yet she's as skinny as a rake, whereas I border on the fat scale. I've had several warnings from K-Burn Head Office, informing me I need to adjust my intake versus activity ratio. And I have been trying. My body just seems to cling onto its adipose; it's really not my fault.
We're at the till now. Jen goes first. I wait to see what happens. All clear, her credits are taken automatically as she passes through the scanner and her shopping is bagged for her. Me next. I hold my breath as I walk through the scanner. Nothing happens for the longest moment, then the alarm sounds. My worst nightmare. I'm too fat for my food. By one calorie.
© Claire Buss, 2018
Connect with Claire: https://linktr.ee/ClaireBuss
*****
Finally, I'd like to share a little poem of mine. I wrote it in 2020 and I guess it was a time when the pandemic sent us all looking for guilty pleasures to comfort ourselves – wherever we could find them.
Comfort Food
comfort
food
short crust
pastry
falls apart
in your mouth
sweet
cooked
apples
laced with sugar
ooze and thrill
and please your
senses, thrill…
© Eithne Cullen, 2020
I hope you've enjoyed this journey into foodie pleasures. The writing featured shares the passions it's possible to express when reading, thinking and writing about food.
*****
Issue 18 of Write On! is out tomorrow. In the meantime, you can read Issue 17 of Write On! Magazine here.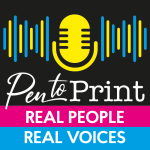 You can hear great new ideas, creative work and writing tips on Write On! Audio. Find us on all major podcast platforms, including Apple and Google Podcasts and Spotify. Type Pen to Print into your browser and look for our logo or find us on Anchor FM.

*****
If you or someone you know has been affected by issues covered in our pages, please see the relevant link below for ​information, advice and support​:
Like me, you might enjoy sitting and reading a cookery book or magazine, poring over the words with gleeful delight.