Thoughtful Tuesdays: Spring Gardening
By Eithne Cullen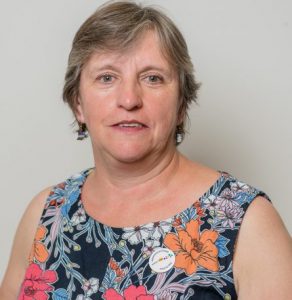 Welcome to Thoughtful Tuesday's April page. Spring has been creeping up on us, filling us with hope and a sense of fun, leading to a bright summer. The theme for the current magazine is growth, which makes us think of transformation. So it's a great coincidence that April is 'Gardening Month', and I've got the chance to present writing about spring and growth from some talented friends of Pen to Print.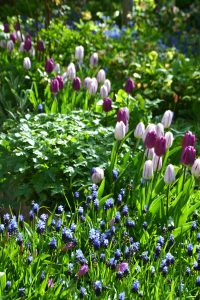 The first piece is from Danny Fenn who has contributed to Write On! in the past. He's well known in Barking and Dagenham as a poet and also goes under the name of the Boleyn Poet. His poem Spring Time, captures the sounds and smells of the season, as well as telling us why he loves the spring so much.
 Spring Time
I love this time of year
When the trees and flowers begin to bloom
It can lift your mood and spirit
And get rid of winter's gloom
It makes me feel rejuvenated
When the sun finally shows its face
Springtime in all its glory
Makes the world a happier place
The incessant hum of the working bee
As it pollinates the flowers
Helped to grow by the midday sun
And the occasional April showers
The smell of freshly cut grass
Mingles with a barbecues meaty scent
As the blackbird and the robin
Whistle their heartfelt lament
People have a smile on their face
As they go about their chores
The warren of rabbits dig a hole
Which the hungry fox explores
The promise of longer days ahead
And the prospect of summers heat
With the rest of life in front of you
And the whole world at your feet
It always makes me feel young again
And I consider every springtime a gift
And after winter's icy fingers
Never fails to give a lift
So live love and laugh
At whatever life may bring
Breathe it in and count your blessings
And treasure every Spring
© 2021, Danny Fenn
*****
Spring is the season birds build their nests, ready to raise new families. Transformation comes in other ways, too. This is the season all of nature comes alive, pushing to transform from one thing to another: seed to plant, chick to bird, cygnet to swan and baby to adult animal. To illustrate this, Pen to Print writer and artist Michelle Sutton, has kindly shared her paintings of emerging butterflies. It's wonderful  how they add beauty to the garden!

*****
Clare Cooper is a member of the team at Write On! I know her garden is an important part of her life, so am very happy to feature a piece from her this month. Clare shares some personal feelings about a garden that's particularly dear to her, as well as giving us insight into the ups and downs of  being a gardener in lockdown.
A Tale Of Two Gardens
My garden is looking very pretty at the moment, as the air is noticeably softening, blossom is blooming everywhere I turn and there is a fresh, light green wash over everything. As I wander around outside, I spot the weeds and think, 'Oh, God, here we go again.' It was a different story last year, though, when all the garden centres were forced to close their doors during the first lockdown. Craving colour, I allowed the weeds to flourish and I appreciated the pretty, delicate, colourful flowers they rewarded me with.
No sooner were the garden centres allowed to open again, than I realised where most of my money goes: plants (books, too, but that's for another day). Lessons had been learned; gardening and being outdoors proving vitally important to our collective mental health and wellbeing. So, they were able to stay open during the second lockdown, hooray. (I realise there is always online ordering, of course, but it's not the same and, in my experience, can be unreliable.)
During the third lockdown, although the centres remained open, it became noticeable that the staff were outnumbering their customers and I worried they might have to close down completely again. There is something quite eerie and forlorn about an empty garden centre, tinny music piping over the serried ranks of bedding plants in their jaunty colourful pots, all waiting hopefully to be transported away to their new homes.
Now, at this busy planting time of year, the customers are returning and my own garden is slowly transforming and taking on its unique shape and hue once more. But there is another garden I know very well: one that belongs to my parents. One which I will be saying goodbye to much, much sooner than I would have liked.
Taking over its care has been my responsibility throughout this past year. It needed some love and attention and several rather gaping bare patches in the borders were begging to be filled. I have bought and planted many small shrubs and I pay a gardener to maintain it all for us. As a result, I think it has been transformed and quite possibly looks the best it ever has done.
Sadly, though, the two people who started it all can't see it. My father died 22 years ago and my mother is now in a home and won't be going back to her own home again. Of course, I can show her pictures of her garden, but that's hardly the same thing.
We are having to sell the house, so I'm taking lots of photographs. As I'm walking round with my camera, I'm noticing that bulbs, once planted by my parents, are popping up all over the place. I'm finding this desperately sad and moving, but also hopeful, at the same time.
I had felt as though, in taking charge, it had become more my garden than theirs but, with the onset of spring and the bulbs making their welcome reappearance, I realise there is still something of them in there, which gives me a feeling of comfort and continuity, mingling with the grief and loss.
It's a reminder that, having been the only people to have ever lived there, it was always their garden, one they had designed themselves, and that it will live on, flourishing in some form or another, for many years to come. That is my hope.
© Clare Cooper, 2021
*****
Patsy Collins has written about her garden for my Thoughtful Tuesday page in the past. As well as writing enthusiastically about her garden and the plants she grows, she takes gorgeous photos of her flowers; here are some of her vibrant tulips.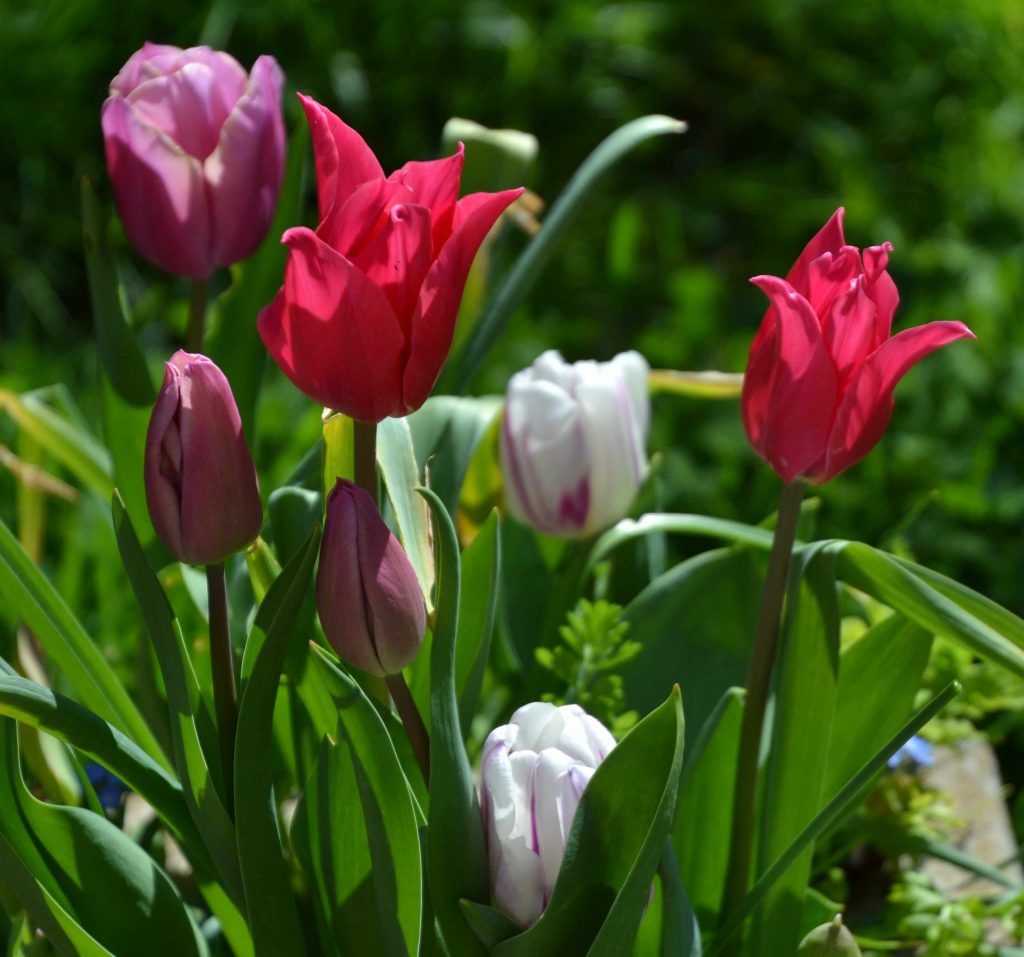 Patsy tells us how writing and gardening are closer to one another than you might think….
I'm as enthusiastic about gardening as writing fiction and see many similarities between the two. Maybe that's why I've written so many garden-related short stories, and all of my novels include characters who are gardeners or love flowers.
With both horticulture and literature, we must prepare the ground. For writing, this involves learning about things such as grammar, plotting and story arcs, formatting for dialogue, and conducting the research needed for each individual piece. Next, we assess the local conditions and choose our plants, or study market requirements and decide on genre and storylines – always taking our own strengths and preferences into account.
Writing the first draft is like sowing seeds. We have an idea of what we want to achieve, but the plants may grow taller than expected, or bloom in a different shade. Maybe they'll grow so enthusiastically we'll have a series of novels on our hands, or will get no larger than the most compact of short stories.
Then our friends and family will walk around our new garden, telling us they love the delphiniums, but never could abide yellow flowers, and don't we think that big, rather boring bush is shading out some of the prettiest, daintiest flowers? Or that the delphiniums are OK but would look better with more yellow daisies as contrast and the whole design needs substance from solid evergreen shrubs and less of those flimsy-looking flowers. Or that the entire thing is absolutely perfect as it is, or it would be a lot easier to get rid of the lot and put down artificial turf and some nice cheery gnomes.
We listen to all the advice. We have a think. Has the gnome enthusiast ever read a book in the genre we write? If not, perhaps they'll never appreciate our garden. We remember the cousin who is so fond of yellow daisies once won a bronze medal at Chelsea Flower Show. But that was decades ago and tastes have changed. Perhaps we'll ask others for opinions, or consult an expert. We make our decisions and get to work.
The plants which have outgrown their space are cut back, word by word, until they contribute to the whole without overwhelming the entire plot. That one flower, more gorgeous than all the rest and which clashed with everything else, is dug up, put in a pot and may one day find a home in another garden. We chase off the pigeons, pull up the weeds and add a few bulbs and colourful annuals to any spots which look a little sparse.
Once we've done all we can we're ready to open to the public. Some will love it, some won't, and the vast majority won't even glance through the open gateway. A few people will say how lucky we are to have such good soil and to have inherited green fingers, that they too will plant a garden when they have time.
Almost no one will see the work which went into creating it. Almost everyone will spot that one leaf a caterpillar took a bite from. If we're really lucky, those few who love it will tell their friends and those people will come to visit our garden. Some of them might love it too, and tell their friends.
Eventually, our visitors will have seen enough and go home. We'll be left with their words of criticism and praise, and our garden. We'll see the result and remember the time and effort it took to create and know that we did our very best – and perhaps see where we can do even better next time.
© 2021, Patsy Collins
Patsy has produced over twenty themed collections of short stories, including four about gardens and gardening, six novels, and one and a half books for writers. A Year Of Ideas; 365 sets of writing exercises and prompts is exactly what it says on the cover. From Story Idea to Reader, co-authored with Rosemary J Kind is an accessible guide to writing fiction. You can find all her books here.
Womagwriter , Patsy's blog, has fiction submission guidelines for women's magazines, regular links to free to enter writing competitions, publication opportunities and lots of other stuff writers may find useful. She sometimes shares more pretty photos there too!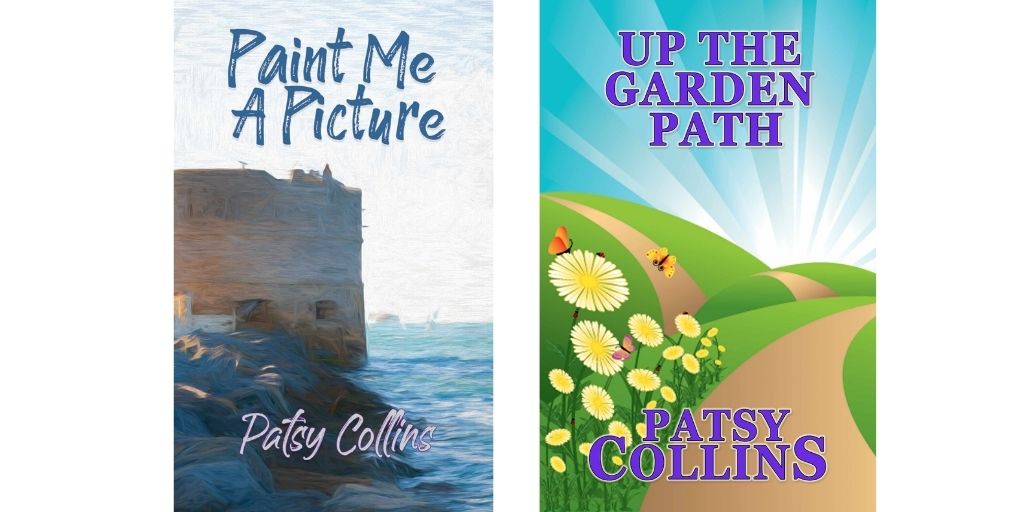 *****
Finally, let's enjoy the gardens we visit. Not all of us have our own gardens, but there are many magnificent parks and gardens we can go and see, such as Barking Park and Valentines Park. I'm also really looking forward to seeing bluebells coming up to fill the floors in woods where they can be found. Don't tell too many people, but Wanstead Park has a beautiful display about now.
And, for all of us who like to write or think about writing, I do hope Patsy's words have inspired you as much as they have me! If you do write something you'd like to share, send it to us at pentoprint@lbbd.gov.uk
I'm off to see how my spring flowers are doing.
*****
Spring has been creeping up on us, filling us with hope and a sense of fun, leading to a bright summer.