Thursday Connectors: American Lives Under Lockdown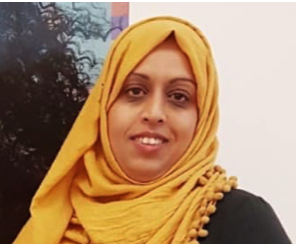 by Farzana Hakim
Hi all, it's Farzana once again, bringing you some fantastic lockdown stories. This week I'm excited because we're going to be connecting with writer folk from the United States of America. We've got some interesting observations from Washington DC and Colorado coming up, as well as our key worker segment.
So, let's head straight to Washington DC, to hear from Maria Riegger.
Hi, Maria. Let's connect…
*****
I'm a single mother of a ten-year-old boy and we live just outside Washington, DC.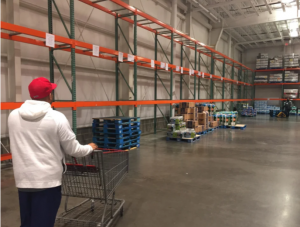 Since we live in an urban/suburban environment, we haven't had difficulty getting groceries and ordering takeout whenever meal planning, prepping and cooking two to three meals a day becomes overwhelming, as it frequently does (long live leftovers!). We're also able to have groceries delivered, although delivery demand is so high that I often have to stalk the Amazon Whole Foods page to get a delivery time slot as soon as it's available.
I'm an attorney by day, author by night, and, since I don't litigate in court, am able to work from home. While others hate being stuck at home right now, I am in my element. My son less so, because he misses his friends and misses ambling around and window shopping, two of our favorite pastimes.
The pluses:
Introverts are made for this… Maybe not ALL introverts are made for this (introversion is, after all, a continuum). My son and I are both highly sensitive introverts. We hate noise and crowds, and love being at home. As an introvert living in one of the most extrovert countries in the world, in a city where happy hours and long brunches are the norm, I've always resented feeling pressured to 'hang out' and participate in social activities. I'm also amazed at how people can be bored alone at home. I enjoy my own company, with books to read, video games to be played, good food to eat, and novels to be written.
School on our own terms… My kid is very independent, and doesn't thrive in the authoritarian environment of most schools where we live. Think about it. At school, kids are told when to eat, when to go to the bathroom, and what to do constantly. As a kid, I remember being terribly thirsty at school but we were only allowed to go to the water fountain for a drink once a day.
Teachers are under pressure to control behavior in the classroom and emphasise 'groupthink' and compliance without question, whereas I teach self-championing and free-thinking. Teachers are also pressured to get through a certain amount of material each day. I've witnessed teachers shutting down kids' curious questions because they are in a rush to get through the next lesson.
The school environment is also not great for introverts. As my fourth grader complains, "There's too much racket," and, "I can't read because of all the noise." The constant noise and stimulation is draining for introverts.
Since we've been distance learning, my son sleeps in until about eight a.m., looks at his work and plans his day. Thankfully, his school does not have virtual classes for six hours a day, as  some other schools across the country do. He enjoys this independence and is, for the most part, motivated to complete the work on his own. He has his schoolwork done in about an hour and a half to two hours, then has free time to do what he likes, including exercising and playing video games with me. He is much less anxious and less grumpy because he is sleeping well and has more say over how he spends his time.
The minuses:
The house is a constant wreck… There is dog hair everywhere and there are always dishes and laundry to be done, because we're home all the time! I've given up on deep cleaning every day; I don't have the energy. We straighten up and make sure there are some clean dishes and clothes, and food to eat. That's all we can do right now. Above all, I'm working on keeping us healthy.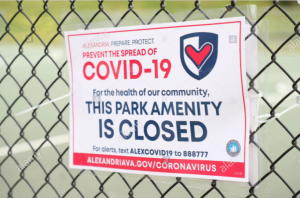 We miss our friends and travel… Even introverts like to socialise, as long as by 'socialising' we're talking about meaningful one-on-one interactions. My son misses playing sports with his friends. I miss my sister, who works in a hospital and from whom we're social distancing as a precaution. Thankfully, we have modern technology to keep in touch with each other. Our summer travel plans are in limbo, which is disheartening. Exploring new places together is mine and my son's favorite joint activity.
It's difficult to get my workouts in… As part of introvert quality time, I do yoga downstairs while my son plays video games in the same room. We go for plenty of walks, and I sneak in workout videos when I can. Still, keeping up with a ten-year-old boy provides plenty of opportunity for exercise.
In the end…
Above all, all the extra time at home has worked to strengthen our relationship. We may occasionally get irritated with each other, but if you live with someone, that's par for the course. When I tell parents to make sure to build a strong bond with their kids, they often ask me how to do that. The best way is to spend lots of one-on-one time with them, putting away the phones, and just hang out: reading, stargazing, taking a walk, or taking a drive. During these moments, when there is no pressure to interact, do anything or be anywhere, kids often open up and begin to talk to parents about meaningful things, including what's bothering them. Presently, the uncertainty of what will happen, including when kids will get to go out and see their friends and travel again, causes them great anxiety. My advice is to let go of everything that is not essential and maintain health and sanity however we can. Parents need to remain strong and healthy too!
*****
Next, we connect to Margena Holmes who writes from Colorado.
Hi, Margena. Let's connect…
*****
Before COVID-19, I worked at a movie theater in Colorado Springs, Colorado. I don't get a lot of hours, but it brings in a bit of extra money and I do enjoy the work.
Like everyone, I'd heard this virus was on its way across the country. I didn't know anything about it, except what I'd heard on the news and, even then, information was sketchy at best. As we started to learn more about this illness, I began to get a little concerned. I don't usually wear gloves at work while I clean, but I do wash my hands a LOT. Once I heard the illness wasn't like the flu — in fact, it was considered to be deadly to some folks — I started to wear gloves while at work.
That was short-lived, however, as we closed down within the week. Everyone was furloughed for the next six to twelve weeks. OK, I thought, I can get a lot of writing done in this time. Whenever I'm not at work, I'm writing (or reading), so staying home wasn't a big deal for me. I don't like crowds, anyway.
Soon, everything was shut down except for essential businesses like grocery stores, hardware stores (you have to be able to fix something if it breaks), and liquor stores. Liquor stores? Well, yes, that is considered an essential business. As things started to get worse and hospitals were being overrun with patients, they didn't want to add alcoholics having withdrawals into the mix of hospitalisations. In fact, my daughter Aerin, who works as a pharmacy technician at a hospital, says they keep cans of beer on-hand in the pharmacy for those who may need it while they're hospitalised.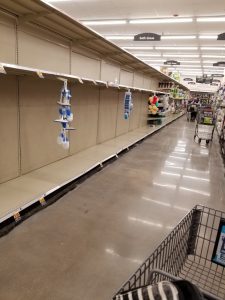 The first two weeks of the 'Stay at Home' order from the Colorado governor went great. I got some writing done while watching my grandson. What wasn't so great was going to the store and finding out all the paper products were gone! I went to do the grocery shopping on my regular shopping day, clueless that people had been panic-buying paper products for this Stay at Home order. Shelves were pretty bare — canned foods, ramen, rice, beans — all gone, and meats were pretty well picked-over. I had to make some quick dinner substitutions, but I managed to get food for the week.
I've had to change how I do my weekly grocery shopping. I used to just start my list and once it was finished, I'd go to the store, even if that meant getting there at 2:30 in the afternoon. Now, I make my list the night before and get up early the next day to do the shopping, since I want to make sure the items I want are still in stock. There are limits in place for meats, only three per customer per product, but that suits my needs. At checkout, there are stickers on the floor to show where to wait, and everyone is reminded to keep six feet from other people. Hard to do in the aisle, but easy to do while at the checkout, unless people just don't care and stand right on top of you.
Judging by how many people were still out on the roads, I don't think anyone was taking the Stay at Home order seriously. All department stores were closed with the exception of Target and Walmart, so where were these people going? It would seem they were still going to parks, violating the 'no more than two people in a group' rule as well as the Stay at Home order. I figured the police would be cracking down on people going out, which was why my daughter got a letter from her work, saying she was an essential employee, but they haven't.
Even though I'm an introvert and I like being at home, I still feel the anxiety of living during this pandemic. I worry about family staying healthy.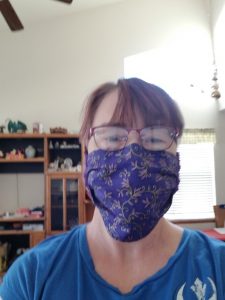 This virus tends to act on people in different ways, and those who are older or have health issues are getting hit harder than others. Reid, my husband, is 64 years old and Type 2 diabetic, so he has two strikes against him. Our younger son, Carter, has asthma, so he's high risk. I'm terrified they'll get this. Every time either of them has a sore throat or a sniffle or cough, I worry that they've somehow picked it up. We're all diligent about washing/sanitising our hands and staying home unless we have to go get groceries or prescriptions, so no one here should be getting it.  I go out once a week to do my shopping and, even with wearing my mask and washing my hands, I still wonder if I can somehow get it and pass it on to my family.
We've entered the 'Safer at Home' phase and have opened up some businesses to save the economy, but I still think it's too soon. President Trump is more interested in businesses making money than people's health. If people would follow the guidelines of social distancing, we maybe could open a few more places, but most people even now aren't following safe practices. I don't think we're ready as a country to be opened back up just yet.
*****
Thank you, Maria and Margena. Your experiences sound exactly like ours in the UK.  Connecting with so many people over the last few weeks leads me to draw an obvious conclusion: we're all in this together.
And finally…
In our home segment, a keyworker tells us about working in a health centre.
Everyone went bonkers about prescriptions, once they thought they would be unable to get them when told to stay inside for three months. This put immense pressure on chemists/pharmacists, as patients would go in and shout at them if their medicines weren't ready after queuing for anything up to an hour.
GPs were mainly doing telephone and video consultations and, if patients had to be seen, they were given a specific time to come in. The door would be opened and the GP would have PPE on. Patients were worried as hospital operations/procedures were being cancelled and we didn't have any answers for them. Other patients went into panic mode with everyone who had a cough thinking they had COVID-19 and wanting to see a GP to be tested.
All staff leave was cancelled and we had to work the Easter bank holidays to help the NHS111 call line by taking our patient calls. I was happy to go in, as otherwise I would have had to stay at home on my own for four days.
I live alone, so don't have the worry of passing anything on at home, but I do have a constant worry that my son – who works in a hospital – is at more risk, even though he isn't front line. Like many people who live on their own, I also  fear I may be too ill to help myself. I try very hard to dismiss those thoughts as I do my best to social distance and take all advised precautions .
*****
That's it for this week. I look forward to meeting you again soon and, until then, take care and keep safe. Don't forget to clap for key workers tonight!
You can connect to Farzana on twitter: @farzanahakim
Above all, all the extra time at home has worked to strengthen our relationship. We may occasionally get irritated with each other but, if you live with someone, that's par for the course.