Thursday Connectors: A Festive Write On
By Farzana Hakim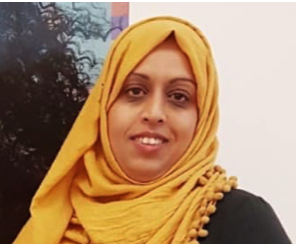 Hi, all. It's Farzana, your host for Thursday Connectors, with a jam-packed festive special to  lift your writing spirits. And what could be a better time than the present to bring about some much needed cheer? After all, it's the season to be jolly and merry…
And cold! It's absolutely freezing, isn't it?
Time to cosy up then and jump straight into our first connector, Mary Walsh from Greater London, who shares a fantastic poem about the fun and mysterious festival of Winter Solstice.
Hi, Mary. Let's connect:
Winter Solstice
The winter solstice comes as we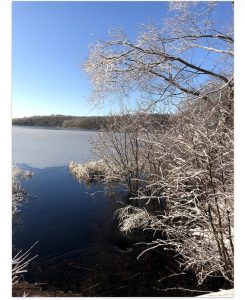 Feast on the hope of lengthening days
Winter Solstice is soon upon us
The hours of daylight quickly fade
Make ready now the sumptuous feast
The famine days will soon be here
Slaughter all the beasts for drying
So, we feed them not once winters here
Brew up the ale and wine in cups
Drink plentiful of grape and hops taste
fruits of autumn, nuts and berries
Sing in the winter solstice, merry
Around the world, across the times
The solstice named as differing forms
Dongzhi, Yalda, Sol Invictus
Makara Sankanti, Shabe Cheleh
The Roman in his toga's resting
The Viking in his winter fur
The Druid and the Celts surrounding
Stone Henge and Newgrange with circled words
So, feast upon the winter solstice
It is upon us mist and fog and frosty haze
The winter solstice comes a darkening, as we
Hope of sun and lengthening days
(c) Mary L Walsh, 2020
*****
Thank you, Mary, for sharing your fantastic poetry with us. Thanks also to Hajnelka, from Bristol, who has connected with us to share the following link; playing a piece of music titled Winter Solstice.
*****
Of course, 2020 will be largely, if not wholly, remembered for the coronavirus and its devastating effects on our lives. Unlike previous years, people from all faiths and backgrounds will be telling stories of how they've adapted their special occasions to follow lockdown regulations. In the following connectors you will see, despite the unprecedented times, festivals did not get postponed or delayed and that our hearts, always full of belief and spiritual connections, still found a way to celebrate!
First up is Pen to Print's Juneha, who connects from East London, to tell us about her Eid.
Hi, Juneha. Let's connect:
Let Us Celebrate 'We.'
Five months ago, bang in the middle of lockdown, our Eid was different. We were warned this was coming and knew it was going to be like no other Eid we had experienced in our lifetime. But that did nothing to soften the blow when it finally arrived. On the contrary, my kids wished upon those miracles that dreams are made of, right up until the night before, only to wake up and realise nothing had changed:  Eid was most definitely stuffed.
Eid celebrations in our household have traditionally been a lavish affair, an exhibition of sorts, centred massively around the gathering of family, the visiting and the visitors, the new clothes, the feasting – and not forgetting the pictures! Suffice to say there was a huge void to fill. With kids who enjoy the physical space, and other people's company as much as I do, the idea of Eid not including interaction with our much-loved extended family was a depressing thought they couldn't realise, and there was naturally a kind of mourning that accompanied the sentiment.
But we got through it. We had our feasts in the morning. We set our tables, and we dressed up much as we would normally have done. Yes, there wasn't a bigger party, a larger gathering to look forward to, that peak in the day where all the good things accumulate and we have a real blast. Yes, the circumstances were not of our choosing, and the atmosphere lacked the hearty enthusiasm built on doing things a certain way, but no, it was not a total disaster, because, despite everything that was going wrong in the world at the time, there was still loads to celebrate.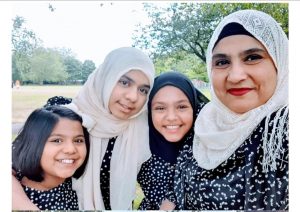 All dressed up, we may have had nowhere to go, but we experienced something new. Difference is not always a bad thing: a change of routine, like a change of scene, can be as refreshing as a holiday, giving you a new perspective and making you appreciate those great little things in life, like time, fresh air, conversation and togetherness. As a family, we did get out, we went for a long walk to our local park as part of our allocated exercise time. Nothing to write home about agreed, but in pausing occasionally to pose for pictures in front of trees and swings, a unique memory was created; one that history will not be able to rewrite. The emptiness in the world around us was undoubtedly chilling, but being together as a family exhibited a warmth which could not be denied. We messed around as we usually did, but more so because we knew there was no humungous peak awaiting us and we had to make those softer peaks count.
And we did.
Those long video calls to the family were a definite peak when we looked into the screen and, by the power of technology, we could be with our extended family, and be present virtually in each other's day and celebrate being together, but not together, being apart, but still cupped in each other's hands. Our hands may not have touched, but our hearts could not have been more gelled. That was our Eid: a lot of happy, tinged with a stroke of sad.
We missed the crowds, the gathering in the streets, and the congregations inside and outside the mosques, but when we virtually celebrated being together, we reminded ourselves that, despite all the challenges, love will always find a way. We also reflected on all the good things that came out of the crisis and the true impact of human kindness in the world we live in. A world which was focused on Doing my job, to pay my rent, to feed my kids and make my life better, became more about checking up on other people, reaching out and sparing actual minutes to ask, Are you OK? Is there anything I can do for you? We paused and thought about things bigger than ourselves, and that in itself was something to celebrate.
So, for those observing a somewhat untraditional Christmas this year, just one piece of advice: Enjoy your Zooms and video calls together, really live those moments and don't let them pass you by. Let this year be simply about honouring an unconventional togetherness and less about I, myself and me. Let this year be about coming together, and celebrating 'We.'
*****
Oh, Juneha.What a heartfelt story, and so relatable, too!
Now, let's move on to the festival of Diwali and hear what Write On!'s Palak Tewary, also from East London, has to say.
Hi, Palak. Let's connect:
Diwali – The Festival Of Lights
Diwali is a five-day festival. The first of the days is Dhanteras on which we worship Goddess Laxmi and buy metal items  such as brass, aluminium, silver, gold, platinum.
The second day is Choti Diwali or Kali Chaudas. On this day, Lord Krishna and Goddess Kali destroyed the demon Narakasura. It's a day to eradicate laziness and evil and to shine light on life.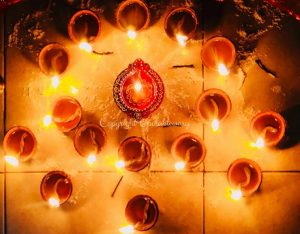 The third day is Diwali. To celebrate, the diyas are lit, the house is decorated, special prayers are offered to Lord Ganesha and Goddess Laxmi and a Diwali feast is prepared.
The fourth day is New Years. This marks the beginning of a new year (now year 2077 as per the Hindu Calendar) and is usually spent visiting friends and family to exchange good wishes and gifts.
The fifth day is Bhai Dooj, a celebration of brothers and sisters, where they share gifts, pray and eat together.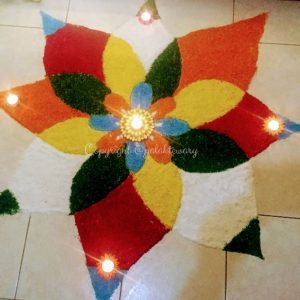 Preparations for Diwali start begin long before the actual festival. The house is cleaned from top to bottom and all cupboards are turned out. New clothes, rangoli colours, gifts, sweets and candles are bought. All metal items are also polished. Prior to the festival, all gifts are wrapped, sweet and savoury dishes are prepared and rangoli is created near the entrance or by the temple in the houses. Rangoli is a decorative art that can be made using coloured powder, coloured rice or flowers.
This Diwali was different than the ones before. Other than the essentials, hardly any shopping was done. Rangoli was made from items we already had at home. No gifts were purchased. All sweets were made at home. No visits were made, nor did we entertain anyone in our home.
However, the video calls with friends and family, the feast prepared for ourselves, the diyas lit around the house made it memorable, as Diwali is more than the excitement of preparations, the decorating of the house, the lighting of the candles and the togetherness of family and friends; it's a celebration of the triumph of good over evil, hope over despair and light over darkness. And, although, we couldn't have it all this year, the celebration still gave us optimism and inspiration.
As we move into the Christmas season, I leave you with this prayer:
Asato ma sadgamaya
Tamaso ma jyotirgamaya
Mrytyoma amratam gamaya
Om Shanti Shanti Shanti
Lead me from untruth to truth
Lead me from darkness to light
Lead me from death to immortality
Om Peace Peace Peace
*****
Thank you, Palak. I'm glad that despite the restrictions, you had a wholesome Diwali. Thank you also for prompting the introduction of our next connector about Christmas. We have a special story from Write On!'s Editor, Madeleine White, who reflects on her German heritage, while sharing some of her fond festive memories with us.
Hi, Madeleine. Let's connect:
My German Christmas Childhood
Christmas Eve, 1974. My sister and I, aged five and three, sat in our rooms at the top of the house, listening for noises from far below. Mum was with us. We held our breath. In the silence, the sound of tinkling bells drifted upwards.
"It's the Christ Child," Mum whispered. "Can you hear? He's downstairs, putting your presents under the tree."
Sure enough, we could hear the bells and knew this meant the 'Christkindchen' was there.
Mum was English, Dad German. We lived in the outskirts of Saarbruecken, the capital city of Saarland, a little German state on the French border. Over the last few centuries, it had been both French and German in rapid succession, but in 1953 had opted to be German in perpetuity.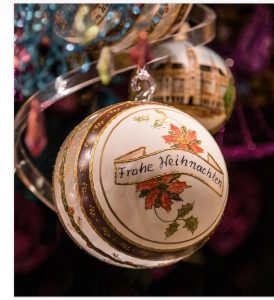 Christmas Eve was when the Christchild came and we received our presents. I remember the white candles, the sound of the bells, the Plaetzchen, the baking of the German Christmas biscuits my Oma (grandmother) had ritualised so as to demonstrate (particularly to rival sister-in-law Cilia) that she was the best baker in the family. When I learned to play the recorder, I'd enthusiastically share German Christmas carols, such as Stille Nacht (Silent Night). Eventually, I moved these renditions to the piano. I remember picking out Leise Rieselt Der Schnee, my Opa's (gradfather's) favourite, with the snow the carol announced falling softly past the windows to blur the edges of the stark winter landscape.
These days I have stronger memories of Mainzweiler, the little village in Northern Saarland my father hailed from and the farmhouse-cum-smithy, my Oma and Opa called home. When I was very little, they still had pigs; the pen close to where the cows my father (Papa) remembered so fondly from his own boyhood, had been stabled. Although, as with many rural buildings, it had been converted into something akin to a garage, I have memories of trying to visualise where the manger might have been.
Christmas would span three days, with Christmas Eve (Heilig Abend) in the Catholic, mainly southern part of Germany, being the most important. Then you'd have Christmas day – der Erste Weihnachtstag and Boxing day, simply labelled der Zweite Weihnachtstag, which, much to his chagrin, also happened to be Dad's birthday.
In the German south, Father Christmas or Santa doesn't even feature on Christmas Day. Instead, he comes on the sixth of December. His carries a big black sack, packed with smaller, 'stocking-filler' gifts and a book in which all a child's misdeeds and good behaviour are recorded – with presents given accordingly. His sidekick, Knecht Ruprecht, is dressed in black and carries a big cudgel. In the old days, he used it to beat the naughty children. In my childhood, though, I only saw him once and he was handing out sweets!
Oddly, apart from the memory of a bike, a disappointing giant teddy (when I had wanted a dog) and a doll's changing station – the gifts are not the dominant memories from my childhood Christmases.
Instead, I remember the icy white of the real candles clasped to the Christmas tree my father and I had felled in the forest and the pin-like stars flung out across a deep black sky on the evening of Christmas Day, when we tried out our shiny new bikes outside my grandparents' house. And later, when I was ten, and things had started falling apart (a few months before we moved to England, minus Dad), Mum dressing up as St Nikolaus on December sixth because they'd forgotten to organise the 'real' one.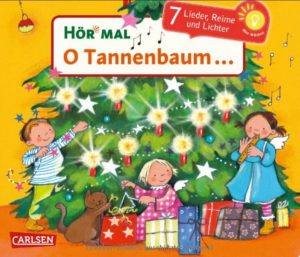 I still bake Christmas biscuits and play Stille Nacht and Leise Rieselt Der Schnee along with many other piano tunes I've learned over the years. Although daughter, Erin, has taken over as chief Christmas pianist now. What has passed is infinitely precious, and our family, which thanks to my husband, now has Irish and Scottish mixed into the English, German and Canadian, is creating new memories every year. Who knows, in this year of COVID, when we're all needing to celebrate a very different Christmas, maybe the most precious kind of all will be created?
*****
Thank you, Madeleine, for sharing this with us. And I totally agree with your last point. It's certain that our nation, as well as the world at large, will experience a Christmas season like no other. Yet, it's important that, like Mary, Juneha and Palak, we remain positive and bright hoping for a healthier new year, one where we will be able to celebrate our festivals kissing and loving our families, as before, without any fears and restrictions.
That's it for this year. But please take a ginormous hug from me, as we say goodbye to 2020!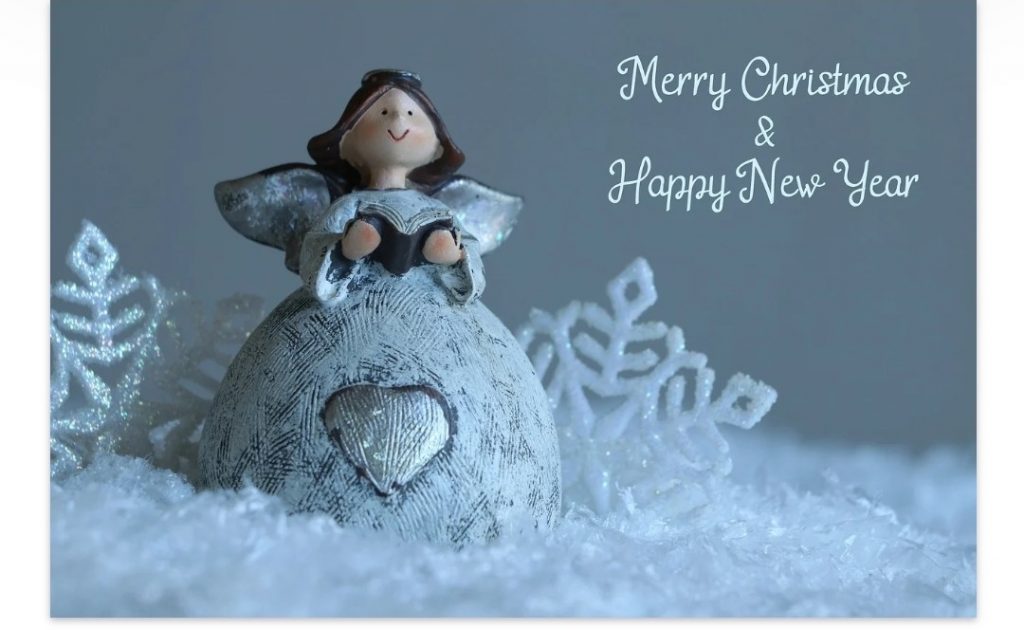 Have a special holiday and a great new year.
See you in 2021!
Don't forget to read Issue 6 of Write On! magazine available online.
It's certain that our nation, as well as the world at large, will experience a Christmas season like no other. Yet, it's important that, like Mary, Juneha and Palak, we remain positive and bright hoping for a healthier new year, one where we will be able to celebrate our festivals kissing and loving our families, as before, without any fears and restrictions.