Friday Feature: Cooking + Books With Dina Begum
By Dina Begum
My Inspiration
I've written for most of my life, mainly in the form of short stories, articles, essays and poetry. My love of food, coupled with writing, inspired me to start a food blog several years ago. This led to collating recipes, hoping one day they'd go into a cookbook.
The cookbook is inspired by Brick Lane and my Bangladeshi heritage and celebrates the multifaceted and diverse food culture of the area, which has seen many changes over the years and adopted a range of communities, including Ashkenazi Jews, French Huguenot and Bangladeshis. It was important for me to represent as many of the unique cuisines as possible and to give a true flavour of the area with contributions from street food traders and eateries, which sat next to my own modern and traditional Bangladeshi dishes.
Recipe Ideas
I'm inspired by everything around me. The food I grew up with and the food I've grown to love. I develop Bangladeshi recipes inspired by my mother and grandmother, as well as food I've eaten on my travels to different countries. I often add an eastern element to a western dish and vice versa. Such as the Chai Malai cake from my cookbook, which is a delicious blend of popular south Asian flavours such as rosewater and cardamom – in a cake!
My Favourite Recipe
I am addicted to sweet things, so I favour dessert-making above all. I enjoy experimenting with sweet dishes from around the world, such as baklava, madeleines, and rice puddings. In addition to this, I enjoy cooking a traditional Bangladeshi chicken roast or korma, which is one of the dishes in my cookbook and worlds apart from the overly sweet and creamy kormas found in curry houses.
My Route To Publishing 
I was introduced to my publisher via a family friend who loved my food blog, which then led to me pitching an idea for a cookbook. My book is part market cookbook, part personal, as it focuses on the Bangladeshi food of my heritage. My publisher and I talked through a couple of ideas and eventually, we decided on Brick Lane as a focal point as it is connected to my childhood food memories as well as present-day Brick Lane, and celebrates the diversity of the area through trader contributions.
Editing A Cookbook
There are different stages to writing a cookbook. Developing recipes, writing a creative and appealing headnote for each, based on various elements of the dish such as description, taste, smell, as well as special notes. My book went through three drafts as well as copy editing and proofreading. My publisher also managed other crucial aspects, such as the food photography, design and illustrations.
Recipe Testing
Each recipe was tested two to three times to ensure consistency and accuracy. Once I develop a recipe, I share them with a small group of family and friends so they can also try them out and let me know how their experience has been following the recipe. This can be a blessing, if I've overlooked something!
The Photo Shoot 
For the book, we held a two-day photo shoot. I prepared the food with assistance from the editorial team and the food was styled by a food stylist, which made each dish look unique and fitting to the theme of the book.  Additional days were also spent by the photographer, who captured beautiful shots of Brick Lane and its food scene, plus photos of traders and their food, including recipes they contributed to the book.
Brick Lane Cookbook by Dina Begum is published in hardback by Kitchen Press and is available from Waterstones, Amazon and independent bookshops.
Connect with Dina on Twitter/Instagram and YouTube: @dinasfoodstory
*****
Chai Malai Cake
Serves 10-12
I've seen people's eyes light up after a single bite of this cake and even those who don't normally eat cake are usually converted. Of everything I cook, this is the thing most requested by family and friends. I first created it for a Bengali-inspired afternoon tea and wanted to share the recipe for this book, as it's such a wonderful way of showcasing spices in a dessert. The cake layers are reminiscent of fragrant masala chai and the frosting is inspired by rasmalai, the famous Bengali milk-based sweet, flavoured with rosewater and cardamom. Make it as an extra-special birthday cake, decorated with vibrant pink rose petals and pistachios, or as a perfect finish to your next dinner party. For best results, you need a handheld electric mixer or a stand mixer to make the cake, but you can also do it with a whisk and some elbow grease.
Ingredients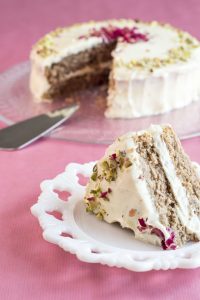 For the cake:
2 teabags
½ tsp ground cardamom
100ml whole milk
½ tsp distilled white vinegar
175g unsalted butter, room temperature
200g caster sugar
1 tsp vanilla extract
1 tsp ground cinnamon
1 tsp ground ginger
2 tbsp Greek yoghurt
225g self-raising flour
1½ tsp baking powder
1/4 tsp salt
3 medium egg whites
For the frosting:
100g unsalted butter, at room temperature
½ tsp ground cardamom
180g full-fat cream cheese
½ tsp vanilla extract
2 tbsp rosewater
250g icing sugar
To decorate:
1 tbsp dried rose petals
1 tbsp crushed pistachios
2 x 20cm springform cake tins
Method       
Preheat your oven to 180°C (160°C fan) and grease and line the cake tins.
Steep the teabags in 100ml boiling water, stirring for a minute to extract as much of the flavour as possible. Discard the teabags. Add the ground cardamom to the tea and stir thoroughly, then set aside to let it infuse – this gives you a really fragrant batter. Make your buttermilk next: pour the milk into a glass and stir in the vinegar. Let this sit while you start on the cake batter.
In a large bowl, cream together the butter, sugar and vanilla with a handheld mixer until light and fluffy – this will take at least two minutes. If you're using a non-electric whisk, you'll need to beat the mixture for longer. Add the cinnamon, ginger and yoghurt and beat for a further minute, then slowly beat in the tea and buttermilk.
Put the flour in a separate bowl with the baking powder and salt and quickly mix with a whisk. Add the flour to the buttermilk, butter and sugar mixture in two or three additions, then whisk for about 30 seconds until everything is well combined. Make sure not to overmix at this point, or you'll lose the lightness in the cake.
Put the egg whites into a clean mixing bowl. Beat with a clean whisk until they form stiff peaks – five minutes or so (longer, if non-electric). Gently fold the egg whites into the cake batter until evenly combined and pour it into the prepared tins. Bake for 25 to 30 minutes, or until a toothpick poked into the middle comes out clean. Cool completely in the tins on a wire rack.
When you are ready to make the frosting, beat the butter with the ground cardamom until pale and fluffy. Mix in the cream cheese, vanilla extract and rosewater, then slowly add the icing sugar and whisk together until you have a smooth, glossy frosting.
Put one of the cake layers on a large, pretty plate. Using a palette knife, spread with a third of the frosting, then turn the second cake layer upside down and place on top, very gently pressing together to sandwich. Take the remaining frosting and pile it on top of the second layer. Gently coax some of the frosting down to cover the sides, turning as you go, and smooth the rest in a good thick layer over the top.
Finish the cake with two concentric circles of vibrant pink dried rose petals and crushed pistachios and dot a couple of rose petals in the centre. This cake is a stunner! It tastes best after resting in the fridge for a couple of hours, as this helps the flavours meld together and makes the cake easier to cut.
Cook's Tip: You can bake the cake layers in advance. Just completely cool, wrap in Clingfilm and put in the fridge overnight. The cake will stay fresh and moist.
Pan-fried Tilapia With Fried Onions
Serves 4
For a jazzed-up fish Friday, try this easy dish, inspired by Gram Bangla and Banglar Mukh, a couple of the smaller Bangladeshi eateries on Brick Lane which specialise in home-style cooking. These restaurants tend to have only a few meat or chicken dishes, but when it comes to fish, you're spoilt for choice, with a vast selection of dishes where it is fried, curried and/or made into dumplings. This fish recipe is crispy and fragrant and so good with simple steamed rice. Best of all, it's on your plate in about ten minutes.
Ingredients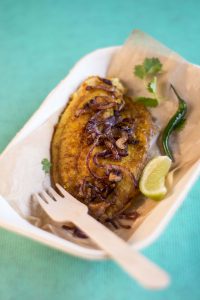 4 tilapia fillets, without skin
2 tsp salt
1 tsp ground turmeric
½ tsp ground cumin
½ tsp chilli powder
2 onions, finely sliced
100ml vegetable oil
2 tbsp chopped coriander
2 green chillies, cut lengthways
250ml vegetable oil, to shallow fry
Pat dry your tilapia fillets and place on a large, flat dish. Mix the salt with the turmeric, cumin and chilli powder in a small bowl and rub about a teaspoon into each fillet. Make sure to cover both sides evenly and set aside.
Put 150ml of oil in a pan over high heat and add the sliced onions. Fry them for six to eight minutes, or until golden and slightly crispy. Stir through the chopped coriander and green chillies a minute before taking off the heat. Use a slotted spoon to transfer the onions to a dish.
Next, heat 100ml of oil in a clean frying pan over medium to high heat. When the oil is very hot, carefully slide two tilapia fillets into the pan at a time and fry for five minutes on each side, until golden brown. Remove to a warm dish and repeat with the remaining two fillets.
Serve the fish with steamed rice, topped with some of the fried onions.
Cook's Tip: It is important to heat up the oil properly before you put the fish in, so it immediately begins to crisp up. Don't be tempted to turn the fish over too early and, when you do, make sure to use a large, flat spatula.
*****
It was important for me to represent as many of the unique cuisines as possible and to give a true flavour of the area with contributions from street food traders and eateries, which sat next to my own modern and traditional Bangladeshi dishes.