Thursday Connectors: Karachi And London
Karachi And London: A Tale Of Two Cities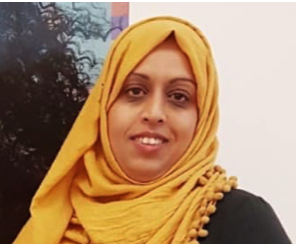 by Farzana Hakim
Hi, all. It's Farzana here for a super-special edition of Thursday Connectors. This week, I'm taking you all on a trip to visit a place that's really close to my heart. And why wouldn't Pakistan be sentimental, considering my heritage and ancestry stem from roots that are deeply embedded in its familiarly fragranced soil?
When I think of Pakistan, I instantly become passionate. I begin to look back on the many family holidays I took there as a child to visit my mum's side of the family. I remember the many authentic flavoursome spices and the smells of the delicious foods. My aunts, uncles and elder cousins would make me sit and partake with them as a show of their affections. I even feel nostalgic whenever I open up my wardrobe and pull out one of my many brightly coloured and delicately embellished kurtas (tunics), which I'm constantly ordering from my favourite Pakistani store, Khaadi (shopaholic alert everyone)! I particularly like to wear these during the month of Ramadan. Just this morning, as I was ironing out the creases of one, I wondered what new styles the mega stores in Lahore, Islamabad and Karachi, the fashion capitals of Pakistan, would have released to meet the anticipated demand and rush for the upcoming Eid festival.
But then I realised this year there may not be any new trends at all. The clothes shops in Pakistan are most probably closed, as they are here on Ilford Lane and Green Street.  Normally, by now, in the third week of Ramadan, most British Muslim families dwelling on the great streets of east London would have already flocked to make their important Eid purchases. Because we dress to the nines on Eid! After a whole month of fasting, prayers and charity work, Eid is our big celebration and getting dressed up like the glamorous superstars from Bollywood, and visiting our families, is a pretty big part of our day. Don't worry, I've got my outfit sorted already. All thanks due to Mum and Dad, who bought it for me on their annual trip to Pakistan in January, just before the virus struck and erased all normalcy.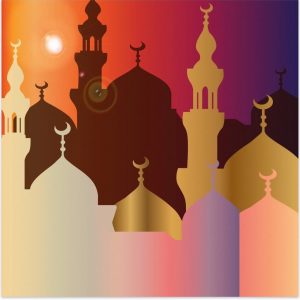 So, some of you may be aware that Muslims are observing the month of Ramadan in complete lockdown this year. Whether in the UK, or in Pakistan, or anywhere else in the world, this Ramadan has not been like any we've experienced before. Here in the UK, the Mosques have been closed since March, for obvious reasons. Yet Ramadan is the busiest time of the year for any Mosque's calendar. Usually, every night, hundreds of men and women attend the Mosque to perform a special Tarawee prayer, which is only observed in this month, in congregation behind an Iman. Verses from the Quran, our holy book, are recited, as the whole Mosque comes alive with the sounds of dedicated prayers. The ambience is one of tranquillity and the blessings are immense.
The Mosque is an important part of Ramadan. In the drive to connect spiritually to Allah, worshippers strive to make the most of these nights. Charity is given. Funds are raised. The entire month is spent in giving and there is a great sense of community. The Mosques, with help from regular worshippers and local businesses, provide food for the Iftars and Sahoors, to feed those fasting, including the needy. I seriously can't stress enough how big a part the Mosques play in our daily Ramadan routines. They are the centre of our community.
Yet the Mosques in the UK are closed and, at first, it seemed our Ramadan this year would be one spent silenced and isolated. But our houses have become our Mosques. Our living rooms have been transformed and decorated with lanterns, flashing lights and balloons. And each night, my son Najam leads the Tarawee prayer with  zest and beauty and the rest of us follow behind him. The sounds which were once only heard inside the Mosques are resonating in my home for the first time, reaching all the rooms upstairs and down. Surely, there is a blessing in this? Of course there is. And I'm sure, when things get back to normal and our Mosques are opened and running again, we'll look back on the year of the coronavirus and think about how our nights praying at home were so special and welcomed. For once, we've had the opportunity to pray together as a family unit. For this reason, I will definitely remember this Ramadan in a positive light.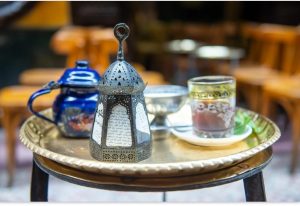 Returning to Pakistan: although the Mosques there are still open with social distancing measures in place, I'm sure the prayers being asked the most are for an end to the coronavirus, so that people can go back to earning their livelihoods without the fear of a deadly illness lurking about. Unfortunately, unlike here in the UK, the average Pakistani has no access to social security and welfare benefits. Thus, where normally Ramadan would be the most profitable month of the year for some, this year I can imagine the hardships being faced by thousands of people there. Only the other day, my father was thinking of some of his poor relatives that live there who have not opened for business since  lockdown was imposed. Phoning them, he realised he was right; the household had no rice and grain and the children were hungry.
Wherever we look, the impact of the coronavirus appears unrelenting.
Now for our Thursday Connectors. Let's head to straight to Karachi, Pakistan's oldest and biggest city, where Fatima Ahmed, a young student with a natural flair for writing, shares her thoughts with us.
Hi, Fatima. Let's connect.
Karachi, Corona And I
by Fatima Ahmed
The rays of hope, happiness and optimism have started to hide behind the dark clouds of despair hanging over the sky, manipulating people and spreading negativity. The hustle and bustle of my city has vanished in a snap. The ongoing pandemic has affected areas all over the country. Karachi, being one of them, is suffering severe economic, emotional and health losses.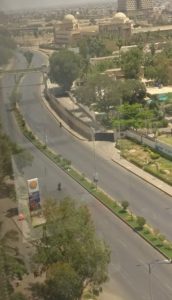 Karachi, known as the city of lights, a city which has never before been vacant, is, all of a sudden, experiencing empty roads and malls. COVID-19 has not left a single soul in Karachi unaffected. And, as every business and institution tries to find substitutes, for example online solutions and home deliveries, many people who were previously reluctant or simply unable to use such means, are now having to learn new skills and levels in order to survive.
It feels as though the doors of hope are closed, with all of us locked inside our houses. It's not only the lockdown of our city but the lockdown of positivity, our emotions and the various colours of our society. We are restricted to our houses, unable to see our loved ones and friends, and people are fighting day and night to dampen the effects of this.
My life has not been affected too much, thank God. Being an introvert makes it easier to cope with these difficult times. Although everyone else wants to go out for some time during the day, I don't. My life mostly revolves around the basic necessities like eating, Netflix and sleep. And repeat. But my teachers are trying their best to minimise the effects of the absence of schools and colleges, hence the initiated online classes, disturbing my beauty sleep routine!
There is also another positive for me during this episode. Everything in my life has somehow become more civilised. Life had previously taken many turns, but this one, I'm certain, has resulted in something good for me. For example, I have started to take some responsibility for the cleaning of the house. I'm not a clean-freak type of girl; in fact, I have been called lazy on more than one occasion! But, when you have nothing else to do, being a helping hand to your mother is not a bad thing.
Keeping it short, I have experienced so many new things since lockdown began: from online shopping to online doctors. Can you believe it? I had my first visit to the doctor from the comfort of my own home, via the screen of my phone. I've also experienced online classes and I won't forget the mischief going on during those for a long time to come. Our tailor also came to our house to take the orders for our Eid clothes. This was a welcome change, as beforehand, my mum would have had to make at least seven trips to the shop, to get the order made how she wanted. We've also ordered other things online. I am enjoying this! During Ramadan and the Eid season, Karachi's huge malls and never-ending bazaars are too busy and cramped. The frequency of our food deliveries have also drastically shot up. And you won't believe me, but my father's barber, kitted in his mask and gloves, also came to our house to give him a haircut.
The bonding experience between my family members has also been a welcome change: from the games of Ludo and the Carom board matches that we've played, to the simplicity of just chatting over a nice cup of tea and Mum's home-made samosas and pakoras. Sometimes good things can come from bad, and I believe lockdown is an example of this. The rat race of our former lives has slowed down significantly. Some say the ozone layer is healing, pollution levels are down and animals are returning to their natural habitats, previously invaded by us.
All in all, I can proudly say Karachi epitomises resilience and, together, we can fight our way out of the pandemic.
*****
Thank you Fatima, for this great article. I am so impressed with your positivity. Keep it up! I wish you and your family well.
And finally…
Before I say goodbye for this week, our key worker segment comes from Emma, a Special Education Needs Co-ordinator (SENCo).
'Working in the preschool with just the key worker children is so very strange. Most of them are aware that all their friends are staying safe at home with their families, yet they still have to come to preschool and don't understand why. The 'normal' preschool routine is adjusted, as there are so few children and we ensure they have as much fun as possible. We occasionally get questions from them about COVID-19, which we try to answer in a child-friendly way, so as not to worry them or make them worry for their parents, who are still working and possibly putting their lives at risk.'
Thank you, Emma, you are doing a great job!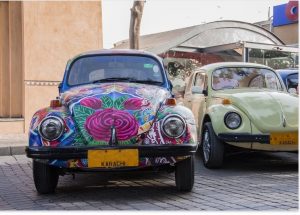 I hope you enjoyed this week's Connectors as much as I did. Connecting with Fatima from Karachi gave me a chance to think back to those lovely childhood holidays and the people I know and love in Pakistan. Although I can't tell you when I'll be taking my next trip there, I know I'll be making sure to tune in to watch the next episode of my favourite Pakistani soap on GEO TV later. Other than the Kurtas, if I love Pakistan for anything else, it's their fantastic drama productions. Who knows, maybe one day, I'll be writing my own. Watch this space…
See you next week for some more exciting Thursday Connectors.
You can connect to Farzana on twitter: @farzanahakim
Karachi, known as the city of lights, a city which has never before been vacant, is, all of a sudden, experiencing empty roads and malls.