Thursday Connectors: The Never Ending Covid Story
By Farzana Hakim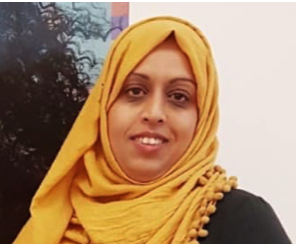 Lockdown, Red lists, Quarantines And Second Waves  
 Hi, all. Welcome to this month's Thursday Connectors, with me, your host, Farzana Hakim. I'm super glad the sun has been out and shining brightly over the UK skies, bringing some joy back into our lives!
I'm finally beginning to enjoy the simple things in life again, which, in pre-Covid times, most of us had taken for granted. Although things are still far from perfect and the much-looked-forward-to 'Freedom Day' which was meant to be granted this week, is delayed, I'm feeling somewhat optimistic.
A much-welcomed emotion, to be honest. The last year or so has been hard on me and hard on so many of you. So, I'm especially looking forward to attending my friend's wedding, which has already been delayed twice! However, she's not fully happy. We're still in partial lockdown and couples with upcoming weddings are feeling the stress of not being allowed more than 30 guests. It's not fair, really. Especially when, at the moment, it seems to be one rule for us and one rule for the elite. My friend is not allowed to enjoy her wedding with her 100 or so guests, for which she's already paid a huge deposit, yet the politicians and royalty are rubbing it in our faces, by posing for all those lovely pictures in their frocks and three-pieces, at their recent rendezvous at the G7 conference.
And, can you believe, 'he' flew from London to Cornwall to a massive 'save the earth' party!
What is going on? Is it one rule for them and one for us commoners?
While my optimism hasn't quite nose-dived yet, let me give you another reason as to why I'm feeling cheerful. My sister is coming to visit for the summer from Qatar! She works as an ex-pat at a school in Doha and hasn't been able to come to see us for nearly two years due to the pandemic. I haven't seen her or my nieces since, and am so looking forward to her visit. However, where I'm happy, my sister is stressed and anxious about this trip and is having second thoughts.
Qatar is on the red list, which means she's got to fork out over £3500 for her and the girls to stay in a shoddy quarantine hotel for 12 days before she's allowed to go to her flat here in Barking. And it's not fair!
The stress of the quarantine is bringing her down. Like my friend, who on the one hand can't wait to get married to her sweetheart, but on the other, is anxious about the guests, restrictions and the uncertainty of maybe having to cancel the whole thing altogether, my sister, too, is in a muddle of emotions.  She wants to come over so badly, she's all set and the hotel is booked and confirmed, yet she's not looking forward to staying in the room like a prisoner for 12 days. Really, she could stay and quarantine in her own flat, easily, and without being forcefully made to pay all that money!
So, that's that. The unfairness and the uncertainty which our government has already caused and is continuing to cause is thought-provoking. And I'm SO keeping a diary of all these wrongs, and I'm SO going to write them up soon. We all should!
*****
While on the subject of red lists and quarantines, let me introduce our first Connector. This fantastic account comes Muhammad Iqbal, from Dagenham, who had the misfortune of spending 12 days in hotel quarantine, after returning to the UK from a red-listed country.
Hi, Iqbal. Let's connect:
Travelling In A Pandemic
I hadn't seen my mum in over three years. And when she became critically ill in hospital, I couldn't help myself. I booked a ticket and flew to Pakistan for two weeks. This was the first week of March, before any red-list restrictions were imposed. I had a valid reason to travel and was not breaking any rules.
My mum was overjoyed to see me and, after a few days, was discharged from the hospital. I made her take a Coronavirus test at the hospital, just to make sure. When this came back negative, I could finally hug her.
For the rest of my stay, I was extra careful and wary of the virus. I kept my distance, wore a mask, sanitised and hardly went out. My relatives were offended when I declined their dinner invites!
However, two days before my return flight, when I went to have my PCR test which was required to travel back, it came back positive and I couldn't travel for obvious reasons. At this stage, I was asymptomatic and nobody else in my household had symptoms either. I was baffled.
Two days later, the symptoms came and crippled me. Two weeks later, I was hospitalised. My wife and children in London were distraught and helpless. For the three weeks, while I was fighting the virus, the travel situation was also changing and Pakistan came into the red-list, which meant that, when I was to travel back, I had to hotel quarantine.
I was already out of pocket; the treatment and hospital bills were sky-high in Pakistan. And now I would be required to pay another £1750 for the hotel quarantine even before I could return.
What was meant to be a two-week visit to see my poorly mum ended up a disaster for me. However, I'm glad I'm alive to tell the story!
My trip ended up lasting over nine weeks, because, even though I had recovered by week four of getting the virus, I still kept testing positive and then return flights kept getting cancelled. It was one disaster after another.
Although the hotel in which I stayed in was a nice one, it was far too expensive for the money I paid. And after five nights, the days became long and the food repetitive. Because I was in a hotel overlooking one of Heathrow Airport's runways, I spent most of my time looking at planes taking off and landing. Aside from that, I spent hours on video calls and caught up on some series. Because it was also Ramadan then, I spent a lot of time connecting with Allah and thanking him for returning me to the UK safely and reuniting me with my wife and children.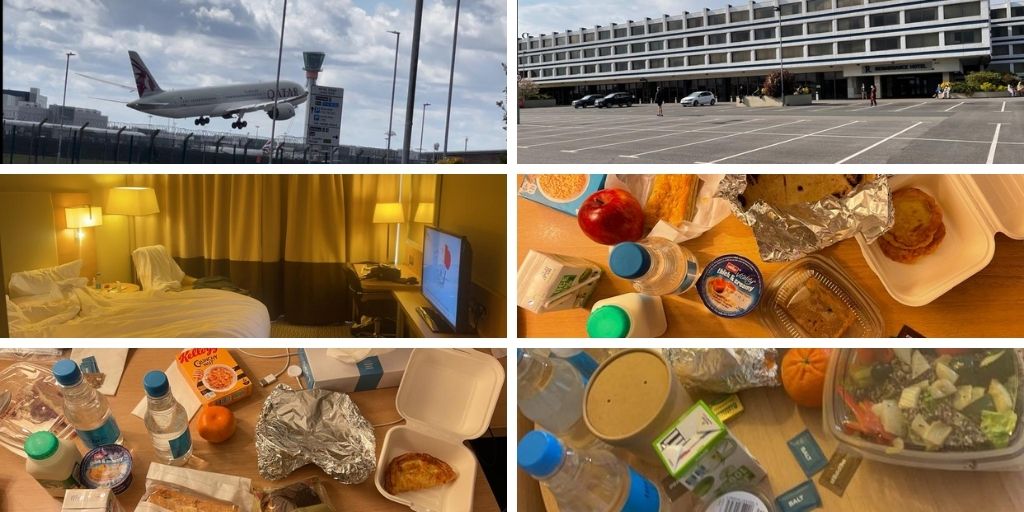 Although I went to Pakistan for a valid reason, I can't stress how important it is to stay put during the pandemic. The uncertainty regarding my health when I was there and the feeling of being stuck and confined in a place that is not home, was one of my worse experiences.
*****
Thank you, Iqbal, for sharing your story. I'm glad you returned to your family safe and well. I guess this is what matters in the end.
Our next Connectors come from India. First up is Diya, who connects from Goa.
Hi, Diya. Let's connect:
Goa
To the pandemic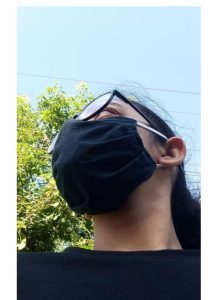 We lost someone dear
We lost everything
Said to be the opposite of fear 
Because we're breathing in fear
Of breathing in sickness
Of nearing death
We are breathing in fear
In every breathe 
Being 16 years old in this pandemic has felt overwhelming. On some days, I've felt numb and stuck. On other days, I've felt strong. But I've felt miserable on most. Some days, I've felt lucky for being safe, for not being infected. And on others, I've felt selfish for the same thing, because being safe right now, in itself, feels like a privilege.
We've all fallen weak
Upon hearing Covid news
We've felt fear creep along
For having so much to lose 
The pandemic hasn't been less tough for any individual. Everybody has been battling problems of their own, on top of the sufferings of the outside world.
We've seen the world face
Face a situation so critical
Such that, destruction of No war
Has ever been so brutal
After we heard of the first Covid-19 case in India, Goa remained safe for several weeks. For the first few months, it was only fear that had taken a toll over the state. The number of cases were slack with people taking every precaution. There was a serious lockdown; out of fear, or in an attempt to keep the virus out of the state.
However, the virus did enter and spread to such an extent that, one year down the line, Goa was one of the states with the highest rates of COVID-19 in India.
For obvious reasons, everyone was panic-stricken. No one had faced a pandemic before and no one knew the right way to deal with it.
We saw the world fight
A common enemy
Trembling to rising cases
And the crumbling economy
Like anywhere else in the world, the economy of Goa was affected by lockdown. It depends heavily on tourism for its income. Therefore, succumbing to the repercussions of the pandemic, the industry faced a significant downturn. The only way to promote tourism was to let tourists inside the borders, and this was the biggest dread. For the general public, the suffering tourist industry was not the biggest fear: getting infected by the virus was!
Considering the suffering economy, completely banning tourists was not a viable option. But the imposed restrictions did not seem to entirely convince the public. Goa saw an influx of national as well as international tourists, who found it best to vacation in Goa during a pandemic, because it was seen as relatively safe. Yet the residents dreaded the prospect of tourists exposing them to the virus.
As much as we love and are proud of our state's contribution to tourism, Goa is our home and, above everything else, we wanted to feel safe. This is all that concerned us locals.
The pandemic has brought fear, panic and anxiety and there has been a tremendous rise in cases in the second wave. The vaccine has provided some hope, but the wider situation has made people feel helpless. The miseries brought on by the pandemic has meant that many people have lost their reasoning power and are left feeling numb. They have started having trust issues with medical staff, even though they are truly doing their bit to help everyone.
The people of Goa had to face yet another tragedy: the Tauktae Cyclone. This severe cyclone caused a great loss of property and the disruption of electricity and infrastructure. One cannot imagine the mental pressure on people whose loved ones have been affected by both cyclone and virus.
The events of the past one year have been extremely unpleasant.
But we've also learnt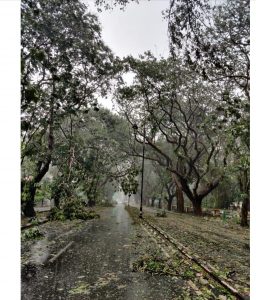 To breath in hope
That the world shall heal
And we shall come out stronger
Against our dreads that kill
We've had the back of our heroes
Who deserve every applause and kudos
Those who helped humanity thrive
Those who helped suffering survive 
The year 2020 made us realise
That being able to wake up healthy
Is a feeling so grateful,
Perhaps it takes such depth of pain
To realise that life is so wonderful.
© Diya Paresh Padiyar, 2021 
Connect on Instagram: @teenagerwritings
*****
And now regular contributor Palak Tewary gives us her account of the wider situation in India.
Hi, Palak. Let's connect:
India's Fight Against Covid-19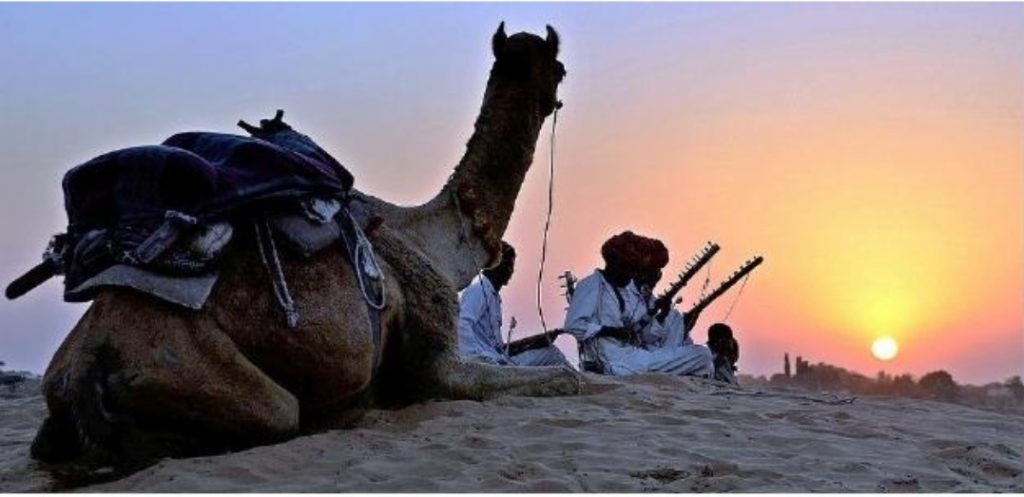 The COVID-19 pandemic has wreaked havoc in almost all countries in the world. The UK, USA, Europe, Brazil, among others, have been in crisis, with second waves and, in the recent past, India has been in the news for this as well.
It rose suddenly in early April and has impacted millions of people. However, to put things in perspective, India's population is more than that of North America, Europe, UK, Australia & New Zealand combined. And, while every case is heart-breaking, the rise in Covid cases is relative to the population and remains lower when compared to other countries in the world.
But because of the sheer number of people in the country, the absolute numbers are really high and this has seen the government trying to address the healthcare infrastructure needs: oxygen, ventilators, hospital beds, vaccinations etc. on a war footing. After almost a month, India is now seeing a downward trend in the number of cases, showing us a glimmer of hope.
For me, hope came alive during the peak of the crisis. I saw the strength with which people stood by each other, irrespective of caste, colour, creed, ideologies, languages and every other thing that has sought to divide us in the past.
Whether it be the:
Healthcare heroes that have worked and continue to work in exceptional circumstances.
Ministers that have personally reached out to citizens to provide all assistance possible.
Police, army, navy, air force, aviation, railways, other government officials and sectors working together to ensure aid arrives as soon as possible.
Celebrities amplifying the cries for help, or setting up or supporting foundations to raise funds for COVID-19 relief organisations.
Citizens that contribute to the fundraiser to aid the fight.
Journalists spreading the messages from the different parts of the country needing support in magnifying voices of the doctors, scientists and specialists that seek to demystify rumours and wrong beliefs.
Good Samaritans taking it upon themselves to set up relief camps, distribute care packages and/or food.
Friendly nations stepping up to provide support and help to India – standing in solidarity with it, as India had stood by them in their time of need.
This pandemic has brought us all closer together, weaving a net of shared camaraderie, hopefully staying long after we have defeated this deadly virus.
While the fight still continues, seeing people reaching out to strangers to provide assistance, makes my heart jump for joy, as I find my silver lining in the darkest of the clouds.
On a happier note, India has now vaccinated circa 230m people. While this may be a small percentage of the population, it's the highest number in the world. Looking at the production of vaccines worldwide, India hopes to vaccinate its population by the end of 2021.
I pray for all those deceased and suffering and I stay in eternal hope that, together, we shall overcome.
©️ Palak Tewary, 2021
Connect on: palaktewary.com or through Twitter/Instagram: @palaktewary
*****
Thank you, Diya and Palak, for your positivity and optimism. The hopes of all at Write On! mirror yours entirely.
And finally, Ann Dineen introduces our latest Destination Barking and Dagenham hero. You can read the whole article in the next issue of Write On! magazine, but here's a snippet:
Marén Klement is one of our Pen to Print Book Challengers… Born in Berlin, Marén's love of storytelling was shaped as a child. She was particularly encouraged by her mother, who printed out her early stories. When she was older, she became part of a literary club. Since moving to London, Marén has enjoyed teaching at an international school, while writing in her spare time.
*****
That's all for now, folks. Next month, I'm looking at connecting with students, so if you have a story to share, please submit it to Pen to Print (pentoprint@lbbd.gov.uk) with Thursday Connectors in the subject line.
Take care.
*****
 Issue 8 of Write On! magazine is OUT NOW and available online
The Never-Ending Covid Story - Lockdown, Red lists, Quarantines And Second Waves