Thursday Connectors: Tribute To Her Majesty The Queen
By Farzana Hakim

Hi, all! Welcome to Thursday Connectors.
Today I bring you tributes connected to the passing of our late monarch, the Queen. I have a selection of heartfelt writing, including a poem by Joan Goodall, and drawings by Dr Afsana Elanko. Claire Buss shares lasting memories; Michelle Sutton, her experience of The Queue. And Clare Cooper shares jolly memories of her father-in-law.
Black History Month is also here, and therefore, our first Connector is Hope Roberts who is a teacher and has written a book of poems, Teach Me, to encourage children from five -11 years old to be kind, loving, caring, sharing, and also to learn the right rules of life for togetherness. It's apt to include her short but powerful message here.
Hi, Hope. Let's connect:
You!
You are not a brown child
But a proud child,
You are not a black child
But a gifted child,
You are not a white child
But a creative child,
You are not a yellow child
But a chosen child,
You are special!
You are a unique child of the world.
© Hope Roberts, 2016
Connect with Hope: HopeGivingHope.com
*****
Being born and bred in London, I only ever felt the presence of the Royals whenever I'd go into the centre to see the monuments and landmarks belonging to the country's past and present. Yet, when the Queen died, her loss hit hard and came to rest inside my home. I was genuinely upset. Maybe because she wasn't just the mother to her children; in a way she was a mother figure for all of us, and watching events unfold on the telly was distressing.
I travelled to Buckingham Palace as her body arrived in London, but was annoyed to find the place had been boarded up. I couldn't get past Trafalgar Square! Thousands of people, like me, were disappointed, as we could hear the procession taking place, yet couldn't see a thing. I went to Green Park instead. This was a sight; flowers and their lingering scents were everywhere. And as I was coming out towards Hyde Park, Princess Anne's car drove right past me!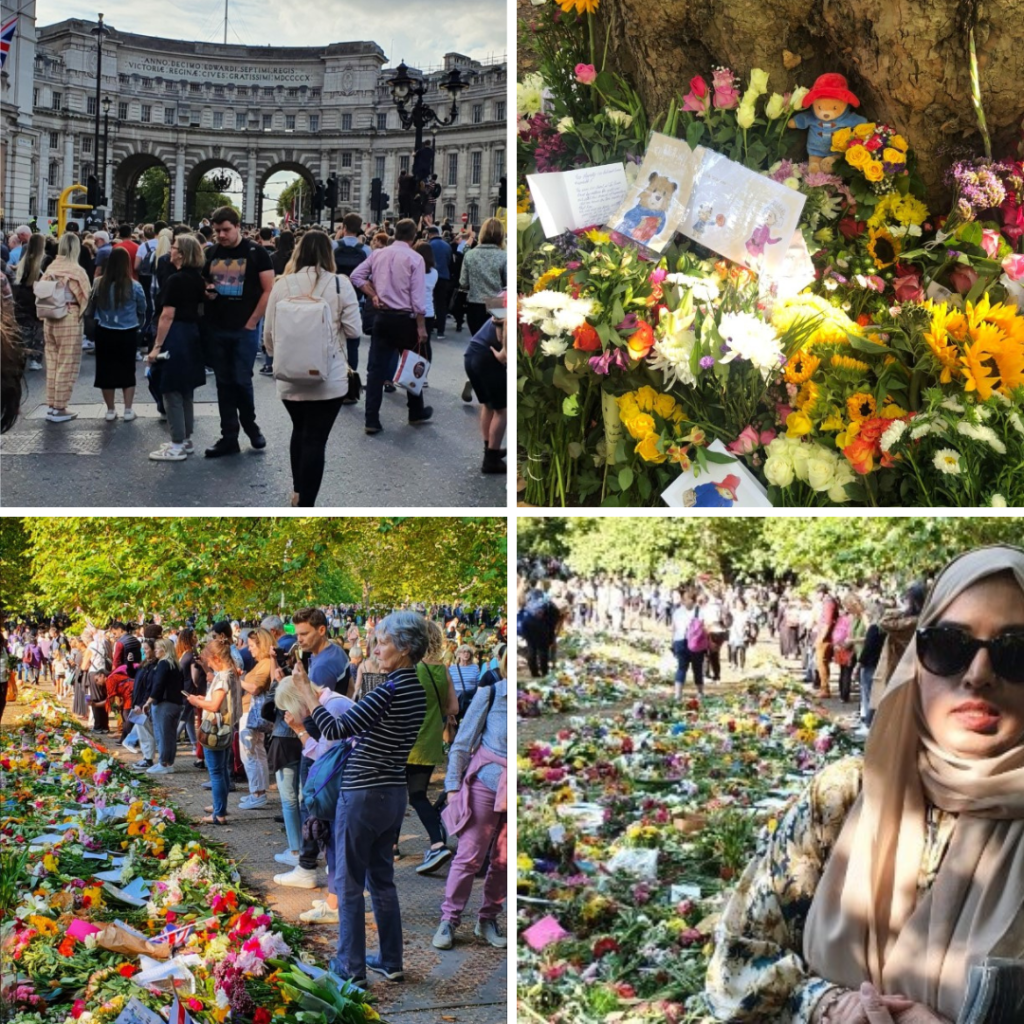 I'm grateful to the following writers for sharing personal stories with us. So, let's connect!
Our Queen Elizabeth II
Thursday 8 September
It started out so well
I was on a coach trip to Folkstone
My old friend Roberts as well
It started to rain quite heavily
But we reached the Bowls Club soon
They had a restaurant and a lovely bar
We had a jar or two
We polished off the Sea Bass for lunch
And went down to the town
We saw the harbour and the beach
The rain came plummeting down.
We had been in a few shops
Then caught two buses back
Planning to watch the bowls match
A coffee first we'll catch
We sat down with our coffee
A lady broke the news
The Queen is very poorly
And the family's been called
I knew it was serious
We offered up a prayer.
We sat and watched the indoor bowls
Everyone was aware
I kept my eye on my phone
To get the latest news
Then about 6.10pm we were informed
What we dreaded had come true
A sober coach went back with us
Our jolly day had changed
Momentous things would now occur
They'll never be the same.
We welcome good King Charles III
He clearly was distraught
But had to hold it all together
The duty he'd been taught
Must always come before personal choice
He rose to the occasion
With Camilla steadfast at his side
He began to lead the Nation
Now the funeral is past
The Royal Family can rest
For one whole week only mind
The put back to the test
So many feelings, tributes and flowers
And oh, did they excel
No other funeral like that
For 70 was had
Harry and Meghan were welcomed back
He's made up with his Dad
So many visiting dignitaries
She really was the best
She deserved a magnificent funeral
And she got it, let it be said
Now interred with Phillip
Her long-time staff and stay
In the bosom of her family
A truly triumphant day
They will talk about this for years to come
And I for one won't forget
A Windsor girl I was born and bred
I might get back there yet.
(c) Joan Goodall, 2022
*****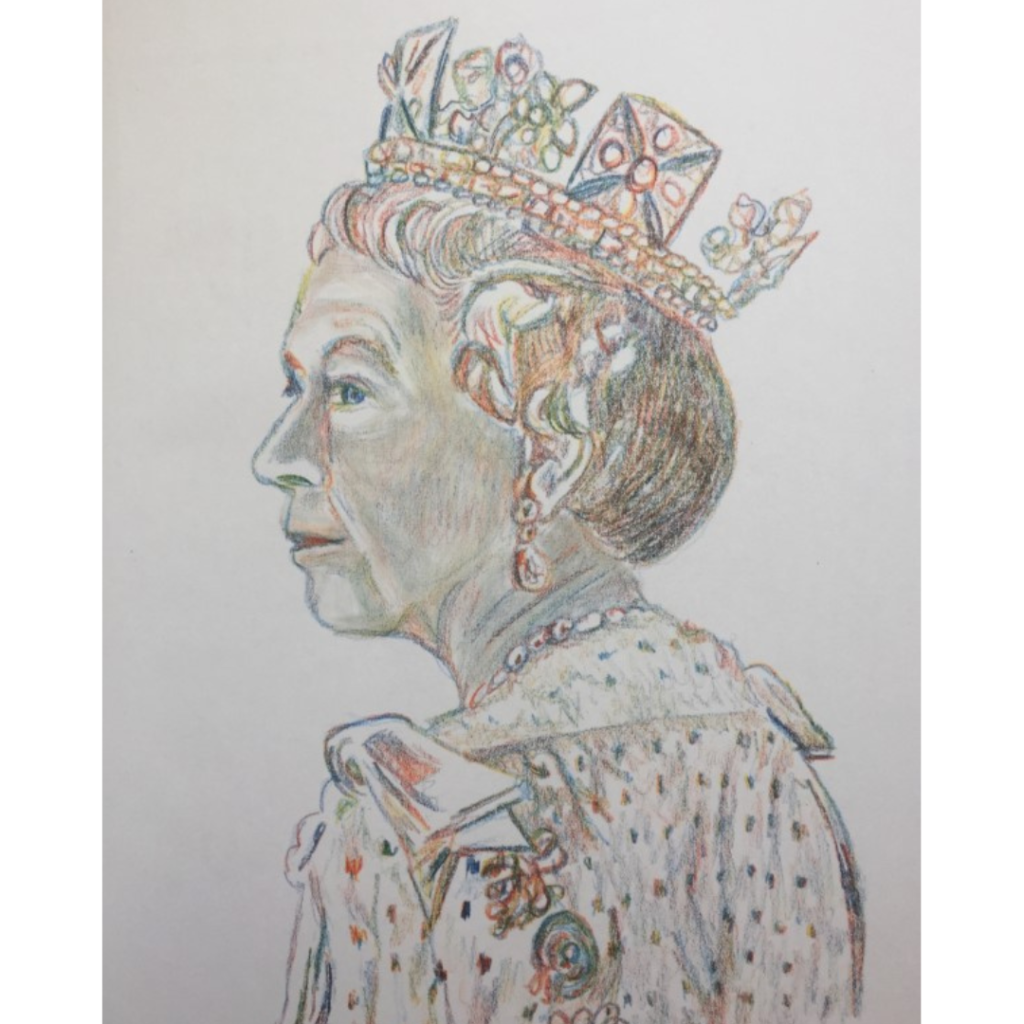 (c) Dr Afsana Elanko, 2022
*****
The Queen And I

In 2015, a few days before my son's second birthday, the Queen came to Barking. It was utterly unreal. She was coming to open the new leisure centre which was both surprising and lovely. We were lucky enough to be invited by our local Children's Centre to be in their 'box', essentially a front-row seat on the side of the road to wave at the Queen as her car came past and then stand and listen to her open the building. It was a blazing hot day and there was a lot of standing around, until suddenly all the police and officials snapped to attention and the cheering began. We waved our flags like mad and she waved back. A wonderful experience.
The Queen, and indeed the royal family, has always been a part of my family life, from watching her speech on Christmas Day, to collecting albums about the royal year, the Queen Mother being a firm favourite. I was born five days before Charles and Diana were married and I have some of their wedding memorabilia in my christening gifts. We even had a posh, gold-plated tea set in the cabinet, just in case the Queen came round for tea. There was always an air around my grandparents that it could actually happen! Prince William was born the month before my first birthday and, as such, it felt as though we had some kind of familial connection with the royal family. When Princess Diana died, I was utterly shocked and extremely upset. I remember laying flowers for her in my local town centre.
To hear about the death of the Queen, despite her age, was also a real shock. She'd always been there and was part of my life, part of my family, and a connection with my grandparents, who have also passed. I stood and sang the national anthem, tears pouring down my face, much to the bemusement of my children. It was not possible for me to join 'The Queue' and pay my respects. Unfortunately, I couldn't stand in line for 12-14 hours, both physically and due to my family commitments, but I was in London while the Queen lay in Balmoral, so I went to Green Park and saw the floral tributes. They were absolutely stunning. It was quiet despite the number of people milling around, and the air was filled with such glorious, heady scents. Colours were everywhere, alongside messages, teddy bears, balloons, and a huge outpouring of communal love and loss.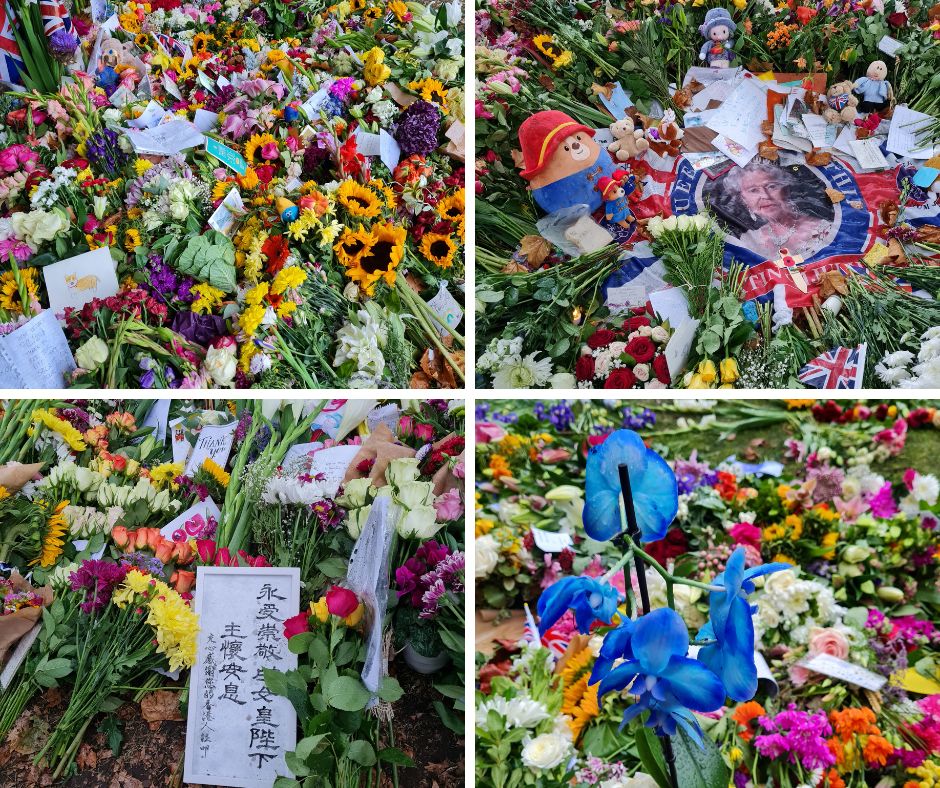 I didn't lay flowers myself; instead, I left a card with my deepest sympathies for the children, grandchildren and great-grandchildren left behind, along with the following poem:
Not long now
The message I received
Incomprehensible
What do you mean?
Checking the news with near-religious fervour
To discover
It's your time
But that's not right
You've always been there
Smiling, glowing, leading
With hope and kindness
A steadfastness of light
And then, I saw
The flag at half-mast
My stomach dropped
That was the end
Of your reign
All my life, you've been
My Queen
All my life, you've been
Part of my family
All my life
How did the years fly by so quickly?
How did I suddenly lose you when you've been leaving for a while?
How?
Why am I so sad? So very, very sad
Go softly into the night, dear Queen
Go gently into the black, dear Queen
Go join your beloved husband once more
Go with grace, your Majesty
(c) Claire Buss, 2022
I spent the entire day watching the coverage of the funeral and paying my final respects to Her Majesty. It's very unlikely there will be another Queen in my lifetime, or indeed my children's. That's both a sobering thought but also the beginning of something new and exciting. My son can't wait for 'King' coins to appear. How quickly it all moves on! We can take a moment, though, to remember our Queen with fondness and to tell our children, grandchildren and great-grandchildren what a truly wonderful monarch she was.
*****
The Long And Winding Queue
At 8:15am, on Friday 16 September me and my mum joined 'The Queue'. In Southwark Park, weaving through barriered zig-zags surrounded by the excited buzz of voices as people filled the space. I'm not the most sociable person, but with the knowledge we'd all be spending hours together, conversations with strangers quickly began.
Five hours later, just before we reached Tower Bridge, where we would receive our wristbands, Dad managed to join us (the lightweight),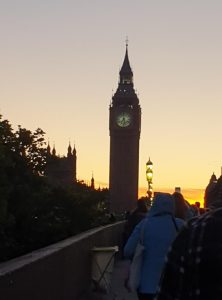 and just after this the toe section of my left Converse decided to part company with the edging of my shoe – something my foot would be extremely unhappy about the next day. Also, around this time we found out that David Beckham was six hours ahead of us. Maybe we should have joined at two am!
Oddly, we'd become almost tour guides to our non-Londoner 'neighbours', pointing out landmarks, answering questions, and explaining how many bridges we'd have to pass before we reached Lambeth Bridge and actually crossed the river. Opposite Westminster Palace, we paused and everyone crowded around my phone to watch the Queen's children's vigil before continuing.
After 13 hours, we entered Victoria Tower Gardens, and it was back to the zig-zagging and then, after an army-run security check, we finally entered the Palace. While the queue had been near-constant noise, as our feet hit the carpeted stairs, a sombre hush fell. Thirteen and a half hours led to mere minutes to pay our respects. It was a strange feeling and a once-in-a-lifetime experience. My body (especially my bad knee and left foot) hated me, but I'm extremely glad I did it!
Gluttons for punishment, on Sunday we queued again (thankfully not as long) to lay flowers at Green Park, along with a special stone I painted a Corgi on to – it only felt right.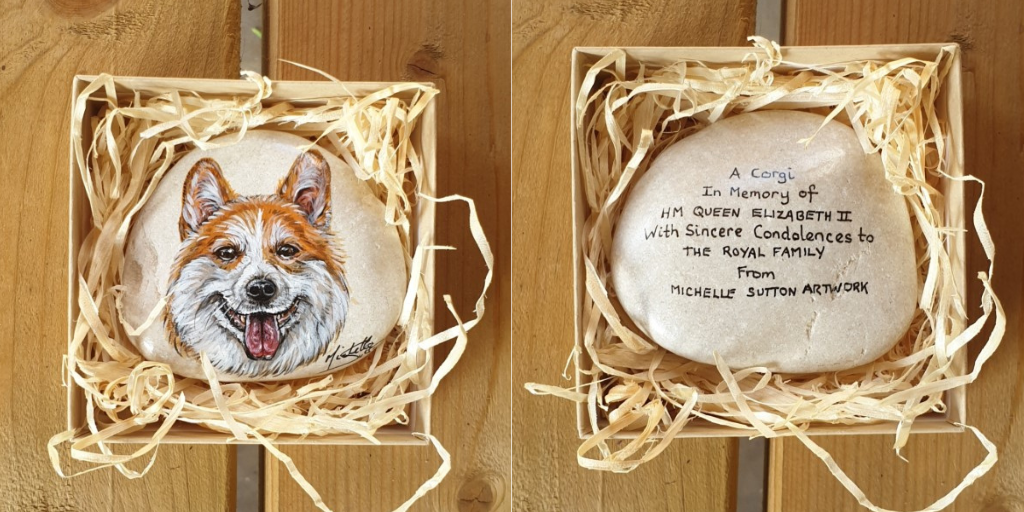 *****
Fleet Street Memories
My partner's father, George Lochhead, was a political reporter for the Daily Express newspaper for many years. He worked before the days of the current 'chequebook/kiss-and-tell-all' style of journalism and online gossip, and if anything was told him in the strictest confidence, it remained off the record – often rather frustratingly for his friends and family!
He started 'The Guinea Club' – an informal monthly lunch held in the Press Gallery at The House Of Commons, with guest speakers – for politicians, Captains of Industry and Fleet Street executives, whereby all who came along knew that anything said within those walls remained there.
The first guest speaker was Enoch Powell, with Barbara Castle the following month. It was an extremely popular event and such political luminaries of the day as Margaret Thatcher, Ted Heath, Harold Wilson, Denis Healey, William Whitelaw, Geoffrey Howe, Neil Kinnock, Roy Jenkins and Davids Owen and Steel, attended as regularly as other commitments allowed.
Quite by chance, we found a wonderful story about George in the book, What Genius Wrote This? Tales Of A Newspaper Life, by Richard McNeill (published by Matador, price £12.99).
He'd been covering Parliament one evening, often a marathon session, and, like others, had taken refuge in the bar. Sensibly, he decided not to drive home and, instead, caught a train, after parking his car in a nearby secure place. The following morning, he received a phone call from Scotland Yard, asking him to remove his car from Horse Guards' Parade, as Her Majesty wished to troop the colour.
As we all know, the Queen had a famous sense of humour and of the ridiculous, and I often wonder if she was irritated or amused by this incident (or possibly both)!
Another family story is that George was bitten on the ankle by one of the Queen's corgis. He often met the Royals but, as I said before, refused to divulge anything about them, remaining very proud of his reputation for never betraying a confidence – even long after his retirement!
(c) Clare Cooper, 2022
*****
Thanks all. What wonderful memories and pictures. See you in November!
Read the latest issue of Write On! magazine online.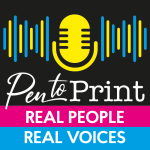 You can hear extracts from Showcase in our podcast. Write On! Audio. Find us on all major podcast platforms, including Apple and Google Podcasts and Spotify. Type Pen to Print into your browser and look for our logo or find us on Anchor FM.
*****
If you or someone you know has been affected by issues covered in our pages, please see the relevant link below for ​information, advice and support​:
We bring you tributes connected to the passing of our late monarch, Queen Elizabeth II.