Thursday Connectors: Value Your Voices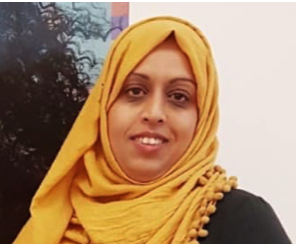 Welcome to another great edition of Thursday Connectors with me your host, Farzana Hakim. This week, we're going 'Down Under' to Queensland and we'll be finding out about a Barking and Dagenham programme to get youngsters writing.
But first, let's talk a little about what's happening across the globe. This past week has been an emotional one, hasn't it? A thought-provoking one. An awakening one, with protests occurring all over the world. Solidary. Unity. Equality. Values. And questions. Many, many questions.
Yet, not many answers at all…
I worry. I worry a lot. About the present situation. About what will happen if tomorrow things remained the way they are and the matter of institutional racism carries on being ignored instead of tackled. And it makes me frustrated at those who still deny racism even exists and put it down to certain individuals who abuse their authority. But, being a person of colour, a woman and a Muslim, I've seen my fair share of racism and prejudice over the course of my life: for the colour of my skin, the colour of the scarf I tie around my head, or simply because of who I am and what I stand for. No one has the right to say racism does not exist and that it is invisible. It isn't invisible. It's loud and clear. I've seen racism. I have felt racism and I am afraid of racism. And I am so glad that the Black Lives Matter movement is finally here and at last our voices are merging loudly enough to say, "Oi, hang on, Black Lives Matter!" And people like George Floyd, amongst the many others who have suffered injustice and wrong under the hands of institutional racists, will not be ignored any longer.
Our theme of the week, 'Value versus Values' should mean nothing more than Black Lives Matter for now. The value of values is when equality is being sought, and oppression is being fought.
As a writer of historical fiction, I looked into my family's past when I wrote The Silence Of A Deep River and some of the horrors I dug up from the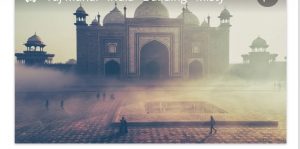 oral histories of only a few of my family members, shocked me to the core. For me, those voices should have never been buried in the first place. The novel is set during the Partition of India in 1947 and during my research, I uncovered some harsh realities and bitter truths of the legacies left behind by the British (quests and greed), in the name of Empire and Colonialism. It sickens me how someone with white skin deemed a person of darker skin inferior and subordinate, to the extent of stripping away any form of dignity, basic human rights and eventually the right to live. It saddens me that really, all these years on, things are still as distorted and messed up as they were back then. Lessons from history still haven't been learnt.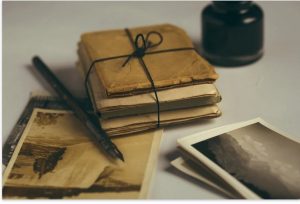 I believe, as a writer, I have a duty to tell stories which repeat experiences from our history, so voices are empowered, not muted. So, as our first Connector this week, I'd like to introduce  Sam Norwood, who has similar views to my own. He has encouraged youngsters in Barking and Dagenham to tell their stories and histories. My son Najam was involved with this programme. I was so excited when his story about my father's struggle with racism in the 70's was welcomed and showcased at Valence House Museum as part of the first publication.
Let's connect with Sam Norwood, who tells us more about the program:
Write Back
"Turning Point: Untold Stories From Barking And Dagenham is the latest collection of stories to come out of the Write Back project at Future Youth Zone. Write Back is an organisation which aims to build self-esteem and confidence amongst young people through an engaging storytelling programme. The young authors have collaborated with their peers and worked with amazing organisations like Pen to Print to develop the stories that make up this book.
Our storytellers have focused on two themes: turning points and 'untold' local stories, leading them down many different paths: from personal transformations to turning points in the lives of friends and family, from untold personal thoughts and fears to lifting the veil on unspoken social injustices. The writers have also adopted very different methods to tell their stories, including through poetry, diary entries and polemical essays. The rich tapestry of these stories and styles gives a timely reminder that young people have so much to learn from each other and from their own experiences.
While our in-person programmes are currently on pause, we continue to deliver storytelling resources online and are planning our return to Future Youth Zone as soon as we can. So check out the website: www.write-back.org or follow us on Twitter: twitter.com/writebackuk or Instagram: www.instagram.com/writebackuk/to read stories from our young authors and access materials to help you tell your story in the way you want it to be told."
*****
What an amazing programme! Thanks for sharing this with us, Sam. And now, our Australian trip takes us to Brisbane.
Hi, Jeanette O' Hagan, let's connect:
Lockdown Light In Australia
'I live in subtropical Brisbane, Queensland. My husband works in IT, my daughter is in her third year of a Bachelor of Fine Arts and my son is in Middle School. I write fantasy fiction and poetry and am involved in a number of writer groups.
When we first heard of a novo-Coronavirus with flu-like symptoms, I wasn't too worried. But then reports of the fatalities in Wuhan, China, on the Diamond Princess, in South Korea and from Italy began flooding in. It was clear this was more than 'a little flu' and needed to be taken seriously. Our first confirmed case in Australia was on the 25th January and the first death (from a Diamond Princess traveller) on the 1st March. It seemed our Prime Minister was not taking the situation seriously; much as he'd been slow to respond to the Black Summer bush fires in December last year.
During this time, I and my committee were busy organising a local Book Fair for the 14th March with a workshop, panel presentations and over 20 author tables. The Fair was the culmination of almost a year of planning, with many people involved. Increasingly, the possibility of cancellation loomed.  A week before the Book Fair, the government began introducing social distancing and restrictions, banning gatherings over 500 people. Being a smallish local event, we came in under that number and the Book Fair went ahead.
The next week, gatherings under 100 were banned. COVID cases and deaths were increasing both worldwide and in Australia at an alarming rate. Almost every day new restrictions were introduced, with the mandate to stay at home unless for essential purposes, work at home if you could and study at home if you could. Some were still sceptical of the gravity of COVID, but most did their best to comply to the new restrictions.
A school friend of my son and his mother went on a cruise (prices were rock-bottom) and came back with COVID, the mother spending some time in ICU before recovering. A workmate of my daughter received the text while he was working in tandem with her. A close family member had tested COVID positive, following a hospital procedure. It was a tense few days as we awaited his test results – negative. Even so, my daughter decided to stop her shifts and her employer shut down soon after. Then a workmate of my husband came back from overseas, testing positive while in quarantine. If grim statistics and images on our TV screens each night weren't enough, these close encounters encouraged us to take notice, especially as we are involved in the care of my 84-year-old mother and 99-year-old father-in-law.
Soon social venues were closed, schools and universities moved to online learning and all but essential shopping and trips were prohibited, with strict orders to stay within our local areas. Australia closed, recalling its citizens and closing its borders to international travellers – and supposedly to cruise ships. Our states and territories closed borders for all but essential travel. Many people lost their jobs for the first time in their lives. A moratorium was put on rental evictions. And the government introduced unheard-of social support with the doubling of the dole (Jobseekers Allowance) and a Job Keeper payment designed to allow businesses to survive and keep their employees.
In the meantime, we suddenly experienced shortages and empty supermarket shelves. First, it was the toilet paper, the hand sanitiser and soap.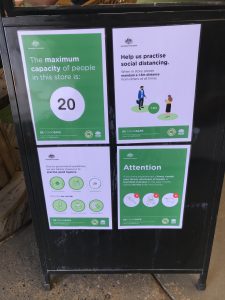 Then rice and pasta and tinned goods. Then frozen vegetables and fresh meat. Supermarkets put restrictions on how many items we could buy, and social distancing was introduced in the stores.
Because I work mostly from home, as a writer, and am by nature introverted, my life didn't change radically – only my house got a lot more crowded! With my son and daughter now studying at home and my husband also home a lot more, I no longer had my 'alone' times. Catching up with friends over coffee was no longer possible and church was live-casted through YouTube and Facebook Live. As socially distanced exercise was allowed, the suburban streets were full of people walking with dogs and prams, or people riding bikes through roads that were eerily empty. It was like a hyped-up Sunday afternoon almost every day of the week.
The hardest thing was that my mum's care needs became more acute. Then she was offered the place at the aged care home she'd been waiting for all last year. With some horror COVID outbreaks in care homes in Australia and overseas, it was a fraught decision but, as she requires people coming into care for her each day anyway (also a risk), she took the place. COVID-19 restrictions have made settling her into her new home a complicated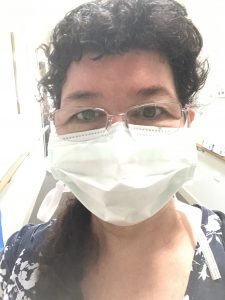 and frustrating experience, though.
In theory, with all the extra time (less socialising and going places), I should have been writing up a storm. In practice, it took a few weeks to adjust to the new situation and organising things for Mum's move has taken up most of my time and energy.
However, I'm grateful that Australia acted as early as it did and has managed to smash the curve. With  the 102 death total, we now have less than 500 active cases, with new cases often single figures (the majority from known contacts). Several states, including our own, have days with no new cases. Over the last month, the restrictions have gradually been easing, with more and more freedoms available; though we are urged to remain vigilant. The virus is still out there and we don't have immunity or a vaccine. Each day, I see how many are dying (and many more still struggling) with this dreaded disease worldwide and my heart aches.
The world has changed. Yet, amid the sadness of great loss, we've learned the power of community and cooperation; a powerful lesson I hope we won't soon forget."
Connect with Jeanette at her website jeanetteohagan.com
*****
Thank you, Jeanette, for this wonderful account. And I agree about the power of community and cooperation. I really do hope this lesson, at least, is not forgotten.
And finally…
Our key worker segment this week comes from a teaching assistant in Luton, who wishes to remain anonymous:
"I have been working at the school for nineteen years and had never experienced anything like this before. The classrooms are bare and the usual hustle and bustle of children has gone, replaced by something that is causing me sleepless nights and emotional turmoil.
When my last child left home to go to university, I suffered from 'Empty Nest Syndrome' but luckily, working at the school helped me overcome this. I started as a lunchtime assistant at my daughter's school when she started at the nursery. The irony makes me laugh; my children grew up and moved on, but I remained. I'm still doing the school run and packing my own lunch bag!
Yet, the pandemic has brought anxiety to me. I am only required to go to school for five hours each week. The empty chairs and playgrounds when I'm there make me feel fragile, but I know this is for a short time. It's for the best. Soon, those smiling faces will return and school will be packed with activity and noise once again."
*****
Oh, my heart!
That's it for this week. See you for another edition of Thursday Connectors next week.
You can connect to Farzana on twitter: @farzanahakim
The value of values is when equality is being sought, and oppression is being fought.