Thursday Connectors: Voices And Reflections
By Farzana Hakim

Hi, all. It's Farzana here, your host for Thursday Connectors, with another month of fantastic writing from you.
'Voices' is our new theme and I can tell you how broad and open this theme can be for a creative, or even non-creative, person! Our voices never leave us. Whether we feel silenced, or whether we're speaking out and getting on with life, our voices, and the voices of everything around us, are forever with us.
Is this a good thing? I'll let you be the judge of that. Like I said, this theme of 'Voices' may mean something to me, yet it may mean something completely different to you. My Connectors this month, although all writing on this theme, are varying in style and thought, which is why I've selected them – showing how our minds will never think alike and can never be narrowed. Whoever came up with the saying, 'Great minds think alike,' sort it out! Seriously, creative minds never think alike, which is why they are so special.
My first two Connectors, from Kathleen and Eithne, are letters to influential women writers of the past, written and inspired by my workshop for Women's Empowerment month, a few weeks back. Connecting to the past, using our voices and the issues we may be facing today is a great way to reflect and make changes. Kathleen writes to Virginia Woolf, and Eithne writes to Jane Austen, both influential female authors I talked about during the workshop.
Hi, Kathleen. Let's connect:
Dear Virginia,
"A woman must have money and a room of her own if she is to write fiction."
Virginia Woolf, 1928: A Room Of One's Own
Much as I admired your book, I must argue that I think your view is restricted. I firmly believe there are female writers for whom the situation of a private space to write in is an impossible attainment. There are successful women authors whose work has been accomplished in less than idyllic circumstances. Many women have domestic and family duties that must be fulfilled before they can find the time, energy, and/or space to write. I will give you three examples, but feel confident there are others just as worthy of mention.
Mary Shelley wrote Frankenstein (1818) while she was living in Switzerland with her husband, Percy Bysshe Shelley and their friend and fellow poet, Lord Alfred Byron. The three had a competition to write a supernatural story. Mary was the only one who finished. So, her bestseller was written when she was only 19 and ostracised by her family and respectable' society, living with the financially feckless and bohemian Shelley.
Charlotte Bronte was nursing her father Patrick while he was recovering from cataract surgery (a painful and challenging procedure in the 19th century) when she produced the acclaimed Jane Eyre (1848). Charlotte wrote her most famous novel in eight weeks while away from home and caring for Patrick. Hardly a relaxed and peaceful environment!
Elizabeth Gaskell ran her household, cared for her husband and six children, two of whom died. Her husband was a Unitarian minister and she carried out the numerous parish duties expected from the wife of a clergyman. She was middle-aged when she started writing, working in the dining room of the family home, subject to frequent interruptions by family, servants and visitors. Despite what at times was a noisy and chaotic working location, she wrote extolled novels such as Mary Barton (1848), North And South (1855), as well as several other popular novels and short stories. She also regularly contributed to both of Charles Dickens' journals: Household Words and All Year Round.
Now, I'm certainly not suggesting that a secure income and the peace and privacy of a room of one's own are not desirable for a writer, but I do believe the three authors I've mentioned (and I'm sure there must be others) have demonstrated that magnificent works of fiction can be created in less privileged conditions.
Yours faithfully,
Kathleen.
PS: Loved To The Lighthouse, by the way!
© Kathleen Beal, 2023
*****
Hi, Eithne. Let's connect:
London, 16th April 2023.
Dear Jane,
I'm off to visit Bath this week and it's no surprise that my thoughts turn to you.
I've been to Bath before, but not as many times as you, nor as many times as you've taken me there in your books. It seems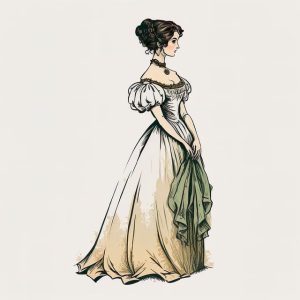 strange to admit I'll be looking for you round every corner, expecting to see you pass with your cotton dress (your best muslin?) and your bonnet, perhaps with a curl or two escaping at your neck. I'll scan the faces of the visitors to the Pump Room, hoping to catch your eye, eavesdropping to hear a witty remark or a clever ironic quip about the people we'll both be watching. Maybe you'll be in the company of your dear, close sister, Cassandra. How you must miss her!
I'll be extra-careful to look at the detail in the buildings: the sweeping crescents, the railings around the doorways, the Georgian doors and windows, a credit to Mr Wood, for sure … all the detail that will evoke you and your writing. And I'll be savouring it all.
You'll have noticed, by now, that I'm trying to pay particular attention to detail. Attention to detail is one of the things I love most about your writing. I love the ways interiors come to life and their inhabitants can be seen in all their routine comings and goings: dropping calling cards, serving tea, listening to music, or the retelling of funny stories (and gossip; dear Ms Austen, you report that very well).  I won't be seeing the characters of your stories acting out their petty snobberies, their real concerns about others, their troubles and worries about making the wrong decision, the wrong match. But I'll breathe in the fresh Bath air, coming off the river on a cool English breeze. I'll take the waters, longing for their curative effect (in my case, improving my skill as a writer).
What I will struggle to evoke (though I tell you, I'm as good a people-watcher as the next), I won't be able to express the little ironies you manage in your story-telling. I won't be able to make gentle fun of a character, like a Mr Elliot, for example, without hurting him – nor would I try. The 21st century encourages a 'no holds barred' style, telling it how it is. I miss and admire your considered prose, your restraint.
I'll have my notebook and I'll be trying to write a few lines during my visit. I'll probably send a card or two, as well. I am sure my words won't adequately capture the enchanting town as you did. But I'm hoping I'll manage something worth sharing, someday soon.
Fond regards,
Eithne.
© Eithne Cullen, 2023
Connect with Eithne on Twitter: @eithne_cullen
*****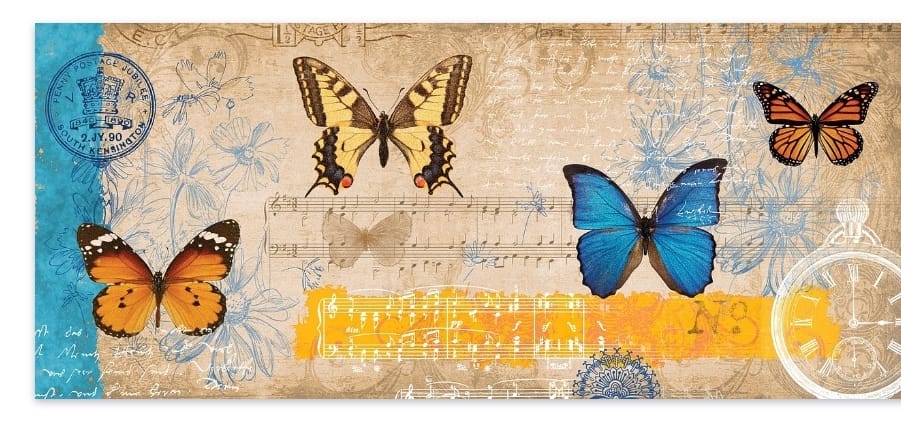 Our next Connectors are also all inspired by our theme of 'Voices' and, like I said before, each writer's perspective is a personal and very individual outlet of inner creativity. How our prompt, voices, is interpreted into different writing forms is aptly displayed in these pieces from Thomas Nixon, Ray Miles, Harsharan Landa and E.M. Blake.
Hi, Thomas. Let's connect:
Please Stand Clear Of The Doors
"Please stand clear of the doors," the klaxon voice announced. Amelia stood on the empty platform, wheeling the stroller an inch behind the stencilled yellow line, her daughter swaddled in a bundle of pink blankets within.
"Please stand clear of the doors," the voice ordered again. Amelia looked up. Did it seem louder?
She peered inside the windows, each one tinged a deep yellow, the passengers huddled over their phones, each bathed in black.
"Please stand clear." The voice rose sharply, then cut off. Amelia watched as the figures began to stand in unison.
"Please run."
The doors opened.
"Please."
© Thomas Nixon, 2023
Twitter: @Tnixon98
*****
Hi, Ray. Let's connect:
The Victim
He shouts and swears and plays his part,
His words like arrows through her heart.
She knows that she has done no wrong,
But still, it's hard to stay as strong
As needed, just to live her life;
One that should be free of strife.
She digs down deep and finds that place
Where sun is shining on her face.
Where nature is all round her soul,
A place where she can still be whole.
A haven for her weary mind,
Where life is pleasant, not unkind,
And in this way, she will survive
Until the day when she can thrive,
When darkness leaves, the evil gone,
And finally, she can move on.
© Ray Miles, 2023
*****
Hi, Harsharan. Let's connect:
Understanding
I'm standing under, your understanding, without understanding
Just trying to understand where I stand with you.
One minute you're all for me, as you stand up for me.
Then as soon as I stand down
You then erase me, as I am in your very presence
Then within a split second, you colour me back in, when you want me back inside your lines.
It doesn't make sense to me, to not take a stand for myself and to stand up for myself and for me to refuse to stand by your standards.
You see I'm trying to see your side of things and not be one sided to things.
I'm standing away from the anger, that sits beside me, as I don't want to sit on the surface of sympathy
And watch you bandage up the wounds you gave me.
I'm tired of weaving between those discussion, where our conversations, are all inconclusive, as they become away of you keeping me in between your back-and-forth answers,
I'd rather wear the scars of my pain, as a beauty mark on my skin, giving you the perception of how being on the outside of me seems.
I am now making a stand, to never allow you to turn my wounds, inside out, ever again.
© Harsharan Landa, 2023
Connect with Harsharan on Instagram: @harsh.poetry2023
*****
Hi, E.M. Blake. Let's connect:
High On Macca Quacker Mountain (Part Two)
Raspy voices whisper, "Be careful what you wish for. The wicked future delivers, but never as we hoped."
My swan's body has developed imperfections: lumps, bumps, and squiggles. Feathers flurry and my hollow bones creak. Scars draw lines and form crevices in my heart. They are murmuring meandering rivers of shame which echo and throb. The nectar from poisonous flowers flows in my blood and wild foolish thoughts gnaw at me like an itchy bite. I lament, shaking my head which sits upon my proud neck. Relief, but only through melancholy, creeps in. I taste the sourness of ageing.
Once upon a time, I was a human child, praying to infinity for a prettier nose, a smaller derriere, to be more hourglass, less pear.  That child eventually grew into a woman who transformed back and forth from Odette, the black swan who turned dust into gold, into Odile, the white swan and manufacturer of viciousness. I'm on a stage, playing frivolous games, winning, on occasion losing.
I am both Odette and Odile in a world that isn't simple, not black and white. Jasmine tendrils tangle together, and buds appear on almost-dead rose bushes. Down in the valley beneath a 350-year-old tree, blossoms drizzle upon my head and a pink carpet drapes over my outspread wings. My heart beat slows, and kindness kisses me with her cherry ripe lips, killing my suffering and teaching me to smile again.
A breeze whisks away my crown and cape. Nature, my mother, brings change. She is soothing and wondrously wise. I ascend with the other swans, across the plains and over the sullen seas, turning my back on the remnants of winter, no longer within the grasp of her clammy hands and chilly gaze.
(This piece continues with the character and story created in High On Macca Quacker Mountain, which can be read on my February Thursday Connectors page ).
© E.M. Blake, 2023
Connect on Instagram: @mycreativeeveryday and on YouTube: @e.mblake2695.
*****
Such wonderful Connectors this month!
Next month's page will be structured a little differently than normally, as I'll be sharing stories and highlights from my 'Hear My Voice' – Stories From The South Asian Diaspora project, which I'm working on for Newham Heritage Month. I will also be exhibiting my research and paying tribute to the fantastic people who agreed to be interviewed for my project at an exclusive event in June, being held at East Ham Library.
For more information and for tickets to the event, do click on the following link. You will need to register quickly as tickets are limited:
https://www.newhamheritagemonth.org/events/south-asian-diaspora/
See you soon!
*****
Issue 16 of Write On! is out. See the digital issue here or pick up a copy in local libraries and other venues. You can find previous editions on our magazines page.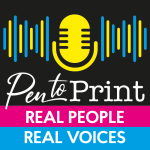 You can hear extracts from Showcase in our podcast. Write On! Audio. Find us on all major podcast platforms, including Apple and Google Podcasts and Spotify. Type Pen to Print into your browser and look for our logo or find us on Anchor FM.
*****
If you or someone you know has been affected by issues covered in our pages, please see the relevant link below for ​information, advice and support​: pentoprint.org/about/advice-support
Whether we feel silenced, or whether we're speaking out and getting on with life, our voices, and the voices of everything around us, are forever with us.