Writer Of The Month: Patsy Middleton
By Juneha Chowdhury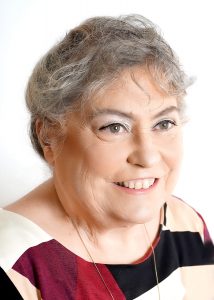 Our writer of the month is novelist and poet Patsy Middleton. Patsy was a finalist in the Pen to Print Book Challenge 2015 and 2016 with her debut novel, Colonel Erdington's Daughter.
Apart from writing historical fiction, Patsy also writes sketches, adaptions of plays, and lots of thought-provoking poetry. The following collection of love poems showcase Patsy's strength in exploring emotions and showing love in all its complexities. My Heart Has Wings and A Dreamer's Love Song are both 'found' poems. The first is constructed with lines from Frank Sinatra songs, while the second is made up of lines taken from folk songs. In both, Patsy shows us how love can be bittersweet –  the anguish and resulting loneliness of losing a loved one are pitched against the memories of happier times in My Heart Has Wings. The poem ends with hope as the man hears his lover calling his name and his heart soars with happiness once again. A Dreamer's Love Song is more obscure, but what is clear is a woman's desire to leave her old, sinful, life behind and love her new lover forever. It ends on a hopeful note.
My Heart Has Wings
Twilight steals towards
the breathless hush of evening.
Memories fill my heart and
hang on a stream of dreams—
dreams gone astray.
Winter winds blow strong
and have undone me.
I say a lonely prayer.
In the hustle of the day
we're all inclined to miss
a life caught in the tide,
a face in a misty light.
Lonely tears mist my eyes.
I count the drops falling
from rain-soaked clouds
onto wind-stirred leaves.
The winds of march
promise springtime's kisses
like a haunting refrain
on the brink of a song.
I breathe the scent of roses
on a warm summer evening
roses sprinkled with
the dew of my falling tears.
Laughter floats on a breeze.
I hear an eager call
and burn with hope
in a tender August night.
We drink new wine.
The breeze delights me.
The night invites me.
My heart has wings.
Words taken from songs by:
Harold Arlen/ Irving Berlin/ Sammy Cahn/ Jimmy Campbell and Reg Connell/ G. Finlay/ Ira Gershwin/ Haven Gillespie/ Lorenz Hart / Jerome Kern / Eric Maschwitz/ Cole Porter/David Raksin/ Richard
*****
A Dreamer's Love Song 
I am the one whose dreams seep into daylight.
They ride through the night in the shadows
formed from the rays of a clear autumn moon,
lulled by starlight and dewdrops,
their draught rustling in the trees,
rising with the sun in the morning.
Just as a sunflower never forgets the sun
the heart that truly loves does not forget the lover.
The fervour and faith of your heart bring sweet serenity
and my cheeks are unprofained by tears.
Your dark grim face grows gentle with tender memories
of when your love, yet unspoken, leapt to your lips.
I will know this till the sun rises in the west
or the sky falls or the seas run dry.
You are the one to whom I give my love.
And when I sit alone at night
I will forget the forbidden things I have done
because your eyes spoke dreams of love to me.
*****
Patsy wrote the following poem, Another Brand of Love, after watching The Happy Prince based on the life of Oscar Wilde. The young man he loved was immature and the poem plays with the idea that he did not return Oscar's passion. True love should be able to conquer the most testing of circumstances; but what if there is a lack on either side in a partnership or marriage, does that mean it's the end of the road? The loss of love can hinder you, the love itself can injure you as explored in Sense and Sensitivity, where a man's partner speaks to him harshly and it affects him badly as he takes refuge in the garden. But love expressed through small gestures has the capacity to heal and instil hope, as shown by the lady making him a cup of tea in the concluding line of the poem.
Another Brand Of Love
What plans can we have
when my doom is to wander the earth
seeking shelter where I can.
We huddle here at the city walls
I am a ruined man!
I am married to poverty
And the marriage is not a success
A year of punitive silence
A destroyer accurately predicted
Will I have forgiveness?
And why do I mind so much?
But you do not know what I am saying.
This is my testament
See, I am like the hanging naked Christ
But suffering is nothing when there is love
Love is everything
So why is it not enough for you?
Why do you laugh?
I cannot live without the atmosphere of love
I live and pay the price for it
I love with a sense of tragedy and ruin
They vilify me and curse me, yet
why should a golden leopard change its spots?
I have kissed your mouth
and tasted bitterness on your lips
It was the taste of love.
I hear your breath shudder
and your words float on the wind
yet I say yes, love has a bitter taste.
The night is a blur
So much is prohibited to me
When my desire is only to be free
All that is left is now:
A bobbing boat on a silver sea
And a stain against the edge of dawn
Does the flame still burn?
Each man kills the thing they love
But each man does not die.
My brain is crushed and shattered
Do you see the hell in which I live?
I am wrestling with my soul.
Words taken from the film: The Happy Prince
***** 
Sense And Sensitivity
Made all unhappy by a hapless word
I visit my own soul beneath the trees
and tell them of my melancholy mood
And ask them why a thing said in a moan
could bring about such misery to my heart.
The swish of broad leaves rustling in the wind
echoes the sigh that now escapes my lips.
Above, the moon appears so cold and strange,
passionless and oblivious to my care,
while Purple clouds past over her passive face.
And she appears to travel in the sky.
No comfort will she bring to me tonight.
The breeze is chilly as it lifts my hair
And ripples grass, like water, at my feet,
where sits wasp-nibbled pears from Summer past
The kitchen light comes on. A shadow moves.
The back door opens, and I hear a voice
'I'm making tea, do you want one, my dear?'
she calls as if she has done nothing wrong.
I take a breath and walk towards the house.
It was a careless word, she meant no harm.
How can I not forgive the things she says?
'Ah you are there, I wondered where you'd gone'
I smile and say, 'I wanted some fresh air.'
And once again I let tactless words pass.
Although she hurts me, I could not hurt her.
She doesn't think before she speaks her mind.
'Tea?' she asks. 'yes please,' is my reply.
Does she ever know how she wounds me?
Perhaps. She often offers cups of tea.
*****
The following poems are personal and based on Patsy's own experiences of love. Amore is about the various relationships at different stages of Patsy's life: from having a crush on someone at 17, to being abused by someone else later on, to finding true love with her husband John. It's her journey through good and bad experiences of love.  Control is also personal and explores a darker aspect of this powerful emotion and the lasting damage caused by an unhealthy relationship.
Amore
My first love was too young to know
how much he hurt me.
It was a game to him.
I didn't know how to stop loving.
When the fire subsided
it smouldered into mere memory.
The next I thought would last forever
but was only for a while.
He smothered my heart.
I cut myself free from his need
and drifted on the ebb tide
not knowing what to do.
A whisper took hold of who I am.
It grew into a sparkle in his eyes,
amber eyes that shone with rare delight.
My being sang in answer.
And if eternity exists
we will shine outside time.
******
Control
He told me he loved me and wanted to mould me
But what did he love? Only what I could be
He saw a potential, he wanted perfection
But simple love offered he just could not see
He analysed, criticised failure, shortcomings
And when I protested he turned with a sneer
Withdrawing affection in stubborn hurt pretence
Dejected rejected my heart shrank with fear
But one day I realised what he had done
My will now awake, I decided to run.
He begged and pleaded that I should not leave him
But too many times he had trampled my heart
Take heed of this story, don't be hurt by men, girls
Make sure he loves who you are right from the start.
***** 
The following poems are about different expressions of love. In Twofold Love Patsy explores types of people she loves. Some love from afar, whereas others are bolder and enjoy a full relationship. She questions whether it's better to love in fantasy or fulfil those desires, and which kind of love is the truest? Lust and Love weighs the pros of a real and emotional love with the cons of a purely physical attraction – showing how they are interconnected and that it's not always possible to separate one kind of love from the other.
Twofold Love 
The love that breathes a sigh and holds a hand,
with timid glances heart's desires unsaid,
may never each other's yearnings understand,
their eyes pure language evermore unread.
Oh you who know the end of passion met,
Desire fulfilled, might never be again.
Do you perchance move on with no regret?
Praise sensuality with loud amen.
Is't better, then, to love in fantasy,
a hopeful dream which ne'r may come to pass?
Or fulfil longings in sweet ecstasy,
transient like wisps of withered grass.
Yet if a choosing by these two were made
would each for t'others life desire to trade?
*****
Lust And Love
A great gulf lies between sweet love and lust
How often we find one and not the other
The first eternal, all else is but dust
Love enhances, lust will make us suffer.
Love lives within the heart and in the soul
Lust lives with licence, selfishness and sinning
And our desire runs free without control
Love is compassionate and also giving.
What man does not desire female beauty?
Likewise a woman craves a handsome man.
But lust is fickle with no sense of duty
And will run from commitment when it can.
But love and lust live side by side within
And who am I to say they are not kin?
*****
I'm an old romantic when it comes to love and, much like the cliché, I really do believe, 'it is the thought that counts'. That doesn't mean I'll reject the diamond rings or the evening's out: no way, bring it on. I'm a mixed bag, in fact, with Frank Sinatra summing up my feelings perfectly: '"A simple 'I love you" means more than money.'" And, just to prove I've always been this soppy, I'll end with the concluding words of a poem I wrote in my teens, 'they possess somethings I may not have, but if money means happiness, what price love?'
We're having a Christmas Break so our next Writer Of The Month, poet Julie Dexter, will kick-off the year in January.
The following collection of love poems showcase Patsy's strength in exploring emotions and showing love in all its complexities.