Write On! Features: Adapting Books For The Stage By Lucy Kaufman
By Lucy Kaufman
So, You Want To Adapt?
At some point in your writing career, you may be commissioned to adapt a classic book into a play. You may even choose to, as there are many benefits to writing an adaptation of something well-known. You may also want to adapt your own work into another form. But what are the challenges for a would-be adapter?
Over the years, I've written a number of adaptations for the stage: from classics as diverse as fairy tales, gothic horror, and Jane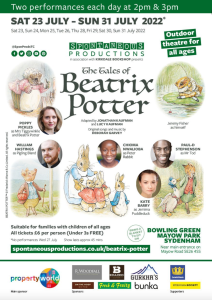 Austen. This year will see my latest stage adaptation being performed, with others in the pipeline, all from extremely famous books. The pandemic put a virus-shaped spanner in the works for much of live theatre over the last two years, meaning these productions have been postponed many times. The first of mine to finally get the green light is a fun outdoor musical show for families, The Tales Of Beatrix Potter, featuring an ensemble of Potter's beloved characters: Peter Rabbit, Jemima Puddleduck, Pigling Bland, Mrs. Tiggywinkle, and co.
First Things First
Before embarking on adapting any book, make sure it's in the public domain. If it's not, it may be expensive to buy the rights, and if you go down the route of adapting the book without the rights, it's likely you will be looking at a lawsuit. This early mistake will be costly and time-consuming, not to mention emotionally devastating to sort out at that late stage, so make sure you have the right to adapt the text before you begin any planning or writing. The US and UK have very different laws regarding copyright, so check you're adhering to the correct ones for your nation. Here in the UK, written works generally go into the public domain 70 years after the author's death. However, some rights are still owned by the family or publishers after this date, so do your research. Works that go into the public domain after 70 years can quickly go out of it again, so never assume because an author is dead you have free rein. If adapting your own novel, check whether you own the rights to do this. Your publishing contract will contain details about further adaptations.
The Benefits Of Adapting …
One big plus for adapting something which is really well-known is it's likely to draw in an audience. Audiences tend to be risk averse; therefore, an original, unknown play by an unknown or emerging writer will seem more of a risk to a theatre-goer than an adaptation of a famous book. With an adapted play, the audience already has a sense of what they'll be getting for their money, and may even be keen to see your new version of it. Choosing to adapt a book that is on the GCSE or A-Level syllabus is sure to draw in school parties of students. However, other theatre companies could well have this same idea, so beware of competing with numerous other productions. My producer and I learned this the hard way. The Strange Case Of Dr Jekyll & Mr Hyde is on the GCSE syllabus, and my new version had to be postponed when another theatre close by was staging a version of it a month before mine was scheduled.
… And The Challenges
Another plus of adapting a well-known story is you don't have to come up with your own story or characters, as these are already created for you, and are ones that have stood the test of time. However, your job is to shape this raw material into play form, which brings its issues.
In books, the reader can get inside characters' heads, but in plays, it's not so easy. Finding other ways of showing and telling therefore becomes vital.
A book can have a vast array of characters, many changing locations, and infinite costume changes, all in the imagination of the reader. Your stage play will likely be restricted by your (probably tiny) budget. You may need to cut some characters, morph two or more into one, or have 'doubling up' (actors playing over one character each). If your actors need to double-up, prepare for a logistical nightmare!
When writing The Tales Of Beatrix Potter, the co-writer/director and I had the painstaking task of working out which characters didn't appear in the same scenes as each other and, therefore, could be played by a single actor. Due to such clashes, in an early draft, we also had to have three actors take it in turns to play Peter Rabbit's nemesis Mr McGregor, who will be in a full body suit covering the head, so this continual change of cast wouldn't be noticeable by the audience. One particular headache was a dramatic final battle scene between 11 characters played by only five actors! Remember, every time an actor changes into another character, you must also allow time in the script for a costume change to occur, meaning extra 'filler' moments or scenes are needed, using only the other actors, of course.
Keeping It Fresh
You have the brilliant content of a book that already exists, so now it's important to think carefully about how to shape it. When adapting, don't play around with the text simply for playing around's sake. Be clear in yourself about what you're doing with the material and why. Knowing your audience can really help in catering to them. One of the challenges for writers adapting a well-known book is trying to please everybody. You have to give enough of the original story so the audience doesn't feel cheated, and yet keep it fresh enough for it to be worth a modern audience coming to see it. If the book is in the public domain, chances are it will be fairly old, and therefore its issues, which were current when it was written, may not be as relevant today.
It's important to emphasise and develop the issues in the book which do still have relevance today and downplay others. When adapting Robert Louis Stephenson's iconic gothic horror The Strange Case Of Dr Jekyll & Mr Hyde for the stage, I was conscious of how we are less suspicious of science now than a Victorian reader would have been, and instead chose to emphasise and develop the germ of ideas in the story about truth and toxic masculinity, as these seem just as pertinent today.
Also, because the twist at the end of Dr Jekyll & Mr Hyde is so well-known, and hardly a shock for a modern audience, I decided to create new twists and turns, as well as a modern framing device around the original story. This way, the audience gets the Victorian gothic horror story it knows and loves, yet with a whole other layer of surprise events. I also changed the style from how the original book was told, from letter form in the book, into an extremely popular form today: a modern police procedural.
With our adaptation of The Tales Of Beatrix Potter, we have amalgamated many of the Potter's much-loved books into one wider story arc. We decided to give this play a more current take for an audience of modern families and children, about the less powerful standing up against the almighty Mr McGregor. Again, we've kept all the key elements of the original characters and tales that children have known and loved for a century, but developed and tweaked them where necessary to tell this whole new story.
If You Can't Be Faithful…
Many books will be suited to a faithful adaption. However, many stories will be impossible to tell faithfully. When I was adapting Hans Christian Andersen's The Snow Queen as a Christmas family show, I found the original story's episodic, and somewhat old-fashioned, structure was not conducive to a modern faithful adaptation. Many of its plot strands were abandoned by Andersen and never developed to the end, and the story went off into multiple digressions which a modern audience would not accept so readily today. It was important to trim and shape the story to a cohesive whole and develop and tie the loose plot strands. We also injected more physical comedy, and the wintry setting and icy character of the Snow Queen enabled us to include a current message about climate change. Andersen's girl character Gerda was given a nod to Greta Thunberg with her plaits and concern for the planet; the wicked, narcissistic hobgoblin with his twisted magic mirror given a passing resemblance to a certain person who was then occupying the White House.
Go On, Have A Ball!
You can have as much fun as you like when adapting a much-adapted classic. My Cinderella pantomime was given the full Mamma Mia! treatment. I had a ball (see what I did there?) helping create a full disco soundtrack that would appeal to children, their parents, and grandparents alike, with songs that were not quite the original Abba tunes and had not quite the original lyrics.
Whenever, and however, you decide to adapt a classic, I wish you the best of luck. Make sure you tell me all about it!
*****
You can see The Tales Of Beatrix Potter from Sat 23rd July–Sun 31st July in Mayow Park's Bowling Green, Sydenham, SE London. Two performances per day at 2pm and 3pm (no shows on Wed 27th July). The show lasts 45 minutes. For more info and to book tickets: spontaneousproductions.co.uk
Government guidelines permitting, Dr Jekyll & Mr Hyde can be seen in Autumn 2022, Upstairs at the Sydenham Centre, Sydenham, SE London. For more info and to book tickets nearer the time visit: spontaneousproductions.co.uk
Lucy Kaufman is an award-winning playwright and author who teaches Playwriting and Screenwriting for Pen to Print and is Lecturer in Screenwriting at Canterbury Christ Church University. Thirty-five of her plays have been produced professionally around the UK and Australia, including her best-known play, Eleanor Marx. Her short story, Pianoforte, won a national competition and is published in the anthology, Toast. You can connect with Lucy on Twitter: @lucykaufman_ at her blog: https://lucykaufman.wordpress.com or on Facebook: https://www.facebook.com/LucyKaufmanAuthor
*****
Read the latest issue of Write On! (13) magazine online here.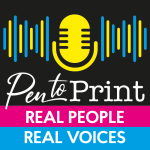 You can hear great new ideas, creative work and writing tips on Write On! Audio. Find us on all major podcast platforms, including Apple and Google Podcasts and Spotify. Type Pen to Print into your browser and look for our logo or find us on Anchor FM.
*****
If you or someone you know has been affected by issues covered in our pages, please see the relevant link below for ​information, advice and support​: https://pentoprint.org/about/advice-support/
What are the challenges for a would-be adapter?