Write On! Features: For The Love Of Romance by Jane Lacey-Crane
By Jane Lacey-Crane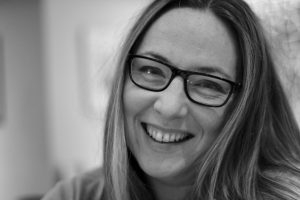 Chick Lit, Women's Fiction, Bonkbusters, call them what you like, they all essentially fall under the same gorgeous umbrella and that's Romantic Fiction. Gay, straight, young, old – a love story is a love story and, I must confess, I love them all. Is my bias showing? I am, and have been from an early age, a proud and avid romance reader. My gateway drug of choice was Mills and Boon – I would buy them for 10p a copy from jumble sales and car boot sales – and I could easily consume half a dozen in one sitting, if left in peace for long enough.
As an awkward girl suffering through adolescence and the daily trials of her parent's messy marriage, I was happy to lose myself for hours on end in a world where the heroes always did the right thing and the mousey girl in the office no one noticed suddenly became beautiful and got her man. I was always guaranteed my happy ending and that made me feel safe. It also taught me quite a bit about what to expect when I finally kissed a boy. Although, looking back now, it may have given me some unrealistic expectations about that first kiss. I can't recall ever having read a scenario in Mills and Boon where the hero slobbers all over the heroine and then just tries to grab a handful of boob, all without putting down his pint! Suffice to say, that plotline wouldn't have made the final edit. Nonetheless, my love affair with romance writing started early and has never waned. And, when I decided I wanted to write, I knew immediately that romance was going to be my chosen genre. I wanted to write those happy endings and hopefully give my readers that same feeling of contentment and joy.
Those classic tales of love are everywhere, whether we realise it or not. One of the biggest-selling books in recent history, Fifty Shades Of Grey, is just a romance when you get right down to it. Take out the bondage and domination and it has all the classic elements of romance fiction. Boy meets girl, girl is swept off her feet, boy takes girl to his sex dungeon. OK, maybe that last part veers a little from the norm, but by the end of the trilogy, boy and girl are married and have children. They get their happily-ever-after, and the books sold millions!
Romance readers are everywhere – you only need look at the sales figures to see that. According to The Economist (6 Mar 2023), sales of romance fiction have risen by 110 per cent in the past three years, generating revenue of approximately £53 million. In the US, romance novels are the biggest fiction category, with almost $1.44 billion dollars in sales. So, it begs the question: if these books sell so well and are so beloved around the world, why is there still such a stigma attached to romantic fiction? Why don't those books appear on awards lists? Why aren't the authors showered with plaudits and praise and thousands of column inches talking about them? I don't have a definitive answer, but I have my suspicions.
One of the issues is that writing romance is commonly viewed as being easy. A fellow writer at a retreat I attended, told me he (note the 'he') could probably knock out a romance novel in a week if he really wanted to, but he 'wanted to write something that really mattered' instead. And he's not alone. I've met countless people over the years, some of them other writers, some of them close friends and family, asking me when I'm going to write a book with 'a bit more depth', something that isn't 'just Chick Lit'? Does this sneery attitude perhaps have something to do with the fact that, traditionally, this genre is seen as written by women for women? Perhaps. It's probably no coincidence that, when a male author like David Nichols writes something like One Day – which is a tremendous book that I highly recommend but that is essentially a work of romantic fiction – that book is reviewed in The Times and lauded by critics. Or John Green's wonderful work, The Fault In Our Stars – another undoubtedly brilliant book – is still, when you get right down to it, a story about young love and tragic romance. Nonetheless, it spent weeks on the bestsellers lists and was showered with rave reviews that never once used the words 'romantic fiction'. Those books are somehow considered more worthy of serious attention.
Some might argue it's the 'Happily-Ever-After' endings traditionally associated with romantic fiction that make the difference between something being considered 'Chick Lit' and 'literary fiction' – can I call it 'Lit Fit'? Does that work? Call it what you will – I call it good old-fashioned snobbery with a generous sprinkling of misogyny thrown in for good measure. And I'm here to tell you now, gentle reader, that I'm done with it! I'm done with having to justify my words or the books I choose to read, to people who think this kind of commercial fiction isn't worthy of the same type of praise as other genres.
Romantic fiction is as big a seller as crime fiction but, while that genre, most of which is unashamedly commercial, is loud and proud, romance fiction and the wonderful authors responsible for its creation have been allowed only muted celebrations. That's slowly changing, thanks in no small part to the work of the Romantic Novelist's Association. Founded in 1960 to both celebrate, and demand respect for, romantic fiction, founder members included Denise Robins, Barbara Cartland, Elizabeth Goudge, Netta Muskett, Catherine Cookson and Rosamunde Pilcher. The first President of the Association, Denise Robins, noted that, although romantic fiction gave great pleasure to many readers, the writers almost felt as though they had to apologise for what they did. The aim of the association was to put a stop to those apologies and, instead, "celebrate and promote romantic authorship."
Don't dismiss the joy of a good old happily-ever-after ending. After the last few years, we could all use some happiness and the reassurance that, sometimes, things do work out for the best. Don't miss out on those tales of love conquering all, the second chance romance, the enemies who become lovers, the fake romance that becomes real; you'll find all these stories, and so many more, in the pages of a work of romantic fiction. Let's stop being so cynical and critical and have some fun. Read what you want to read, whatever makes you happy. If romance isn't your thing, then move along, turn the page; it's all good. There are plenty of great books out there to keep you entertained. But I, for one, will happily choose a good romance over most other things any day and I'll keep writing my love stories for as long as people want to read them.
*****
Although writing stories is something I've always done, I never thought anyone would pay me to do it so, instead, I focussed on learning to act. I was dumb enough to think this was a much more reliable way to earn a living! Predictably, my career as an actress was short-lived – actually, it was non-existent – so I turned my attention to another reliable line of work: Cable Television! This was where I finally managed get paid (albeit very badly!) doing something I enjoyed. I began with scripts for a series all about Serial Killers (imaginatively entitled Serial Killers) and then moved on to a series of history documentaries. Although this series never saw the light of day in the UK, I've been informedit used be very popular with insomniacs staying in hotels in the Far East. This may or may not be true.
Eventually, though, I couldn't ignore the little voice in my head that kept telling me to write a book.  It felt like an unachievable dream until I joined the Romantic Novelist's Association New Writer's Scheme in January 2017; a real turning point for me. I'd written the beginning of the story that would grow into Secrets and Tea At Rosie Lee's as an entry for a competition on Good Morning Britain. They were looking for the next Fifty Shades Of Grey, and I don't think my story of second-chance love in the East End was quite saucy enough! But I loved the characters I'd created and the world I was building, so I carried on with it. I submitted the finished manuscript to any publisher I could find that didn't require you to have an agent and was overjoyed – and more than a little shocked – when digital first publisher, Aria Fiction, offered me a three-book contract.  
My first book, Secrets And Tea At Rosie Lee's, was set in east London, where I grew up, and featured characters inspired by some of the people I knew back then, and for my third and most recent release, The Little Shop On Floral Street, I've returned to my roots in London. The book tells the story of the Watson sisters, Grace, Hope and Faith, their relationships with each other and the complicated family dynamics that have played a significant role in where they are in their lives.  
Connect with me on Facebook: Jane Lacey Crane–Author, on Instagram: @janelaceycrane and Twitter: @JaneLaceyCrane
If you'd like to read some of my romantic fiction, you can find me on Amazon or KOBO. Follow me here: Amazon.co.uk: Jane Lacey-Crane: Books, Biography, Blogs, Audiobooks, Kindle
Issue 17 of Write On! is out now and you can read it online here. Find it in libraries and other outlets. You can find previous editions of our magazines here.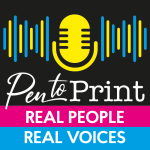 You can hear great new ideas, creative work and writing tips on Write On! Audio. Find us on all major podcast platforms, including Apple and Google Podcasts and Spotify. Type Pen to Print into your browser and look for our logo, or find us on Podcasters.Spotify.com.
*****
If you or someone you know has been affected by issues covered in our pages, please see the relevant link below for ​information, advice and support​: https://pentoprint.org/about/advice-support/
I wanted to write those happy endings and, hopefully, give my readers that same feeling of contentment and joy.