Write On! Features: The Key To Unlocking The Story by Abíọ́dún 'Abbey' Abdul
By Abíọ́dún 'Abbey' Abdul
2021 was the year the UK National Black Writers Conference #BWC21 finally made a comeback, after being postponed like so many events by the pandemic. The normally biannual conference last took place in 2018, where I was front and centre, learning about the writing journeys of fellow authors of colour. Be they giving talks, delivering workshops, fostering panel discussions, or shoulder-to-shoulder in the audience, I quickly became enamoured with my creative counterparts. I therefore wanted to learn more about the conference organisers, Manchester-based writing development organisation, Commonword Cultureword. True to their tagline, they provide opportunities for new and aspiring writers to develop their talent, helping to counter so many systemic barriers BAME creatives encounter in the written arts.  After participating in some of their initiatives, it somehow seemed quite a coup that I shifted from an audience member to event participant last year, in 'Unlock The Story'.
How did that happen? Well, it started with the bones of my Nigerian-Scottish memoir-polemic 'Stained Glass Eyes: Race, Multiculturalism And Understanding', a project I'd been working on for a few years. It's a colourful blend of autobiography and sociology, of young Black kids navigating a Scottish world, of warm embracing diversity and cold unsettling racism, and thus a universal story told in a unique context. Based across two different generations (2000s/2010s & 1980s/1990s), of two different families (Angolan-Spanish & Nigerian), in two different Scottish cities (Edinburgh & Glasgow), it covers each child's primary school journey of trying to understand the mismatched social spheres surrounding them at home and the wider community. But here's the kicker: why didn't Black child 1 warn the family of Black child 2+3 about Scotland's intense racial bigotry before they moved up north?
This is covered in this transformative memoir of growing up through unexpected adversity. Though I'd always wondered how the subject matter would appeal further down the UK, in England. The answer was just fine, as #BWC21 director Cheryl Martin had, in fact, also lived in Scotland and experienced first-hand much of my memoir-polemic content. "Terrible things like that happen all the time, but why tell anyone about Scottish racism, because nothing is going to change," had been her similar reaction in the thick of it. But later, she'd put her thoughts into a letter for the My White Best Friend showcase, finally voicing the racial perils of up north, only to – soon after – extend an invite for me to do the same.
Shared life experiences: one way to unlock your story with others.
The 2021 conference was online, meaning all participants could reach more people across the waves. My Sunday evening contribution was the brainchild of artist Xhi Ndubisi, who would be sharing the digital stage with me. We would both read the first parts of a story during our one-hour event. After listening to Part 1 for free, the audience would decide if they wanted the 'key' to unlock Part 2 through a donation. It was 'kinda' a playful take on the 'whodunit' premise, keeping the reader guessing what comes next; a theme infused into the event build-up, too.
First, conference coordinator Radhaika Kapur requested we come up with a short promo video: Will You Unlock The Story? Ah, already time for a close-up… including zooming in on a mega-short writing extract! How to choose the right one to spark listener intrigue and fit into 30 seconds max? After some flailing, it turned out the first two lines of my synopsis would do the trick: UK multiculturalism was a central theme of the 2012 London Olympics opening ceremony. So why, just months before, was my usually sunny friend Esperanza suddenly on the phone to me, breathless… exasperated by the racism her young mixed-raced Spanish and Angolan children were experiencing at their Edinburgh primary school? OK, that was content. Now for delivery.
For the first time in almost a year and a half of Zoom calls, Google Meets sessions, and MS Teams lessons, I'd actually have to properly think about aesthetics. "How's my hair looking?" "What am I wearing?" "Grab that sock off the sofa!" After straightening my chair back and positioning my text near the screen top to avoid drooping eyes, it was time for take one. 101 practices takes later, I finally had my 30-second promo recorded. (Now I just needed another 1,001 takes for my 20-minute recital and I'd be golden!)
OK, the promo video created some buzz about the event, but what was going to create buzz about the author? It was time to put together my long-mulled-over promo website: Yorùbá Yonder, a collection of diasporic stories about international travels cultivating worldly perspectives from a Yorùbá-Nigerian globetrotter. I crafted the text for each webpage, kindly peer-reviewed by my weekly writing group, scoured the web for the right images, secured the alliterative domain name, and even learned what a favicon was. Then it was time to upload all my other creative pieces, including diversity-celebrating Signs Of Diaspora, flight-rib-tickling Carry On Luggage, language-unbridging Interjection, and more. Would these short stories from around the world make people want to hear my extended memoir-polemic story from up north? I certainly hoped so.
Promo efforts: enticing others to come unlock your story.
Next, it was time to do more direct conference preparation, not least of which was selecting which book extracts to share on the night. Even though most of the narrative takes place in Glasgow, I decided to focus on the initial Edinburgh setting across the first four entries (how I refer to my chapters). Then it was time to re-edit the spliced text to make sense in the new 20-minute context, inserting more character names here, giving more background there, etc. Though rehashing the word order would be meaningless were they to fall on deaf ears… enter the sound checks! So often during these creative productions, we forget about the technical support team in the background making it all come together, and Commonword had a great one, led by Jason Crouch. He whipped my yo-yoing mic sound into shape; much more beneficial than me constantly whipping the apparently endless supply of errant socks off my sofa! OK, time to sort out those aesthetics again and a big one would be preparing my clothes.
Various annual trips to Nigeria would usually fashion me with many àǹkárá fabrics tailor-made into vibrantly coloured outfits. Luckily, I was able to locally find some fabric and a seamstress side-hustling as a masters student. (Shout-out to anet.clothing. Joy bringing me joy!) Very important to reinforce the Nigerian visual, so listeners don't get overly confused with any residual Celtic tones. When all was said and done, a work colleague said it sounded like preparing for a wedding. Yes, I was marrying my book, and that weekend was to be our engagement announcement.
Come Sunday, I was enjoying other conference events in the background as I got ready, arranging my hair into bouncy twists, putting on my well-fitted ẹ̀wù pẹ́ńpẹ́ and yẹ̀ri with some silver dangly yẹtí to finish with. All dolled-up, I blurred my background to hide all the sofa socks (seriously, I have a problem) and I managed to get a few more practices in there beforehand, where the conveyer belt of words seemed to keep getting stuck! Being amongst the likes of Jhalak Prize winner Jennifer Nansubuga Makumbi, meant I had to bring my A-game. So, come 5.15pm, the event started, the final one of the conference, and I was beamed out onto the airways with Cheryl introducing me and my co-participant. Xhi Ndubisi did great with her story, Breath Held, her subtle delivery letting the words do most of the communicative work. Then it was time to untie my tongue and bring my memoir-polemic to life beyond the page with my first line: "Esperanza Moreno and I had been friends for ages, and I thought her natural sunshine would never waver… certainly not as it turned out because of me." After that, the words just began to flow, steady pace, hitting the stressed words, animating my face, saluting at the mention of the general mum and lieutenant kids in the supermarket! It was happening. I was presenting at #BWC21 and…
… um… er… why has the screen frozen?
No worries, they can all still hear me, I'm 'on stage', just keep going.
Huh? Why is Radhaika calling my phone mid-event?
Ah, it's not just the visuals that have frozen, it's the audio too.
Yes, of course, the online platform which had spread my conference appearance far and wide across ocean waves had inevitably crashed and was no longer beaming digital waves into the great beyond. Joy.
Despite the Zoom crash, though, I remained surprisingly calm (years of online instruction experience in my lecturing day job kicking in, perhaps). I simply restarted my computer and clicked the joining link, wondering whether, by losing the connection, we'd also lost most of the audience. I entered the Zoom room to see this wasn't the case. All were still there, anticipating the rest of my story part 1. So I reopened my file while asking all to bear with me and started again from the last place I remembered leaving off, giving a definition of racism. Once again, my face went into full animation mode and I was hitting the stressed words without feeling any actual stress! Thus, I recovered fully and finished strong, just as a story bearing these themes warranted.
A captivated audience: the key to unlocking the story?
And, just like that, the three-month+ build-up ended, not in a farcical anti-climax, but an engaging crescendo! The audience had stayed to continue consuming Part 1. But would that indeed turn into donations to see Part 2? See, there is always the worry that something free is seen as 'without value' or indeed 'suspicious' in an online forum. Why pay money for something unworthy of remuneration? Happily, though, many did indeed remain engaged beyond the event and came forth to hear more of the Edinburgh-based narrative. The feedback from one white ex-colleague I've known for almost two decades was particularly illuminating. "It was nice to hear you read it (rather than be reading it myself), as it added another dimension. It was rather disturbing to hear about the prejudice your friends (and obviously others) are facing in this day and age. Very sad. Though I guess that was why you were writing about it."
Yes, indeed, that was/is why, to have such conversations with people like him.  In our almost 20 years of connection, the topic of Black childhoods in Scotland had never come up; surely an active avoidance of an integral part of my development which would make surrounding whites 'uncomfortable' but ultimately needed an education on the matter?
But beyond the positive engagement from white audience members, it was especially gratifying to receive interest from youth projects focusing on anti-racism/cultural empowerment for 11-18-year-olds. Their organiser loved the honest rawness of my book extract and wanted my participation in various initiatives to help the next generation unlock their stories in the here and now rather than years later. I'm glad to report I'm now very much in the swing of this, delivering weekly creative writing workshops and helping facilitate weekend family writing retreats for these, much newer, authors of colour to enjoyably develop their talent and find their own storytelling voices to share far and wide.
Thank you, National Black Writers Conference 2021. Your theme of 'We Want To Dream' was a key ingredient in sharing our common words, and their reach continues to spread beyond the waves.
NB: You can receive a free read of my Nigerian-Scottish memoir-polemic 'Stained Glass Eyes: Race, Multiculturalism And Understanding chapter 1 in full in exchange for an honest review on social media using the hashtag #SGEmemoir1. Share your name and email through the Yorùbá Yonder website and I'll send out the text as well as updates of the book's progress up until it's ready for pre-order.
*****
Read the latest issue of Write On! (12) magazine online here.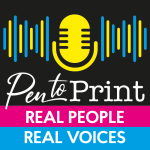 You can hear great new ideas, creative work and writing tips on Write On! Audio. Find us on all major podcast platforms, including Apple and Google Podcasts and Spotify. Type Pen to Print into your browser and look for our logo or find us on Anchor FM.
*****
If you or someone you know has been affected by issues covered in our pages, please see the relevant link below for ​information, advice and support​: https://pentoprint.org/about/advice-support/
When all was said and done, a work colleague said it sounded like preparing for a wedding. Yes, I was marrying my book, and that weekend was to be our engagement announcement!