Write On! Features: Meet The Winners – City Of Stories Home
By City Of Stories Home
City Of Stories Home – Celebrating London's libraries as places to make and share stories.
City Of Stories Home is a London Libraries and Spread The Word creative writing and reading project taking place in the heart of local communities in London. It aims to discover aspiring local writers and introduces new stories by diverse writers to audiences in library reading groups and at events.
Throughout February 2022 there were 33 free online creative writing workshops for writers run in conjunction with all library services in London, including Barking and Dagenham Library Service and Pen to Print. Londoners who attended a free workshop were encouraged to enter the City Of Stories Home short story writing competition, which received a whopping 300 entries. The competition judges, authors Caleb Azumah Nelson, Natasha Brown, Jarred McGinnis and Amer Anwar, selected 63 winners and highly commended stories to feature alongside eight commissioned stories in the City Of Stories Home Anthology. All competition entries represent their home borough of London in the Anthology. The Anthologies were launched at 33 special free celebration events across London's libraries in June 2022.
The Barking and Dagenham City Of Stories Home competition winning and highly commended stories are Hasten to Prayer by Shahema Tafader and Plum Jam by Donna Thomson. Here, we share their winning stories, with permission by the publisher Spread The Word, followed by an interview about their writing.
Winner
Hasten To Prayer
Malaikah stared at Daddy's undies with a smile, her fingers stroking her chin as though Santa's beard sprouted there. The green pants were placed on the floor beside the table holding the telly.
Daddy was getting the mats out behind her. A small one for him to stand on while leading the prayer, and a long one made for five people.
Malaikah turned to see Daddy putting a white hat on his balding head – a tokki. He readjusted the long skirt around his waist and a memory rushed in.
"You monkey, it's not a skirt. It's a lungi."
"But it looks like a skirt, Daddy."
"Yes, well, it's what us Bengali men wear for comfort."
'Yes, Daddy, skirts are comfortable.'
To her left, Mo, her eight-year-old brother, came into the sitting room. She smiled, rushed to him, pulled him down and whispered in his ear.
Mo placed his hands on his back and straightened himself, as though plagued with arthritis. He raised his fingers to his chin, looked up for a few seconds, then nodded.
Together, they ran to the bedroom and rummaged through Daddy's drawer, like mice foraging for morsels. Malaikah found a blue-and-white striped lungi, and Mo found a green one. Mo took off his trousers, then helped his sister take hers off. He put both lungis on the floor and pushed them around till they made circles the small bodies could step into. Inside their respective rings, they pulled up the lungis and tied them around their chests.
Even then the lungis trailed the ground like wedding gowns.
Malaikah followed her brother as he lifted his lungi and ran back to the sitting room, to the green undies. Here, each took off their knickers and pants and placed them next to their father's. A yellow one and a blue one, barely a third of the size of the green one.
Their father was already standing on the small prayer mat, facing away from them. He cleared his throat and called: "Allahu akbar, Allahu akbar."
God is the greatest. God is the greatest.
Mo grabbed his lungi at the front, like the ugly sisters in Cinderella, and trotted to the mat behind his father.
Malaikah tripped and fell.
"Ashhadu an la ilaha illa Allah."
I bear witness there is no god except Allah.
Malaikah pushed up to her hands and knees, twisted to sit down, then pulled at the lungi till it uncovered her feet.
"Hayya 'ala-s-Salah. Hayya 'ala-l-Falah."
Hasten to prayer. Hasten to success.
Malaikah held the lungi above her knees and scurried beside her brother.
"Allahu akbar."
Mummy put a scarf on Malaikah's head and joined them on the mat behind Daddy.
"La ilaha illa Allah."
As Daddy recited the prayers, Malaikah felt a breeze like the summer air and a lightness like floating through clouds. She could see why her daddy liked wearing a skirt over his bare bottom.
(c) Shahema Tafader, 2022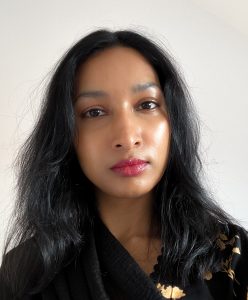 About Shahema Tafader 
Shahema is an illustrator and graphic designer from Barking, London. She holds three legal degrees and was called to the Bar of England and Wales in 2012. She has had her fiction, poetry and art published by Write On! Magazine and Write On! Extra, as well as poetry published by Minnow Literary Magazine.
*****
Highly Commended
Plum Jam
Home was a whisper, a dream that you had awoken from many times.
Childhood memories of picking wild berries, blackberries and raspberry thimbles on fingertips, chasing and running and applying huge dock leaves to legs stung by stinging nettles. The delightful stomping on mounds of berries, squealing as the juice squirted onto bare legs and chubby arms.
Large pots on the stove stewing the fruit, adding sugar, decanting once cooled into jars and vats that covered every spare surface in the kitchen. My aunt Celia stirring happily, and my grandmother, how sickly sweet the smile was on her face as she sat in her chair, dementia-ridden and glassy-eyed watching the bustle in the kitchen but not really taking it in, for she too had become a whisper.
One such memory that may have happened many times was ruckus in the kitchen, awakening hazily and descending the stairs and being met with glass in the kitchen, an uncle in a stupor and jam on the floor, more often than not plum, the fruit of which still made me wince on sight, for plum was our most favourite of all the jams my aunt made. I always checked on my grandmother on my way back to bed and there she was, in bed, glassy-eyed, in bed, a strange little smile on her face. I pulled her bed throw up around her and she paid me no heed as I kissed her forehead.
It wasn't until the night my aunt had called me many years later, babbling of blackberries and Victoria plums and of Uncle Wendel's supper, that I packed my carpetbag and made haste back to the street lined with trees and fields of blackberries in the back and wildflowers in the yard to the little house with the yellow door in which I had once lived.
"Oh Lily, Lily," said my aunt, as I trod upon the musty carpet. The air was damp and the windows heavy with condensation.
"Have a biscuit," said my aunt, directing my glance to the saucer on my uncle's side table, fondant cream sandwiched biscuits of different varieties.
"Hello, Uncle." I leaned over him to get a biscuit. It didn't surprise me in the slightest that he was still in that very same chair as he had been when I left. He stared at me, eyes pools of black, and I bit into the biscuit; it was soggy and had lain there much too long, I fancied.
"Tea, Lily. Come, let us go and make some tea," my aunt enthused, and I, of course, obeyed.
"I don't imagine you want tea, Uncle, do you?" I asked and, as expected, no response. I patted his shoulder and left him where he was, still propped up dead in his wingback chair, and followed my aunt to the kitchen.
(c) Donna Thomson, 2022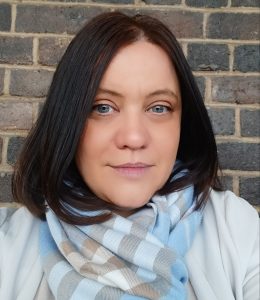 About Donna Thomson 
Donna Thomson is a writer of fiction, and ever so drawn to Victorian and gothic influence. She is currently working on a novel and has recently collated her short stories for submission in order to bring them to life. She lives in London, with her cat.
***** 
Spread The Word's Emily Ajgan interviews Shahema Tadefar and Donna Thomson.
Emily: Congratulations on being selected as the winning writers for Barking and Dagenham. What inspired you to submit to this competition, and take part in the project?
Shahema: Thank you. I entered this competition because I decided to accept every opportunity that came my way, and this happened to come my way.
Donna: I'm proud to be affiliated with Spread The Word. Their organisation celebrates writers from a range of diverse backgrounds.
Emily: How long have you been writing? What inspires you to write? 
Shahema: I started writing again in 2019, when I self-published my children's book (Naughty Nisha: A Trip To The Park).
For me, when ideas pop into my head, I can't let them go until I've made a note of them. I guess the need to empty my head is my inspiration for writing.
Donna: Since a child, inspiration is everywhere for a writer, we see the beauty in the mundane, the everyday. Every person, every object, every fallen leaf has a story.
Emily: The theme of the City Of Stories Home competition this year was 'Home'. Can – can you tell us what inspired your story?
Shahema: This story is based on a real event from my childhood (with some exaggerations, of course). I wanted to keep this memory, so I wrote it. In a way, it honours my dad, because it shows how my brother and I looked up to him. After all – and I'm throwing a cliché here – imitation is the sincerest form of flattery.
Donna: I have an aunt that favours plum jam. It escalated from there.
Emily: At the heart of the City of Stories Home project is the connection between communities and their local library service. Have libraries played a part in your life at all? If so, how?
Shahema: Absolutely! As a person who craves learning, access to books is fundamental for my growth. I was especially desperate to read as a child and, coming from a poor family, there's no way I could buy books regularly. Libraries were my second home. I always remember this one time, when I was eight, when my dad took my siblings and I to the library. I borrowed eight (chapter) books. Within a few hours, I read them all and begged my dad to take me back to the library. Looking back, I can interpret the look on his face as: This was meant to entertain her for more than a few hours… How do I let her down gently?
I still love reading today and, naturally, the library is where I head first.
Donna: I love a nook in a library with a comfortable chair and the smell of musty books of old. Modern libraries have somewhat lost their charm, and  I would like to see it revived.
Emily: What would you say to someone who would like to start writing and isn't sure where to begin?
Shahema: I recommend writing what you know; know, starting from your own memories. I say this for two reasons: 1) Your life is jam-packed with events – you have ready-made stories right there, to get you started, and 2) Connecting with yourself is fundamental for writing. If you can't connect with those deep emotions, you cannot connect a stranger to your work. And you have the best chance of learning to 'feel' when you dive into your own memories.
Donna: Write everything down; everything. What you can see, what you can hear, what you can smell. Carry a notepad with you wherever you go. If you run out of paper, then write on a napkin. What you think may be irrelevant you will need one day.
***** 
You can find copies of the City Of Stories Home Anthology and the City Of Stories Home Writers & Readers Handbook with writing and reading top tips at your local library service.
Find out more a:  spreadtheword.org.uk/projects/cityofstorieshome
 City Of Stories Home is a partnership project between London Libraries and Spread The Word in association with Libraries Connected and RNIB Library Services. It is funded by Arts Council England, Cockayne Grants for the Arts and the London Community Foundation.
London Libraries is a regional network of Libraries Connected, with every library authority in London being a member. It works collaboratively to promote London's public library network and delivers regional campaigns and annual events.
Spread The Word is London's literature development agency, a charity and a National Portfolio client of Arts Council England, working to transform the range of stories we get to read by London writers. It builds strategic partnerships to foster a literature ecology which reflects the cultural diversity of contemporary Britain. Spread The Word's programmes include: the Wellcome Collection x Spread The Word Writing Awards, the London Writers Awards, CRIPtic x Spread The Word Salon and Deptford Literature Festival.
 *****
Read the latest issue of Write On! (13) magazine online here.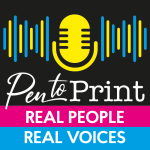 You can hear great new ideas, creative work and writing tips on Write On! Audio. Find us on all major podcast platforms, including Apple and Google Podcasts and Spotify. Type Pen to Print into your browser and look for our logo or find us on Anchor FM.
*****
If you or someone you know has been affected by issues covered in our pages, please see the relevant link below for ​information, advice and support​: https://pentoprint.org/about/advice-support/
City Of Stories Home - Celebrating London's libraries as places to make and share stories.