Write On! Features: My Journey Into Writing Creative Prose And Poetry by Gloria Maloney
By Gloria Maloney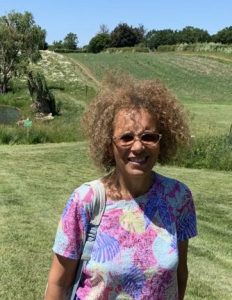 My life experiences have brought me to where I am today, writing creative prose and poetry.
As a baby in 1961, I was left in an orphanage, and at the age of two a loving family took me in. When I was six years old, they officially adopted me.
To this day, I still remember the judge's comment: "Are you sure you know what you are doing?"
My parents were white and so is my older adopted sister. I am of mixed race. Growing up in the sixties, this caused many difficulties. My parents couldn't empathise or provide emotional support for the feelings I experienced in my school life and the wider community.
My early years were spent daydreaming, escaping into fantasy books, and enjoying long walks in the countryside with my parents, who instilled in me a love of nature. It is this gift they gave me, which has carried me through life's twists and turns.
During my youth, I played the oboe and performed with the London Schools Symphony orchestra. I now have arthritis in my wrists, so the oboe has been replaced by a lightweight recorder, which, to my delight, is much appreciated by my local folk club. Playing gives me great pleasure and is a conduit for releasing my emotions, bringing me to a place of serenity.
My enduring love of music and nature is often reflected in my poetry. I recently won Pen to Print's poetry competition and my poem titled The Oboe was one of two poems I submitted.
After completing a City and Guilds course at Merton Technical College, I went to work for T W Howarth in London as a musical instrument repairer, specialising in woodwind instruments. I married when I was 19 and had two sons, completing our happy family unit. I was now working as a part-time swimming teacher. Having grown up in a swimming club environment, this seemed a natural progression to fall into, as I could work locally, fitting it around the boys' school timetable.
Tragically, my husband died suddenly and at the age of 33, I found myself bereft, with two small boys to raise aged ten and six. I started to write a private, personal journal, pouring out my loss and grief. At first, it was raw and visceral, but through this process of not being afraid to write down my emotions, no matter how painful, the process delivered me a truly healing cathartic effect.
I briefly toyed with the idea of writing, but quickly expunged this thought, as finances were low. I returned to work and devoted my energy to looking after my two small sons.
Earlier this year, I was able to build on this experience and composed several bereavement poems, of which Pen to Print published one: He Is The Tears In Your Eyes.
Communing with nature has helped me with my mental and physical wellbeing. During the pandemic and lockdown, walking was one freedom we were all granted. I wanted to share the positive medicinal benefits nature has to offer by just being outside. My local newspaper, the Brentwood Gazette, published my piece of creative prose about Warley Place, a beautiful wild garden that has a special place in my heart. It was here my husband and I took the boys every Easter. He died on Easter Sunday and I have kept up the tradition of taking them there every year, as well as sporadically throughout the years.
Pen To Print published a piece of prose about my walking experience at Two Tree Island Nature Reserve, a tranquil haven for wetland wildlife birds. To date, I have had another piece of prose accepted by The London Garden Society about St Dunston in The East Church Garden, a beautiful gothic vista. They have also taken my poem, Awakening, which is about a dragonfly. A joint project, run by Manchester University and the British Museum, 'Archaeology And Poetry In Conversation,' have accepted my poem, Digging.
It was at the start of this year and retirement from work that brought my dream of writing prose and poetry to fruition. First, I needed to buy a computer and, more importantly, learn how to use it!
Psychologically, this was a major issue for me, as, up to this point in my life, I've managed, through choice, to avoid using computers. I decided computer classes were not for me, however. I was concerned I would get bogged down with all the technical jargon and lose all impetus. Even worse, I might fall asleep in class!
I told myself there was no rush, as I have the rest of my life before me. So, I decided to learn as I went along. Hence, I've had a few hilarious calamities along the way, which have had my friends, family and myself in tears of laughter.
One incident particularly stands out. I submitted a poem about my kitten with a photograph attached, as requested by a magazine. After pressing send, I checked my sent box and, to my astonishment, my kitten's photo was elongated and distorted, like you would see in fairground mirrors. We all had a good chuckle over that.
With sheer tenacity and determination, I ploughed on and gradually there have been fewer occasions where the computer says no.
Several of my poems have now been published in anthologies with the London Wildlife Trust.
Pen to Print asked me to write a poem for their theme Wonder: The World Through Childrens' Eyes and I penned a poem, Red Shoes. I came up with the idea for this poem by thinking about my grandmother; she was very Victorian and distant. Her beliefs were that children should be seen and not heard and an adopted child should be especially well-behaved. So, I turned it around and imagined how I would have liked her to have been with me when I was a little girl.
Winning the Pen to Print poetry competition has transformed me from a shy fledgling writer into an emerging confident poet. I have learnt to laugh over my mistakes and to triumph over adversity.
My parting words are to encourage writers to not be afraid to express your emotions through writing in any form, and to enjoy the process of discovering who you are.
*****
Read the latest issue of Write On! magazine online.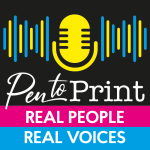 You can hear great new ideas, creative work and writing tips on Write On! Audio. Find us on all major podcast platforms, including Apple and Google Podcasts and Spotify. Type Pen to Print into your browser and look for our logo or find us on Anchor FM.
Writers, don't be afraid to express emotions through writing in any form and enjoy the process of discovering who you are.