Showcase: Perfect Storm + The Fears Of Missing You + Defective Love + Emily On Wednesday + Haiku Do You Say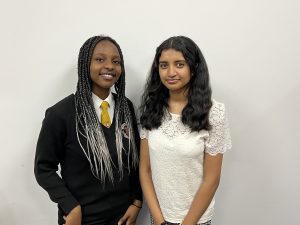 Hello, readers of Write On! Extra. We are Manusha and Blessings, two young writers from the 'Write Back' programme. Every week this month, we will showcase stories and poems from our friends, alongside unique contributions from the public.
If you're wondering what Write Back is, it's a place where young writers from Barking and Dagenham get to express their thoughts, feelings and experiences through storytelling. We believe every young person has a story to tell and the power to share it! You can find out more about us on our website: www.write-back.org.
Blessings says: "For this week's Showcase, I present the theme of pain and love. At times, it's easy to feel as though we're drowning in our emotions."
That's why we would like to start this week off with a piece by young writer, Josephine.  You'll get to experience her emotional journey and how it became her 'perfect storm'.
Perfect Storm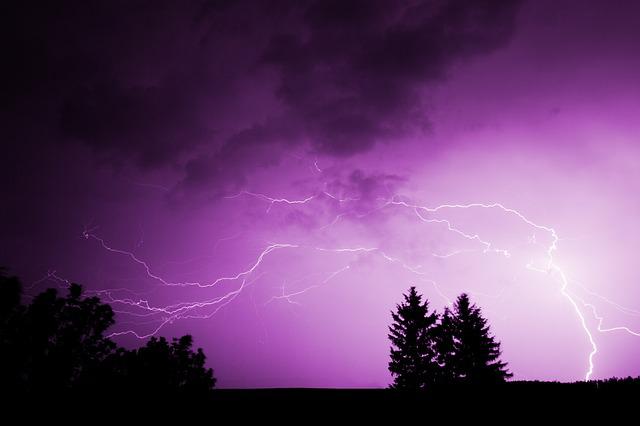 Friends, love
You betrayed me and I know that you'll never feel sorry
A broken heart is all that's left, filled with hate, pain and insecurities.
You betrayed me, I chose you and now my heart is sore.
I know that you will never feel sorry
Time over time you kept saying the words 'I love you; but those three words failed to mean a thing.
He taught me how to love but never taught me how to let go.
Why did I let you convince me to trust you?
All I want to do is let you go but every time I do, I always choke
How did I end up hating you the most?
All I did was blink, and it was over, funny how it died 'cause I was the punchline and you were the joke.
Friends, love
Hehe, that's the old me… New character unlocked…
Friends, love
The first time these words mean something to me.
People treated me like dirt with judging envy, but I choose to stand in confidence
People called my beauty ugly, but I still stand with confidence.
They still overtake my brain, playing mischievous mind tricks, getting stronger each time but again confidence gains dominance.
Think doubt and hope will flee
Think victory and open the doors of success
Aren't you sick of it?
I'm sick of living under the gloomy black cloud like a storm about to rise
It's time to feel the sun flex its powers upon my cheeks.
The days of tears are gone
Hopefully
But now a glow of happiness surrounds me.
Once the storm is over you may not remember how you made it through
But you managed to survive. One thing is certain when you come out of the storm,
You won't be the same person that walked in. The storm ended up being what your soul craved for. That's what the storm is all about.
Don't be sorry for who you are.
(c) Josephine, 2022
What an empowering piece! A series of events led her to doubt herself, yet she still pushed through. It teaches us that, after a troubled period, comes the calm. Though she may be uncertain as to how long her calm will last, whenever the storm reappears, she knows that it won't last forever.
*****
The next piece encapsulates the uncomfortable feeling when you miss someone. The Fears Of Missing You, by Write Back storyteller Larisa, expresses those emotions we can't easily escape from.
The Fears Of Missing You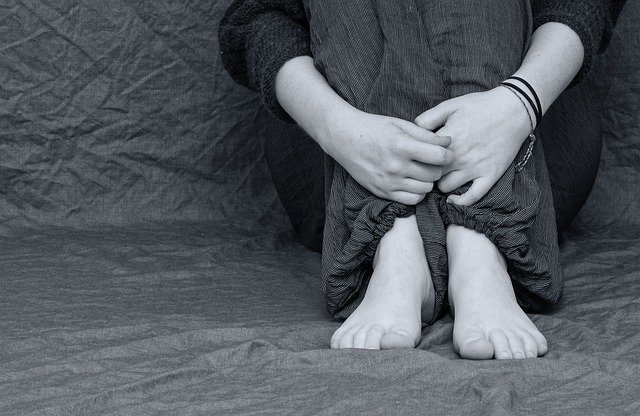 A burden, a whole soul,
The heaviness of breaths,
The expansion of lungs,
The thoughts rising in the mind.
The hope in their eyes,
Miles and miles, night after night,
Those salty, wet cheeks,
Resemble the screams.
The loudness of the silence,
The lack of vocal cords,
The mind starts to play,
Upon this tragic plot.
The shattered mirror falls,
The shards of broken glass,
Blood upon my fingers,
Yours or mine, I asked.
The dark room quiet,
Bounding from the walls,
The trickling sound of hatred,
My sobs against the world.
Engulfing this whole world,
You left me alone,
The fear of missing you
Tragically came true.
(c) Larisa, 2022
When I read the poem about the tragic death of her friend, I can see how difficult it was for her to accept these emotions. We may never want to stand face to face with how we feel about certain situations, but this writer has done just that.
*****
Next, we show another 'vulnerable' poem, exhibiting negative feelings when those we trust aren't who we expect them to be. Write Back storyteller Brandon's Defective Love reveals the different ways love can be experienced.
Defective Love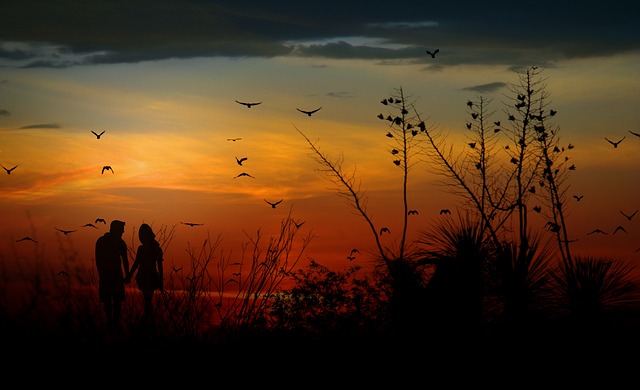 Met you in the dead of night
You filled the dark, complete with light
Maybe I'll put down my guard
I'll trust that this will not be hard
As a sole star that's never shined bright
Love in our hearts burning to char
Seeing my heart, you held me tight
Feeling like this feels, oh so right
You reach for me in every regard
Never once did you want me scarred
Whoever knew I was just a kite
For you to cut off to drop in someone's yard
I felt more than just a crack that day
My heart just crumbled in a way
In an extravagant display
And even till now I still have no clue
You built me up then melted me like clay
Can't believe you were in my mind through and through
I don't know how far else you'll go
A little part of me kind of wants to know
Could this be defective trust
This is too surreal to be the real deal
Where there's light, darkness is bestowed
What once shined bright died in plain sight
(c) Brandon, 2022
This poem expresses the thoughts of how love begins as both savoury and sweet. Once its initial flavour is gone, a bitter aftertaste is left as you long for the sweetness from before.
*****
Next comes  Emily On Wednesday,  a piece from Write On! team member Danny Baxter.
Emily On Wednesday
The girl who knew my name before I told her
She pulled scarf over nose and mouth when it got colder
When flanked on my left, at a glance looked like a ninja
Her brown curly locks in the sun, they glistened ginger
At lunchtime, into the cabin alone. There she we waited
Shuffling by a dozen workmen to reach a seat, unintimidated
The art it's not choked her, as I find her in the corner chilling
On the next shift she tackles the task, able and willing
Her conversation was instinctive, like I'm talking to a friend
As she says goodbye, that twinge of regret as our time comes to an end
Though many on the job were strangers, we all felt like a family
And this was due in no small part to a girl named Emily
(c) Danny Baxter, 2018
Though the speaker did miss Emily, they had no regrets over the relationship that was formed. It seems to me, a crucial lesson for everyone to take away from this poem is that, with every relationship we form, whether through work, school or at home, it will affect us. Though not all of them evoke feelings of satisfaction, there will always be something to learn from them.
*****
In our final piece, Gertcha Cowson celebrates a particular form of poetry: haiku.
HAIKU DO YOU SAY
HOW DO YOU WRITE A HAIKU
IS IT DIFFICULT?
#24
Plural of haiku
Is most surely not haikus
It's simply haiku.
Fairly recently, someone (and you know who you are!) encouraged me to write some haiku. Thing is, once I did one, a load followed and now I can't stop writing the darned things! Not that I really mind, because it's opened up a whole new outlet for me to express whatever I feel needs expressing.
#3
Fig shines in dawns light
Water root for love of fruit
I long for its taste.
As a poet with lifelong mental health issues, it's fair to say I really appreciate the benefits of being able to express and release thoughts and notions otherwise imprisoned inside my head. I try to teach people about my experiences and how using an art and/or craft can help you deal with mental health issues, whether it be via poetry, painting, sculpting, etc.
But, as I speak about this, I notice people put themselves off by telling themselves that to write poetry they have to study Wordsworth and Keats, go back to school to remind themselves about appropriate grammar and blah blah blah blah!
Which, of course, is utter bull-stuff!
#21
Boundaries are set
Daring me to push them
They restrict me not.
Me, myself, I have only two GCSEs, one in mathematics and one in science. I suppose I could have got a GCSE in English, but I simply didn't know how to spell GCSE!
#11
She stands there sighing
I've gone off the rails again
Yet she still loves me.
The truth is, there are no rules, you don't always have to write in uniform stanzas, you most definitely don't always have to rhyme perfectly (read Tyger Tyger by Blake) and you most, most definitely don't have to write or perform to whatever style the masses dictate that it should be. Just write and speak your words as they flow from you naturally.
#15
Caught a still moment
Must write it all down on pad
Make into Haiku.
Now, back to haiku. It occurred to me, as I started doing haiku, that this form of poetry is actually a fantastic gateway into any type of creative writing. Because:
You don't have to worry about rhyming!
It's a rather short format!
There are basically only two things to remember!
The two things to remember when writing a haiku is the format, which is to count your syllables:
#26
First line is just five
Then followed by seven more
Then another five.
In other words, the first and third lines should be five syllables and the second line should be seven syllables. And, if you do venture into an 18th syllable, or use only 16, don't panic! I promise you MI5 will not be bashing down your door and arresting you for crimes against humanity. Instead, smile, make yourself a celebratory cup and of tea and shout out the window:
"SMASH THE SYSTEM!!!"
The second thing when writing a haiku is that it's meant to be about capturing a moment:
#8
Stopped in a moment
Notice a snapshot in time
Make words in notepad.
It doesn't have to enigmatic, either. It can be sad, humorous, surreal, bucolic or arboreal and so on, and so on.
#19
Tea is now brewing
Steam is so inviting me
Joy of that first sip
Of course, you don't have to share them, either. But if you do, great, because you never know who you might encourage to try. You can, of course, share your haiku on Pen to Prints' Facebook or Twitter pages if you want.
#30
Write a sad poem
In a rather pleasant mood
Funny how mind works.
Another thing about haiku is that it's internationally recognised, so can be understood anywhere. Originating from Japan, haiku was created as a rebellious reaction to the very complicated and convoluted, long-winded traditional Japanese poetry; a bit like punk rock rebelling against prog-rock.
#1
Leaf floats on the breeze
Free to venture willingly
All attachments gone.
So, yes, ladles and gentle-spoons, please have a go and don't worry if it looks naff. You don't have to show it to the world and, trust me, there is a lot naff work written by yours truly that even MeKathy has never seen.
#7
Hand is quite tired
The pen weighs heavily now
My thoughts need some rest.
(c) Gertcha Cowson (a.k.a. Gertcha The Disabled Poet), 2022
Every April 17, it's International Haiku Poetry Day, so why not give it a go and send in your own haikus for the next showcase!
*****
Thank you so much for joining us on this journey as we read all the magnificent pieces which stretched the subjects of pain and love. We hope you enjoyed this week's theme, venturing through emotions we normally keep to ourselves. We hope you will join us next week, when more spectacular pieces will be showcased around the theme of  Nature. See you then!
*****
If you'd like to see your writing appear in the Write On! Showcase, please submit your short stories, poetry or novel extracts to: pentoprint.org/get-involved/submit-to-write-on/
Read the latest issue of Write On! magazine online on this link.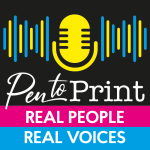 You can hear extracts from Showcase in our podcast. Write On! Audio. Find us on all major podcast platforms, including Apple and Google Podcasts and Spotify. Type Pen to Print into your browser and look for our logo or find us on Anchor FM.