Write On! Features: Writing My Autobiography by Jean Fullerton
By Jean Fullerton
The Writing Process
Although I've written 20 novels over the past 15 years, writing A Child Of The East End, a very personal autobiography, was very different.
Firstly, I discovered you can't put every anecdote or event in, because there are just too many!
Secondly, it's essential in a novel, even a time slip or dual timeline one, that events occurs chronologically, to allow the reader to follow the story. I found structuring A Child Of The East End around themes such as school, holidays, family, etc worked better.
Thirdly, I'd advise you to be careful how you include members of your family who are still alive, or their immediate relatives, in your autobiography. If you're stating a fact that can be verified such as birth dates, marriages etc, that's fine, but be very careful about attributing thoughts and feelings to them. Your view of a family disagreement might be very different from the one held by those on the other side of the argument!
Lastly, be aware that revisiting difficult periods and bereavements in your past can be painful, but in my opinion still very worthwhile, as the record of your life and times will be there for future members of your family and social historians to read and enjoy.
Extract from A Child Of The East End:
Christmas 1950s Style.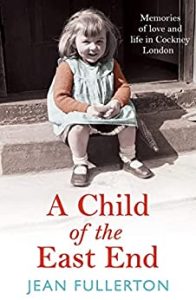 The highlight of the year was Christmas, which started for us not, as currently seems to be the case, on the first day of September but just a few weeks before the big day.
The countdown started in earnest when, the weekend before Christmas, we would all jump on the good old number twenty-five bus and head to Oxford Street to see the Christmas lights.
First stop would be Selfridges, where I would stare in wonder at the animated window displays full of elves hard at work in Santa's workshop, hammering the wheels on toy trains, nodding reindeer or characters like Snow White with her dwarfs or Cinderella with her glass slipper. Having worked our way along the department store's Christmas montage, we went in for the annual visit to Father Christmas. Naturally his grotto was situated in the toy department. Having duly told him what I wanted for Christmas, I was given my present and then, after I'd had my photograph taken with Santa, we made our way out of the store and back into the street.
While I clutched Santa's present, we would stroll towards Tottenham Court Road, admiring the festive shop windows and the Christmas lights shaped like stars and angels strung above us.
Christmas was the only time I ever remember having a meal out as a child. Having taken in the Christmas sights during our walk down Oxford Street, we would head for Woolworth's café, as my father regarded everywhere else as too expensive. The menu, if you can call it that, was usually something like Welsh rarebit, poached or scrambled egg on toast or a couple of fish fingers and mash followed by a cup of sugary tea.
(c) Jean Fullerton, 2022
*****
A Child of the East End is available on Amazon: amazon.co.uk/Child-East-End-heartwarming-gripping-ebook/dp/B09RYY3F75
Read the latest issue of Write On! (13) magazine online here.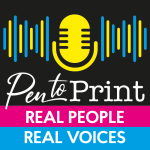 You can hear great new ideas, creative work and writing tips on Write On! Audio. Find us on all major podcast platforms, including Apple and Google Podcasts and Spotify. Type Pen to Print into your browser and look for our logo or find us on Anchor FM.
*****
If you or someone you know has been affected by issues covered in our pages, please see the relevant link below for ​information, advice and support​: https://pentoprint.org/about/advice-support/
It's essential in a novel, even a time slip or dual timeline one, that events occur chronologically, to allow the reader to follow the story.