Write On! Interview: Antony Johnston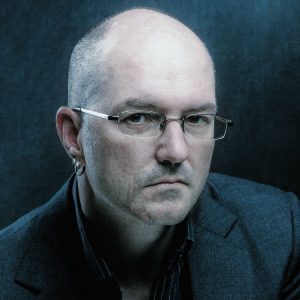 Antony Johnston is a New York Times bestselling author. He's best known as the creator of the hit movie Atomic Blonde, which was based on his graphic novel. He also writes the Brigitte Sharp spy thrillers, which are soon to be a TV series; and videogames, including blockbusters like Dead Space. His productivity book The Organised Writer has helped writers around the world take control of their workload.
WO: How would you describe your writing to someone new to it?
AJ: 'Wide-ranging' is probably the best summary. I'm best known for writing spy thrillers, and it's a genre I love. But I also write crime, science fiction, horror, and more, across a wide variety of media. My protagonists are often women, often flawed, but often brilliant; it's a compelling character type that I love to both read and write because, even in the midst of a fast-paced spy thriller, I need my characters to feel real and human.
WO: Can you tell us a bit about your latest book The Organised Writer?
AJ: The Organised Writer is a book designed to help writers of all kinds who are struggling to stay on top of their workload and be productive. It describes a system I've used and refined over more than a decade – a system I still use today, every day, to organise my time and work – in a way that other writers can adopt. It's a real-world, practical approach to being productive and achieving your writing goals.
WO: What inspired you to write in the first place, and what inspires you now?
AJ: I've always told stories, for as long as I can remember. A cliché, I know, but it's true! Like many writers, I was a voracious reader as a child – and still am – and I have to credit my parents with always encouraging me to read whatever I wanted. I've spent my life surrounded by and immersed in stories, so telling my own has always felt very natural. Of course, 'natural' is not the same as 'easy!'
I've been a professional fiction writer for more than 20 years, now. What inspires and motivates me is that I still feel like I'm just getting started, with so many stories yet to tell. There are also so many other great writers out there whose work I love, who inspire me to raise my own standards. I could live another 100 years and still not have the time to write every story idea in my notebooks. How could I not be inspired?
WO:  Write On! recently explored the theme of 'Growth' and navigating Spring as the season of change. With that in mind, do you use changes in the natural world to motivate your writing?
AJ: It's not a conscious thing for me, but the seasons definitely have an impact on my productivity. I live in a beautiful rural area, but the winters are rough, so when summer rolls around and I can spend time outdoors, my mood and work both improve.
WO: What one piece of advice would you give an aspiring writer?
AJ: Finish things. It's very difficult to learn anything from an abandoned project, but every finished project – even short pieces like flash fiction, or poems – is an invaluable insight into how you write, and how well you pulled off what you were trying to achieve. You won't always succeed, but that's OK because there's always the next project. This is the eternal learning cycle of all writers.
WO: Question from Twitter user: @Grasshopper2407 – What is your top tip to staying organised as a writer?
AJ: I'm going to cheat here, and give two answers. The broad, philosophical answer is to develop good everyday habits, and don't be ashamed about relying on them – no matter how trivial they may seem to others.
The more specific answer is: write everything down! Don't rely on your memory, because a writers' mind is normally pinging in a dozen different directions at once, and it's so easy to lose track of a stray thought if you don't capture it right away.
WO: Can you tell us anything about future projects?
AJ: I'm currently writing the third Brigitte Sharp novel, The Patrios Network, which should be out in 2022; I have a first draft of what will hopefully be the first in a new novel series waiting to be revised; I also have half a manuscript of writing advice waiting to be knocked into shape; and I'm working on a big videogame project, but I'm not allowed to talk about it! I like to keep busy, as you can see…
WO: Lastly, if you could choose one fictional animal/creature to be a pet or companion, who would it be and why?
AJ: Oh, that's a tough question. I think I'd have to opt for Timmy, the Famous Five's border collie. I love dogs, and I seem to recall Timmy has a habit of sleeping curled up at the humans' feet in bed. That's my kind of pup.
You can find out more about Antony here: antonyjohnston.com and connect with him on Twitter: @AntonyJohnston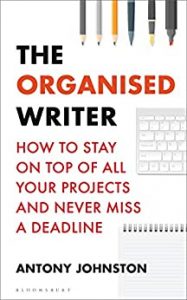 The Organised Writer is available to buy from all good bookshops, or direct from Bloomsbury. Find more information and links at organised-writer.com
*****
Issue 8 Write On! magazine is available now. You can find it here.  
Finish things. You won't always succeed, but that's OK because there's always the next project. This is the eternal learning cycle of all writers.