Write On! Interview: Making Poetry – Where Words And Silence Meet
Deputy Editor Claire Buss interviews poet Jennifer Wong.
To fully enjoy a book of poetry, I always think you must first be in the mindset to enjoy beautiful phrasing, and second, you must connect on some level with the poetry you are reading. And so it was that I sat down with a cup of tea and a large dollop of determination to ignore my children and read my signed copy of Letters Home by Jennifer Wong. After all, we had been in contact to set up our interview for Write On! and I wanted to make sure I read the three poems Jennifer had suggested.
It didn't quite go to plan. I read the entire book in one sitting and then couldn't wait to talk about my favourites to Jennifer in our interview, but first let me rewind a little and take you back, across Europe and Asia, to when Hong Kong was still part of the British Commonwealth and when a determined 18-year-old young lady submitted her poetry to Iota Poetry Magazine and had her work immediately accepted.
"Creative writing was not high on the curriculum in Hong Kong, so I found myself writing in secret."
From the very start of our conversation, I could see the passion and the love Jennifer has for poetry. I almost didn't have to ask if it was something she'd always wanted to do. She explained that, to her, as to many poets, it feels more natural to write poetry than prose. There is a certain rhythm to the medium that allows you to be who you want to be. There's no rigid framework to adhere to and, growing up in Hong Kong, poetry gave Jennifer the escapism she was looking for. Jennifer moved to the UK part-way through her University degree and studied English at Oxford. She went on to gain a MA in Creative Writing and a PhD in Creative Writing from Oxford Brookes University, where she is now an Associate Lecturer in Creative Writing. It's very easy to be intimidated by such accolades, but chatting with Jennifer over Zoom was a delight, as she explained her personal approach to writing poetry to me.
"I like to let single lines accumulate; let the idea snowball."
She doesn't let herself be ruled by a word count and prefers to explore her thoughts and ideas around a particular topic. Writing poetry is a different journey every time; a self-contained exploration of thought and feeling. Before lockdown, like many creatives, Jennifer preferred to write in coffee shops and become immersed in her own thoughts, allowing the constant background hubbub to wash over her. Much harder to achieve such an environment since lockdown; however, just like me, Jennifer distracts herself with soundtracks.
In keeping with our magazine theme of 'Growth', I asked Jennifer how her poetic journey has evolved and wondered about the different styles of poem in her latest book. She replied that the key to growing your craft is to keep writing. She began with couplets, but often found them too neat in both expression and visual appearance. Being able to shift around the shape of her words helped her to create greater meaning behind the piece. Her most recent love is prose poetry, when she can keep the spontaneity going and leave behind a satisfying story.
"Narrative is important. People need to be able to enter and glimpse the story behind the poetry."
An occasional poet myself, I had to ask who Jennifer is currently reading and enjoying, to see whether I can also gain some poetic inspiration. She was quick to mention Zeina Hashem Beck, who uses poetry to talk about the complexity of her home and womanhood, drawing the reader into her world, Jorie Graham, an American poet who demonstrates boldness in her work and Kay Ryan, whose poetry is minimalistic and has amazing use of space.
"I love the music in the works of Heaney, Wordsworth and the cinematic poems by Hannah Lowe. Asian poets such as Ocean Vuong, Sarah Howe, Nina Powles and Mary Jean Chan have influenced me in my poetics and understanding of the craft of writing."
With such a passionate poet at my fingertips, I asked Jennifer for tips on getting poetry published, especially as she has had work published by Chameleon Press, Bitter Melon Poetry and now with Nine Arches Press. She advised there are lots of presses out there who will publish your work, and the trick is to not be daunted by the barriers in place, have conviction in your work and believe in yourself to get it out there. Publishers don't want to publish too many poetry pamphlets, as they don't sell as well as books, but it's worth taking the risk to get your work noticed. Just like fiction writing, the more you write, the more content you have and the more content you have, the more competitions you can enter and hopefully go on to win, creating a list of your published works. This advice comes from someone who has been published in over 13 magazines, including World Literature Today and Poetry Review, as well as having poems accepted into nine anthologies and winning the Hong Kong Arts Development Council Young Artist Award (Literary Arts).
Although bilingual and originally from Hong Kong, Jennifer writes almost exclusively in English, as it is harder to express herself fully in her native tongue. That said, the little phrases and beautiful Chinese symbols that appear in her poetry add a sense of wonder and connectivity with her heritage, making it all the more interesting to read. When asked if she had any words of advice for aspiring poets, Jennifer suggested dipping into poetry workshops and courses to discover and improve that sense of rhythm in producing work.
"It's also a great way to build up your confidence in order to accept the comments of others. Being a poet is a journey of discovery but, the more you write, the better you will become and the greater the sense of community you will build as you interact with other creatives. At first, writing is a very individualistic event, but then you find others expressing their voices."
With her PhD on the idea of place and identity in Asian diaspora poetry, I had to ask her thoughts on the current situation in Hong Kong and whether that is feeding into her creative work. Jennifer told me that it is a painful experience. Despite having moved to the UK and starting a career and family here, a part of her will always be in Hong Kong with her family and friends. In some ways, that has made her more aware of the news and changes that are happening. She grew up before the handover, but the speed at which things are being broken down brings forth such anguish and helplessness that: "The only way to resist and express what's happening is by writing about it." This is why many of her poems contain the memories of a place that doesn't exist any more. Her epic poem Mountain City is a particularly lovely ode to those precious, fleeting memories we have of place and heartfelt despair that tinges our remembrance. It was a sobering moment, so I changed tack and asked Jennifer about her future writing plans. She told me she intends to write more around borders and cultures, how the mainland and Hong Kong grew up together, yet manifest so differently, and how the two cultures interact.
History is a huge source of inspiration for her; both the history of her nation and her own cultural identity. She explained that she avoided politics and history in her early writing career, but now realises you just have to grasp it and write about what's affecting you in the here and now.
"Poetry provides the connection between silence and language."
I felt truly wistful when we drew our conversation to a close. I was saddened we couldn't discuss more of Jennifer's poems specifically, although I did manage to applaud her realism with the poems of motherhood, especially Real Life Thesis. She's also inspired me to try my hand at narrative poetry. There is no greater way to jump-start your own creativity than to immerse yourself in the passionate expression of someone else's. I hope you will enjoy Jennifer's poem A personal history of soups featured here and will also be inspired to check out some of the poets she has recommended.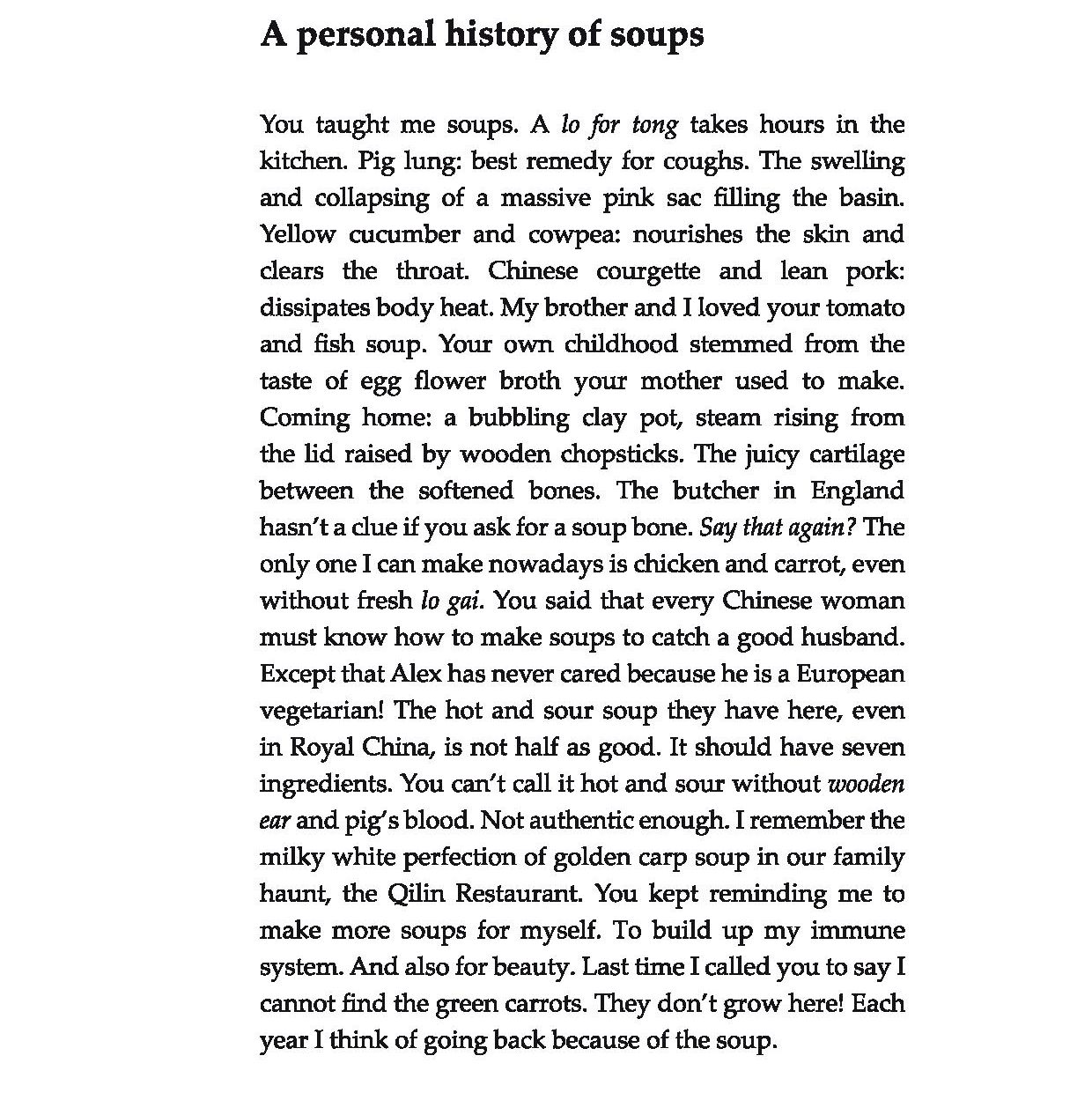 A personal history of soups is from Letters Home published by Nine Arches Press, ninearchespress.com
Connect with Jennifer at her website: jenniferwong.co.uk and on Twitter: @jennywcreative
Photo of Jennifer Wong (c) Tai Ngai Long
***** 
Issue 8 Write On! magazine is available now. You can find it here.  
Poetry provides the connection between silence and language.