Writer Of The Month: Ann Dineen
Presented By Farzana Hakim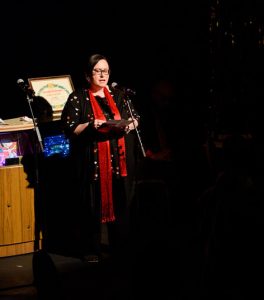 It's National Poetry Month and therefore I'm excited to introduce poet, Ann Dineen, as our 'Writer Of The Month'. Ann and I have met on numerous occasions and are both proud to be part of the Pen to Print family of alumni. Ann won the Pen To Print Poetry competition in 2016 and since then has come a long way, building on her confidence by presenting her poetry.
Ann tells me she has enjoyed participating and supporting the Borough's monthly poetry open mic events, 'Spoken, Not Stirred' which are organised by www.studio3arts.org.uk and hosted by Dauda Ladejobi. She's performed her poetry at the Barbican theatre and at Dagfest. In 2018, Ann was a member of a women-only choir, which sang at the Barking folk festival as part of the centenary of women's right-to-vote celebrations.
Ann has attended poetry classes at The Bishopsgate Institute, City Lit and The London Poetry School. Yet her favourite poetry workshops have been those offered by Pen To Print, with Anna Robinson.
About her work, Ann says: "My poetry often has a political slant, but politics is something no one can ignore, as it shapes all our lives. I also like to write about the ordinary things we see every day."
Below are some of her poems. I hope you enjoy them as much as I did.
*****
Ann explains: "This is about the fire at Grenfell Tower in June 2017. The inquest is still ongoing; affording no closure to those who lost loved ones. The food and cooking references are because the fire happened during the month of Ramadan."
The Last Day Of Normal
Perfect June day, dazzling sunshine with a clear blue sky
hopeful hands exploring wardrobes, searching for cotton
from under beds, plastic bags were remembered clothing
with less thread count, tumbled out. Forgotten favourite
Tee shirts were born again along with summer memories
A bright patterned headscarf never worn in November.
Waiting to be found holiday shorts another year tighter.
Outside, traffic noise only the newcomers noticed, as a
tube train snaked past, singing a screeching metal song.
Distant bass line was barely audible, felt like a heartbeat.
Most windows were ajar, basking in the sun a dusty cactus
at last looked prickly pleased. Breeze rippled the curtains
bringing with it the heady aromas of neighbourly cooking
there had been chopping, stirring, saucepans simmering
lids taken off, inviting forks to prod and spoons to stir.
Recipes passed down, no weighing, never written down
jovial grumbling accompanied the rumbling of stomachs.
Visitors with Tupperware boxes held tightly under chins
as they knocked on doors with their feet. Men stepped
from lifts clutching dainty paper boxes tied with string.
Holding them nervously like a bride's hand, nestled inside
sweet treats lay on a bed of icing sugar, waiting to prove
toothsome. The last day of normal, families broke their
fast for the last time sharing their last meal. Dawn broke
the sun did shine again, on the greed and indifference.
They are all cut from the same cloth as they turned on each
other keen to apportion blame without any shame. Emails
deleted, shredding of memos, minutes of meetings altered
to tell a different tale. Their guilt is collective as they tapped
away on their calculators through the one-minute silence. A
forever silence for so many, as the sun didn't rise for us all.
© Ann Dineen, 2017
*****
For her next poem, Ann says: "The Becontree Estate was built as new homes for people from the East End of London, so the slums could be cleared. The original residents loved the wider roads and the parks. I have read quotes describing the estate as 'Heaven with the gate open' and 'A working-class haven', both of which I have incorporated into the poem."
Becontree Estate
Heaven with the gate open, a festival of space and light
Valence circus wrapped around the beating heart of a
community. Passed an interview to a world they had
never seen.  Children ran in the parks.  Running water
in the kitchen hot from the copper boiler until winter
arrived when the tank froze over. Glad for an indoor
toilet. Houses big as palaces smelling of paint rattling
around in large rooms with only meagre belongings
to fill them. Tenant's handbook slipped under a wonky
table leg. In banjos, pavements for chalking on hearing
hopscotch sing songs. Hedges trimmed back, swept up.
There were prizes for the best kept gardens, sizing up
the neighbour's dahlias while pegging out the washing
that came back clean off the line for a change. Country
lanes with fading market gardens were harvested for
years by those passing by. Stood chatting in the shared
porch arch some remember seeing flamingos in dazzling
shades of pink gracefully feeding in the park.  An exotic
surprise for new tenants who found colour at every turn.
Unlike grimy narrow alleyways claustrophobic with tall
buildings cheek by jowl that blocked out the sun. They
soaked up this Technicolor world.  Spring arrived with
delicate cherry and apple blossom. Front gardens, parks
were ablaze in a riot of colour all through the summer
months. Not to be outshone autumn glowed with trees
in ever changing shades bestowing a crunchy carpet of
leaves sprinkled with conkers. A working class haven.
© Ann Dineen, 2021
2021 is the centenary year of the building of the Beacontree Estate and there are many exciting celebrations and activities for the community to get involved with. Click for more information:  https://www.becontreeforever.uk
*****
Next, Ann shares a poem about birds and their migration in order to survive: "I have mirrored this with people," she says. "It's set in Cyprus, an important stopover route for migrating birds. In Greek mythology, the goddess Aphrodite was born and worshipped in Cyprus. It has a large military airbase, and because of its geographical position this base was used in 2018 to bomb Syria."
Migrate
Tired and nearly spent, they fly towards Aphrodite's golden Isle
smell of land, fresh water, the sun and the stars their navigation.
Earth's magnetic field, even the caged bird will turn, and turn again
other migrations etched in memory, as the shoreline comes closer
beating hearts and wings touch land, safe on the soil, sanctuary for
flamingos, cranes, herons, migrants seeking solace from vast seas.
From that gilded Isle, the quicksilver bird roars, takes flight without
feathers. Displaces the warm fragrant air beneath pointed wings
that never beat. Bladed wings slice through the brochure blue sky
then turn east, towards the Levant. This glinting bird, no bird song
but screeching wings decapitate the air flying towards the weary
the hungry, those who have no choice but to flee, to migrate.
Pain comes falling from the skies, raining down on the dispossessed.
The sun can only bear to shine so long on this barbarity, then leaves
us. Nestled safe, birds roosting in the twilight watch the blood red
sun set, dipped in crimson seas as the earth bleeds.
And in the morning bleeds again.
© Ann Dineen, 2019
*****
Ann's following poem recognises all the new construction work and changes that are happening in the Borough: "There was a tannery in Tanner Street in Barking and it also references our fishing industry."
Never A Waste Ground
It was never a waste ground; it might have
been a row of narrow houses, with cramped
rooms, shared by lodgers and boarders. With
labourers, caulkers and sail makers. Tanners
from nearby Tanner Street stood in doorways
wearing clothes that reeked of animal skins.
Smoking pipes that masked the aroma while
comparing their stained palms in competition
flirting with women whose reddened painful
hands gutted fish mended nets on icy arthritic
mornings. Before the soil was compacted and
built upon it may have been a field that was
harrowed, sown, harvested through the long
days of summer. Or, left fallow where the
cattle grazed and roamed.
Today developers are blinkered to the long
stemmed lilac with purple cardinal hands,
waving in the breeze, fingertip pollen that
beckons the bees. They can't see the pink
sweet pea that clings to the green fencing.
Tendrils entwined clasp, climbing to embrace
its companion, bindweed; pearl white flowers
festoon the summit cascading a waterfall of
ivory. Breeze blocks adorned with the most
patient of creeping ivy inches its way across
the gravel on its evergreen expedition. On
crisp winter nights as you pass by the fence,
linger, hook your fingers through the mesh.
Close your eyes can you hear muffled voices
faint laughter, is that the smell of tobacco?
© Ann Dineen, 2019
*****
Here's a poem about a familiar landmark, well-known and used over the years by residents and visitors alike:
Barking Station
Standing on the hill with a high concrete ceiling strength to hold
acres of glass. Cathedral space echoes laughter as we worship travel.
We waltz through your concourse dancing past others. Swish back
a curtain to replicate our image in case we forget ourselves. Maybe
sit to drink, tea cups clink, swirl the leaves that we can't read, yet
frowning we always try to.
As our pole star we reference you when giving directions.
We choose to meet in front of you as wheezing buses curtsy outside.
The snooze button wins again as we hurry scurry to you bleary eyed.
Yet quick to forget your feelings we act like hostages eager to escape
captivity from our working day.
Wintery leaden legs march towards you on navy blue mornings.
Evening eviction to coal black skies.  Trains on the four lines vie for
your attention, each wanting to arrive first. Platforms overflowing
with possibilities.  You furnish us with many destinations, spoilt for
choice; we should stop sighing as we wait for three minutes, instead
of one.
Your platforms harbour yellow lines that worry about our safety,
keeping an eye on our feet.  Above us pigeons hidden upon the metal
girders make that soft contented sound. We watch expectantly as the
signal light changes from red to green leaning forward to see the
train that made it to your first.
© Ann Dineen, 2020
*****
There's definitely a bit of a theme emerging here, which leads us on to Ann's final poem:
Commute
London inhales us with its mercantile ways. It's
arteries of commerce run with our blood while we
labour away our day. Our days add up to our lives
that are held hostage to capital. The subterranean
woosh of warm linted air ruffles our hair as the rail
vibrates. Exhaled from the station to the slippery
smell of burgers. We step into flaming rain forests
dripping oil from greased palms. Walk past an opera
of costermongers defying Asda. Our salad days grow
limp as bow legged staffies trot by nimble as Crufts.
Indoors, photo albums, innocent of this digital age
are waiting patiently, ready to hold tight once more
the happy of our lives.
Tying in the tendrils of my grape vine I wonder who,
if anyone, will watch its summer passage. When my
eyes feel the weight of coins who will notice the olives
ripen at the winter solstice.
© Ann Dineen, 2020
*****
I hope you have enjoyed Ann's poetry as much as I have. Born and bred in the East End of London and being a resident of Barking and Dagenham myself, which she has set almost all her poems in, I can really relate to each one. Her use of authentic language and underlying strong emotions definitely makes her a most deserving Writer Of The Month. Thank you, Ann. Please do continue to write more, as I'm certain our readers will want to read more. You've certainly managed to whet my appetite!
My poetry often has a political slant, but politics is something no one can ignore, as it shapes all our lives.