Write On! Interviews: Artist Laura Iosifescu
Write On! interviews artist Laura Iosifescu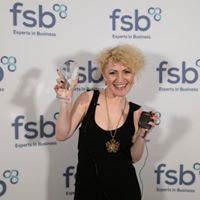 Laura is a professional artist and the director of the multi-award-winning Laura I. Art Gallery in Barking.
With her unique approach to painting and art, Laura has captured the attention of the media and of art collectors from around the globe. The quality and individuality of her work have been appreciated and acknowledged in exhibitions worldwide, most notably at the British Museum in 2018, and the Saatchi Gallery in London. Her infectious passion for art and for assisting people has been transferred to her work in her local community of Barking. The result: multiple awards, including:
         Diversity Award from UEL Alumni Achievements 2019
         Borough Recognition Award 2019 from Barking and Dagenham Council
        The Federation Of Small Businesses London Community Award 2018
         Barking and Dagenham's Women's Empowerment Awards in the 'Leadership Award – Arts and Culture' category in 2018
         Selected as a Top-100 'Most Inspirational Women In London', as part of the Mayor of London Campaign: Behind Every Great City
         Community Business Award at the Federation Of Small Businesses Awards London 2018
         Finalist of the Adversity Business Award at the Federation Of Small Businesses Awards London 2018
         Finalist of the Thames Gateway Business Awards
Laura is considered to be one of the most inspirational artists in the UK and is a great example of courage, strength and endurance. These qualities shine through in her unique approach to painting and sculpture.
WO: What type of art do you specialise in?
LI: I love painting, though not in the traditional sense. Rather than painting images of something I see or know, I'm passionate about recreating a new form of life, based on what I'm looking at; an imaginary version of the impossible. If what I'm already looking at is already possible, I'm mesmerised by the idea of trying to discover the unseen elements of what I see. For example, maybe capturing God, or the feeling of impossible. That's probably why my practice has an element of sculpture, even extending into the realms of installation, because the journey I take ordinarily has no end. To me, that is fascinating.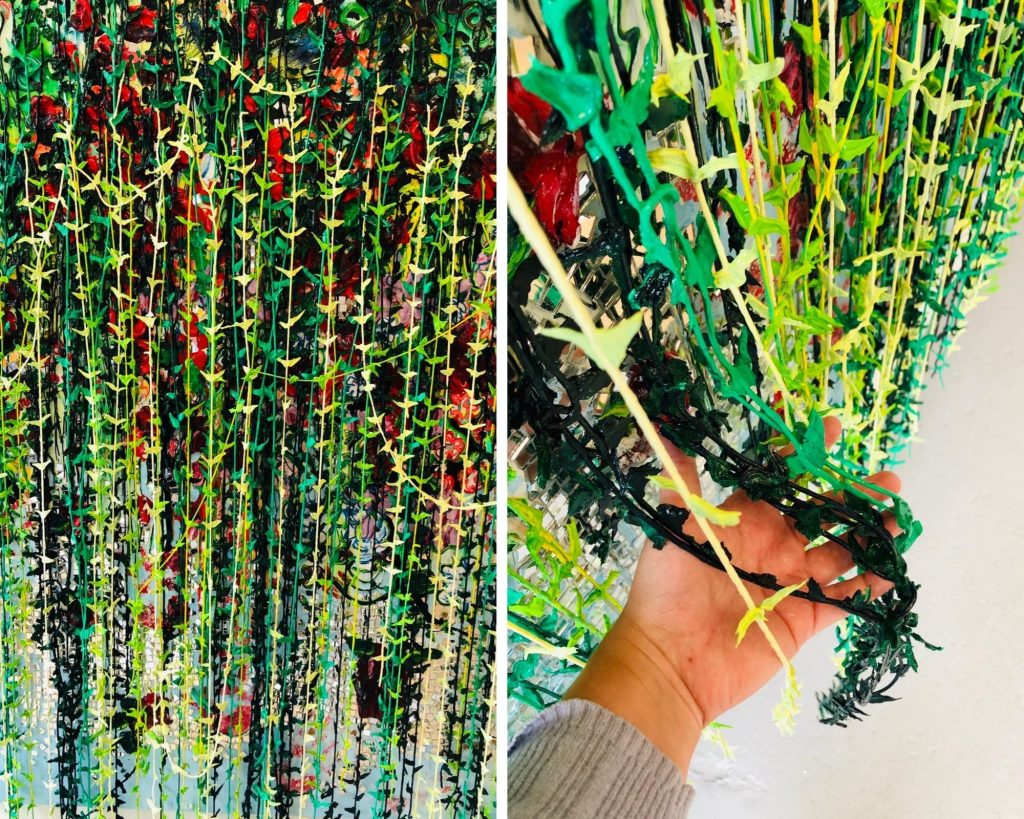 WO: Can you tell us a bit about what you are working on at the moment?
LI: The pandemic has afforded all of us the opportunity to reconnect with nature. More people than ever have been appreciating the outdoors. That's exactly what happened with me. Although I've always been obsessed with nature, you can see from all my work in the past year, I've built a fascination with looking at solutions around our environment.
I didn't just want to paint an image depicting the impact our actions have on climate change; instead, I wanted to drive home the effect of human negligence and the impact this has on the environment through powerful visual reality.
So, I looked at unique ways of experimenting with materials that could perhaps represent the world I wanted to show. I used substances with the potential to kill a person when inhaling them and mixed these with paint and resin. Through an elaborate technique and accurate measurements, I've recreated a world frozen in an ice age; akin to a remembrance of what we've lost. Human activity is changing the Earth's climate in ways unprecedented for thousands, or hundreds of thousands, of years, with some of the changes now inevitable and irreversible. These include sea level rises, the melting of polar ice, the warming and acidification of the oceans, and the loss of biodiversity.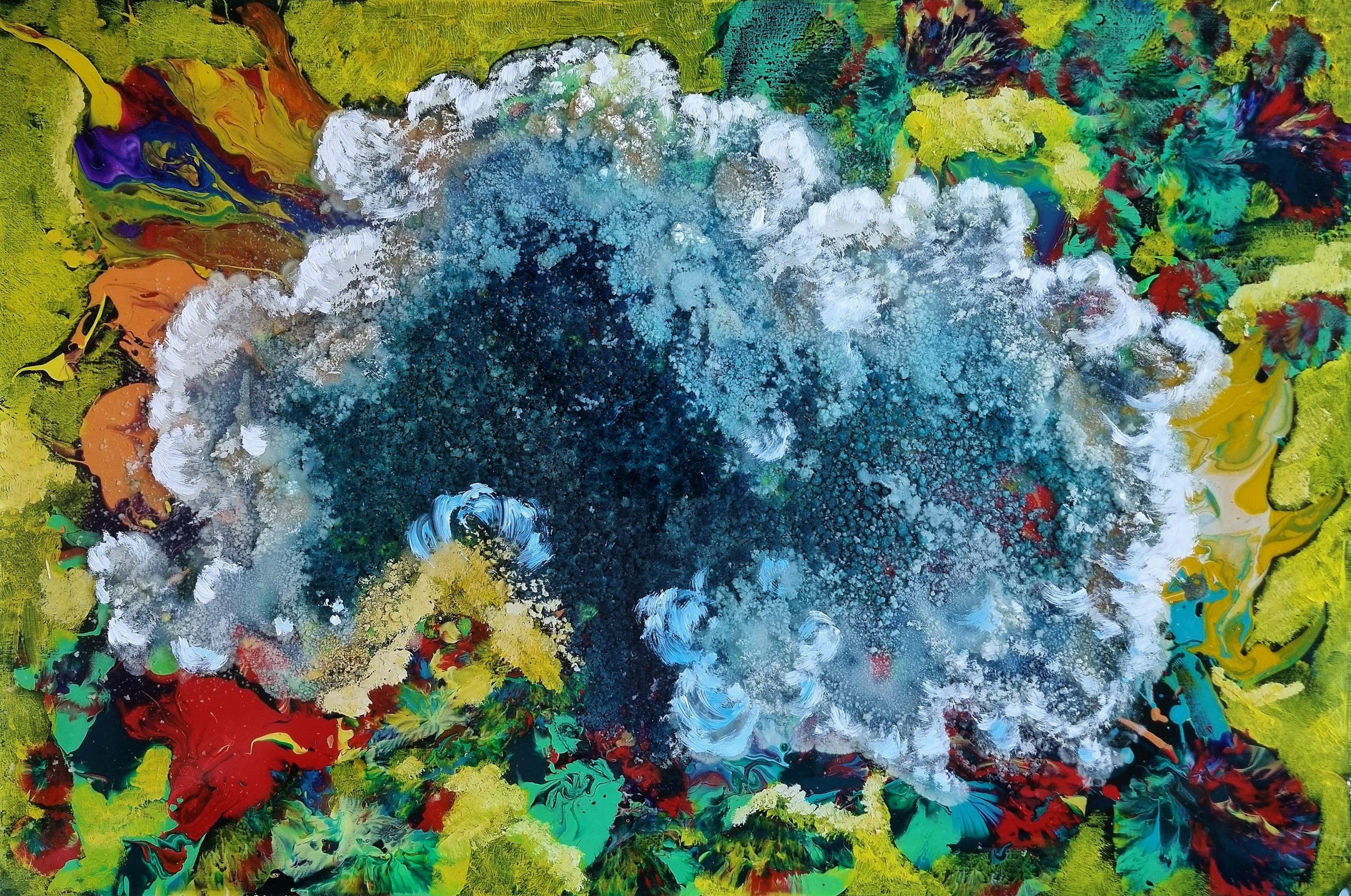 WO: What inspired you to become an artist and what inspires you now?
LI: I've always felt excluded from society, as I've never fitted the so-called norms. I've never matched 'the perfect look of a woman', and haven't behaved like one, either. I've never been concerned about the colour of my shoes! There was something always 'wrong' about me: the way I walk, speak, think. God forbid that a woman should dream of a career in a world of men! I've felt that I'm the wrong nationality and live in a world that's not my own, where I don't belong. I've had to fight against stereotyping all around me, and it's been a very long journey to where I am today. I had my first business when I was 12 years old, because I believed, and still believe, in a world that's better than the one I can see. This is possibly the reason why I'm never concerned with creating the world I see in my paintings; instead, one I dream of existing beyond imagination and dreams.
I wanted to create a world in which everyone is equal, populated by all nationalities and where there are no boundaries, no rules, no limits, no box: a world of peace.
I'm inspired to create or do something so crucial, because I want to show the world it doesn't matter who you are; it's your actions that define you. This is the reason I opened my own gallery. I wanted to create a space in which no one is judged and where everyone feels important and part of something great.
WO: The current issue of Write On! explores the theme 'Nature, Inspiring Creativity: Past, Present And Future'. With that in mind, how has nature had a direct impact on your inspiration? Are there any particular art or creative works based in nature that spark ideas for you whenever you experience them?
LI: Although my works aim to represent the notion of pushing boundaries and exceeding expectations, I've always used nature as a language to speak about my own identity, and also the way I see the society in which we are living. Sometimes like beautiful flowers of many colours, sizes, and shapes living in perfect harmony, sometimes like monstrous plants and perfectly aligned landscapes dictating the narrative of our life story.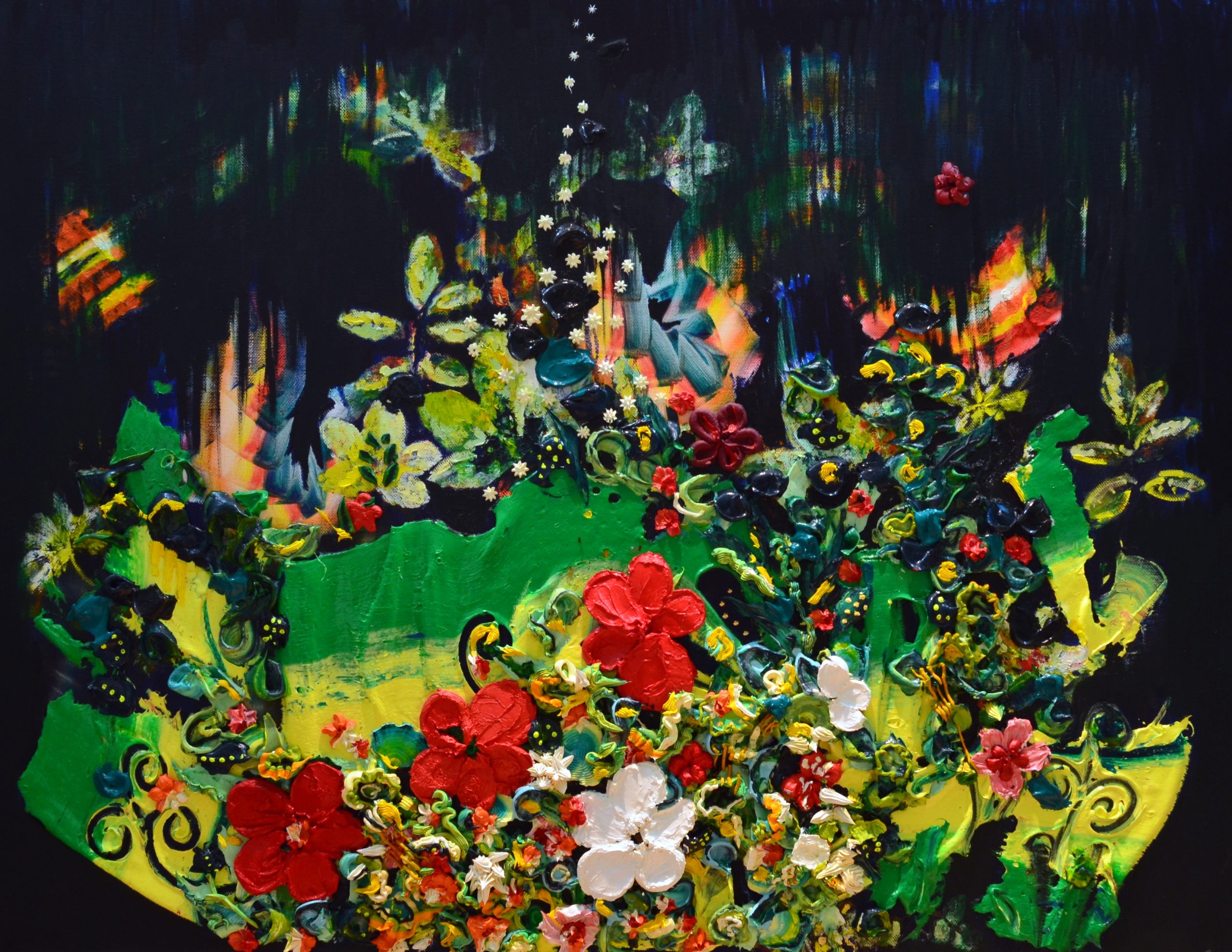 WO: What one piece of advice would you give an aspiring artist?
LI: When you create art, you think about why you do it. A lot of the artists I mentor create art because it makes them feel good; but, in my opinion, if you have a God-given gift, it's never meant to be yours to keep. It has a purpose and you must find out what that purpose is, before you reach out to the world. Only then will you understand why sacrifices must be made to create a lasting legacy.
WO: What are the biggest issues (if any) you have to navigate as an artist?
LI: There are many challenges that artists face, and I really enjoy mentoring people to help them reach their full potential and goals. Art has the power to heal broken souls and minds, where medicines cannot help. However, until artists receive the financial acknowledgment of their power, their talent is never going to fulfil their potential. The more artists are supported financially, the more we're going to see the impact of their work on society. Acknowledgment from authorities and influencers help people recognise the power of art in their lives, as most people cannot see and appreciate what is in front of them until you show them. Transformation happens faster if everything begins with the people from the top reaching out to those at the bottom.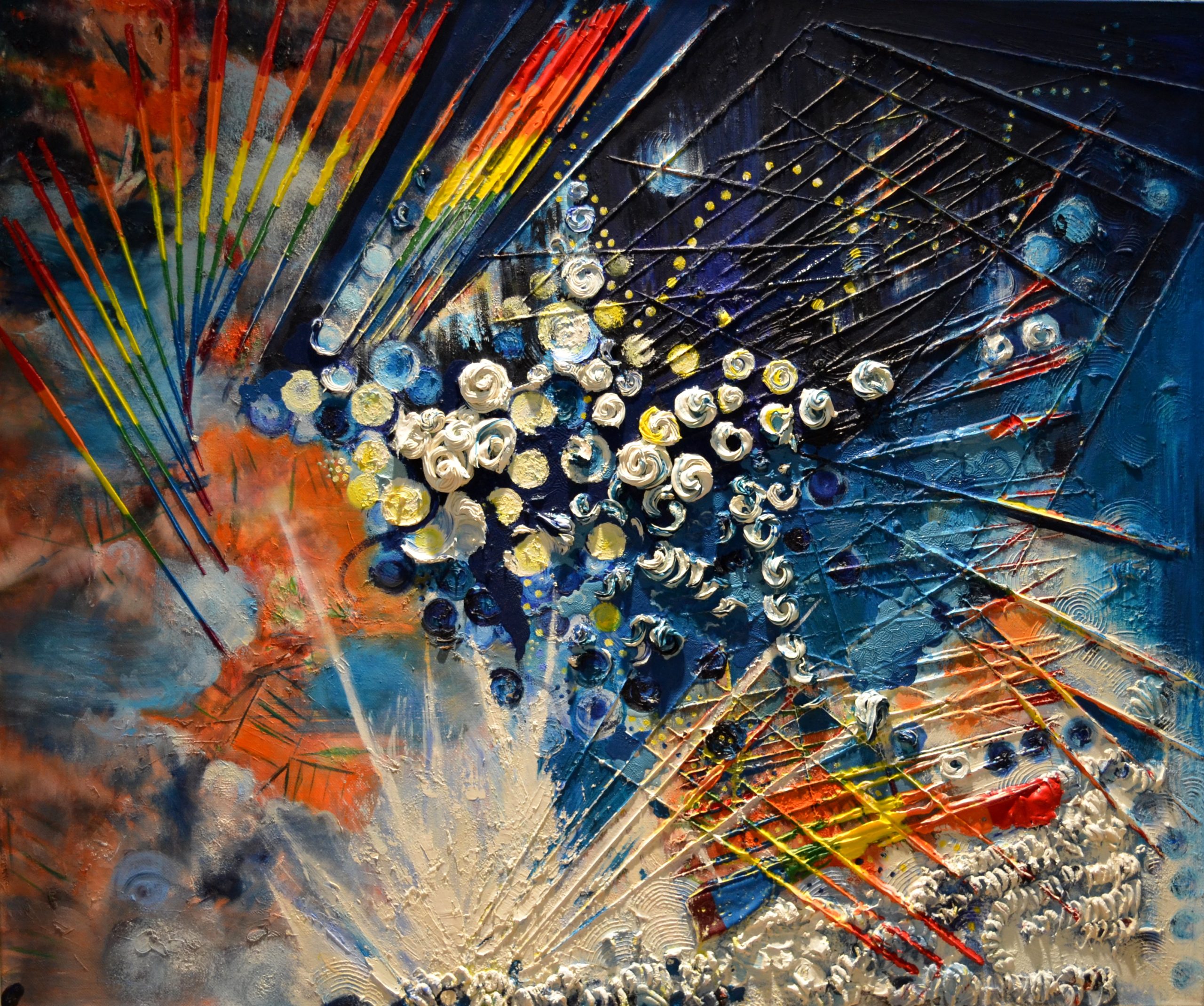 WO: Can you tell us anything about future projects?
LI: I've launched our online shop through our exclusive partnership with 'Own Art', which meansyou can buy the art and craft you love and pay for it in monthly, interest-free instalments.
'Own Art' is a national initiative, supported by Arts Council England/Arts Council Northern Ireland/Creative Scotland, which enables anyone and everyone to start their own art collection. Applying for an 'Own Art' loan is easy. The first stage is the challenging part: deciding what to buy. Take a look at our wonderful range of artworks and see how straightforward it is to take them home.
WO: Lastly, if you could choose one fictional animal/creature to be a pet or companion, who would it be and why?
LI: An alien. I used to relate with one, as I didn't have a place where I felt I belonged. I'm an alien and what I create are versions of my inner nature. Of course, the way I feel has changed now, since I moved to the very welcoming borough of Barking. Nonetheless, I would still like a fluffy alien named Lola (hopefully, that will one day be my book)!
Connect with Laura at her website: lauraIartgallery.com and on Twitter: @IosifescuLaura
 ***** 
Issue 11 of  Write On! magazine is available now. You can find it here.  
Art has the power to heal broken souls and minds, where medicines cannot help.