Write On Interviews: Artist Patricia Bidi
Write On! interviews artist Patricia Bidi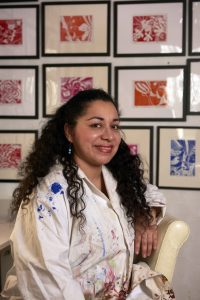 Patricia is a visual artist living and working in London. Her work in printmaking celebrates life. Her vibrant linocuts involve a combination of motifs drawing on her Peruvian heritage, childhood memories and the experience of living in London. 
Bidi's linocuts employ a hybrid visual language, creating a personalised mythology made of flowing human, animal and bird. Her art depicts a meaningful reflection of life and a unique celebration of life's creativity.
Her work has been exhibited in Stockholm and Vienna and is currently showing in New York, Paris and London. She recently worked as art assistant for Cecilia Vicuna for her Installation Brain, Quipu, Forest at Tate Modern.
WO: What type of art do you specialise in?
PB: I make linocut prints from my home studio. Linocut is a type of relief printmaking similar to woodblock print. This is where I carve out the negative space to show images and shapes by inking and printing the raised surface.
WO: Can you tell us a bit about what you are working on at the moment?
PB: At the moment, I'm preparing the exhibition Dreams From Peru at the Peruvian Embassy from the 8th to 21st December 2022, located at 15 Buckingham Gate in London. In this exhibition, I explore dreams and visions that are realised in London.
WO: What inspired you to become an artist and what inspires you now?
PB: I lived next to the Lima Art Museum. During my childhood, I attended all the exhibitions and saw the collections there. The Museum was like my second home; I would feel energised looking at art, and inspired by its workshops. 
The River Thames and living in London inspire me now. London has the best art galleries, museums and exhibitions in the world. It's a multicultural and vibrant city. I draw inspiration from Peru, my childhood memories, and experiences from every day.
WO: The current issue of Write On! explores the theme 'Home'. What does home mean to you and how do you explore this in your work?
PB: I was born in Lima, Peru and I've been living in London for the past 20 years. Home is where my family is. I also feel at home when I'm making art. Part of what I produce is inspired by my childhood memories from Peru, where my roots are.
When I travel abroad, I also want to come back to London, as I feel it's my home now. I also feel the whole world is my home and, in a great part of my art, I use my playful imagination to relive childhood memories and feelings of being at home.
WO: What are the biggest issues (if any) you have to navigate as an artist? 
PB: One of the biggest challenges I encounter is that I'm a neurodivergent artist. This makes it very difficult for me to manage the administrative side of being an artist. Also, before having a home studio, I went from studio to studio as they were closing on short notice. Though unsettling, this helped me to research and create in a new space. I also have to find ways to improve my studio practice in the community.
Despite all challenges, adversity and rejections, I see them as a gift in disguise. They help me to grow and learn new ways to express myself. Art is my love, my passion and what gives me the motivation to create. It gives me the energy to overcome the situations I encounter in life and the obstacles that come every day as an artist. I hope, by sharing what I've been through, I will inspire other people to make their dreams come true. It's possible to do this despite any difficulties, if you have enough courage. As Henri Matisse said: "Creativity takes courage."
WO: Can you tell us anything about future projects?
PB: My most immediate future project is the exhibition at the Peruvian Embassy titled Dreams From Peru. This exhibition has a limited edition of linocut prints depicting dream visions of life-affirming energy, honouring the place of my birth alongside where I live now. London is where I animate and realise the dreams that weren't able to be realised before and my work always tells me where to go next.
WO: What are you most proud of and what would you rather forget?
PB: I'm very proud of the work I do, of making linocut prints, especially the limited edition prints of the Peruvian Collection, and also for the exhibition I'm doing now. I'm happy to have found a way to express my vision, and what I dream and believe in. I'm also proud of my values. These have facilitated my journey to where I am today and have opened doors to be part of international exhibitions and excellent projects like the opportunity to be part of an Art Can, learning from Lara Maiklem and by being part of Cecilia Vicuña's Brain, Quipu, Forest. This Installation and collective endeavour was created to reflect on the destruction of the forest to raise awareness for a more sustainable future. It is on until April 2023.
As with many human beings, there have been very difficult situations in my life I would like to forget and not even mention now. Those situations have shaped me to be the person I am today. I've been able to reflect, learn, and move on. All I've been through has allowed me to be resilient, shaping me into who I am now.
WO: What one piece of advice would you give an aspiring artist?
PB: Be authentic, believe in your values, and use all the obstacles you encounter to move  forward. Instead of letting them hold you back, always persist, be curious, be passionate, and never stop learning.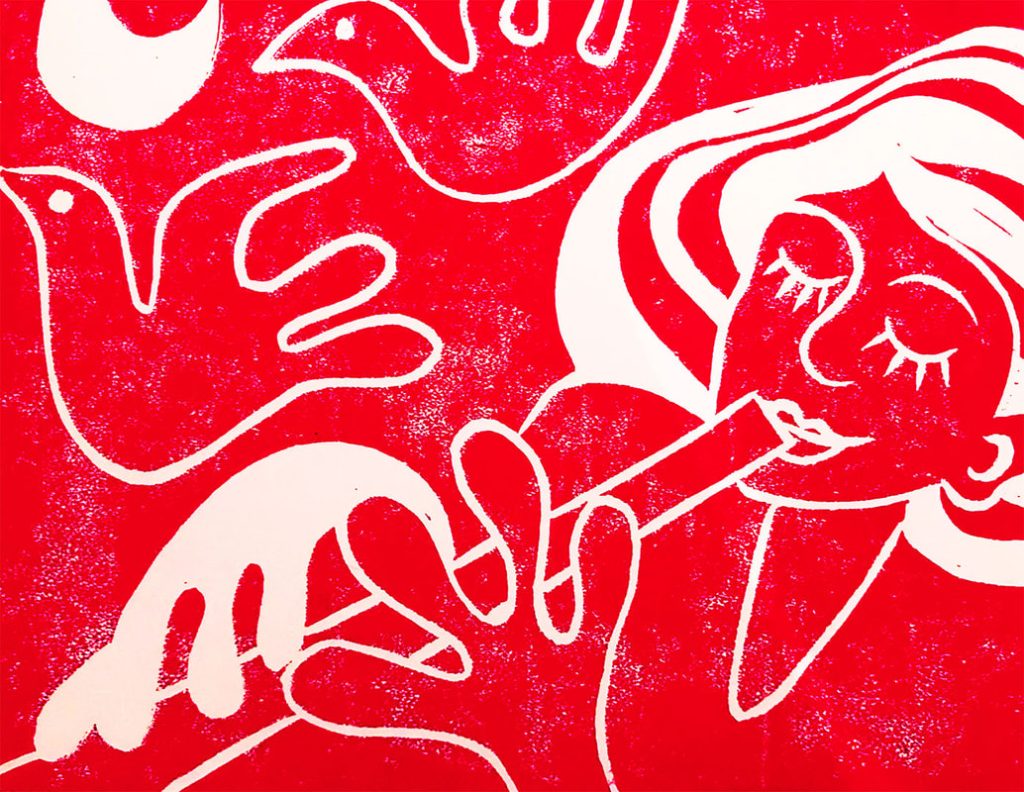 You can find out more about Patricia Bidi on her website: patriciabidi.com and connect with them on Instagram: @patriciabidi, on Facebook: facebook.com/PatriciaBidiArt and on Twitter: @patriciabidi
Patricia's portrait is by Graham Land – Instagram: Photo Credit @GrahamLand
*****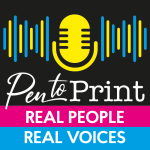 Issue 14 of  Write On! magazine is available now. You can find it here. 
Each edition of our Write On! Audio podcast features an exclusive interview. Find us on all major podcast platforms, including Apple and Google Podcasts and Spotify. Type Pen to Print into your browser and look for our logo or find us on Anchor FM.
*****
If you or someone you know has been affected by issues covered in our pages, please see the relevant link below for ​information, advice and support​: https://pentoprint.org/about/advice-support/
Instead of letting life's difficulties hold you back, always persist, be curious, be passionate, and never stop learning.