Write On! Interviews: Author April Doyle
Write On! interviews author April Doyle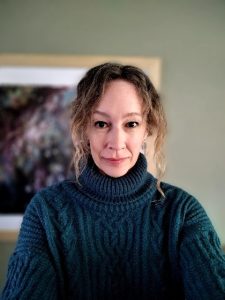 April is a writer, tutor and editor who lives in rural Kent with her husband and two sons. She has been teaching creative writing since 2012 and her short stories have been published in women's magazines in the UK and Australia. Her short story Elsewhere was published in an anthology Tales From Elsewhere in 2016 and Rise On The Wings was longlisted for the 2019 Mslexia Short Story competition. Her debut novel Hive was shortlisted for the 2019 Exeter Novel Prize.
WO: How would you describe your writing to someone new to it?
AD: I've always written about things that interest me and, in my novels, that doesn't tend to be restricted to a particular genre. This might explain why it's hard to find them a home! My short stories circle around similar themes: working through my experience of motherhood and an interest in folklore and fairy tales. Often the lines are blurred between this world and other worlds; exploring those places where the veil is thin. I love an open-ended short story, where the camera is on the characters for a moment, then pans away again.
WO: Can you tell us a bit about your latest book, Hive?
AD: My stories are often prompted by news events and current affairs. Pollinating insect populations have been on the decline for some time now and, in the last couple of years, this story has been in the news more and more often, along with reports on all the other ways we're damaging our natural world. I think Hive must have been brewing away inside me for quite a while before I started to write it. The book is about a group of people who are all, in their own ways, trying to save the bees from extinction, despite the best efforts of a shadowy organisation seemingly intent on sabotaging their work.
WO: What inspired you to write in the first place, and what inspires you now?
AD: I'm not really sure what started me off but, for as long as I can remember, I've always loved reading and writing. I do know that taking an MA in Creative Writing was when I decided to get serious about my work. What inspires me now? Other writers. My teetering to-be-read pile means there's always something wonderful to pick up. Like a lot of people, at the beginning of the first lockdown I found it very difficult to concentrate on anything and I didn't read a book for months and months. Thank goodness I seem to have come through that now! I teach a writing group and the writers definitely keep me inspired and on my toes. The question of where inspiration and ideas come from is fascinating. Elizabeth Gilbert explores this in her book Big Magic. I really recommend it.
WO: The coming issue of Write On! explores the theme 'Nature, Inspiring Creativity: Past, Present and Future'. With that in mind, how has nature had a direct impact on your inspiration? Are there any particular art or creative works based in nature that spark ideas for you whenever you experience them?
AD: Hive is all about nature and the impact we're having on the natural world. It's a very scary subject, and one I can't think about for too long without feeling overwhelmed. But it's something we can't ignore. Some of the scenes in the novel are inspired by the area where I live; daily dog walks mean there's plenty of time for noticing the changing seasons, tiny details in hedgerows as well as the beauty of the wider landscape. I've tried to work these into the story. Andy Goldsworthy's artwork based in nature always inspires me, and the writing of Roger Deakin (especially Waterlog) and Laurie Lee (Cider With Rosie in particular). Being outside walking always seems to set ideas free. It's the best thing to do when I get stuck with a story!
WO: What one piece of advice would you give an aspiring writer?
AD: Keep going. Things that can help: friendly fellow writers, readers whose opinions you trust, and gentle encouragement from books like Bird By Bird by Anne Lamott.
WO: Question from Twitter user @lisalovesbooksx. What did you edit out of your latest book?
AD: That's a great question! Following a conversation with someone about my novel, I did a huge and terrifying edit, changing the whole setting of the book. I'd originally set it in the USA, where commercial bee colonies are used to pollinate the vast almond orchards each year before moving across the States to pollinate other crops. I rewrote it, setting the story in rural Kent, in the area where I live. I focussed in on the natural world and the landscape, and the process of rewriting helped me to get much closer to the characters and their stories. It wasn't a decision I took lightly. As you can imagine, the prospect of starting the whole thing again from the beginning was very daunting.
WO: Can you tell us anything about future projects?
AD: I've taken a bit of a different direction in my latest novel – it's a Romcom! I've loved putting together the shape of the novel just as much as I love the two main characters and their stories. In the last few years, I've become a real story structure nerd. I find it helpful to think about the shape of the story while I'm planning and writing. It's so useful to have this in mind during the editing process. If you're interested in story structure and the journey the main characters take during a novel, take a look at The Writer's Journey by Christopher Vogler. It might change your writing life!
I'm just about to start work on a new book. I'm picking up a draft of something I wrote a few years ago. It combines romance with a theme of nature and conservation. I've also got an idea for something else. That's the thing about writing; the more you do the more ideas you have!
WO: Lastly, if you could choose one fictional animal/creature to be a pet or companion, who would it be and why?
AD: Tough question! I've thought about this for a long time and, in the end, since my inner monologue quite often feels like the voice of Piglet, I have decided on Winnie the Pooh as my companion. He's such a steady and dependable friend.
I'm lucky that in real life I have three wonderful animal companions: Finn and Bailey, our two elderly cats, and Elvis the Beagle. They are great comforts when the rejection emails come in, and have always been very encouraging about my writing!
You can connect with April Doyle on Twitter: @aprilcdoyle
Hive is available to buy from https://www.waterstones.com/book/hive/april-doyle/9781913913779
 ***** 
Issue 11 of  Write On! magazine is available now. You can find it here.  
Keep going. Things that can help: friendly fellow writers, readers whose opinions you trust, and gentle encouragement from books like 'Bird By Bird' by Anne Lamott.