Write On! Interviews: Author Jane Fraser
Write On! interviews author Jane Fraser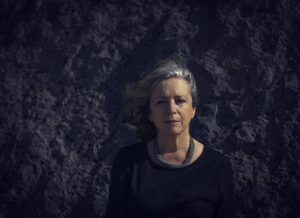 Jane lives, works and writes long and short fiction (and sometimes memoir and haibun) in a house facing the sea in Llangennith, a small village in the Gower peninsula, south Wales. In 2017, she was a finalist in the Manchester Fiction Prize and in 2018, she was a prize winner in the Fish Memoir Prize, and selected for a creative development bursary as part of the Hay Festival 'Hay Writers At Work' programme for emerging writers (2018/2019).
Her first collection of short stories, The South Westerlies, were published by UK indie, SALT, in 2019. Her second collection, Connective Tissue, is forthcoming in October 2022, again with SALT. Jane's debut novel, Advent, was published by HONNO (the UK's longest-standing women's press), in early 2021. In 2022, it won the Society Of Authors' Paul Torday Memorial Prize for a debut novel by a writer over 60.
In 2022, she was commissioned by BBC Radio 4 for the first time to write a short story as part of its Short Works Series and also guest-edited the short stories for the prestigious magazine, The Lonely Crowd, published in June. Jane is the winner of both the British Haiku Society and Genjuan International Prize for haibun. She has an MA (distinction 2013) and PhD (2017) in Creative Writing from Swansea University.
Jane is married to Philip and still works together with him in the 'day job' at nb-design.com, a branding, graphic design, photography and copywriting agency run from their studio in Llangennith. Importantly, she is grandmother to Megan (13), Florence (11) and Alice (eight). Jane is proud to be represented by the lovely Gaia Banks, Literary Agent at Sheil Land Associates: sheilland.com. She is a firm believer that there is a right time to do things in life, and not a right age.
WO: How would you describe your writing to someone new to it?
JF: It's very difficult to describe your own work, isn't it? I'm told it's literary fiction if you feel the need to define writing. I'm also told that it is, on occasion, lyrical and poetic, perhaps because I'm a failed poet! I aim for my work to be understated and suggestive and try to employ rising tension rather than high drama. I was pleased when one of the judges of the Paul Torday Prize deemed my novel Advent to be full of hush and restraint and when The Irish Times said its historical research was lightly worn.
I would also say that place (to date my home patch of Gower) is central to my work, both in my novel and first short story collection – not merely as a cosmetic backdrop or setting, but as an affective agent in the lives and behaviours of my fictional characters who inhabit it. Often my fiction concerns itself with how characters navigate their lives in the aftermath of trauma and disappointment, and how, as humans, we try and just about manage to cope. I'd say my fiction (perhaps like all fiction) is ultimately about loss, and tends to veer towards the tragic and sometimes the comi-tragic. I've also been told my fiction is sometimes touched with the Gothic! As I said, it's always difficult to root one's own work. It is what it is and the reader will ultimately decide.
WO: Can you tell us a bit about your latest book, Advent?
JF: It was a photograph that inspired this debut novel: sepia tones, a little faded around the edges, a young woman sitting on a chair with her three sons close by, at the Henkel Photographic Studio in a studio in New Jersey. It was the only image I'd ever seen of my great-aunt, Ellen. Her dark brown eyes looked straight to camera and seemed to will me to tell her story. Or, at least, my fictionalised version of her story.
At 19 years of age, the real Ellen Thomas left her family farm in Llanrhidan, Gower in 1899, with just ten pounds in her purse and a forwarding address in Hoboken. Research into ships' manifests revealed she travelled steerage class on board the steamship Campania from Liverpool to Ellis Island, and onward to take up a position as a servant. The ships' manifests also revealed the very same Ellen Thomas did that very same journey again in 1905. This was the fertile ground for me to imagine why she had come home to Gower sometime in the intervening years.
Ellen Thomas inspired me to create a new story about her and her family that plays out over the short time span between December 1904 and June 1905. In the run-up to Christmas that year, she arrives back at Mount Pleasant Farm after being summoned home by a letter from her brother George, in the hope that she can save her father and the family farm from ruin.
The six months see her trying to do just this against the bigger picture of agricultural poverty, growing industrialisation and the inferno of the Welsh Religious Revival; not to mention the added challenge of a former love interest.
I wanted to breathe a degree of fire into Ellen, too; to give her the grit and spirit exhibited in many 21-year-old women I've known in my life (including my daughter Ellen, who is named after her), though perhaps sadly not shown in myself at that young age! So perhaps I've given her both the desire and the determination I lacked to question the limitations placed on women back in Gower at the turn of the century, and to explore notions of belonging and duty and the pull of a new life in a new land.
Advent found the best home it could have wished for at Honno, with its commitment to Welsh women writers, past and present, and its mission to tell and sell the stories of Wales. Advent is a story not merely set in Gower, but truly made here and part of its DNA.
WO: What inspired you to write in the first place, and what inspires you now?
JF: I never wanted to be a writer and I'm not one of those people who dreamed all their lives of being a writer. Yet I wrote: diaries over the decades, dreadful poetry I tucked in a cupboard and, of course, commercial copy for my 'day job'.
In my late 50s, I can only describe what was a sudden urge to express myself; what Bruce Springsteen calls the need for 'correspondence.' At first, I didn't know it would be writing that would be the channel. I started piano lessons again and I wasn't too bad and I began art classes, though I was appalling. Then I had a chance meeting in the day job with Samantha Wynne-Rhydderch, a wonderful Welsh poet, who came to us to design a website. I was smitten with what she was doing and wanted to give it a try. I also wanted to achieve academically, as I felt I'd under-achieved as a younger version of myself. (What is it about women and certificates?)
I trawled the internet and came across the MA in Creative Writing at Swansea University, run by the acclaimed novelist and academic Stevie Davies and the now much-missed poet, Nigel Jenkins. I thought I didn't stand a chance of being accepted as I didn't have a portfolio of work, but I sent an email from the heart and they took a risk and took me on board. It was a modular, genre-based course in a community of generous established writers and would-be writers.
As soon as I started to write, the process of writing became far more important than the desire to achieve academic success. I knew then this was something I should have been doing all my life and was something I would go on doing for the rest of my life. It's like an itch that won't go away. I never tire of it, even though my daughter says it must be like doing hard homework every night with no reward! My inspirations are many. Yes, the photograph, but also dreams, snippets of conversations overheard, memories, walking and, above all, my place, Gower, where I feel in my element and from where my words seem to spring naturally.
WO: The current issue of Write On! explores the theme 'Worlds Apart'. With that in mind, do you find yourself drawn towards writing about the world you know intimately, or do you strive to discover a world unknown?
 JF: As I said, my place of Gower is central to my writing, so I suppose you could say that I write what I know rather than what I don't. However, you think you know a place because you're familiar with it and then you discover you don't really know it at all. Not really know it.
I have endeavoured to dig deep beneath the surface of Gower to present the reader with another take on it. As readers might know, the Gower peninsula was the UK's first ever designated Area Of Outstanding Natural Beauty. Today, it's much vaunted for its beautiful beaches, dramatic cliffs and palpable peace. But it can be a troubled paradise. Beneath its pasteurised façade lies a Gower of low-end tourism, struggling farms, and the erosion of cultural traditions. This is where my gaze to fell in my first story collection, offering readers an out-of-season feel captured in its dank and dismal prevalent south-westerly wind. Hence the tonal title, The South Westerlies!
Similarly, in my novel, Advent, I wanted to transport my readers to another time, and to immerse them in aspects of Gower that are now long gone – coal mining, industrialisation, quarrying, ruined farms, crumbling chapels – relics confined to history which hardly seem to have ever existed in Gower's contemporary rural idyll.
I have learned to know my place anew by walking and by employing psychogeogaphic methodology, which explores the coming together of the geography and the psyche and considers inhabitants' rapport with the ground. Put simply, the shifting dynamics between people and place.
WO: What one piece of advice would you give an aspiring writer?
JF: Write! That's the job. Be disciplined. You are a practising writer and only by practising will you become better, if not perfect! Don't think too much, but let the words flow. Get the first draft on the page, even though it might be messy. Then look at it with fresh eyes. Look at it in the true sense of revision: to see again, to see anew. As the great Irish writer and mentor Claire Keegan says: "The real story's there in the draft. You only have to look." She also says: "If you're not serious, don't bother."
WO: Question from Twitter user: @JunehaChowdhury What usually comes to you first, the characters or the plot?
JF: Gosh, this is a difficult one, as I always have place to the fore and try to operate my characters and the actions they might take, as would a puppeteer. Once I have my place and an outline of my characters, I decide on a time in history and a duration/time frame. I find plot and storyline the most difficult and am not a natural plotter. As mad as it sounds, as I physically start to write, the characters, and how they behave, inform me. I often have an end image in sight, and I write to that end point.
WO: Can you tell us anything about future projects?
JF: My next novel is well under way (Controlled Explosions is the working title). It's set in the working class suburbs of Swansea east,  just after the outbreak of World War II. Again, I'm starting with a place I know intimately, as I was brought up above a butcher's shop at the corner of a terrace. This is where I've chosen to focus the actions of the Froom family over a one-year period: September 1939 – September 1940.
The novel explores how war affects the home front, and how it offers opportunities or thwarts the ambitions of each member of the Froom family: butcher Jim, his wife, Mary, and their four children. How ordinary life is literally blown apart by political actions elsewhere. I'm excited about bringing this work to completion and, hopefully, getting it out in the world with my agent's help!
*****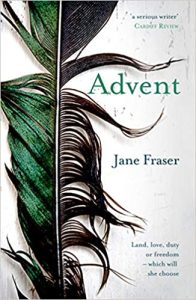 You can find out more about Jane Fraser here: janefraserwriter.com and connect with her on Twitter: @jfraserwriter and Instagram: @janefraserwriter. Advent is available to buy direct from honnopress.co.uk and all good bookshops. The South Westerlies is available to buy from saltpublishing.com and Connective Tissue can be pre-ordered from SALT too.
*****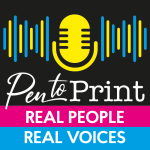 Issue 13 of  Write On! magazine is available now. You can find it here. 
Each edition of our Write On! Audio podcast features an exclusive interview. Find us on all major podcast platforms, including Apple and Google Podcasts and Spotify. Type Pen to Print into your browser and look for our logo or find us on Anchor FM.
*****
If you or someone you know has been affected by issues covered in our pages, please see the relevant link below for ​information, advice and support​: https://pentoprint.org/about/advice-support/
Write! That's the job. Be disciplined. You are a practising writer and only by practising will you become better, if not perfect! Don't think too much, but let the words flow.