Write On! Interviews: Author Marie Powell
Write On! interviews author Marie Powell.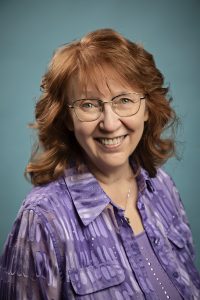 Marie's adventures in castle-hopping across North Wales resulted in her award-winning medieval fantasy series Last Of The Gifted: Spirit Sight and Water Sight (Wood Dragon Books, 2020). Marie is also the author of more than 40 children's books with such publishers as Scholastic Education, Amicus, and Lerner, short stories and poetry in such literary magazines as The Sunlight Press, Room, and subTerrain, and non-fiction articles in more than 75 print, broadcast, and online markets. She holds a Master of Fine Arts (MFA) in Creative Writing from UBC, among five university degrees. Marie lives on Treaty 4 land in Regina, Saskatchewan, where she experiments in gardening and medieval cooking. She shares her home with a small calico cat, and they can usually be found negotiating for space at the kitchen table: Marie to write, and the cat to stare out the window (or, sometimes, vice versa).  
WO: How would you describe your writing to someone new to it?
MP: Well, that's a surprisingly hard question. Writing stories is a little like spinning spells, I suppose. My favourite genre is speculative fiction, especially fantasy, but I write fantasy that's based in the real world. I'm interested in writing about the way our past intersects with our present and leads to our future. I like to dig down, to think about how things really work and how they could work. I love it when someone tells me, "I know that was magic, but I actually believed it could happen that way." I could go on and on, but maybe that's a good place to begin.
WO: Can you tell us a bit about your latest book, Last Of The Gifted?
MP: Yes, I'd love to. Last Of The Gifted is an epic fantasy set in medieval Wales, combining my two books, Spirit Sight and Water Sight, in an omnibus edition. It tells the tale of two siblings pledging their magical gifts to protect their people from the invading English, with help from the last true Prince of Wales, after his murder. Warrior-in-training Hyw can control the minds of birds and animals. His sister Catrin can see the future in a drop of water. When the prince is slain, Hyw's gift allows him to meld with the prince's spirit, to guide them in fighting Longshanks' ruthless army. It's a medieval fantasy that combines magic, mythology, and historical legends with the realities of 13th Century Wales.
WO: What inspired you to write in the first place, and what inspires you now?
MP: I was lucky that my dad read to me every night, as far back as I can remember, so my fascination with books and reading began early. I wrote my first story when I was six years old, but I was 46 before I had a short story published. I always wrote, though. I wrote poetry and short stories as a high school student, and I had very supportive teachers. But I had to make a living, so I worked at a number of odd jobs: bartender, telemarketer, you name it, and finally as a newspaper reporter and journalist. One of my university degrees is in journalism, so I worked at weekly and daily newspapers, and later wrote freelance articles. But I was still writing short stories, poetry, and short plays. Eventually, I had a short story published, and then poetry and more stories, after which I started writing novels. For me, writing inspires writing, and there isn't much that happens in the world that doesn't make me wonder about the hows and whys of it all. Because I write fantasy, I can look at the mythologies and the dreams and the magic behind it all. The more I write, the more I learn about the world and the people in it, and the more I want to write.
WO: The current issue of Write On! explores the theme 'Nature, Inspiring Creativity: Past, Present And Future'. With that in mind, how has nature had a direct impact on your inspiration? Are there any particular art or creative works based in nature that spark ideas for you whenever you experience them?
MP: Certainly, I'm inspired by nature. When I'm writing, if I'm stuck, I often go for a walk along a path near the edge of the city. In winter, the cold can really wake me up, and in other seasons, the rustling of the trees and the sounds of the birds settles my mind, and helps me to arrive at a solution. In particular, I brought my daily walks into the scene and let myself imagine how nature might influence my shapeshifting character, Hyw. Also, Last Of The Gifted is set in a time when the rural lifestyle of Wales was radically changed, and that was significant for me. I did a lot of research into the types of trees, landscapes, animals and birds that would have been found naturally in that time period. It's really important to represent nature and how it changes over time, and the way people have changed it. Also, I think that the past influences us in the present, on many levels. Years ago, when I was writing an article about a First Nation issue here in Canada, the person I wanted to interview said to me, "You need to come here yourself, and experience this, in order to understand it." It was a matter of respect and deepening experience. I think I took that as advice about writing and life in general. So when I was writing about Wales, I made sure I went to Wales more than once. It's not necessary, strictly speaking, for a writer to do that, but it is necessary for me to do that. It's called 'environmental research' and it's part of my process now.
WO: What one piece of advice would you give an aspiring writer?
MP: I would suggest two things. First, read, read, read. Read everything, but especially, read in the genres you want to write in, so you're familiar with new trends and with what readers are expecting. And second, write, write, write. That's really the only way to learn and to keep improving your craft.
WO: Question from Twitter user: @madeleinefwhite – Do you read your book's reviews? How do you deal with good and bad ones?
MP: I do read the book reviews for my books, although many writers advise against it. I am my own worst critic, but I think there's always something to be gained from the opinions of readers, especially when you write genre fiction. When I do the final editing on my books, I try to think about readers: what readers need to know at different points in the story, or what will make readers want to continue turning the pages. So I am interested to find out what people take away from the experience of reading one of my books. Often readers will say what they liked, which I find really useful. I think if people leave one-star reviews, it's often because the book really isn't their kind of book. But everyone has a right to their own opinion, and I still want to know what that is. Also, I'm always trying to improve as a writer. If there's something I can change for the next book, then I will try to do that. And if there's something people really enjoyed, then I aim to follow up on that, too!
WO: Can you tell us anything about future projects?
MP: Oh, I'd love to. Right now, I'm doing the research and outlining for a three-book series that will take these characters into 1284 and the years after Edward I's invasion. I'm interested in exploring how people recover from a devastating, world-changing event. In 1283-84 Wales, it was losing that war, and losing their rights to use their language, their own law, and their culture. And yet, even after 800 years of colonial subjugation, the Welsh people were very successful at reinstating their language and culture. That kind of resilience really interests and impresses me, especially now, with what we're going through in the post-Covid period—if we're really there yet—or what we will go through. So I guess I'm exploring how my characters handle their situation, as a way of exploring my world and its recovery. At the same time, I'm also working on a contemporary young adult thriller. I mentioned I worked as a newspaper reporter, and I've always had a fondness for community newspapers. So this story delves into that part of my life, because the main character is a young and talented photographer hired to help revitalise a dying community newspaper. But her summer internship turns into a nightmare after she photographs phantoms threatening the city streets, and learns her missing brother might be one of them. This is a new direction for me, but I'm actually really enjoying the interplay between these two realities, in two very different genres.
WO: Lastly, if you could choose one fictional animal/creature to be a pet or companion, who would it be and why?
MP: A gryphon! And anyone who's read Last Of The Gifted, especially the second book Water Sight, will have a good idea of why. I'm a big fan of the medieval bestiary, and one of my favourite picture books is Jonathan Hunt's Bestiary: An Illuminated Alphabet Of Medieval Beasts. I've always loved images of the gryphon. About 15 years ago, I wrote a series of articles about a falconer here in Saskatchewan that really influenced my depictions of hawks and falcons in Last Of The Gifted. He had a Swainson's hawk that seemed almost tame, and the falconer would carry him on his shoulder. But when I asked him about whether he thought of the hawk as a pet, he said, "No, never a pet. This is a wild animal, and you must respect that and never forget it!" Better to have a companion then a pet, perhaps. Hawks are such interesting creatures; you can see in their eyes that their minds are completely alien to ours. In a way, it's as though a gryphon lives inside every hawk. I've been fascinated with them ever since.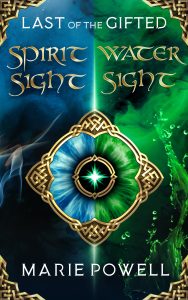 You can find out more about Marie Powell here: mariepowell.ca and connect with them: linktr.ee/mariepowell. Last Of The Gifted is available to buy from : books2read.com/u/mVaxqr.
 ***** 
Issue 11 of  Write On! magazine is available now. You can find it here.  
The more I write, the more I learn about the world and the people in it, and the more I want to write.