Write On Interviews: Author Preetha Leela Chockalingam
Write On! interviews author Preetha Leela Chockalingam
Preetha Leela Chockalingam is a Lecturer at London Metropolitan University. She enjoys mentoring, training and developing. She's also a writer, assessor and Mum.
Preetha loves writing historical fiction set in Kerala for both children and adults. She spends hours researching and collecting evidence of matrilineal, multi-faith Kerala which, up until the mid-twentieth century, favoured women more than men. She hopes that, one day, the whole of India will follow the open-minded Chera's rule of Kerala, where religious harmony allowed different faiths to live peacefully in one kingdom. Until then, you can find her living in those times through books, stories and research!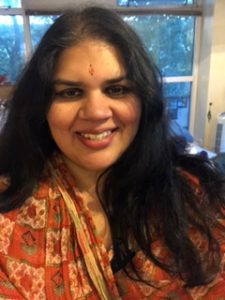 WO: How would you describe your writing to someone new to it?
PC: I'm a historical fiction writer who also enjoys experimenting with other genres.
WO: Can you tell us a bit about your latest book?
PC: My children's book, A Chera Adventure is set in 11th-century India and was released last September by Penguin Random House India. The book can be ordered in the UK from all bookstores from now (February 2023). It's about a young girl called Sharadha, who suddenly finds herself in the midst of a war between two South Indian dynasties. It's aimed at young girls and is a part of the Penguin India' Girls Of India' series.
WO: What inspired you to write in the first place, and what inspires you now?
PC: My parents were constantly fighting when I was a child. This led to my sister and I telling each other stories to get through stormy evenings. I then started the practice of writing in a diary and this led to me writing stories. My first-ever story, written when I was about eight-and-a-half or nine, was heavily plagiarised from Enid Blyton's The Naughtiest Girl In The School. Mine was called Tubby, The Naughtiest Teddy In School, or something like that!
WO: The current issue of Write On! explores the theme of 'Contradictions'. With that in mind, do you ever actively look for, or specifically avoid, contradictions in your writing? Is there a part of your writing process that contradicts itself, yet somehow works for you?
PC: Yes! Just like I read three or four books simultaneously, I often have three or four pieces of writing on the go at the same time. While finishing pieces is my main priority, I often need to put down one piece of work, write something else to refresh my mind and then return to the original piece and finish it. This usually works for me, but when I was writing my children's book, I already had so much going on in my life –from parenting to teaching and marking – that I had to shove all other projects aside and just focus on it. I did this by listening to classical writing and jazz while writing. Incidentally, I really recommend listening to classical music. It helps blot out all distractions.
WO: What one piece of advice would you give an aspiring writer?
PC: I would say, just write and don't ask too many people for their opinions. Often, if you get negative feedback before you've even found your feet as a writer, it can stop you from writing. I'd also say, join writing groups and classes you can afford. Writing classes are also a wonderful way of finishing projects and getting actual writing done. A friend of mine writes pieces only when there is a competition to enter. It helps her complete work that would otherwise stay unfinished or, worse, unwritten.
WO: Question from Twitter user: @lisalovesbooksx If you were ever to write a memoir, what would you title it, and why?
PC: I'd call it The Madras Girls. Whenever I watch an episode of Derry Girls, it really reminds me of my childhood in Madras, now called Chennai. Madras back then was such a lovely city by the sea. It was a city of readers and book lovers! It was really wonderful. Sadly, after my beloved sister passed away, it's not been the same for me. I always associated it with laughing and arguing with my sister. After her death, I feel sad when I see pictures of it. Incidentally, she taught me to read and write. Although she was only a year and a half older than me, my sister was very intelligent and wise for her age and when she saw me struggling to read and write, she read with me and taught me. It's because of her that I write and teach writing.
WO: Can you tell us anything about future projects?
PC: Currently, I'm in the mood to write about only two places: South India in the past and Britain in the present, so anything I write now will involve either something historical set in South India or something current, set in contemporary Britain. Either way, I'd be happy if I had the time to write. I used to make time on Saturday afternoons, but this isn't always possible now.
WO: Lastly, if you could choose one fictional animal/creature to be a pet or companion, who would it be and why?
PC: It would have to be Jumble from Richmal Crompton's Just William books, but Morris Glietzman has already referred to Jumble in his books. My unpublished book A Very Different Fossil has a dalmatian in it called Patchopawrus. She's very much like a dog I had who used to join in every conversation. I missed my dog so much that I recreated her in my book. If the book were published, then I'd choose Patchopawrus over Jumble!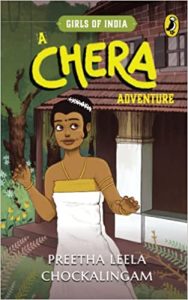 You can find out more about Preetha Leela Chockalingam's book at Penguin: penguin.co.in/book/a-chera-adventure-girls-of-india-series
A Chera Adventure is available to buy from: blackwells.co.uk/bookshop/product/A-Chera-Adventure-by-Preetha-Leela-Chockalingam/9780143454649
You can connect with Preetha on Instagram: @preethaleelachockalingam
*****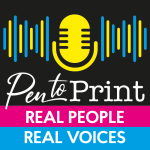 Issue 15 of  Write On! magazine is available now. You can find it here. 
Each edition of our Write On! Audio podcast features an exclusive interview. Find us on all major podcast platforms, including Apple and Google Podcasts and Spotify. Type Pen to Print into your browser and look for our logo, or find us on Anchor FM.
*****
If you or someone you know has been affected by issues covered in our pages, please see the relevant link below for ​information, advice and support​: https://pentoprint.org/about/advice-support/
Although she was only a year and a half older than me, my sister was very intelligent and wise for her age and when she saw me struggling to read and write, she read with me and taught me. It's because of her that I write and teach writing.