Write On! Interviews: Author Glenda Young
Write On! interviews historical saga and cosy mystery author, Glenda Young.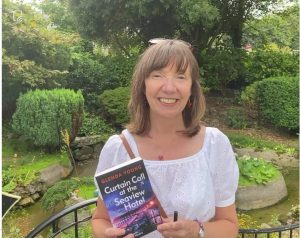 Glenda Young is a bestselling author and award-winning writer, published by Headline. Her gritty sagas are set in a northeast mining village of Ryhope in 1919 and her cosy crimes are set in modern-day Scarborough. The books are standalone and can be read in any order. She has also written TV tie-in books for ITV's Coronation Street and is an award-winning short story writer. She was one of six finalists in the coveted Clement & Le Frenais comedy award in 2019. Glenda also has a unique claim to fame. She's the writer of Riverside, a weekly soap opera published in The People's Friend magazine since 2016.
 WO: How would you describe your writing to someone new to it? 
GY: I write historical sagas with feisty young women at their core. I also write cosy crimes set in Scarborough. Plus, I write a weekly soap opera called Riverside, for The People's Friend magazine. My writing is warm and inviting, with gentle humour running through it.
WO: Can you tell us a bit about your latest books?
GY: My second cosy crime novel has just been released in paperback: Curtain Call At The Seaview Hotel. It's a fun, cosy crime/murder mystery set in Scarborough, starring an acting troupe who arrive at Helen Dexter's Seaview Hotel to rehearse a play they hope will save a much-loved local theatre. However, the leading lady is a diva, the playwright is highly strung and tension in the troupe is high. When one of the actors is found dead on the beach, landlady Helen and her rescue greyhound Suki set out to solve the crime. But just when Helen thinks things can't get any worse after one of her guests is murdered, the hotel inspector arrives!   
The first in the series of cosy crimes was Murder At The Seaview Hotel. It stars 12 Elvis impersonators (called Twelvis!) and when one is found dead with his blue suede shoes missing, Helen and Suki are on the case to solve the crime.
My cosy crimes were shortlisted for New Kid On The Block Award in the Dead Good Reader Awards 2022. The awards ceremony was held at Theakstons crime festival in Harrogate and Richard Osman won for his Thursday Murder Club novels.
Also this year, my historical saga A Mother's Christmas Wish is released. It's the favourite of all of my sagas so far. Is it wrong to have a favourite? I hope not, as this one became very special to me the moment the character of Emma Devaney sprung to life. I hope the readers will enjoy her, too! I cried while I was writing it, because the relationship between Emma and her aunt Bessie is unique and they form a tight bond. It makes what happens in the story all the more poignant and moving. Add to the mix the heightened emotions of Christmas with a dash of festive romance and love and only then will you discover if A Mother's Christmas Wish will come true.
WO: What inspired you to write in the first place, and what inspires you now?
GY: I've always loved writing, ever since I was a child. I think the inspiration to write comes from the love of making up stories and creating characters. That love continues to inspire me now.
WO: The current issue of Write On! explores the theme 'Worlds Apart'. With that in mind, do you find yourself drawn towards writing about the world you know intimately or do you strive to discover a world unknown?
GY: My historical sagas are set during WW1, so I have to carry out lots of research and venture into a world unknown to bring it to life for the reader. I really enjoy the research part of writing my novels. I'd say it's my favourite part of the process.
WO: What one piece of advice would you give an aspiring writer?
GY: Never give up!
WO: Question from Twitter user: @Grasshopper2407 . Do you read your book reviews? How do you handle negative or bad reviews?
GY: I'm fortunate that my books receive good reviews which are (mainly!) positive and strong. However, there's no recourse via Amazon, etc. if someone leaves a 1-star review with a nasty comment. You can't complain to Amazon, you just have to suck it up. It's tough and yes, it hurts, especially when the review is inaccurate, about the wrong book, or by someone who clearly hasn't read it. Sigh.
WO: Can you tell us anything about future projects?
GY: I'll be writing a trilogy of books about three female friends who work in a toffee factory in the northeast at the time of WW1. The research will be wonderful! The books will be published by Headline.
WO: Lastly, if you could choose one fictional animal/creature to be a pet or companion, who would it be and why?
GY: I'd like it to be Suki, the rescue greyhound in my cosy crime novels! Suki helps amateur sleuth and hotel landlady Helen Dexter solve the crimes in my books and she is a loyal companion who never complains.
You can connect with Glenda on her website at: glendayoungbooks.com, on Twitter: @flaming_nora and on Facebook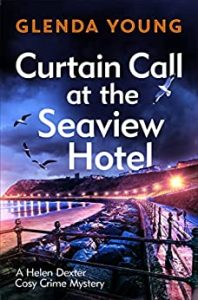 : @GlendaYoungAuthor
Curtain Call At The Seaview Hotel is available to buy from amazon.co.uk/Curtain-Call-Seaview-Hotel-Scarborough-set-ebook/dp/B094V364FD
A Mother's Christmas Wish is available to buy from amazon.co.uk/gp/product/1472283228
*****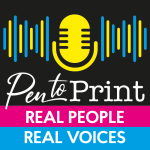 Issue 14 of  Write On! magazine is available now. You can find it here. 
Each edition of our Write On! Audio podcast features an exclusive interview. Find us on all major podcast platforms, including Apple and Google Podcasts and Spotify. Type Pen to Print into your browser and look for our logo or find us on Anchor FM.
*****
If you or someone you know has been affected by issues covered in our pages, please see the relevant link below for ​information, advice and support​: https://pentoprint.org/about/advice-support/
I really enjoy the research part of writing my novels. I'd say it's my favourite part of the process.