Write On! Interviews: Hay Festival CEO, Julie Finch
Juneha Chowdhury from Write On! interviews Hay Festival CEO, Julie Finch
Breaking The Class Ceiling: Together We Can Do More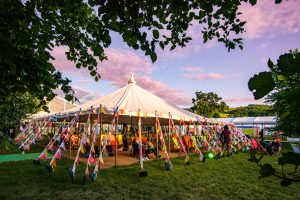 The Hay Festival is an 11-day literature festival held in Hay-on-Wye from the end of May. It's also a global brand that reaches millions. I recently spoke with  CEO, Julie Finch, about the charity's commitment to diversity and inclusion. And why it's more important than ever that cultural organisations help to negotiate these challenging times by frame-working thought leadership.
On Heritage And Halos
There have been 36 years of Hay Festival editions and Julie, with her own background in museum curation, sees the organisation's forward momentum – being part of shaping living cultural heritage – as more important than any past successes.
"Covid has changed every cultural institution and along with it, people's lives. We need to explore solutions through the lens of this 'new world.' Literary festivals are at the centre of this seismic shift."
Julie believes her Festival is more than up to the challenge, citing the surrounding community's "generosity of spirit" as playing a vital part. She tells me Hay Festival's success owes as much to this 'Halo' as the great minds it has been able to attract. It's this community spirit, linked to the participation of writers, educators, philosophers and scientists, that has made Hay Festival a catalyst for change in the literary world. Julie stresses, though, that the need to continually develop "new ideas, art and education" has never been more pressing.
Diversity, Difference And Dialogue
Asked whether 'Diversity' is just another buzzword on the Festival's agenda Julie says, "Not at all. For me it's about inclusion, making Hay Festival mean something to everyone."
Interestingly, the Festival's digital programme, extended significantly during the pandemic, was an important part of realising this. She goes on to explain how reaching out digitally can help the wider public to envision new perspectives.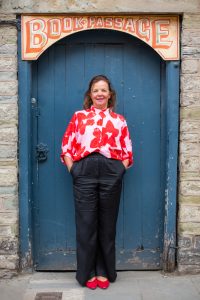 "It's about recognising different viewpoints and we're very strategic about developing partnerships in this regard." She explains why running outreach projects like the Festival's Scribblers Tour and partnering with organisations such as The National Literacy Trust and Pen to Print matters when trying to increase diversity. Julie believes part of the secret is reaching out to a younger audience but recognises there's still some way to go.
"For festivals to be truly inclusive, they need to engage with their audiences through co-production. For us it's about real dialogue, having a public consultation and working directly with people who don't come to Hay. Festivals also need to reach out to different cultural and religious groups to understand how to make physical spaces more welcoming."
Breaking Class Barriers
Drawing on her working-class background, Julie insists Hay Festival doesn't just serve those who can afford to attend.
"It's about supporting everyone. If someone had told me in my 20s, I'd be CEO of Hay Festival, I'd have laughed. I didn't even know a job like this existed! Thinking about how I was then, I believe the challenge is really understanding how to instil confidence; enabling people to be their best selves. It's about equipping writers with the tools and opportunities to break through those class barriers. This starts with inspiring children and young people to write and to read; hence our schools programme."
The Art Of The Possible
Julie believes institutions should work together to create gateways to help diverse and working-class writers tap into adequate support. However, having truly honest conversations around how these might look can be challenging, as people "can be territorial".
Festivals are conveners, their ability to move quickly and shape ideas making the industry more accessible. As Julie says: "A simple model, based on humanity that involves promoting the way in which people give back, how writers can help other writers and building on that generosity of spirit, can create powerful ripple effects."
Acknowledging that, historically, publishing has been a "white system created by men," Julie prefers to look forwards. When asked to envision what Hay Festival 2050 might look like, she comes up with a tagline that says it all:
Together we can do more, capturing our creative and collective imagination to make a better world.
GET INVOLVED
§  2023 headliners include: Dua Lipa, Margaret Atwood and Stormzy
§  Hay Player – subscribe to the Hay Player for just £15 and get front row access to the world's great writers and artists
§  Book tickets to join the Hay Festival 2023, Thursday 25 May to Sunday 4 June
§  Connect: Twitter & Instagram @hayfestival
§  To book events and for further information visit hayfestival.com/wales
Connect with Juneha on Twitter: @JunehaChowdhury
***** 
Issue 16 of Write On! is out now. Find it in libraries and other outlets. You can also find the digital issue here.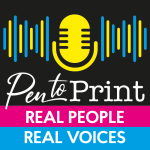 Each edition of our Write On! Audio podcast features an exclusive interview. Find us on all major podcast platforms, including Apple and Google Podcasts and Spotify. Type Pen to Print into your browser and look for our logo, or find us on Anchor FM.
*****
If you or someone you know has been affected by issues covered in our pages, please see the relevant link below for ​information, advice and support​: https://pentoprint.org/about/advice-support/
Together we can do more, capturing our creative and collective imagination to make a better world.