Showcase: Blissful Wistful + I Want Your Sandwich
By Amelia Page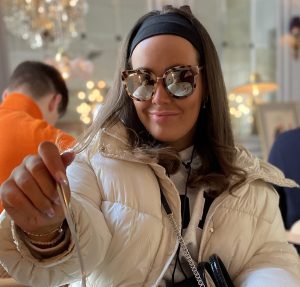 When you listen closely enough, you'll realise voices are all around us. In our everyday lives, we hear many different external voices, as well as internal ones. Some people use their voices powerfully, to speak out and make a difference, while others don't speak enough.
The pieces of work I've selected for this Showcase portray voices in different forms: from internal ones to the voices of those around us. I'm sure many readers will relate to the sense of emotion these poems evoke; sad or happy.
I'd like to start with a poem by Katelyn Bowers.
Blissful Wistful
The mountains feel wide open,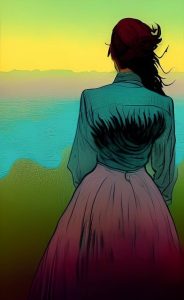 Former gods guide us on
Out the window, sun-soaked in
Our last taste of white before the pink
On the floor of our old home,
With the lights off watching
Our choreographed fights unfurl.
Now in green and red and blue.
I offer up my heart every time
To never expect the killer.
Would it be better to seal myself up?
Or to grin and bear it all?
"Anyway, don't be a stranger."
To unread letters. To put it all behind.
Just to put it away again,
Some other time.
© Katelyn Bowers, 2023
Authors note: Blissful Wistful is a poem about losing touch with someone who once meant so much.
*****
The final piece I would like to introduce to you is I Want Your Sandwich, written by Claire Buss. This poem portrays the voices of a child.
I Want Your Sandwich
Hey Mum Mum
What you got?
It looks much more interesting then what's on my plate
I say ta
Ta
Ta
Hey Mum Mum
I don't like mine
It's not the same, I know it's not
I say ta
Ta
Ta
HEY! Mum Mum
You're not listening to me
I want what you've got, I don't want mine
I say ta
Ta
TA
Mum Mum
Mum Mum
Mum Mum
Mum Mum
I just want your sandwich
Look I threw mine on the floor
It's no good anymore
I said ta
TA
TA
Nomnomnomnom
Mmmmm
Thank you Mum Mum
Love you
© Claire Buss, 2019
*****
If you'd like to see your writing appear in the Write On! Showcase, please submit your short stories, poetry or novel extracts to: pentoprint.org/get-involved/submit-to-write-on/
Get your digital copy of Write On! Issue 16 here, or pick up a copy in local libraries and other venues. You can also find previous editions on our magazines page here.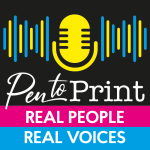 Hear extracts from Showcase in our podcast. Write On! Audio. Find us on all major podcast platforms, including Apple and Google Podcasts and Spotify. Type Pen to Print into your browser and look for our logo, or find us on Anchor FM.
*****
If you or someone you know has been affected by issues covered in our pages, please see the relevant link below for ​information, advice and support​: