Write On! Interviews: Poet Setareh Ebrahimi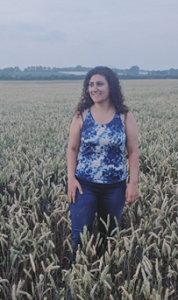 Setareh Ebrahimi is an Iranian-British poet. She has been published numerous times in journals and magazines, including Proletarian Poetry, The Menteur and Ink Sweat & Tears.
Setareh released her first pamphlet of poetry, In My Arms, from Bad Betty Press in 2018 and her full-length collection, Galloping Horses, from Wordsmithery in 2020. She regularly performs her poetry in Kent and London, has hosted her own poetry evenings, and leads writing workshops. Setareh is currently an editor at Whisky & Beards Press and a reviewer at Confluence magazine. Setareh has been nominated for The Pushcart Prize and was one of the poets in residence of The Margate Bookie, at The Turner Contemporary Gallery. She hosts her own podcast, Etcetera, on YouTube.
WO: How would you describe your writing to someone new to it?
SE: My writing is intimate and immediate to whatever I am experiencing at the time. Most of the time, it takes the form of poetry. Historically, I have dealt with the subjects of race, trauma, and abuse. A poem is a good way of exploring one snapshot moment or wringing out a single idea into all its possibilities, which is why I like to use it.
WO: Can you tell us a bit about your latest project, Galloping Horses?
SE: I don't like to say that Galloping Horses is about motherhood, because that sounds so naff and because it's about so much more. It's more about everything around motherhood and how everything could connect to motherhood. It's a very physical book that doesn't shy away from dealing with the processes of the body; I was pregnant while writing many of the poems in it. It also deals with the subjects of post-natal depression and psychosis, which need a lot more discussion and a lot more light shed on them.
WO: What inspired you to write in the first place, and what inspires you now?
SE: The first two poems that I actually read properly were Onion by Carol Ann Duffy and Funeral Blues by W. H. Auden. I chanced upon them while bunking lessons with a friend in Year Eight. I was blown away by these poems. They showed me that something could matter and still be beautiful. I read as much Duffy as I possibly could at that time and really bathed in her words. What inspires me now is social injustice and my own life experiences. I like to write about little moments; for example, if I'm people-watching and I see something interesting and think it's the perfect material for a poem. Sometimes just a word, a beat, or a feeling inspire me. I'm inspired by Sylvia Plath, Anne Sexton, Charles Simic and Robert Lowell, to name a few, but really, all poetry inspires me. I love to read and consume poetry and see what any writer has done with the form. In my view, some of the best poetry is contemporary.
WO: The current issue of Write On! explores the theme 'Nature, Inspiring Creativity: Past, Present And Future'. With that in mind, how has nature had a direct impact on your inspiration? Are there any particular art or creative works based in nature that spark ideas for you whenever you experience them?
SE: As my writing practice has gone on, I am more and more inspired by nature. I used to think it was something people wrote about for the sake of it, but now I think that the nature of a particular location can really become you and you it, and, in this way, you are able to write about it. I spent many summers in my 20s walking around the fields and woods of Faversham, treading and re-treading my paths, and they felt like my own secret, magical place. I've written about them numerous times. I'm also inspired by the beautiful landscapes of Iran, which are so unique and juxtaposed to the regime.
I really loved the artworks The Museum Of The Moon and Gaia by Luke Gerram. They're huge, planet-like installations and are really wondrous. I think immersive art like that is the way forward.
WO: What one piece of advice would you give an aspiring writer?
SE: I would give the standard advice of: "Don't give up," which is very true. You always have to be willing to pick yourself up and carry on, regardless of any number of rejections.After all, if you don't believe in your work, why should anyone else? However, I'd also say: "Don't be afraid to change. Don't be afraid to learn or be edited. Whenever you reach a precipice, you'll realise there's another climb, and that's OK. Have a good work ethic, be kind to people, and always remain professional."
WO: Question from Twitter user: @lisalovesbooksx: Do you want each book to stand on its own, or are you trying to build a body of work with connections between each book?
SE:  I would like each book to stand on its own. But, more broadly, I don't mind too much. I suppose my books form a body of work anyway, because anything I write is a part of me and reflects me in some way.
WO: Can you tell us anything about future projects?
SE: I hope to branch out further into visual arts, especially as I'm surrounded by so many brilliant visual artists in my immediate community alone. However, doing so requires a lot more physical and practical legwork for me, whereas my writing can exist with only paper and a pen. I also hope to expand my podcast to include more episodes and even more exciting guests!
WO: Lastly, if you could choose one fictional animal/creature to be a pet or companion, who would it be and why?
SE: I would probably pick Totoro from the film, My Neighbour Totoro, because I think we would have a lot of surreal, wholesome adventures together. Or maybe Chancey, one of my favourite Pokemon characters from the Pokemon franchise, because it's so loving.
You can find out more about Setareh Ebrahimi here: setarehebrahimi.tumblr.com and connect with them on Facebook: facebook.com/setebrahimi, on Instagram: @hello_setty and on Twitter: @SetEbrahimi. Galloping Horses is available to buy from: wordsmithery.info/setarehebrahimi
*****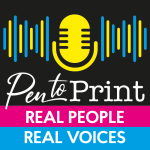 Issue 11 of  Write On! magazine is available now. You can find it here. 
Each edition of our Write On! Audio podcast features an exclusive interview. Find us on all major podcast platforms, including Apple and Google Podcasts and Spotify. Type Pen to Print into your browser and look for our logo or find us on Anchor FM.
Don't be afraid to change. Don't be afraid to learn or be edited. Whenever you reach a precipice, you'll realise there's another climb, and that's OK. Have a good work ethic, be kind to people, and always remain professional.