Writer Of The Month: Rebecca Seaton
Introduced by Mary Walsh.
It gives me immense pleasure to introduce June's Writer Of The Month, Rebecca Seaton.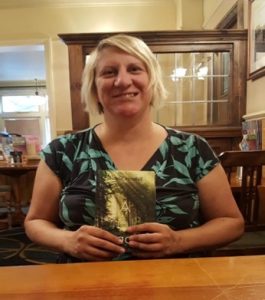 Rebecca is a former Pen to Print Book Challenge Entrant, whose novel, A Silent Song, went on to win second place in 2017/18. As one of the finalists, she received helpful mentoring from a professional writer, and would definitely recommend the competition to would-be writers. The Book Challenge has also given her the confidence to enter other competitions.
A Silent Song is a young adult fantasy about a young girl, Els, who is born mute and cast out of her community but who has magical powers which could help rid her world of an ancient evil. This idea of being both cursed and blessed grew out of Rebecca's love of fairy tales such as Sleeping Beauty and The Wild Swans. At the start of the story, Els is ostracised by the other girls in her village. Here is an extract:
Sitting at the edge of the water, Els was all too aware of their hostile glances. She had heard every word as she had been looking into the water, the river being the only way for her to know how she looked…but then this was not something she had ever had to worry about. This would hardly be the first time she had been spoken about as if invisible, after all.
Later in the book, Els grows in confidence and her powers increase: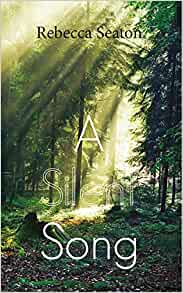 As they shouted, the group raised their hands and the invocation brought power through them. Raw energy swirled from their fingertips, even Nahvib's bringing gold glowing power upon the enemy. Els and Vanya, though, were clearly strongest, from them the creature shrank furthest. Seeing this, the others shifted their energies to join their aim, melding all they had to beat it. Shrieking, the thing fell to the floor.
Both extracts: © Rebecca Seaton, 2018
*****
Rebecca has always wanted to be a writer and at age seven told her headteacher she was going to be an 'arther' when she grew up. Fortunately for her, the headteacher and a number of subsequent teachers encouraged this ambition and Rebecca's early attempts. She still has fond memories of writing the epic adventures of Derek The Dog and Cathy The Cat during wet play!
Rebecca's parents were avid readers and she grew up in a house full of books, which helped immensely with her writing. She still shares a love of books with her family and with her brothers, one of whom is also a writer. She always finds it hard to resist the temptation to buy books at events, even though she has a towering to-be-read pile!
Rebecca went to Edge Hill College and gained a BA in English (Language and Literature). At university, she developed her preference for science fiction and fantasy and was inspired by a visit to the Science Fiction Foundation Library in Liverpool, the largest in Europe, where she enjoyed the chance to hold a Hugo Award aloft. This has stayed with her, although she also likes to read crime novels and remains envious of their authors' plotting skills. (The Hugo Award is an annual literary award for the best science fiction or fantasy works and achievements of the previous year, given at the World Science Fiction Convention.)
Rebecca then completed her PGCE in Swansea, where learning Welsh at Swansea University was an interesting challenge. Completing her adult qualification in spoken Welsh kept her one step ahead of the children she was teaching and it was there she had just a one-year PGCE course to make new friends and find her place. This experience gave her a long-standing interest in the importance of community and belonging. Els' understanding of both alienation and acceptance in A Silent Song owes a great deal to this time in Rebecca's life.
As a fantasy writer, Rebecca loves world-building, creating different settings, and seeing how the larger issues of politics, beliefs and injustice impact the daily lives of her characters. Although her stories, as epic fantasy, highlight large-scale battles between good and evil, they are always at heart about character. One of her favourite moments as an author was when a colleague approached her with a very serious face and said they wanted a word in her office. It turned out they were upset at the death of a character she'd killed off!
Rebecca also writes devotionals for a Christian blog, More Than Writers, where she enjoys the challenge of writing a monthly piece with a set word limit and trying not to repeat herself. She also enjoys reading the blogs by other writers and often comments on these. Her blogs there have included A Change Is As Good As A Rest and Being An Imperfect Example. She is pleased to have found a wider readership than she expected and advocates blogging as a terrific way to experiment with writing and connecting with others.
Rebecca is currently working on another fantasy tale, The Prophet's Grace, the first in a trilogy involving a desperate prophet, a mysterious relic, and a queen with secrets. The Bible story of King David's prophet Nathan got Rebecca thinking about the role of a court prophet and how this was a prestigious position, but one that also carried a certain amount of risk. From this, she wrote a story about a prophet who has to confront her mistakes in order to prophesy clearly and guide her king in dealing with enemies inside and outside his kingdom. The heroine, Lydia, is very different to Els, but they both have a habit of getting themselves into trouble, as shown in the extract below:
Lydia was making a similar prayer, but her room was very different. What she could see of it, that was. There were no windows, just small cracks under the doorframe and in the wood of one wall, which let a little light into the gloom. Something about the room, maybe the wood, cast the feeble light in reddish tones, which made the prophet feel rather apprehensive. So did her situation. Chains linked her wrists and tied her to a ring on the wall. The cold metal made her shiver. The chair she was on was not uncomfortable, but she was left with very little room for movement. 'Aah!' Lydia cried, kicking the wall and admonishing herself for how she'd got here.
She'd thought she was so righteous. In the moment, it really had seemed as if she must go, that this was the answer. But in her heart, she knew she'd been led by her own vanity. Why else would she have left so quickly, without pausing to ask The One God, without consulting Zella, never mind anyone else? 'Oh, my God, forgive my pride,' she asked, 'Reveal me to my friends and them to me.' She thought of her kidnappers. They had not harmed her so far, but she did not like to think why they were holding her. At that moment, the door was pushed open and the three men who had taken her entered the room.'
'Well, she's awake now,' sneered the man she took to be their leader. A large man with a bushy red beard, he dominated the others, a dark-skinned younger lad who seemed very nervous, and a stout blond man with stubble and strange symbols tattooed on his forearms. But they weren't there before! she suddenly thought.
She jumped up quickly.
'Steady, miss,' said their leader. 'I wouldn't want to set Graak on you.'
'No one sets me on anyone,' growled the stout man. 'I unleash my arts where I choose.' As he said so, the symbols on his arms lurched and wriggled. At first Lydia thought she was seeing things. Then she gasped. 'You're–'
'A shaman, yes,' laughed Graak. 'So don't try anything with your fancy rings unless you want trouble. I don't want to hurt you.'
© Rebecca Seaton, 2022
*****
When not writing, Rebecca is likely to be found reading, usually with a cup of tea or a glass of red wine to hand. She has recently enjoyed the science fiction of M.R. Carey and has been challenged by both the content and the world-building skills of N. K. Jemisin. If she has time, she enjoys cooking and her chocolate roulade is her go-to dessert. She loves a walk and has continued the lockdown habit of walking with friends, often with a coffee; from time to time with an alpaca as well. She will be at the Pen to Print awards night on 30 June, hoping to encourage other upcoming writers and finding exciting new reads for her bookshelf.
If you want to know more about Rebecca and her work, please visit her website: rebeccaseatonauthor.wixsite.com/mysite, follow her on Facebook: Rebecca Lucy Seaton Author, on Twitter: @Bectacular40, and on Instagram: @rebecca.seaton.9
*****
Issue 12 of Write On! Magazine is out now. See it here.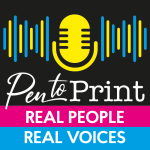 Each edition of our Write On! Audio podcast features an exclusive interview. Find us on all major podcast platforms, including Apple and Google Podcasts and Spotify. Type Pen to Print into your browser and look for our logo or find us on Anchor FM.
*****
If you or someone you know has been affected by issues covered in our pages, please see the relevant link below for ​information, advice and support​: https://pentoprint.org/about/advice-support/
As a fantasy writer, Rebecca loves world-building, creating different settings and seeing how the larger issues of politics, beliefs, and injustice impact the daily lives of her characters.