Write On! Interviews: Writer Charlotte Zisimides
Write On! interviews writer Charlotte Zisimides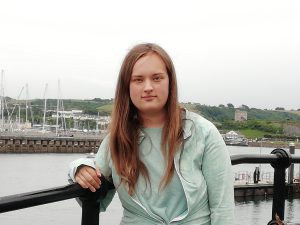 Charlotte is a writer, artist, and performer from Plymouth. She was first introduced to Pen to Print through the 'What If You Spoke?' competition. She came runner-up in the nature category with her poem, Loss Of Limb. The poem raises awareness of mental health and Charlotte hopes that others who read it will feel less alone. She is passionate about social action and making change within our society.
Charlotte is currently working with 'Effervescent' as a young co-designer on a campaign, 'Lonely Not Alone'.
WO: How would you describe your writing to someone new to it?
CZ: My work is performative and expressive. The story and emotions I feel usually take  priority over how the finished piece will look. A lot of my writing comes from my lived experiences. I write in many forms, though my main passion is poetry and the spoken word.
WO: Can you tell us a bit about your latest project?
CZ: As a participant at the Barbican Theatre Plymouth, I was able to help devise a theatre production incorporating my own fictional character, using my experience to raise awareness of social anxiety. It's important to discuss this disorder, as I feel it's not tackled enough within the creative arts.  
I'm writing more poetry, which I will be performing at many events in Plymouth and am trying to find opportunities to showcase my work in other cities. 
WO: What inspired you to write in the first place, and what inspires you now?
CZ: As a small child, I couldn't read or write, but my dad taught me the basics. He has dyslexia, which means this was not easy, but he tried his hardest. I found this inspiring. 
I then began to read, leading me to write in my English classes. At school, I was quiet, due to my social anxiety. Speaking to people was very difficult for me, but the words I wrote made me feel I had a voice, even in an isolating environment.
I'm constantly consuming great works of literature. I particularly enjoy contemporary and fantasy, as I'm able to relate to their experiences and feel less alone. I particularly enjoy fantasy, because I can enter other worlds; worlds where things don't always make sense and don't have to make sense!
WO: A recent issue of Write On! explored the theme 'Mind Your Language'. With that in mind, have you ever faced any linguistic difficulties in your writing? Or perhaps it has been necessary to modify your language for various reasons? How do you weigh up those decisions?
CZ: On occasion, when performing my poetry, I've been told to edit a few words here and there to make my work more appropriate for a younger audience. To do this, I try to find a word as expressive and meaningful as the word I was initially using.
Personally, as long as I feel my audience will receive the same meaning and message, I don't mind changing a few words here and there. However, I understand how difficult this may be for some writers. 
WO: What one piece of advice would you give an aspiring writer?
CZ: Never give up! I know the creative arts is a difficult industry and putting your work out there is daunting, as people have different opinions and they're not all positive. This is a fear I had for a long time. However, there are people who will appreciate your gift and want to hear what you have to say. I'm so overjoyed I was able to take this step, as this has allowed me to grow as an artist and understand myself better.
Always remember to carry in your heart the truth that criticism makes your work greater. You can learn from mistakes and reflect upon your experiences!
I also carry with me 'It's scary. Who cares?' Things are always going to be frightening and, if they're not, they're not worth doing. This fear will go away soon. If you give up an opportunity just because it seems scary in the moment, you will come to regret it in the future. 
WO: Question from Twitter user: @lisalovesbooksx : What author did you dislike at first but then grew into?
CZ: John Green. The first novel I picked up was Paper Towns. I'd always had my eye on it, but never got around to picking it up. When I finally did, I found it completely boring and so didn't finish it. 
After that, I was sceptical about trying another John Green novel. But a little later, I decided to read Turtles All The Way Down and cherished it! Alhough I don't suffer with OCD myself, I could really relate to Aza Holmes. 
I've since read Paper Towns and, surprisingly, liked it. I also enjoy his other novels: Finding Alaska and The Fault In Our Stars.
WO: Can you tell us anything about future projects?
CZ: I'm currently working with a young dancer called Ingrid and filmmaker Drew Graves to turn my spoken word piece, Wait, into a short choreographed dance, which will then emerge as a short film. Wait was included in a previous Write On! Showcase: pentoprint.org/showcase-wait-musings-bridge-building
WO: Lastly, if you could choose one fictional animal/creature to be a pet or companion, who would it be and why?
A raven, dolphin or rabbit.
There are so many beautiful creatures in our real and fictional worlds, making this a difficult question. However, the first animal which comes to mind is a raven. Not only are they known for their smart and devious nature, which would come in useful if we are ever in the need to forage food, they are also striking and strong, making them the ideal companion if I ever happen to run into monsters! I admire how confident they are; they speak their mind, a trait not everyone has the courage to do. 
And last but not least, perhaps the most important skill – they can fly. This would make contact with home less difficult if I were ever to become lost!  
*****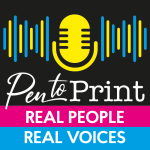 Issue 14 of  Write On! magazine is available now. You can find it here. 
Each edition of our Write On! Audio podcast features an exclusive interview. Find us on all major podcast platforms, including Apple and Google Podcasts and Spotify. Type Pen to Print into your browser and look for our logo or find us on Anchor FM.
*****
If you or someone you know has been affected by issues covered in our pages, please see the relevant link below for ​information, advice and support​: https://pentoprint.org/about/advice-support/
Always remember to carry in your heart the truth that criticism makes your work greater. You can learn from mistakes and reflect upon your experiences!