Writer Of The Month: Claire Buss
Introduced by Matt Wixey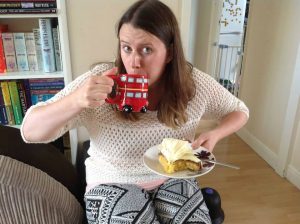 November's Writer Of The Month is Claire Buss, who worked in a variety of marketing and administrative roles for over a decade, before being inspired to enter the 2015 Book Challenge after attending a writers' workshop run by crime writer and Pen to Print mentor Ian Ayris.
Claire's Book Challenge novel, The Gaia Effect, was placed second and went on to win the Uncaged Book Reviews Raven Award for Favourite Sci-Fi/Fantasy novel in 2017. Since then, Claire has had 21 books published, as well as short story collections and stories published in various anthologies. She also runs regular Book Surgeries, offering marketing help and advice to new and established authors, and was part of the original team involved in creating and establishing Write On! Magazine. She continues to support, work and promote the magazine in her role as Deputy Editor.
Claire went on to write two more books in the Gaia Collection, The Gaia Project and The Gaia Solution and has since also published several books in the ongoing Roshaven series: a humorous fantasy series, set in an alternative world where magic exists – as do fae, trolls, dwarves, vampire mermaids and regular humans, all living together and getting along (mostly). The Roshaven books are influenced by Claire's love of the Discworld books by Sir Terry Pratchett, as well as the humour of Douglas Adams and Piers Anthony. The main characters in this series, Ned Spinks and Jenni the sprite, have definitely taken on a life of their own, Claire says, and writing down their adventures is a lot of fun.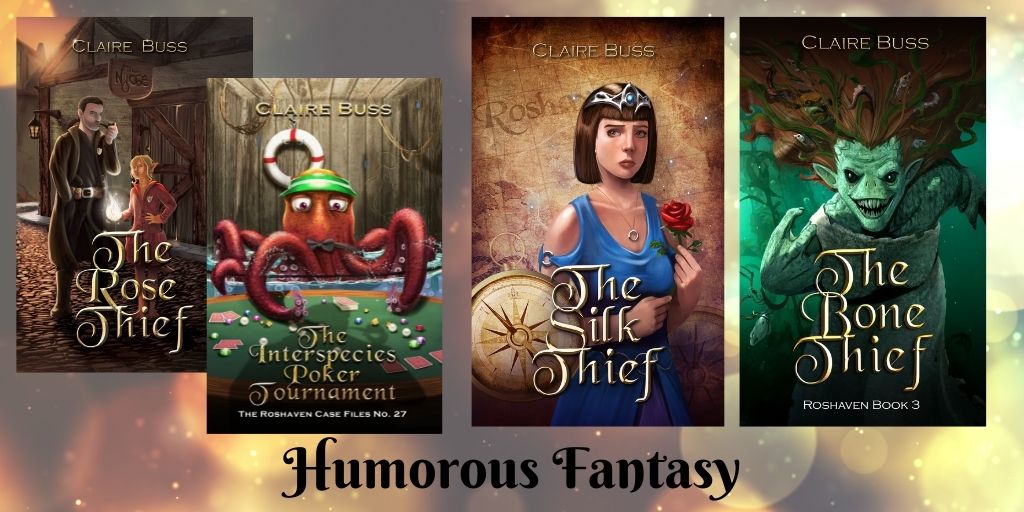 In the first Roshaven book, The Rose Thief (which won the Uncaged Book Reviews Raven Award for Favourite Sci-Fi/Fantasy novel in 2019), someone is stealing the Emperor's magical roses, and all of love will be lost if Ned Spinks, Chief Thief-Catcher, can't catch them. He must go on a quest defeating vampire mermaids, illusionists, estranged family members and an evil sorcerer – what could possibly go wrong?
The second Roshaven book, The Silk Thief, which came out in April 2021, picks up where The Rose Thief left off, but now the Roshaven empire hangs in the balance as the scheming villain plots to steal trade, crown and empress. It sees Ned go up against… well, I don't want to spoil it for you, but Claire has kindly shared an extract.
Extract from The Silk Thief
It was Griff's funeral. Ned Spinks, Roshaven's Chief Thief-Catcher, watched from his elevated vantage point on the upper part of the shore as the crowd congregated by the water. He scanned the throng for any suspicious behaviour. A cool sea breeze carried some freshness his way, combating the aroma caused when you get lots of individuals gathering in one place. It gave him small comfort to see such a large turnout, his own grief was too raw.
'Yor not on the clock now, Boss,' Jenni the sprite remarked as she nodded a greeting at the Gingerbread folk. Wary of the water, they stood as far from the damaging liquid as they could without removing themselves from the ceremony.
'Yeah, well, you know, people,' muttered Ned.
'Fourteen's over there.'
Jenni pointed and they both stared at the elegant Imperial gazebo erected upon the Dead Pier. This was the other reason such a great crowd had assembled, and why the air hummed with animated chatter and gossip. The Emperor of Roshaven had recently revealed she was a woman, and this was her first formal event since that announcement. Unfortunate that it was a state funeral.
'Mhm.' Ned's reply was as nonchalant as he could make it. He hadn't seen Fourteen since they returned from their quest to save love and defeat the Rose Thief. After their triumphant return to the city, Fourteen had been immediately swept up by her administrators, the High Left and High    Right. Every time Ned tried to get in to see her, the Highs cited important imperial duties that couldn't be disturbed. After several tries, Ned had resolved to leave it for a while. He wasn't certain if it were the Highs or Fourteen that were keeping him away.
'Sparkly dress,' commented Jenni.
Ned knew she was trying to get a response from him and his gaze flicked over again to where Fourteen stood, slightly apart from her retinue. Her short black hair framed her face and her silver gown was shining in the sun.
It relieved him when the opportunity came to change the subject as Momma K, Queen of the Fae, glided past bestowing regal smiles upon individual members of the crowd. Ned noticed he didn't receive one and Jenni had ignored hers.
'Things not going smoothly at home?' Ned inquired. Jenni was the eldest of Momma K's children, but she stayed with him in the city more often than not.
'S'complicated.' She was looking over at people on the pier again. 'Who's that talking to Norris?'
(c) Claire Buss, 2021
*****
In Claire's latest book, The Bone Thief (released this month), Roshaven is being threatened by the Spice Ghosts as they demand the return of their mystical bones. When Ned and Jenni follow the skeletal trail into the dark and dangerous waters of the dread Sea Witch, they must fight to avoid becoming the catch of the day.
For this book, Claire decided it needed a little something extra, so she wrote a Sea Shanty and recorded herself singing it – a fun preview to the book! You can listen to Claire's shanty here:
On the subject of audio, Claire has also started to record audiobooks of her Roshaven series, beginning with The Interspecies Poker Tournament, a novella in which Ned and Jenni go up against a moustached killer of fae – so naturally, they have to play a tense game of poker in order to catch the murderer. As a big fan of audiobooks – especially on cold dark winter evenings – I can't wait to have a listen!
Claire also writes poetry and has a series of eight poetry books called the Little Book Series.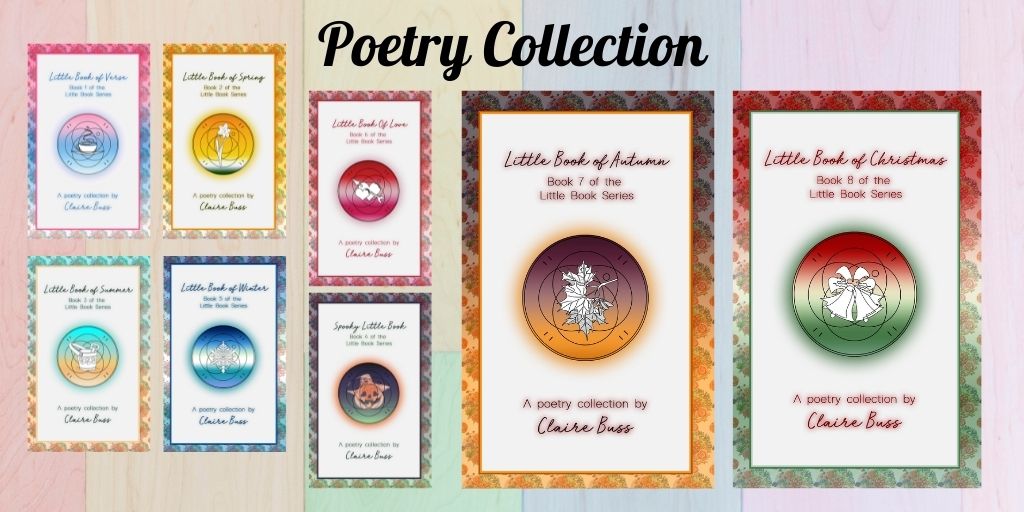 Claire has shared two poems with us. The first, The Dwindling Light, wonderfully evokes autumn and winter, from the perspective of a small child:
The Dwindling Light
It's getting dark now Mummy
The sun has gone to bed early
The birds aren't singing anymore
And the clouds are grim and scary
It's getting cold now Mummy
I don't want to wear shorts anymore
I need a new rain jacket and wellies
Else there will be puddles on the floor
It's very windy out there Mummy
It's whipping all the leaves and trees
It doesn't seem to have a problem
Blowing through me with ease
It's so very rainy now Mummy
Drizzly and damp all day long
The comes the regular deluge
Like it was summoned by a song
The trees look so very bare now Mummy
They lost all their leaves
Do you think they need a hat or scarf
I don't want them to freeze
It's getting dark now Mummy
In the morning and before the night
I want an extra cuddle please
I want to hug you extra tight
(c) Claire Buss, 2020
*****
Claire's second poem, Granny's Jumper, has a very moving, wistful effect:
Granny's Jumper
One thing you could count on
Sitting under the tree
Would be a squishy parcel
Wrapped up all for me
It always had a ribbon
It always had a bow
I always looked for it
Because then I would know
I had another jumper
A granny special
The sleeves would be enormous
And the wool all itchy
High necks and weird patterns
Colours that didn't match
In short a jumper you
Wouldn't be seen dead in
And always, always
I'd have to try it on
And always, always
It would be too long
Growing room, mum would say
Smiling fondly until I found a way
To take it off
The sadness that year
When there was no squishy parcel
Waiting for me
Under the tree
(c) Claire Buss, 2019
*****
Finally, Claire has also had some success with short stories. Her short story, The Last Pirate, was published in the Tales From The Pirate's Cove anthology, and she has some short story and flash fiction collections of her own, including Tales From Suburbia and Tales From The Seaside, which are both also available as audiobooks narrated by Helena Little. Finally, one of Claire's short story collections, The Blue Serpent And Other Tales, is free to read and available here. Here's an extract:
 The Blue Serpent
The blue serpent wound its way around her leg, across a buttock, slithered across her spine and tightened its grip on her shoulder and upper arm. It looked absolutely fantastic. Just like the one she'd seen in her dream. Her skin rippled with goosebumps as she turned this way and that, admiring the body paint. This was the bravest thing she'd ever done and it felt fantastic. Her modesty was covered with nude underwear and an undercoat of paint. The body artist said it helped to blend her clothing and smooth the tones of her skin.
'You ready love?' The other girl who'd been painted stuck her head around the curtain that separated them.
'I think so.' She checked out the other artwork. A koi carp splashed across the girl's torso with Japanese lotus flowers and stylised waves spreading across her limbs. 'You look amazing by the way.'
'Thanks, you too. You ready for this?'
The girl nodded. Her heart was beating so fast she thought it might fall out of her chest but she felt exhilarated. She took one last look at the blue serpent that slinked over her skin in the mirror then stepped away, ready to face the crowds.
The two girls began to circulate the convention. It was amazing. No one leered at them or made rude comments, in fact, practically everyone just wanted to take photos or selfies with them. After a couple of hours, her skin began to feel tight and a little itchy but she just tried to ignore the sensation and focus on how great she was feeling.
The evening entertainment began, the two painted girls continued to circulate through the thick crowd, enjoying the camaraderie and the sense of belonging. The lights were dim, the music loud and the atmosphere infectious. Finally at two am the DJ spun his last disc and the remaining revellers hooted happily before staggering back to their rooms.
Koi Carp gasped as the lights came on. 'What happened?'
'What do you mean?'
'Your paint, it's gone!'
The girl looked down. All that was left on her skin were a few shiny blue scales. The serpent had gone. 'Oh my god! Did it just… wear away?' She looked over at the other girl. Her fish was still front and centre, splashing proudly with all its lotus flowers and waves intact. 'Something wrong with the paint maybe?'
'I don't know. I've never seen an entire artwork disappear before. Smudges yeah but…' Koi girl walked around the other. 'It's like the snake slithered away.'
The girl laughed nervously and the two of them returned to their dressing room. One to remove her paint, the other to get dressed and fall into bed. The adrenaline rush that had powered the girl through the night was fading fast.
(c) Claire Buss, 2018
*****
Thanks so much, Claire, for sharing such a wonderful mix of prose and poetry, and for everything you do at Pen to Print!
You can connect with Claire via Twitter: @grashopper2407, Facebook and her website: clairebuss.co.uk. Claire's books are available in eBook and paperback on Amazon: tinyurl.com/ClaireBussBooks.
*****
The main characters in Claire's Roshaven series, Ned Spinks and Jenni the sprite, have definitely taken on a life of their own, and writing down their adventures is a lot of fun.