Writer Of The Month: Iesha Denize
Introduced by Ola Awonubi.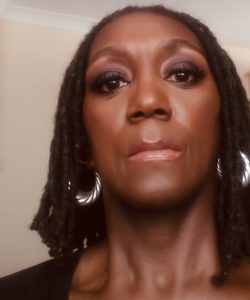 It's an honour to welcome Iesha Denize as March's Writer Of The Month. Herself a multi-talented artist and poet, she lists Phillis Wheatley, Derek Walcott, Wilfred Owen, Suzanne Cesairé and Rakaya Fetuga as her favourite poets.
Iesha has a library of 1500-2000 books. I thought I was a culprit with a few hundred! One of her favourite childhood authors is Ruth Manning-Sanders.. She also likes S. I Martin, Alexandre Dumas, and Catherine Cookson.
Her work takes you on a journey of her return to the arts, of those who influenced her and the incalculable impact they passed down that influences her life, her poetry and her art.
Here, she talks us through that journey.
******
I love music, which comes from a legacy of my father's extensive and eclectic collection, and both music and art influence my work. I have always written and painted equally, as far back as I can remember. However, an experience at art college saw me leave the arts for 30 years.
Fury and grief were the two catalysts in my return to the arts. What began as a personal memoir grew into an exploration of British Caribbean history, painting with text as a first-generation child of Windrush. Triggered by the death of my father, I responded to my mother's grief artistically by using fine art as storytelling.
Over the next ten years, exploration evolved into what is The Inaugural Grand Visual Narrative Collection – The Purple Chapters as an art book, a triptych-trilogy comprising Before The Ships, MayBrex and African Violet… Hybrid Of Circumstance.
The final chapter closed following my mother's death in 2020, revealing motifs of water, butterflies and bridges that unlock many mysteries of the journey and which I will self-publish in July 2022. I have previously published poetry in an anthology and, more recently, contributed to the last chapter of the Routledge Handbook Of Postcolonial Politics 2018.
Let The Artists Speak is the entry point of the triptych-trilogy which asks us to look at the value of the arts in a process of repair.
Let The Artists Speak
'We are the epitome of pain let us heal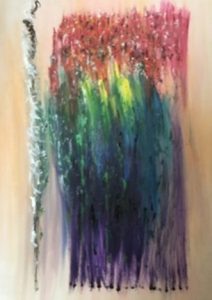 In the misery of this darkness, we beg for light of mercy to see
let every man say that light is within me
that it shines through the truth of beauty
and that the beauty of the art of the heart
is the very fabric of society
Repairing that fabric tear
must challenge
the fear
of the hopelessness
which brings its own despair'
And Let the Artists speak
(c) Iesha Denize, 2018
*****
The Windrush migration opened a new dialogue with Britain and the Caribbean, much of which is documented. But there is a more intimate story of the lives that they left behind. Alligator Pond is a place in Jamaica where the sea and the river meet, and this poem illustrates some of the beauty they left behind.
Alligator Pond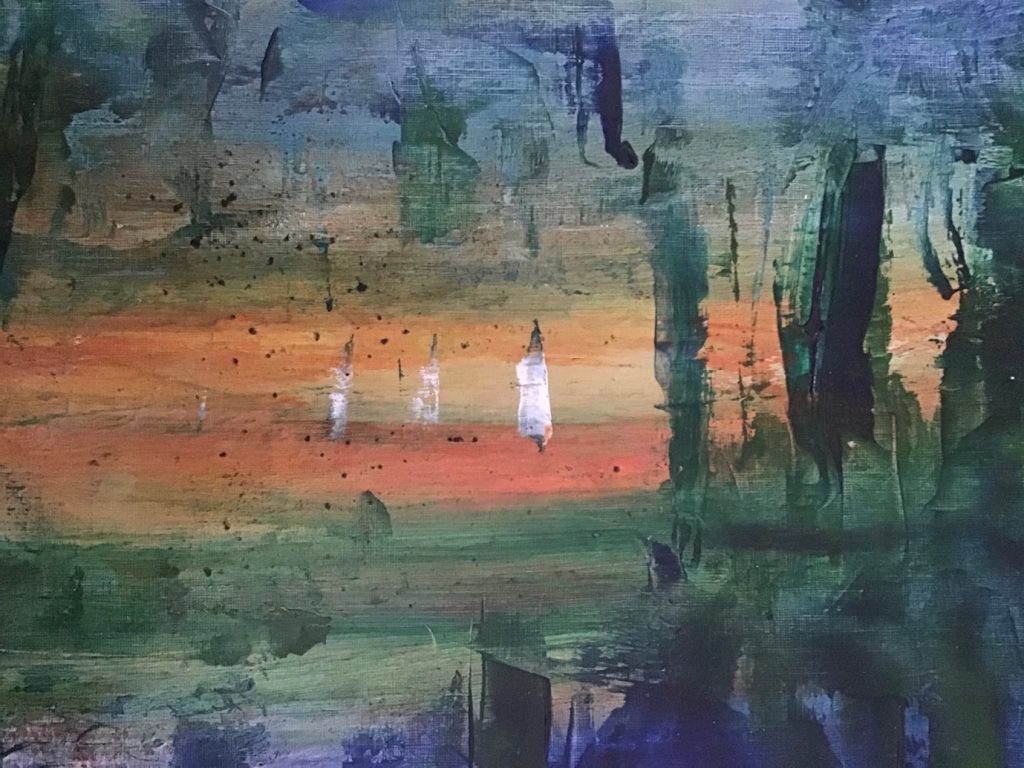 Tranquil almost unnerving calm
anxious code of silence
in the presence of people
unwelcome intruders
stumbling noisily
across
invisible borders
into a different world
under the gaze
of silent spectators
watching
from the safety net
of the camouflage
of rushes and bushes
from the trees and the skies
suspicious eyes
alert and curious
still they walk on
oblivious
into the distant stretch
of silver sand
bleached by the blazing
mid-day sun
leaving their scent behind
coupled with echoes
of distant laughter
when they had gone
leaving footsteps
in the sand
careless clues to their identity
at sunset the sea gathers herself together
and wraps her white shawl of foam
about her
and with every ebb
of every tide
with her waves
she finally manages
to erase every
trace of human existence
in an effort to restore
tranquillity
(c) Iesha Denize, 1992
*****
Excerpts
My fondest memory of my father continues to shape my life. When I was a little girl, we had a special game we would play: I would jump out at my father with no warning whenever he entered a room I was in, and it was his job to catch me. So, I would plan many ways to test him to the absolute limit in my own childlike way, clearly never thinking of the real danger. I stood on the sofa, the armchairs, and once on a cabinet (when my mum wasn't looking, of course), in an effort to catch him by surprise. I even tried to fall behind his back, but he never, ever let me fall.
I never really thought about some of the now clearly obvious (in hindsight) contorted moves he had to accomplish in order to catch me! That was the benefit of childhood, and I certainly used up all of my cards on that front. His response was always the same: he would catch me with a firm hand and a reprimand, warning me of the danger, which I ignored. I just trusted him implicitly to catch me and, until the day he died, he never let me fall.
My father, for all his strengths, was nothing without my mother, whom he often called his rock.
This Is My Mother's Story
My mother's story, like that of so many women of the Caribbean, is different and yet the same: she had to make her way and bring up her family in the UK without the support of her mother, grandmother or aunts back home.
She was the first in her family to migrate, so was able to give the benefit of her experiences and struggles to her siblings. She married with little family support and settled in a land that made little effort to accommodate her. Like many black immigrants of her time, she suffered the double discrimination of being black and a woman.
My parents started off in factory work, then my mother moved into hotel work and my father into the post office. Eventually, almost in parallel, she had a London transport service record. I often wonder what contribution both of them would have made to the world if things had been different and they had been allowed to fulfill their true potential. It's ironic that the difficulties they faced in housing such as the No Irish, no blacks, no dogs sign forced many of the migrants to ultimately purchase houses and they all stayed to honour the debt. Many, my parents included, would have returned to the Caribbean due to the sense of displacement, racism in employment and the social-political issues if they had been renting their properties.
They came, they saw and they conquered. We put our feet in their footpaths and come up lacking.
They lived. Yet they left us here.
The experience of death that I captured has no image.
*****
I Have Watched Death
Walking slowly
Very slowly
Sometimes almost standing
Still
He seems yes, he seems very heavy
Yet he walks lightly
Almost sprightly
Sometimes he rests for a while
Surveying the beauty of this world
He takes the time
To look at the crisp clear vacuous blue sky
Or the grass green beyond green
Every blade sharpened
To perfection reflecting
The bright silver hue
Vibrating in the sunlight
Or instead, the cool dark earth
Musky and damp
Rich and fertile with possibility
Having rested he rises
And continues with his journey'
'Sometimes he stumbles
And appears to fall
Sending us all
Into a frenzy
With hospitals doctors and anxiety
False alarm
Safe from harm
Because suddenly all is well for a while
So, he continues walking
Often his journey seems clear
And his destination agreed
But he is bound by none
And walks where he will
Fast or slow
Only he knows
For sure
Where to go
Sometimes a fleeting glace
Betrays his presence
But mostly he simply waits and waits
Patiently once he has reached his destination
But not yet his purpose
So, he continues to wait
Patiently perfectly
A subtle shadow
Overshadowed by silence
Then all at once
He unfolds a patient arm
Loosening his grip
Past the length of life
Sudden gritting agony
Biting frightening
Sharp intake of breath
Pallid dreary chill
Respite
Momentarily
Drawing his arm
back in
Releasing us all into temporary relief
And calm
Now easy breathing again
Warm to the touch until he returns'
(c) Iesha Denize, 2010
*****
Dad died three weeks after landing back in the Caribbean. The times I spent with him before he died allowed me to understand the totality of who he was and the life he gave up. Mum died ten years after him.
I had closely witnessed things unfolding on a daily basis, giving me clues as to who they really were, and what I finally understood was the sacrifice they made. It can never be repaid, but I try my best to honour that legacy through my art.
Sacrifice is the greatest
Of loves
Goodbye
And
Thank you 
You gave all
There was to give
It was too much
I could not
Hold
It all
The legacy is unparalleled
Cannot be matched
In my lifetime
Or beyond 
How was I
chosen
To be
This
Blessed 
(c) Iesha Denize, 2020
*****
My parents were part of the Windrush generation and pioneers in many different ways. Each island gradually achieved some sovereignty from the unique global position of that history. The Purple Chapters includes personified poetic and painted abstractions of key countries in the story. Antigua and Barbuda celebrated 40 years of independence in 2021, while Jamaica and Trinidad celebrate 60 years in August 2022. Windrush is the visible unbroken legacy of the bridge between the Caribbean and Britain. Jamaica is one of the personified elements of the narrative alongside Nigeria, Haiti and Britain. It has been included as an excerpt in order to acknowledge 60 years of its independence in 2022.
Grandmother Jamaica
Proud stalwart
Noble
Our
Greatest Grandmother
Señora Jamaica
They tried so hard to break
Her so very hard to take Her
She who could not be broken
had been shaken from her slumber
slaughterhouse ships
lioness awoken
angered by the token
gestures to placate and subdue
Not even by the arduous
Toil in the merciless midday sun
Not she
Backbone of the brutish British Caribbean
The Treasured colony
Orphaned and estranged
De-terrained and desolate
In the hands of the deranged
Awaiting the fate
Of those in the new world
New victims of newly qualified
Oppressors' recent graduates
Themselves only one step removed
from the degradation of servitude'
(c) Iesha Denize, 2012
Towards The End Of The Journey
Losing my mother closed a chapter, bringing with it new ways of looking at the same things. I learned so much and this was reflected through my artwork. My mother's final gift was one of wisdom through patience, forgiveness and understanding.
Now I understand.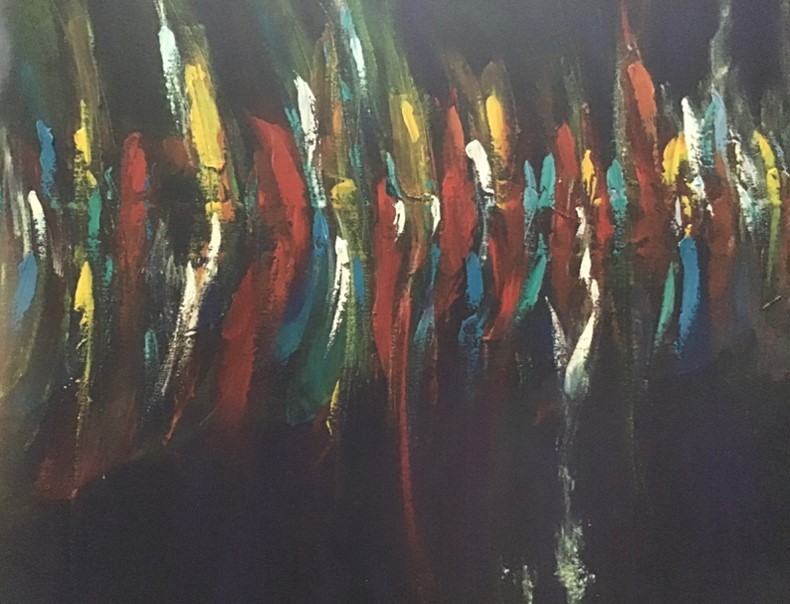 'A new dawn a new day
Gentle morning hours
The first prayer
Signal of hope on the horizon
Shows us a new way to look at yesterday
Who has happily skipped away?
And truly that which comes after
Will be better than the present'
'Finally, we see
A clarity
of purpose
Replacing all that was unclear
We finally see why we are here
To love without question
To learn without judgement
To forgive without hesitation
Or exception
Because all we have is each other
And to accept that love was all
We ever had to give'
(c) Iesha Denize, 2014
*****
The Purple Chapters will be self-published on 22 July 2022. You can connect with Iesha at her website:  peachmangomaverick.com and on Instagram: @Iesha.Denize.
*****
Fury and grief were the two catalysts in my return to the arts. What began as a personal memoir grew into an exploration of British Caribbean history, painting with text as a first-generation child of Windrush.