Writer Of The Month: James Waller
Introduced by Mary Walsh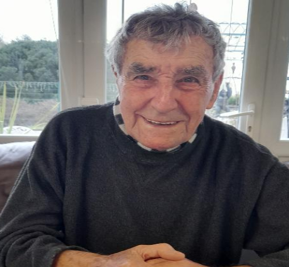 James Waller is a poet who has never had a poem published.  I was shopping for plants and visited a visited the garden centre cafe for lunch. I didn't buy anything for the garden but noticed a display on the wall of the café many poems, all beautifully laminated and signed James Waller, so I asked about them.
The owner of the café put James in touch with me and I met him over a cup of coffee and some excellent bread pudding to discover he is a prolific poet who has written poems for at least the last 30 years.
I'm always surprised to find poets in unexpected places. Many of us hide our work, or don't know what to do with it, and so don't share it. James had the idea of leaving folders with his poems in the café for the customers to read at their leisure, and has brought pleasure to a lot of people in the process.
He used to belong to a group at the Queens Theatre who wrote and produced short plays to perform in the foyer area. His poems were supposed to be displayed there, but the artistic director left and the project came to a halt.
Born in 1931, James still rides his Suzuki Bandit motorbike every day. He worked as a driver and a courier most of his life and used to write poems for people who were leaving the firm, or when he wanted the mechanics to fix his vehicle. He would write a poetic note for them so that they always did an excellent job for him.
James prefers rhyming form when writing. It's a great way to get a rhythm going in a poem. (Editor's note: Because this is the first time any of the poems have been published, all are dated (c) 2023). I hope you enjoy this selection of his poems:
In this first poem, James talks about how time can tie us in knots and how we can get lost in the memories.
Now And Then
Now is now, but when was then?
I counted up from one to ten.
One was "Now" but now it's "Then."
Even ten is in the past.
Time is flitting by so fast.
What if "Now" doesn't last.
I try to remember exactly when.
"Now" passed me by and became "Then."
Now I've forgotten what was when.
I thought I knew what happened then,
But it seems my memory's gone again,
Though I still remember "Now and Then."
(c) James Waller, 2023
Next, James celebrates the centenary of the suffragette movement.  I think it strikes a note of hope for future generations.
Ever Higher
Standing on their shoulders
Reaching for the sky
They who made it possible
All too soon to die.
Fighting prejudice and favour
As they did in days long gone
Always in our hearts and minds
Still, we soldier on
A hundred years we've travelled,
Along the paths they led
For they believed it possible
When our dreams they fed
With them forever present
What battles we have won.
Oh! that they could live now,
And see how far we've come.
From the past their names still echo
We hold their banners high.
Standing on their shoulders
We're reaching for the sky.
(c) James Waller, 2023
In James' next poem, he warns against taking notice of nasty rumours and spiteful comments.
Whispers
Whispers can destroy your life.
Pretend you never heard.
Muffled walls obscuring
Each distorted word
Fragile words are fleeting.
Swirling in the mist
Twisting as they pass you by
Only doubts persist.
Is that really what was said?
The thoughts are quite absurd.
Whispers can destroy your life.
Pretend you never heard.
(c) James Waller, 2023
You can feel the bluebells pushing up from the ground in this poem and the beauty of a bluebell wood in this poem.
Bluebells
Born here to bloom unseen
Violet blue on a sea of green
On every bank, in every nook
Naught but bluebells, where'ere I look
Gracious heads bow in the breeze
A glorious sight your eyes to tease
(c) James Waller, 2023
I love the ethereal, dreamlike quality of these next two poems.
The Quest
Deep in my mind my thoughts unite
Up through the dark beyond the night
Beyond the stars that shine so bright
Into the void to seek the light
Why can't I see what lies ahead
I must have hope if faith has fled
Or face the future filled with dread
When this earthly shape, I shed
This my quest, like all mankind
Thus, I seek and never find
The answer back in time enshrined
Eludes me still, forever blind.
(c) James Waller, 2023
Dreams
Life holds nothing for us if we do not have a dream
Some are locked in mystery, some not what they seem
Sometimes its simple message is bathed in mists opaque
Take care the fragile memory remains when you awake
Sleep my child and dream, for in your dreams concealed
Are the secrets of reality, perchance to you revealed?
You are the next generation, and you the future build
Sleep and dream my young one, and see your dreams fulfilled.
(c) James Waller, 2023
Now, James is pondering on global warming and the decline of wildlife, and wondering if the scientists have got it right, as his garden seems to be teeming with birds and bees.
Extinct
Every year a tale of woe
No wildlife soon they'll have you know
The quality of life detracts
I wonder where they get their facts
Here I am midst road and rail
With noxious gasses to inhale
The concrete jungle I inhabit
Breeds wildlife faster than a rabbit
Nestling in my little tree
A squirrel where he's no right to be
What's wriggling in my tiny pond
Tadpoles you'll here me respond
It's shiny surface is criss-crossed
These water boatmen must be lost
And occasionally, I tell no lie
A multi coloured butterfly
Butterflies in great delight
Visit my window box in flight
In a corner off three bean sticks
A ladybird, the greenfly picks
Crows and magpies share my bin
With an urban fox who's wandered in
Wedged in the eaves a rusty can
Two blue tits nesting close to man
And this can't be a bumble bee
They told me their extinct you see
Endangered species, that's a laugh
A gnat just bit me, in my bath!
(c) James Waller, 2023
In this final poem, James reflects on time passing and time growing short and the longing to stay a while.
Seasons
We have grown older my friend, you and I
Precious days lost in springs rain kissed sky
Summers endless hours have come to naught
Soon winter comes and days grow short
Autumn bids me linger, conscience to beguile
Forgive me dear friend I can only stay a while
So little time remains to honour pledges past
'Ere I sleep content, troubled mind at peace at last.
(c) James Waller, 2023
If you'd like to see and read more of James Waller's poems, and perhaps have a cuppa and a cake too, please visit The Garden Coffee Shop And Diner in Aveley Road, RM14 2GT.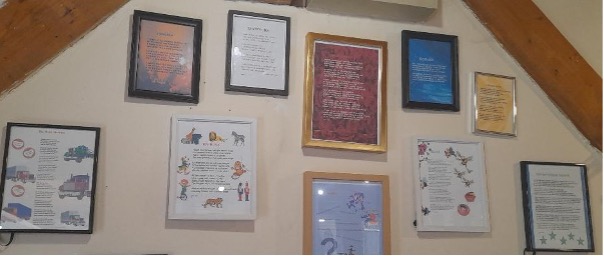 *****
Issue 16 of Write On! is out now or pick up a copy in local libraries and other venues. In the meantime, you can find previous editions on our magazines page here.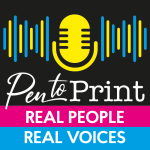 Each edition of our Write On! Audio podcast features an exclusive interview. Find us on all major podcast platforms, including Apple and Google Podcasts and Spotify. Type Pen to Print into your browser and look for our logo or find us on Anchor FM.
*****
If you or someone you know has been affected by issues covered in our pages, please see the relevant link below for ​information, advice and support​: https://pentoprint.org/about/advice-support/
I am always surprised to find poets in unexpected places. Many of us hide our work or don't know what to do with it and so don't share it.