Writer Of The Month: Laura Maclennan
Introduced by Lucy Kaufman
It is a privilege to introduce our Writer Of The Month. As a writer, tutor and lecturer, I come across a great many writers, but not so many, so far, who write with such direct clarity of purpose as Laura Maclennan. Laura not only writes, but uses her writing to deliver a vivid and vital message to a very important audience. As a therapist for many years, I applaud her determination to bring the colourful collection of characters in her #BeMoreSeth books directly to young children via her workshops in schools, so that they may have a greater sense of themselves and an unshakable belief in who they are.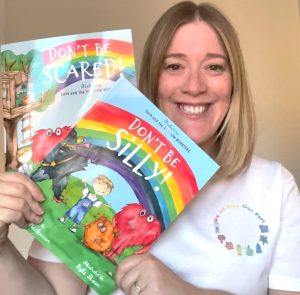 As a teacher and now a children's writer, Laura is well aware of the strong connection between books and the nurturing of young hearts and minds. She herself loved books growing up and was engulfed by the extraordinary power of the written word from a young age. She remembers fondly the exciting opportunity she was afforded, in lower junior school, of walking seven metres across the hall to choose a reading book from the upper junior selection. Books evoked and connected to strong feelings in her:
"From sobbing at Charlotte's Web and Goodnight Mr Tom to adventuring from the top of Faraway Trees and on Wishing Chairs. Then, learning about the reality of the world through Carrie's War, The Taming Of William Rutherford and The Runaways."
Being the school librarian helped nurture her love of books, but Laura first discovered that writing words could express her own feelings when, aged 11, her Great Grandma died. This first exposure to death and the finite of being inspired her to write the following poem:
One day she was there,
The next she had disappeared.
I realised it has come,
The day I'd always feared.
Mama Peggy has gone to heaven,
To become a star.
But I know she'll always be here,
Forever in my heart.
© Laura Maclennan, 2023
"I remember showing this to my family and seeing the comfort it brought them, but I also recognised that I felt better about what was happening by having written these words down. So, I wrote."
Diaries, stories, letters, poems, essays, Laura tackled them all. The day she miscarried her second child, she wrote the lost baby a letter on her phone. "Expressing my voice through writing provided a first layer of comfort for me and when I decided to share it wider, the outpouring of empathetic resonance from others who had silently battled their own loss was overwhelming. These women now felt less alone and related to and I felt privileged to have helped in this small way."
As a woman who has also suffered a miscarriage, Laura's need to write in order to express her feelings is something I can relate to, as I, too, turned to writing as one of the few places where it was possible to pour into words a profound grief that tends to be isolated, even hidden from the world, as no one around the grieving mother has known the person who is lost.
Laura's understanding of loss and how it is experienced in a multitude of difficult circumstances and ways, also comes across in her first published poem, Thank You To A Stranger. This was featured in an earlier online edition of Pen to Print and you can read it here: Showcase: Don't Be Silly + Thank You To A Stranger + The Monument + How Can I Not + A Weighty Matter
It was also chosen for our Write On! Audio podcast and you can hear it here: Pen to Print – Podcasts for Aspiring Writers · 26 January 2022
This was an extremely proud moment for Laura, as the subject of the poem — the lifesaving lung transplant her aunt received — did bring 'untold joy' to her family. Featured on National Poetry Day for the NHS Organ Donation team, it has also brought comfort and a way of saying "thank you" for other families who have experienced the generous giving/receiving of this gift of life, which is sadly only achievable because of death.
This honour of being published and broadcast led Laura to feel confident enough to share the stories sitting on her laptop…
"Don't Be Silly! featuring Seth and the Rainbow Monsters changed my life. I didn't have many friends growing up because I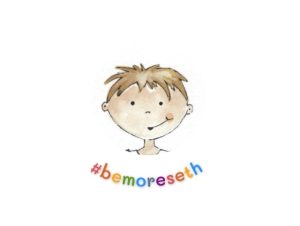 was teased about the way I looked. That baggage was carried with me until my daughter was born in 2015. I vowed to her and myself that she would be equipped to deal with anything — to be brave — and I was going to have to show her how: by doing it myself. So, I wrote her a story."
It wasn't until Laura's daughter was born and Thank You To A Stranger had been so well received that, she says, she got her act together. During the start of lockdown in 2020, having given birth to a baby boy, her 'rainbow baby' (a baby born after a stillbirth or pregnancy loss), and awaiting the night feed, she decided he needed a story too.
"I thought about him, the world at the time and what I wanted my children, the children I taught and all children to grow up knowing – and it was this: THEY ARE ENOUGH."
No matter what they look like, Laura says, who they like, how they choose to dress, what hobbies they explore, she wants children to know they have full permission to BE, regardless of what others might say. This is how she came to write her story of a little boy building a treehouse with his 7 different coloured, shaped, talented, unique monster friends. For me, the rhythm and rhyming scheme of the verse in the book is reminiscent of the famous Dr. Seuss. Perhaps, with this imaginative, colourful series, just as Dr. Seuss's The Cat in the Hat and others raised children's literacy, Laura's #BeMoreSeth series of books will be as successful in raising children's self-esteem:
'That's easy,' said Seth. 'Purple Monster will help.'
But he stopped in his tracks as the Monsters all yelped.
'NOT HIM!' they all cried. 'He's simply a square.
He's a bit of a bore and he's got weird hair.'
'Don't be silly,' said Seth. 'He's as kind as they come.
I know where I stand and he'll get the job done.'
Purple Monster arrived with some pictures and rugs.
In a basket he'd brought with him eight big mugs.
Within the blink of an eye the work was all done.
Purple said, 'Now it's time for some juice and some fun.'
Red Monster was shocked; Orange Monster made a face.
Yellow Monster lay down and Green started to pace.
Blue Monster felt wobbly; Indigo went dim.
Seth felt quite cross with the friends around him.
'What's wrong with you all? Being together' s not bad!'
Seth shouted, and realised he was getting quite mad.
'We've all worked today. We've all played our part.
We're better together than when we're apart.
I don't look like you. You don't look like each other.
But I also don't look like my sister or brother.
'Please let us stop looking at what's not the same.
Instead, look for more ways to be together again.
Our differences make us better, let's not be alone.
Each one of us here has a place in my home.
© Laura Mclennan, 2021
"Taking this book into schools and having children cheer back 'don't be silly' feels joyous. I have been teaching for 19 years and the job satisfaction is no comparison to having children engage with, understand, and love your story."
Don't Be Scared! followed a year later with the same colourful characters and this is a story about being brave in amongst life challenges. In this book, the message is, Laura says, "You grow into who you are by 'growing through' the big scary world and after everything our young people have endured over the last few years, I wanted them to have a story that reminds them they own their power – but that communication is key to harnessing it." For these two books, Laura uses the hashtag #BeMoreSeth, as the character of Seth is inspired by her own son. By coincidence, my youngest son is also Seth, so I wondered what the character of Seth encapsulates, that children need to be more of. Laura explains how this phrase conveys her message about courage: "It takes courage to #BeMoreSeth and step into everything you are, so I wanted Seth And The Rainbow Monsters to help young readers (and grown-up ones!) with that too."
'But that's the whole point,' said Seth, with a giggle.
'We've all got some things deep inside us that niggle.
The day I was scared to try out for football,
Dad said, "Take a breath and then give it your all."
'Fear's normal, but can change the way we behave,
And if we're too scared, we won't learn to be brave.
So let's share our fears – ask for help day to day.
Then we'll all learn to deal with what comes our way.
'What scares us helps us to grow strong, like a tree.
We can face fear together, grow new branches – you'll see.
We'll be proud of ourselves for surviving each storm.
Each time we're brave is a chance to transform!'
The monsters felt better knowing they weren't alone.
Being scared is a feeling so many have known.
So don't fear in hiding, disguising your struggles.
Go look for your friends and the rainbows in puddles.
© Laura MacLennan, 2022
What Laura didn't know when writing and promoting Don't Be Scared! is how much she would need the story. "Red Monster deals with the transition and grief of moving away from all they know and as a family we have had a big move too." Green Monster explores loss through the death of their fish and sadly, during the last quarter of 2022, Laura lost her mother quickly and unexpectedly, and then her grandfather 12 weeks later, from a long illness.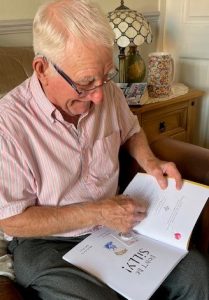 "It has been a crash course in bravery and resilience navigating these two profound losses. My mum had poems on our kitchen wall growing up and she loved to read. My magnificent grandad had written his whole life. The body of work he left as his legacy is vast and Don't Be Silly! is dedicated to him. He taught me that 'the pen is mightier than the sword', that words are more powerful than weapons."
The whole idea of being brave enough to be you has been a difficult task for Laura in the last six to seven months. Re-discovering who 'Laura' is with "such notable absences" is still a work in progress, she says. However, just as she did when she was 11, she has found comfort in writing: "I write to Mum most days as I genuinely believe that this is how it translates to her wherever she is. She reads it to Grandad, and he critiques it! I had the privilege of writing a reading for Grandad's funeral and I wrote my mum's eulogy as a poem — just as she would have wanted – and other poetry."
Here's a heartfelt poem Laura shared on her social media that resonated with others who have lost loved ones:
They
They keep telling me to let you go, to remember I am strong.
But how am I supposed to do that when we've been linked my whole life long?
They suggest that I should find a place to sit and think of you.
But where am I supposed to go when we've started life anew?
You never made it over here, you never got to see.
The life you knew we could create, the happy you wanted for me.
And so I'm left unanchored, tethers frayed and swinging in the rain.
Yet I'm supposed to let you go, each morning, again, again and again.
I don't understand how you're not here, that you cannot take my call.
I don't know why this happened; you're supposed to catch me when I fall.
And They say this all gets better, cause you're happy, your soul is free.
I just want to scream; 'get in the sea, the fog won't let me be'.
Should the sun break through the clouds, the rainbow doesn't bring me peace.
'Do not enter – no joy allowed!' – the fog it doesn't cease.
Perhaps the bottom line really is, I don't want to lose my grip.
You should be here, this is all so wrong, I can't believe that this is it.
I am my mother's daughter; I did what I didn't know I could.
But I don't want to fight the trees knowing you're not at the edge of the wood.
And without you cheering for me, what am I competing for?
I worked so hard to be who I am, but I don't know who that is now anymore.
It's you I see in the mirror, it's you I hear in my head.
But I can't hold you tight and keep you here,
Life stole your story, with chapters unread.
That's all I've got to say right now, so I'll see if They are right.
If expressing myself in this way means I get to sleep tonight.
Because they keep telling me to let you go, to remember I am strong.
And I suppose one day I'll do it, but how I wish that They were wrong.
© Laura Maclennan, 2023
Upon reflection, Laura says her writing journey is about feelings: digesting her own and providing words that help readers to circumnavigate theirs. Writing in order to express feelings seems to be something that is trailing its way through the generations of her family, from her grandfather to her daughter:
"I found my seven-year-olds's notebook the other day. She has begun writing her own poems, expressing herself, and I cannot tell you how proud I am. That vow I made, to step into my space in order to show her that she can fill up hers? I am honouring it, and this is proof." The fact Laura's daughter witnesses her delivering workshops in her daughter's school or at The National Centre for Children's Books is what she holds on to during the rough parenting days.
The future looks bright for Laura's writing. Her latest story, The Werewolf Wish – An Eliza Rae Adventure, is currently with the editing and publishing team for September publication. Her current works in progress are the end-of-term production for her daughter's school, and Never Worn, her first foray into Women's Fiction. "I cannot wait for you to read them too."
Laura's writing reminds us of the power of words as an expression of feeling: of recognising, acknowledging, inhabiting and owning those feelings; of sharing them with others so that they may connect to us, to those feelings, and accept, understand and honour their own.
Laura's belief about children THEY ARE ENOUGH resonates with my work as a person-centred therapist with adults, and in my own writing, where the message is simple: YOU are enough. In fact, despite all doubt, you are always very much more than OK.
*****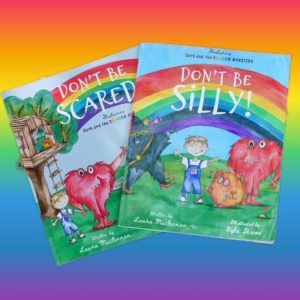 All Laura's books are available on her website: sethandtherainbowmonster.com as well as on Amazon and Waterstones. Connect with her on Instagram: @bemoreseth and Twitter: @LauraMac_Author.
Lucy Kaufman is a playwright and novelist.  She has had over 30 of her plays produced at theatres around the UK. She teaches playwriting and screenwriting for Pen to Print. You can read more about Lucy Kaufman by visiting her website here: lucykaufman.wordpress.com  and you can connect with Lucy on Twitter: @lucykaufman_
*****
Issue 15 of Write On! Magazine is out now. See it here.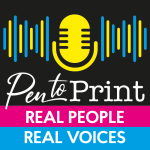 Each edition of our Write On! Audio podcast features an exclusive interview. Find us on all major podcast platforms, including Apple and Google Podcasts and Spotify. Type Pen to Print into your browser and look for our logo or find us on Anchor FM.
*****
If you or someone you know has been affected by issues covered in our pages, please see the relevant link below for ​information, advice and support​: https://pentoprint.org/about/advice-support/
Taking this book into schools and having children cheer back 'don't be silly' feels joyous. I have been teaching for 19 years and the job satisfaction is no comparison to having children engage with, understand, and love your story.