Showcase: Don't Be Silly + Thank You To A Stranger + The Monument + How Can I Not + A Weighty Matter
January's Showcases are introduced by Write On! regular, Mirabel Lavelle.
Welcome to my second showcase of the year. I'd like to start by introducing a children's story and a thank-you poem by Laura Maclennan.
Laura is an experienced teacher who has gone on to teach across the curriculum, particularly drama and within the Special Needs sector. She's a mum of two children herself.
"We need to do something, no matter how small, to break the cycle of judging others by how they look and what they believe; instead, making time to get to know and accept them. Ripples make waves and waves can one day become a huge tidal wave of kindness and acceptance." This is her vision.
Hence, the lovely children's book: Don't Be Silly!  It features Seth and the RAINBOW MONSTERS #Bemoreseth by Laura Maclennan
Seth wants to build a house in a tree, but the rainbow monsters won't work together. Can Seth convince these rainbow friends that their differences make them better, even when they don't have a kind thing to say to each other?
Laura has cleverly linked each monster in her book to one of the colours of the rainbow. Ever the teacher, each colour represents a shape and each monster sets a positive challenge for children to 'sprinkle kindnesses' themselves. For example, Blue is for a random act of kindness that will make others feel warm and fuzzy and special. One of the main factors is that the monsters are not the typical monsters you associate with the label. That's the point – neither are we!
Our differences make us better, let's not be alone.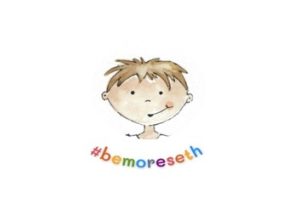 Each one of us here has a place in my home.
Laura's story has evolved from a love of writing poetry and her book opens with a lovely poem that introduces the monsters. As Seth says:
We've all worked today. We've all played our part.
We're better together than when we're apart.
© Laura Maclennan, 2021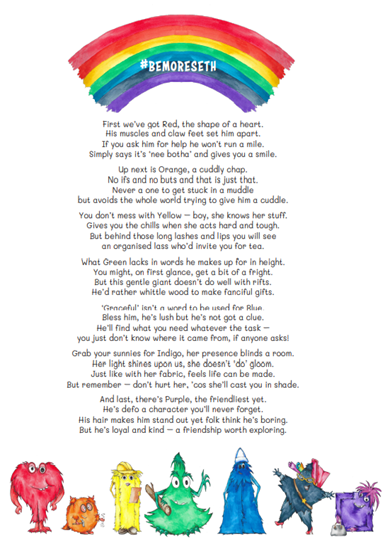 *****
Laura also wrote Thank You To A Stranger, which featured in Organ Donation publicity and information documents for those awaiting transplants. Laura wrote this after a family member's double lung transplant as a thank-you to the donor, their families and the local hospital involved.
Thank You To A Stranger
It was harder than expected, when putting pen to paper.
To express the sheer gratitude, saying thank you to a stranger.
To find the strength in words, that do justice to what you feel.
To see in black and white, that it all remains quite real.
Because how exactly do you thank, someone you do not even know?
Someone who no longer walks this land, with no more dreams to sow?
And thank them for a gift, of unspeakable value and wealth.
A gift so hugely priceless; the gift of brand new health.
The gift of independence, of time, of hopes and dreams re-born.
A gift that's bittersweet and leaves your emotions torn.
A gift that requires others, to give on their behalf.
A gift that's so much more than a woolly hat or scarf.
A gift that gives you life, because someone has lost theirs.
A gift that is more precious than all your worldly wares.
And a thank you to the loved ones, of the stranger too.
For doing what said stranger, wanted them to do.
Even though it hurt, and they were consumed with untold grief
They agreed to give a gift, that allowed us some relief.
So it's evident that 'thank you', will never quite suffice
When a selfless act of kindness, gives you the gift of life.
But within our hearts we're grateful, for a future with a view.
So in every way conceivable, Thank you, thank you, thank you.
 © Laura Maclennan, 2021
You can connect with Laura on Facebook: facebook.com/bemoreseth, Instagram: www.instagram.com/bemoreseth and visit her website: www.sethandtherainbowmonsters.com
Laura's next book, Don't Be Scared, is coming soon.
*****
At the start of each New Year, we pause to think about our life, our roots, who we are, and what our area and its history means to us.
The next piece is by local Sunderland writer, Jo Nolan, who explains why a local landmark, Penshaw Monument, means so much to her. The second image shows the name 'Nolan', carved by her grandfather.
The Monument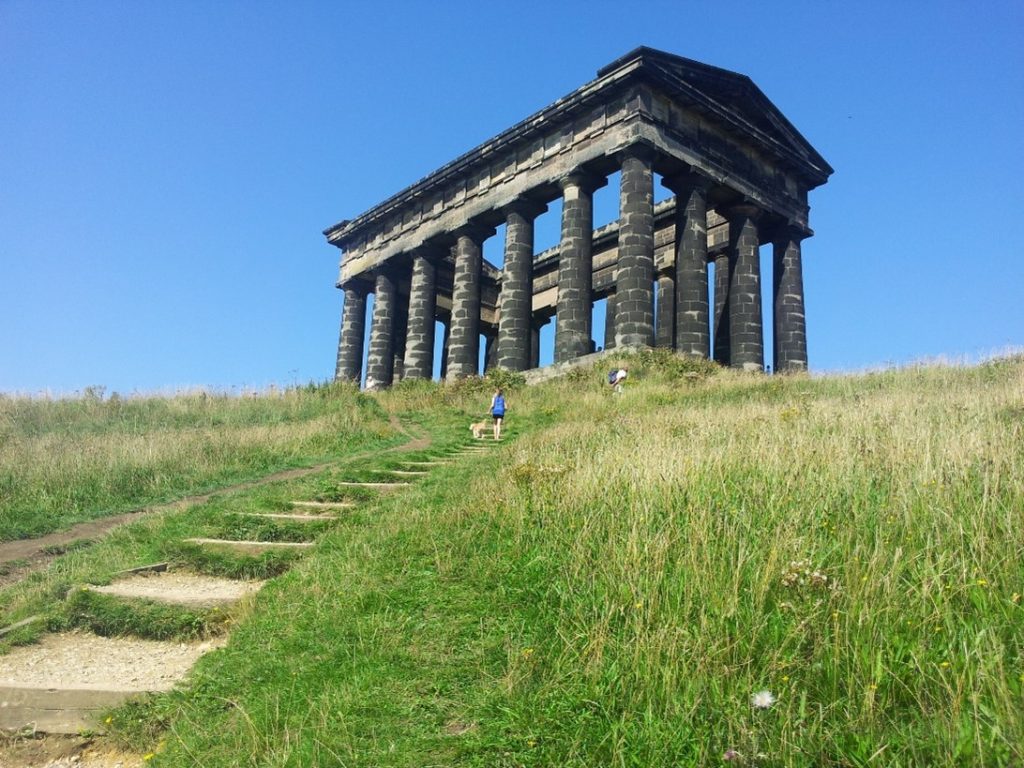 You know you're nearly home when you see The Monument.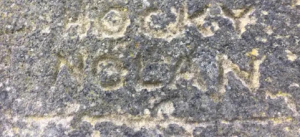 It wasn't just any monument. It was always our monument. The stories of the lord and the song about the worm didn't matter. It was ours. Our name was on it. It was etched in stone over a hundred years ago. Did he ever imagine what sort of legacy he was leaving behind? Did he know that we'd all look up and think of him? He must have been a right scallywag to carve his name there. How many of us have stood there and pressed our hands to his name? There are so many of us now, grandchildren and great-grandchildren and more besides. All bound together and set in stone.
© Jo Nolan, 2021
Jo Nolan is a North East Writer who, after several years of writing fan fiction in the fantasy/gaming genre, is branching out to try her hand at short stories and poetry.  Jo lives with her son and her two cats and her fan fiction can be found here: Old Rogues Tales. Visit her website: jrnolan.com
*****
I'd like to debut a poem that was inspired by a painting I came across called Eddie's Fish Shop by Norman Cornish. You can view and find out more about the painting here: Eddy's Fish Shop (normancornish.com)
Norman was born in the Northern town of Spennymoor and started grafting down the coal mines from the tender age of 14 . I guess you could say that Norman and I have something in common: Spennymoor. His picture reminded me of the term I spent supply teaching KS4 at Spennymoor Comprehensive, where, on the last Friday of each month, I used to go to the local fish shop to treat myself.
This ekphrasis (the use of visual art as a literary device) is called:
How Can I Not 
How can I miss it
Right on the corner
Right in the centre
Under the street lamp?
How can I ignore it
That whiff of fish frying
That smell of chips bubbling
Under my nose?
How far dare I walk
On a wet day like this
On a mid-winter lunchtime
Under the rumbling thunder?
How can I queue in pouring rain
My brolly bending
My feet freezing
A portion of vinegar drenched joy?
How can I not
My favourite meal enjoy
My highlight of the working day
The news wrapped fish lot?
© Mirabel Lavelle, 2022
You can connect with me on Twitter: @Mirabel20287342
*****
In contrast to the cold British weather, here is a beautifully written short story set in Mombasa.
 A Weighty Matter
Exploring the coral reef just north of Mombasa in Kenya is up there among the most wonderful things I have ever done.  On land it was hot, so hot you could fry an egg on a stone wall, which we did, just to show that it could be done.  But in the water it was deliciously cool.
As we were both PADI divers, my husband Mike decided, in his wisdom, he would sign us both up for a series of five dives. "It will keep us out of mischief,"was his explanation, although I was never quite sure what he meant exactly, and still don't. I think he must have been talking about himself rather than me.
It's amazing how heavy a tank of just air can be! Once you've hoisted it on, over wet suit, BCG jacket and weight belt, you feel a bit like a stranded turtle. Added to that, one's feet are transformed into huge yellow appendages any frog would be proud of.
On this occasion, we stepped off the boat to find ourselves almost weightless. The breathing tubes worked, which was an added bonus! We descended into the blue waters, gradually seeing the colour drain from everything. And I'm not alluding to Mike's face as a couple of reef sharks swam lazily past, but the way in which the colours are filtered out by the water, until all we are left with is bright orange hair.
But it's our second dive I really want to tell you about.  Another couple had joined us for this, and they were already there when we arrived.  They were Dutch and I seem to remember he had a beard, so his mask was not water-tight, which was slightly worrying. However, it was the beautiful Dutch doll-like creature by his side who took our attention, especially Mike's. He couldn't take his eyes off her, from her cascading blonde mane of hair and her limpid blue eyes, to her tiny, model-girl figure scantily encased in a bright yellow bikini.
The weight belts had been individually set out.  These are belts that have lead weights, placed in small pockets along their length, the appropriate number based on the size and weight of the wearer. They enable you to achieve negative buoyancy; in other words, to stay at the depth you want to be, and not involuntarily floating up to the surface.
Without paying enough attention to what he was doing, Mike got himself dressed in everything that was necessary for the dive, except for his air cylinder. Those were already aboard. And the fins, which we carried as we all trooped down the beach towards the small boat bobbing in the shallows. The trip out to the reef only lasted a few minutes, and all too soon it was time once more to take 'one step for mankind' from the rocking side of the boat.  We were instructed to find the anchor line and pull ourselves down by it, hand over hand, until we reached the bottom some 20 metres down.
It's the underwater rule always to have a buddy, so that you can keep an eye on each other. Mike was mine, of course, although I knew of old that, while I was contentedly skimming the coral, he would be swimming at least six feet above me. So, while he could see me, I didn't know, most of the time, whether he was there or not. Besides, my air seemed to last for the full 40 minutes. His didn't.  I'm not making excuses, but I just didn't notice right away that Mike had disappeared.
I heard the whole story later, when I joined the others in the boat. Quite simply, Mike had been somewhat preoccupied when he had picked up his weight belt and, of course, the Dutch-doll had taken the only one that was left.
As nothing worse happened to either of them except a thwarted dive, it was easy afterwards to see the funny side of the situation. Directly Mike, all 12 stone of him, had let go of the anchor rope, he had lost all control over his buoyancy, negative or otherwise, and had shot up to the surface at such speed that the fish scattered in all directions! It was just as well he'd not been down long enough to have to worry about the bends, because it was impossible for him to pause six metres below the surface, as one really should, before continuing his frantic upward trajectory. He broke the surface so fast, the momentum almost projected him into the boat!
As for the girl in the yellow bikini, she was stuck to the bottom like a fly on a strip of fly-paper, or a nail to a magnet, until she'd jettisoned half the weights in her belt.
I'm sure there's a moral in this story somewhere. It still makes me smile when I think of it.
© Jo Renton, April 2021
*****
If you'd like to see your writing appear in the Write On! Showcase, please submit your short stories, poetry or novel extracts to: pentoprint.org/get-involved/submit-to-write-on/
You can read more fiction, poetry, interviews and author advice in the latest issue of Write On!  Issue 10 of Write On! is available now. You can see it here.
*****
Write On! Audio Podcast Contributor Giveaway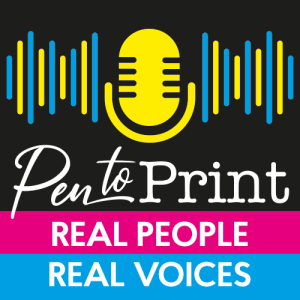 Get involved with Write On! Audio. As a contributor, you could win A Writer's Journal Workbook by Lucy van Smit. All Write On! Audio submissions submitted before 20th February will be considered eligible. The first two pieces chosen for broadcast will receive a book. Submit on: https://pentoprint.org/get-involved/submit-to-write-on/.
Visit https://anchor.fm/pentoprint to listen to the Write On! Podcast and get inspired.
Published by Bloomsbury, A Writer's Journal Workbook is packed with creative tasks, goals and advice! As an added bonus, you can also purchase it directly with this special discount code: AWJW25